The vast majority of bragging rights amongst utes are generally based on engine size, how much horsepower and torque they make and what size tyres you can fit on it legally. Going back to the basics, a ute's principle use is to throw stuff in the tray, so you'd think that payload capacity would be one of those big numbers up there, cause not all utes are created equally. Enter the Mahindra Jeeto.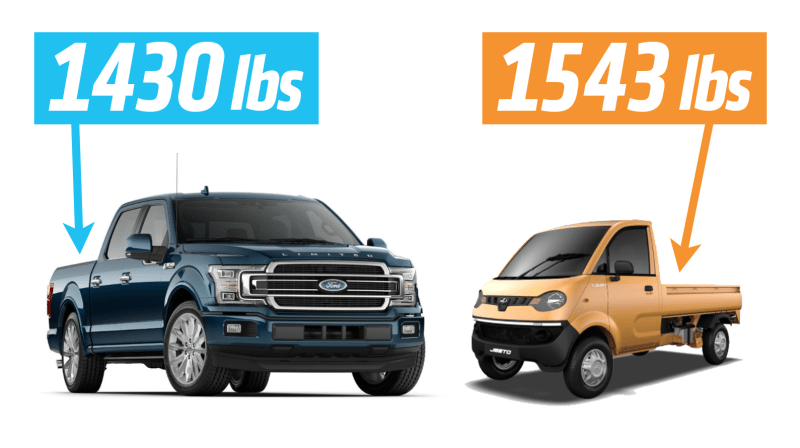 Weighing in at a staggering 685Kg, and sporting a rear-mounted massive 1-cylinder 625CC diesel engine which putting out a rather ridiculous 16 whole horse-power,  you'd expect this thing to be the laughing stock of India. We're going to destroy the expectations because the little 'Jeeto that could', can carry a whopping 700Kg in it's tray. Yep, it'll carry more than it's own weight in the back. Put it next to the American 3.5L EcoBoost powered Ford F-150 SuperCrew 4X4 and this 1-cylinder Mahindra has a payload of a touch over 50Kg more (the F-150 is rated at 648Kg payload).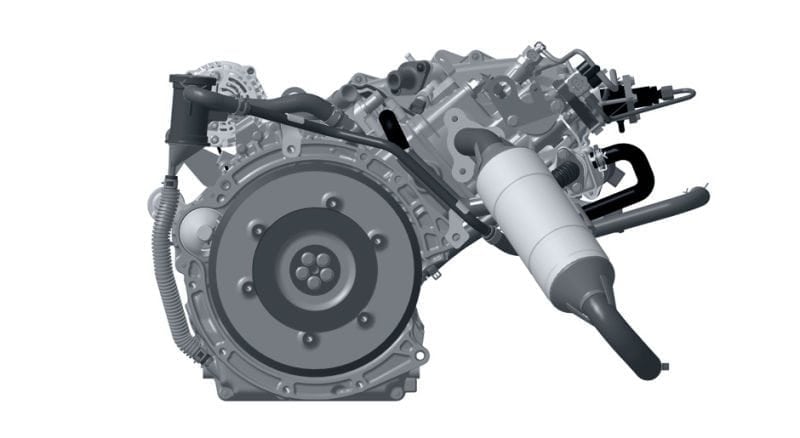 Ok, so we may have cherry picked that specific F-150, as most will carry just over 700Kg, but then there's the V6-powered mighty, unstoppable Raptor – which will only carry 453Kg – so there's not just the one that gets it's backside handed to it by a tiny little truck that's got five fewer cylinders! Don't get us wrong, the F-150 is a mean bit of gear, and will out perform the 1-Cylinder Mahindra in just about every other conceivable way, but next to the Indian workhorse that will cost you around AUD$5,300 and you live life to the phrase 'bang for buck', it really is a no brainer.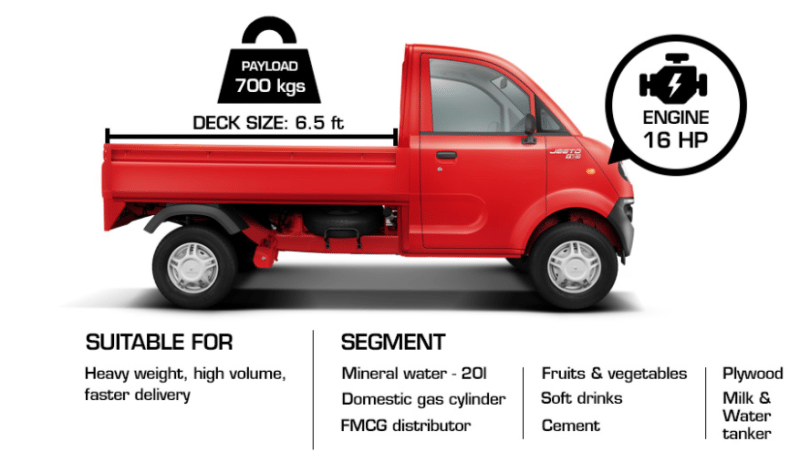 The brouchure tells us the little Jeeto has a deck size of 6.5ft long, and is suitable for "Heavy weight, high volume, faster deliver" work… 'Faster delivery' might be a bit of a misnomer, however.
For what it is, the Jeeto really is a cool little ute – however, we don't expect to see them down under any time soon. What we do want to see is one of these little rigs with another on the back! A truck trucking trucks perhaps?
We initially heard about this from the folks over at Truckyeah