Monroe have been building shock absorbers for years, and now have recently released a range suited to the 4WD. Not only are they suited to offroad driving, but they also cater for vehicles with suspension lifts. The range is called the Monroe Gas Magnum TDT.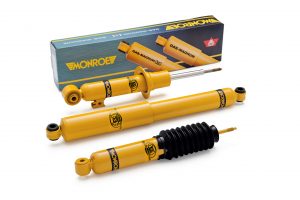 Monroe's press release claims that their engineers spent weeks of time testing each 4X4 application, so it suited the specific application. They also test each shock that leaves the Monroe factory, so it meets specifications before being fitted.
They are a twin tube shock absorber, with as 35mm bore and 16mm chromed piston. Pressurised gas lives with the oil inside the shock, operating through twin disc valves (where the TDT comes from) and multi-lip, teflon banded seals.
The warranty with these shocks is three years/60,000km, there are a total of 24 specifications that cover 34 applications of popular lifted 4X4s:
Monroe Gas Magnum TDT:
Ford Ranger 10/11 on
Holden Colorado 9/12 on
Isuzu D-Max 6/12 on
Mazda BT-50 10/11 on
Mitsubishi Pajero 00 on
Mitsubishi Triton 06 on
Nissan Navara D40 12/05 to 3/12
Nissan Patrol GU, GUII 97 to 13
Toyota HiLux 3/05 on
Toyota LandCruiser 70 Series 07 to 13
Toyota LandCruiser Prado 120 Series 2/03 to 09
To find out more, head over to www.monroe.com.au or call 1800 088 025