Holden shows off Colorado Superute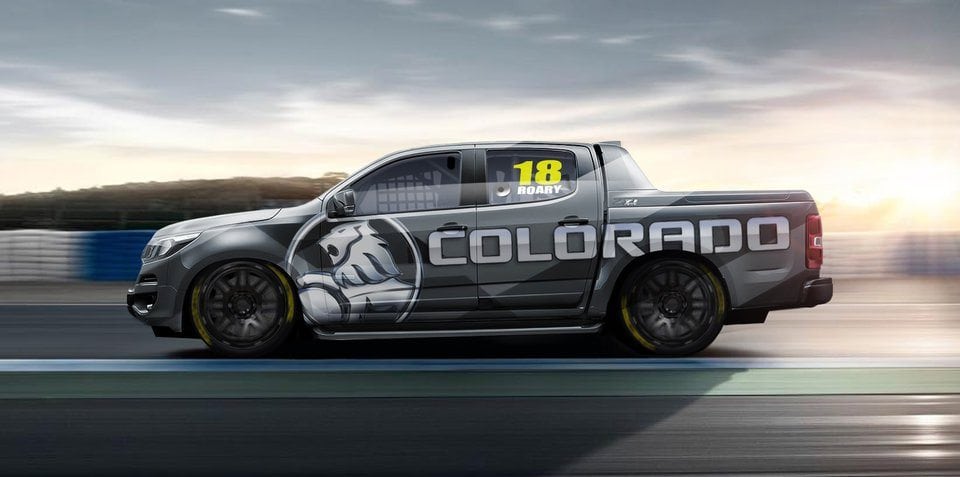 V8 Falcon and Commodore utes have been the curtain-raisers for the V8 supercars for many years, but there is a new segment coming: Superutes. Most of the usual suspects are going to be there: Toyota HiLux, Nissan Navara, Mitsubishi Triton, Ford Ranger, Mazda BT-50 and Isuzu D-Max. And Holden have just revealed their Colorado Superute.
This is a reaction to the fact that utes like the Colorado are accounting for 20% of new vehicle sales in Australia, replacing the sedan-based utes that have all-but dried up. But, there's a problem with all of this. All of the utes are rear-wheel drive and will be sticking to bitumen the whole time. In a segment where 4WD utes outsell 2WD almost four-to-one, what kind of relevance and resonance does a lazy front end have?
The engines are all going to be turbo diesels, limited to a fairly stonking 254kW and 678Nm each, with a minimum weight of 1,800kg. At least, punters can get an idea of how well an engine can put up with getting thoroughly thrashed. But beyond that, the segment seems to miss the mark.
All of the important stuff, in my opinion, is skimmed over: Off-road capability, load carrying,  towing and mechanical toughness. How quickly a lowered 2WD ute goes around a racetrack bears almost no relevance to a prospective buyer. Imagine if the race was setup to include on-road, off-road and low-range sections, with utes dropping into the pits for a 1-tonne of hay or a 3-tonne trailer to keep racing with … now that is something I would watch.
What do you think? Will the Superutes be a successful new breed of racing category? Or has it missed the mark completely?