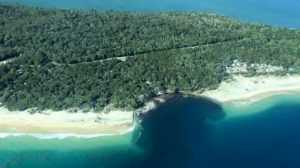 You'll probably remember back in September when the Rainbow Beach sinkhole opened up at a popular Inskip Point campsite, claiming a vehicle, a caravan and forcing the evacuation of 140 campers.
Interestingly, there have been 15 earthquakes or tremors in the Fraser Coast and Sunshine Coast region since July when a 5.4 magnitude quake occurred just off Fraser Island, with the most recent aftershock measuring 3.3 on September 17. Geologists are to employ underwater sonar surveys of the erosion-prone beach where the sinkhole is located to see if the spectacular collapse was linked to these earthquakes.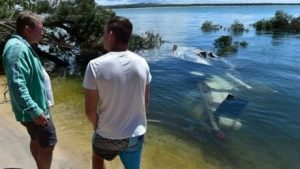 A preliminary report submitted to Queensland National Parks and Wildlife Service describes the collapse at MV Beagle campground as a "near-shore landslide", triggered by erosion and strong tides, but it was not initially linked to the recent earthquake activity.
However a new report is currently being put together after hydrographic and side-sonar surveys were completed in late October. The geotechnical report will be available this month and will outline if the earthquakes actually did have an impact and whether further geotechnical studies are needed. QPWS will make decisions on the future management of this area based off this report, which is due any time now.
Since the incident, there has been no further erosion of the area around the sinkhole and the tidal action is expected to gradually return the sand to the hole, making it more stable over time. With that said, the MV Beagle and eastern section of the Sarawak campgrounds remain closed with barricades in place to prevent anyone venturing too close, but a spokesperson assured us that all of the other camping areas in the Inskip Peninsula Recreation Area remain open, so there's still plenty of space to head over there for a couple of days (or weeks).
We'll keep you up to date as further news develops.