Following on the heels of the Hilux announcement, details of the new Toyota LandCruiser Prado have been released, most importantly surrounding the new engine and gearbox combinations available on the new model.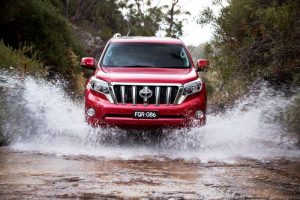 The new, 1GD-FTV, 2.8 litre turbodiesel engine is the one everyone will be talking about, replacing the long-standing 1KD-FTV, 3 litre donk. From 127kW @ 3,400rpm and 410Nm @ 1800-3400 rpm, the new motor sports 130kW @ 3400rpm and 450Nm  @ 1600-2400rpm. That's for the automatic gearbox, the manual has a slightly detuned 420Nm @ 1400-2600rpm.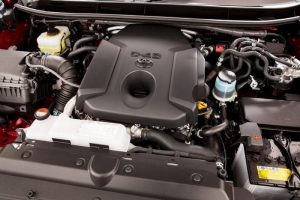 The 4 litre V6 is still around, but is tweaked up for better power and Euro5 compliance for emissions. It makes 207kW @ 5600rpm and 381Nm @ 4400rpm.
The six-speed automatic gearbox is a brand-new design, which has intelligent technology that monitors gear usage, aiming for high efficiency. The six-speed manual is available on the GX and GXL Prado, excluding the top-spec Kakadu.
From an exterior point of view, the new Toyota LandCruiser Prado hasn't changed much.Approach, departure and rampover angles (32, 25 and 22 degrees, respectively) is largely unchanged from the outgoing model. A wading depth of 700mm is quoted by Toyota, along with 220mm of ground clearance.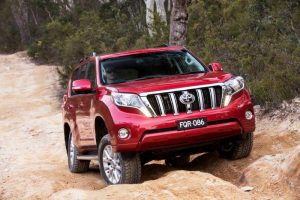 The Prado retains constant 4X4, with a limited-slip Torsen centre differential. High range is direct drive 1:1, and low range gives you a 2.566:1 reduction in gearing. Combined with a 3.600 (auto) and 4.171 (manual) first gear ratio, you get a reasonably good low-range reduction from factory.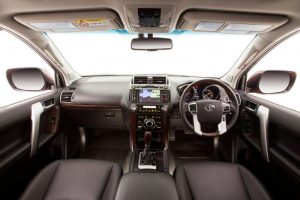 The suspension setup in the New LandCruiser Prado is also a carryover, with a five-link solid axle in the rear and independent struts in the front. Start heading up the spec sheet, and you can opt for KDSS (Kinetic Dynamic Suspension System) in the VX and Kakadu, and rear airbags in the Kakadu exclusively.
A total fuel capacity of 150 litres (87 main, 63 sub) is a winner for touring, and the Prado should handle most camper trailers well with a 2,500kg braked towing capacity. In terms of payloads, the amount varies according to specs. In the diesel variety, payload is between 840 and 555kg, and petrol is between 610 and 545kg. For a family touring 4X4, the basic-spec diesel easily makes the most sense. Otherwise, you'd be wise to look into a GVM upgrade.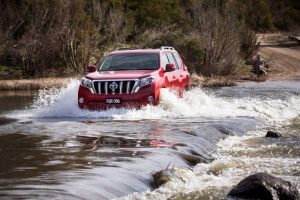 Fuel consumption is one area where the New Toyota LandCruiser Prado does well, with combined consumption figures of 7.9 (manual) and 8 litres per hundred kilometres, on the combined cycle. Goes to show how far technology has gone in reducing consumption and emissions in the modern-day diesel.
Stay tuned, as we bring you a roadtest and full review down the track.
PRICES:
PRADO PRICE
TURBO-DIESEL
PETROL
Manual
Automatic
Automatic
GX 5-seat
$52,990
$54,990
–
GX 7-seat
$55,490
$57,490
–
GXL
$59,990
$61,990
$60,990
VX
–
$73,990
$72,990
Kakadu
–
$84,490
$83,490