Outback travel agency Tri State Safaris has made an impact at the Qantas Australian Tourism Awards, held recently at Luna Park, Sydney.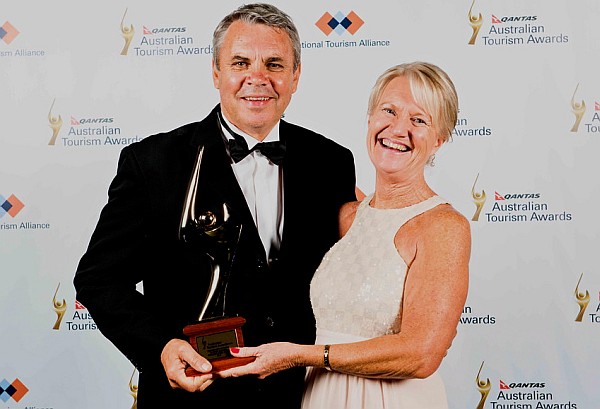 Michael and Joanne McCulkin: Owners of Tri State Safaris with their award.
Based out of Broken Hill, Tri State Safaris has been operating 4X4-based tours around Australia, ranging from 1 day trips to exended Outback expeditions.
"We are so very excited with this win" said owner Michael McCulkin.
"The competition was really tough, including Voyages' Ayers Rock Resort, so this win proves that business success is not just about the size of a business or how much money they make."
"This award is a positive for the 4WD industry on a whole, as well. I also think that our win is a coup for the 4WD industry. It demonstrates to the wider community that we are a responsible group, concerned for the environment and motivated by a desire to minimize our impact on the areas we visit. By using 4WD vehicles we can educate our customers about the environment, and encourage them to participate in our strategies to protect this beautiful country".
Tri State Safaris have been operating for over 21 years and have 15 different tours, ranging from 1 day tours around Broken Hill, and local National Parks including Mutawintji, Kinchega and Mungo. Longer tours include destinations such as the Corner Country, Flinders Ranges and onto Innamincka and Birdsville. Their extended tours cover the Simpson Desert and Kimberley region.
Tours are fully catered and mostly fully accommodated, with some camping in the extended tours. Tours are open to both passengers who travel in our vehicles or tag-along participants who join in their own 4wd vehicle.
For more information on Tri State Safaris, visit http://www.tristate.com.au/