There's no denying that the UTV (or SxS, ROV, ROHV, this segment seems to have more abbreviations than a government press release) market is growing wildly, and competition is tough. 2014 means Yamaha has a new model with some big changes, to take it to the rivals.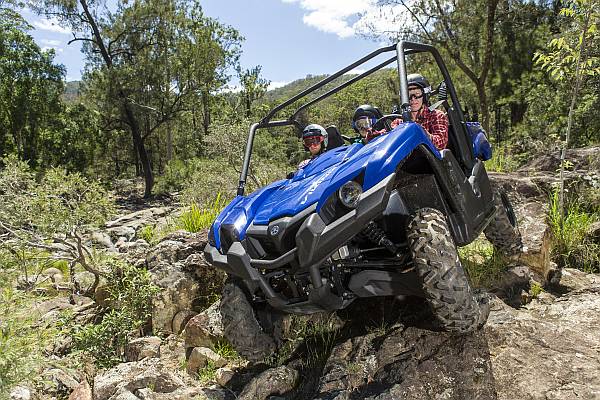 The Viking quickly proved itself to be more than capable when the track runs out.
Yamaha's latest iteration of their UTV, the replacement of their venerable Rhino, comes with a huge amount of change and modification, many of them a first for the marketplace. The Viking sits longer and wider, and comes with an updated drivetrain that makes it a tough option for those looking at a capable cross-coutnry vehicle.
The Viking is released alongside their new ATV Grizzly 700 and shares some important updates with the Viking. Namely, the engine and transmission. A 686cc air-cooled, SOHC four-valve single cylinder engine has been updated for improved performance, focusing on torque throughout the rev range. Driving the Viking proves that the motor certainly is punchy; a heavy foot is rewarding with bristling performance up towards the 80km/h mark, if you are so inclined. On the other end of the spectrum, steep climbs showed the the motor it's lazy side, coping with low speed ascents without labouring. This isn't all thanks to just the motor, however.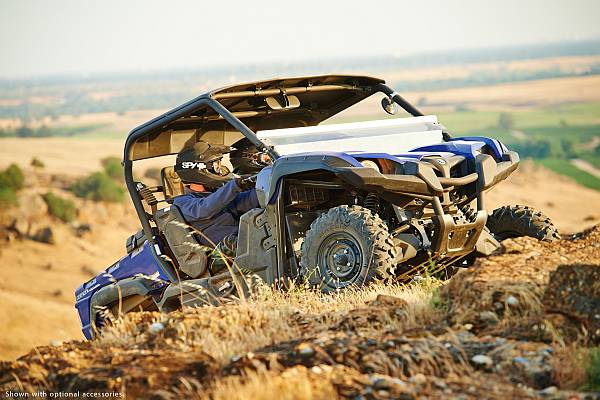 Little Maxxis Bighorn tyres have an agressive tread, performing their best on loose surfaces.
Perhaps the biggest change in the Viking is the new transmission, dubbed 'Ultramatic'. UTVs, whilst fast and nimble along dirt roads like its nobody's business, enjoy a less than great reputation on downhill sections thanks to CVT transmissions tending not to harness engine braking. Centrifugal clutches only 'grab' when throttle is applied, which means idle is like being in neutral. Yamaha has worked a integrated workaround for this, incorporating a sprag clutch into the transmission. This is effectively a 'one way clutch' which engages the drivetrain when wheelspeed overtakes engine speed, allowing the operator to use engine braking for downhill. This is a great addition on the Viking, allowing controlled descents not unlike a 4X4.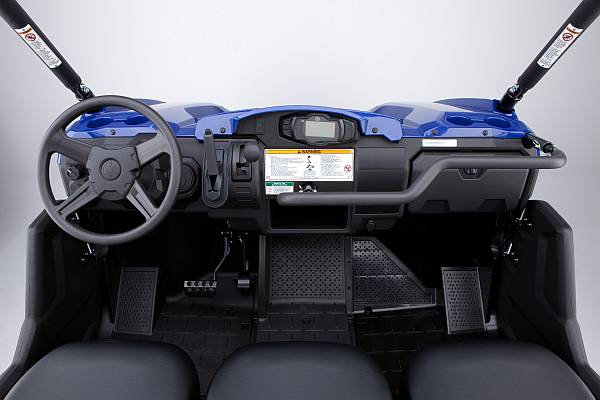 For this class of vehicle, the Viking is well appointed with a digital binnacle, cup holders and an adjustable passenger handle (which is pretty much essential for rough country).
This makes the Viking a good choice if you are aiming at tackling hilly country. The low range is effective for reigning in average speeds. Diff lock gives all four wheels equal drive, and makes the Viking damn near unstoppable. The ROPS overhead turns into solid slider tubes that support a stout steel sliding plate underneath.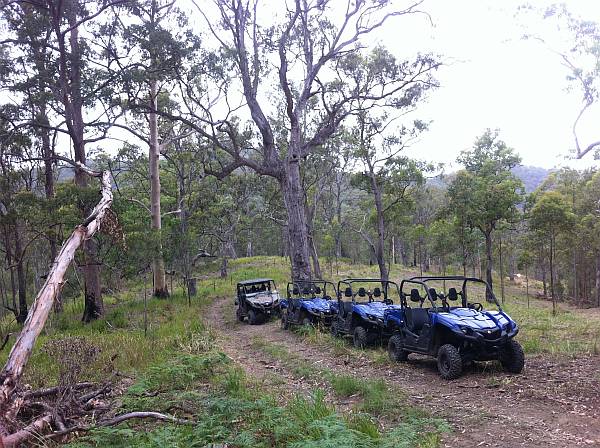 An example of some of the tamer tracks that we took the Vikings along, they ate everything up with ease.
Despite the slow-speed offroad capability, the Yamaha does prove to be quite comfortable and direct when speeds pick up. Spirited driving in 2WD will see you twirling the steering whel like Marcus Grönholm, but twisting the stout plastic knob to 4WD absolves all sins, and make for confidence-inspiring driving. Braking is adequate, and the suspension deals well with ruts and bumps at speed.There isn't much articulation in the front and rear over low speed, but its not really required with the locking differential. With such great approach and departure angles, you can afford to attack obstacles head-on, quickly finding the correct balance between traction and momentum to breeze over rough terrain.
The Viking certainly brings some big changes to this new, popular and developing segment of offroad vehicles. They provide a real alternative to the traditional farm truck or ute, with the only real downside in comparison being a lower payload (272kg and 680kg towing capacity) and not being road-registerable. They are faster, use less fuel and are much more capable and easy to drive than their bigger bretheren. Plus, the 36 litre fuel tank gives some great range between refuels. Desert trip, anyone?