Isuzu Ute Australia has finally whipped the covers off the all-new 2021 D-MAX. Here's everything you need to know…
After months of leaked images and glimpses of Thai-spec models, Isuzu Ute Australia (IUA) has finally unveiled the all-new 2021 D-MAX that will go on sale here from 1 September this year.
The 2021 D-MAX is essentially an all-new model, with a revised chassis, retuned suspension, new bodywork and a suite of advanced safety features across the range, although rather than a completely new driveline, for the Australian market Isuzu has stuck with a new updated version of its proven 3.0-litre four-cylinder turbo-diesel engine mated to a choice of six-speed manual or six-speed automatic transmissions.
Australia is the second biggest market in the world for D-MAX (after Thailand) and as such IUA says Australia had plenty of input into the development of the new model, while some local testing and development was also carried out here.
Mr4X4 will be driving the new 2021 D-MAX in the next few days and we'll bring you our detailed on- and off-road drive impressions when the embargo lifts on 28 August. In the meantime, here's a short video of the D-MAX in action.
Line-up and prices
The new 2021 D-MAX 4×4 will be available in three body styles (Single Cab, Space Cab and Crew Cab) in cab-chassis and ute configurations with four trim levels (SX, LS-M, LS-U and X-Terrain). The all-new X-Terrain is the top-spec variant that replaces the previous LS-T model.
Prices are up across the range but the new 2021 D-MAX packs a lot more equipment than the outgoing model. Model for model, SX and LS-M 4×4 models are up around $3000 over the previous D-MAX, the LS-U is up by around $6k and the new top-spec X-Terrain (which replaces the outgoing LS-T) is up by about $8k.
Here is the full D-MAX 4×4 line-up: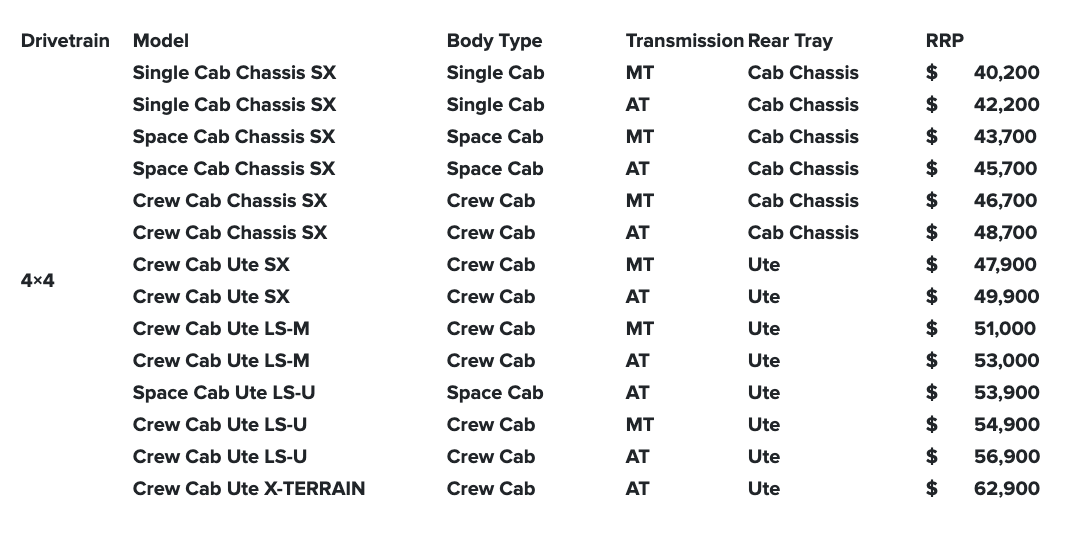 Key points
The D-MAX's re-engineered 3.0-litre four-cylinder turbo-diesel engine now makes a claimed 140kW at 3600rpm and 450Nm at 1600-2600rpm, which is up 10kW and 20Nm on the preceding D-MAX engine. All body styles and trim levels up to LS-U are available with six-speed manual or automatic transmissions. The top-spec X-Terrain is only available with the six-speed auto.
As per the previous model, the D-MAX has a part-time shift-on-the-fly 4×4 system with high- and low-range, although a rear diff lock is now standard equipment on all 4×4 models (see 'New Driveline').
The D-MAX's new body sits atop a revised ladder-frame chassis with greater rigidity thanks in part to the use of ultra-high tensile steel, and IUA says it's the strongest D-MAX ever. As such, the new D-MAX has the highest Gross Vehicle Mass (GVM) of any Isuzu ute ever at 3100kg on 4×4 models. Gross Combination Mass (GCM) remains at 5950kg on 4×4 models although front and rear axle capacities are up to 1450kg (+100kg) and 1910kg (+40kg) respectively. Maximum braked towing capacity is the class-standard 3500kg, and maximum tow ball download is 350kg.
The new D-MAX is slightly heavier than the previous model with kerb weight ranging from 1780kg to 2130kg depending on body style and model grade. Payload across ranges from 970kg to 1320kg.
Fuel consumption (ADR Combined) ranges from 7.7L/100km to 8L/100km, so with a 76L fuel tank capacity you can expect touring range in the vicinity of 900-950km.
Overall, the new 2021 D-MAX is 30mm shorter than the preceding model, yet it has increased load-area dimensions. It's wider and lower, with a longer wheelbase (3125mm) and shorter front and rear overhangs. It also boasts improved ground clearance (235-240mm depending on grade) and better approach, departure and ramp-over angles.
Tub width of 1530mm is the same as the preceding model, but IUA says there's now more usable room, with 15mm more internal length and 30mm more internal depth. Cab Chassis models fitted with a factory tray also benefit from increased load areas.
Isuzu has revised the suspension and tuned it for Australian conditions to provide improved ride and handling. At the pointy end the D-MAX's independent double wishbone suspension features new high-mounted upper-control arms to minimise body roll, and there's a redesigned 34mm (+5mm) diameter anti-roll bar. Down the back the live-axle set-up comes with a revised three-leaf rear suspension with lighter and stronger leaf springs and new dampers resulting in increased rear-axle travel (+30mm).
The new 2021 D-MAX SX and LS-M models wear 255/65R17 all-terrain tyres while the LS-U and X-Terrain are fitted with 265/60R18 highway-terrain tyres. All models bar the base-spec SX are fitted with alloy wheels of various designs, although all models have a steel spare wheel.
Front brake disc diameter has been increased to 320mm while the rear brakes are 295mm drums.
The introduction of electric power-assisted steering (EPS) is aimed at improving steering response and feel and is mechanically lighter and more efficient than the preceding model's hydraulic system. The EPS system also integrates with Lane Keep Assist and Lane Departure Prevention. The turning circle has also been marginally improved to 12.5m (-100mm).
More refined
As well as its sleek new body, the D-MAX has a completely revised interior, with new seats and tilt and telescopic steering-wheel adjustment.
The D-MAX SX and LS-M models are equipped with a seven-inch high-resolution touchscreen display, while LS-U and X-Terrain get a nine-inch display with standard satnav DAB+ radio and voice recognition. All models have wireless Apple Carplay/Android Auto.
All model grades are equipped with automatic wipers and automatic headlights, while all automatic models have adaptive cruise control as standard.
Both SX and LS-M model grades have wash-out vinyl flooring, cloth-trim upholstery and power windows. Over SX, the LS-M gets two extra cup holders, an extra USB port, higher-grade cloth trim, Bi-LED headlights (self-levelling) and DRLs, LED fog lights and alloy wheels.
The LS-U adds carpet flooring, leather steering wheel and gear knob, driver's power-adjustable lumbar support, dual-zone climate control air conditioning, smart wet wiper blades, LED combination taillights, chrome highlights, rear parking sensors and 18-inch alloys.
The top-spec auto-only X-Terrain also has an eight-way power-adjustable driver's seat, remote engine start (with security measures to prevent unauthorised entry/theft), smart entry and start, walk-away door lock, piano black trim and leather-accented interior, under-rail tub liner, roller tonneau cover, aero sports bar, front and rear underbody spoilers, front parking sensors and exclusive 'X' badging.
New safety features
All model variants are equipped with the new Intelligent Driver Assistance System (IDAS) safety features. IDAS includes adaptive cruise control with stop and go traffic functionality, autonomous emergency braking, blind-spot monitoring and lane departure prevention. And D-MAX models are equipped with eight airbags, including a knee and centre airbag, the latter claimed to be the first of its kind fitted to a ute.
Importantly, Isuzu says IDAS has been engineered for Australian conditions, with local testing allowing for calibration of the Traffic Sign Recognition (TSR) for Australian roads. All models are also equipped with automatic headlight control, reversing camera, rear cross traffic alert, blind-spot monitoring and trailer sway control.
"The All-New D-MAX pioneers active and passive safety technology previously unseen in a ute, striving to achieve the highest possible ANCAP safety rating," Isuzu UTE Australia (IUA) Managing Director, Hiroyasu Sato said. At this stage ANCAP testing is yet to take place, but IUA expects a five-star rating for the new D-MAX.
The IDAS uses a Hitachi 3D Stereo binocular camera system that's claimed to be able to precisely detect and measure distance, size, velocity and depth of vehicles, pedestrians, cyclists and other obstacles around the vehicle. This is said to minimise the risk of miss-detection and allows the system to take necessary countermeasures or precautions to mitigate or prevent incidents.
As well as the 3D camera system, data is collected from radar sensors housed in the rear bumper, allowing IDAS to monitor and react to any potential hazards around the vehicle. The radar sensors can detect vehicles and motorcycles approaching from the rear, and the system also performs the Rear Cross Traffic Alert (RCTA) functions of monitoring approaching vehicles when reversing from a parking space.
It should be noted that various IDAS features can be switched off manually for off-road driving.
New driveline
The new 3.0-litre four-cylinder turbo-diesel engine – now called the 4JJ3-TCX – makes more power and torque than its predecessor, is Euro 5 compliant and, Isuzu says, is quieter and more thermally efficient than its predecessor.
Peak power and torque for the new engine is now up to 140kW at 3600rpm and 450Nm at 1600-2600rpm, and, while not as powerful as some class competitors, it's still a significant 10kW and 20Nm improvement on the preceding D-MAX engine.
Importantly, Isuzu also points out the improved midrange torque (400Nm available from 1400rpm through to 3250rpm) and stronger bottom-end (300Nm available from 1000rpm, or just above idle), both of which will please those who carry heavy loads, tow heavy trailers and/or use their 2021 D-MAX in slow-speed off-road conditions.
More than just a retune, the engine has undergone significant changes including the introduction of a new engine block, cylinder-head, crankshaft and lightweight aluminium pistons. There's also a new forward-facing air intake system and a new electronically controlled VGS (Variable Geometry System) turbocharger, both aimed at improvements to throttle response and reduction of turbo lag.
There's also a new high-pressure direct-injection fuel system with a more efficient fuel pump that's claimed to require 20% less energy to provide 25% more fuel pressure than the preceding pump, as well as new injectors and revised combustion chambers.
The engine retains its predecessor's maintenance-free steel timing chain, but it's now directed by a quieter, more efficient double-scissor idler gear set that's claimed to provide better durability and reduced engine rattle and vibrations.
The MVL-6S six-speed manual gearbox is claimed to offer "snappier, crisper and more enjoyable" gear shifts thanks to an optimised pivot point and a shorter selector throw, while a new dual-mass flywheel is claimed to better absorb vibrations and torque pulses.
The Aisin AWE6B45 II six-speed automatic transmission has a new pan design aimed at better regulating ATF (automatic transmission fluid) temperatures, especially when under heavy loads such as when towing. Gear shifts are claimed to be smoother with a shift-time improvement of up to 0.2 seconds between gears.
The transfer case has also been improved, with a new electronic actuator that improves shift time between 2-High and 4-High to less than a second at speeds up to 100km/h. Additionally, shift time from 4-High to 4-Low has been halved and now takes less than a second.
A new one-piece aluminium tailshaft is stronger and lighter, and has reduced rotational mass for better response, and a rear differential lock is now fitted as standard equipment across the whole D-MAX range.
Off-road
All 4×4 models are equipped with under-body protection consisting of steel guards under the sump, transfer case and fuel tank leading edge, while there's a reinforced resin guard under the fuel tank. Both diffs are fitted with breather extensions and the new D-MAX has a claimed maximum wading depth of 800mm.
Depending on model grade approach angle ranges from 29.6° to 35.1°, departure angle from 23.9° to 28.9° and ramp-over angle from 23.3° to 23.9°.
The D-MAX has a 2.482:1 reduction in low range which results in a crawl ratio in low-first of 45.5:1 in the manual model and 33.3:1 in the auto. The latter has the benefit of an automatic transmission's torque multiplying effect.
The addition of a standard rear diff lock should improve off-road capability in certain scenarios but it should be noted that engaging the rear diff lock renders the traction-control system ineffective, so it might not be the best option for all occasions. The diff lock can be engaged at speeds up to 8km/h and will remain active until manually disengaged, or vehicle speed exceeds 30km/h, when it will automatically disengage.
Genuine Accessories
Isuzu has developed a big range of genuine accessories to suit the new D-MAX including alloy and steel bull bars, nudge bars, a snorkel, roof rails, hard and soft tonneau covers, tub liners, canopies, ladder racks, alloy and steel trays and more.
Of course, the 4×4 aftermarket will also unveil a comprehensive range of accessories to suit the new D-MAX.
Servicing & warranty
The new 2021 D-MAX is covered by a six year/150,000km warranty with up to seven years roadside assist (so long as services are carried out at IUA dealers). There's also a capped-price servicing program that covers the first seven services for up to seven years/105,000km.
IUA claims that the cost of servicing the new D-MAX is 12 per cent less than the preceding model over seven years. Servicing costs are as follows: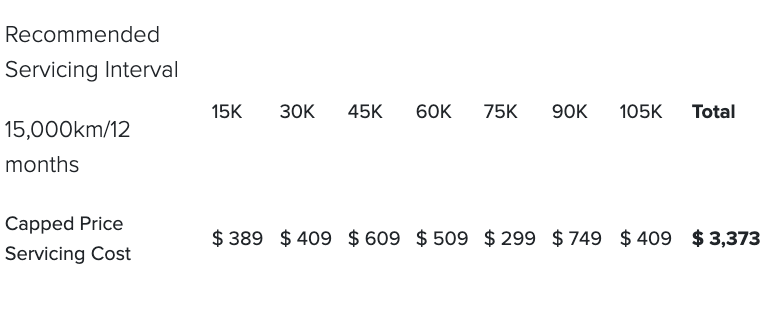 Summary
We're certainly looking forward to getting behind the wheel of the new D-MAX and we'll bring you our thoughts as soon as the embargo lifts on 28 August, so keep your eyes peeled. In the meantime, we'd love to hear your thoughts on the vehicle in the comments section below.
For the official unveiling of the new D-MAX head to the Isuzu Ute Australia website.