The Tangaroa Blue Foundation Cape York clean up came about due to the heavy impact on remote area beaches by ocean pollution and marine debris washing in from thousands of kilometres away. And with many of beaches on the peninsula not easily accessible, the debris just sits there indefinitely, slowly breaking up into smaller and smaller pieces, spreading throughout the environment.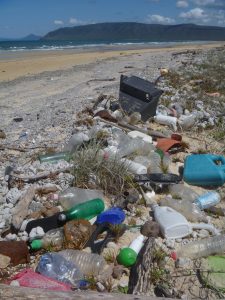 Tangaroa Blue Foundation has been working with local Indigenous communities and partners to set up a series of remote beach clean-up events over the last few years, where long stretches of coast are able to be cleaned with the support of dedicated volunteer work teams coming along to help.
This year they have a number of events taking place, and everyone is welcome to come along on one of their exciting 4WD experiences, where you not only get to assist in a local clean-up, but also get to visit spectacular, remote locations throughout the Cape.
Each event generally takes two days to drive to the site, a five day clean-up event, and then two days to drive home. Those without a 4×4 are able to book a seat in one of Tangaroa Blue's vehicles, and if you have your own 4×4 you are welcome to meet us there, or join the convoy which leaves from Cairns.
Volunteers can opt to help out for just a day or two, or are welcomed to stay the entire time. Camping costs are covered and all clean-up materials are provided.
For more information on a truly great cause or to book your seat, please email info@tangaroablue.org or visit www.tangaroablue.org