Land Rover has sold it's most expensive model to date, which is also their most basic and spartan: the Defender. The 2,000,000th box-shaped Rover to roll off the Solihull production line was made a special one, and went for a staggering £400,000, which translates to over $800,000.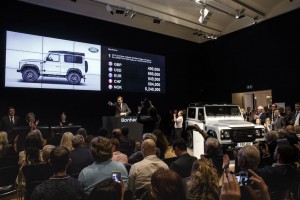 There's a few special decals on this one, but the bones of it are the same as what we know in a Defender 90: 2.2 Ford turbodiesel, six-speed Getrag gearbox, and a shape that is arguably one of the most iconic vehicles of all time. It's nice to know that the proceeds have been passed onto charity, rather than the Jaguar Land Rover coffers. The Federation of Red Cross and Red Crescent Societies (IFRC) and the Born Free Foundation will be on the receiving end of the windfall amount.
The Land Rover story stretches way back to 1948, when a post-war Britain needed something cheap, capable and utilitarian. After sketching a basic design in sand, and putting together whatever materials they could in those austere times, the original Land Rover was born. It was a huge success, dragging Rover out of the economic doldrums, and was exported as a working vehicle to all corners of the globe.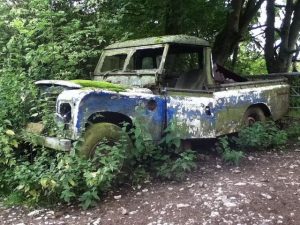 The Land Rover Defender has been through many iterations since then: Series I-III models were followed by a Stage One, and then the 90 and 110. In 1990, the 'Defender' nameplate was born, but the basic ethos of the vehicle has stayed largely the same. Engines and gearboxes have changed leaves and drums made way to coils and discs, and the interior got a big restyle a few years ago, but the vehicle has, in many aspects, stayed the same.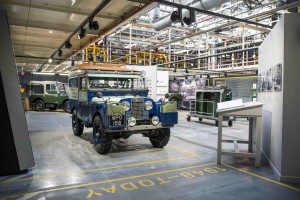 This is part of the swansong for the Defender, as it edges closer and closer to the automotive pearly gates. Production has been slightly extended into the early part of 2016, and extra shifts have been tacked onto the Solihull production line. There will be a replacement, and Land Rover are telling us it will be recognised as the Defender's replacement, but details are scant. Some say it's the biggest automotive secret that the industry has ever seen.