Howling Moon are well known for their rooftop tents, but did you know they did awnings as well?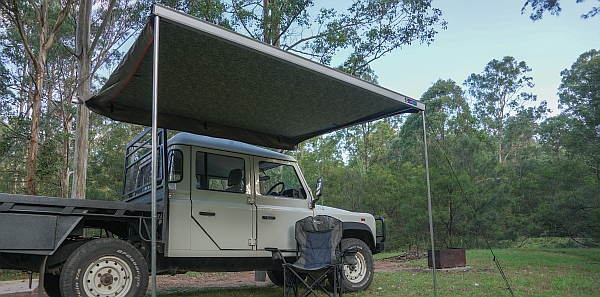 It's called the Howling Moon Safari Awn, I have been testing it out for the past few weeks. It measures 2.5 by 2.1 metres, and fits up via the usual aluminium extrusion onto your roof rack or roof bars.
The best thing I like about the awning is that the upright poles have feet that can be pegged down. This is a feature not present on all awnings, and allows you to get away without guy ropes in light to medium winds. If you are expecting a stout breeze, then get those guy ropes going as well to keep the awning inanimate.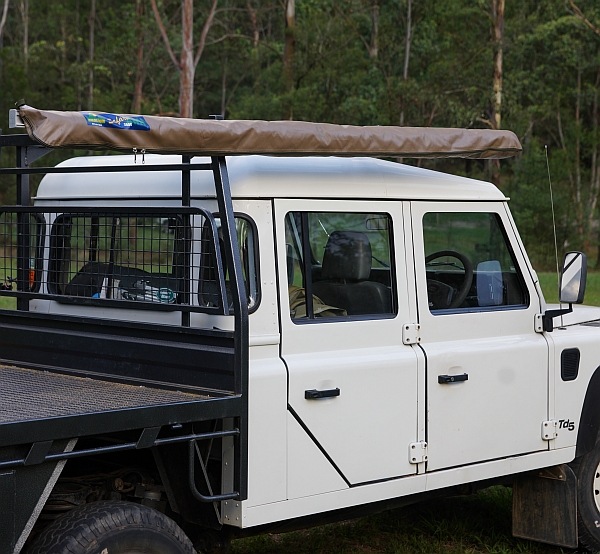 The brown PVC case looks pretty snappy, in my opinion.
To me, there wasn't an obvious place to attach the guy ropes. Other awnings have a ring or tab of sort to facilitate a knot, but this one doesn't. We managed by tying it up just behind the frame that rolls out, and it hasn't caused any issues.
2.5 metre by 2.1 metres provides plenty of shelter for the typical touring couple, and a good size for the Defender.
The main difference with this awning is that the horizontal poles extend inwards to the car, rather than outwards away from it. It's not big deal though, it just changes your approach to setup a little bit differently.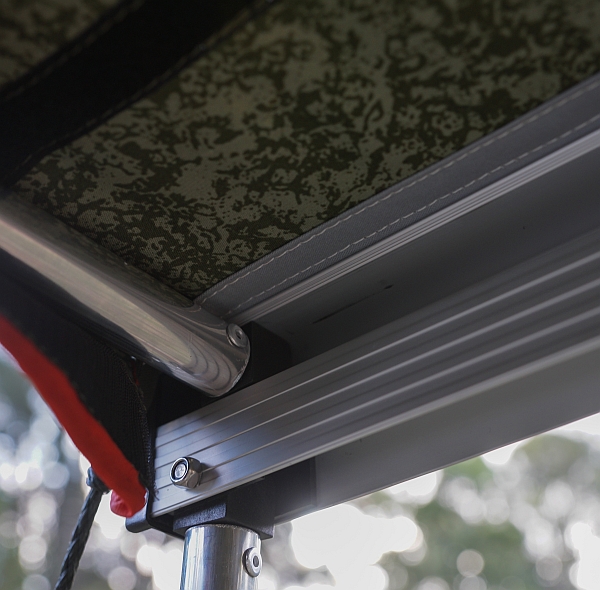 Telescopic poles 'twist to lock', making setups and adjustments easy.
The canvas feels like it good enough for a long service life, and likewise the metal componentry. The PVC case is thick, and velcro straps allow for a painless packup. I wouldn't have any hesitation in using it in a blowing gale, as long as it is securely attached to the vehicle and firmly pegged down.