Nissan's Y61 Patrol Cab-Chassis rolls off the factory floor with a very impressive 175 likes of overall fuel capacity. The main tank takes 95 litres, and the sub holds 80.
You'll often want to squeeze a little bit more in than this; and if you don't want to muck around with jerry cans, you'll be looking at a long range tank. We wanted more range in the Patrol Cab Chassis that is front-and-centre in the Ultimate Nissan Giveaway that is wrapping up soon, so a replacement tank was installed.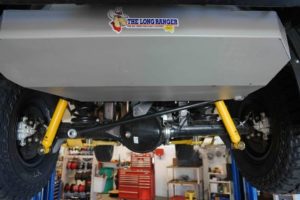 The tank installed is a Long Range TR45 Replacement Fuel Tank from The Long Ranger. It's a tank that replaces the factory main tank, and holds an extra 5o litres. You still use the sub tank, so 80 plus 145 makes a mightily impressive 225 litres of capacity.
What we like about the Long Ranger tank is the way it's made. 2mm (14 gauge) aluminised steel is used, CAD designed and made specific to each application. They are made in Newcastle, Australia, and the finish on them is quite impressive. They are designed smart: Rather than just a straight box shape, tank is designed with departure angle in mind, with the correct deflection angle if it does take a knock and slide off road.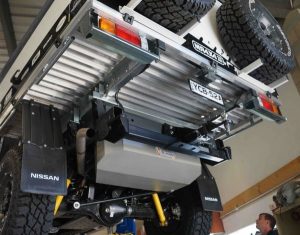 After spending some time with the long range tank installed in the car, there isn't much to report. You wouldn't know it's there, except for the fact there is a much longer time between refills.
If you want even more space under a Patrol, for example, you can whack in a replacement sub tank as well from The Long Ranger, which will give you an extra 40 litres capacity again.
For more information, go to www.thelongranger.com.au
The Ultimate Nissan Giveaway is closing up soon! Head to www.carsales.com.au/patcallinan to enter, for your chance to win!