Today was a big day for Project 130: A combination of wheels, tyres and beadlocks have been fitted up. This will be the only set used on the Defender, for daily driver duties, fun weekend expeditions and more serious desert crossings. These will be scrutinised and reviewed during this time, with our findings published after spending some quality time with the products.
The tyres are Bridgestone's new mud terrain, the Dueler M/T D674 in LT285/75 R16. I chose these tyres because of their offroad performance and construction; an aggressive and advanced tread pattern that combines long life and good traction. It's a new style that offers a lot of advantages, and I am really looking forward to see how they perform.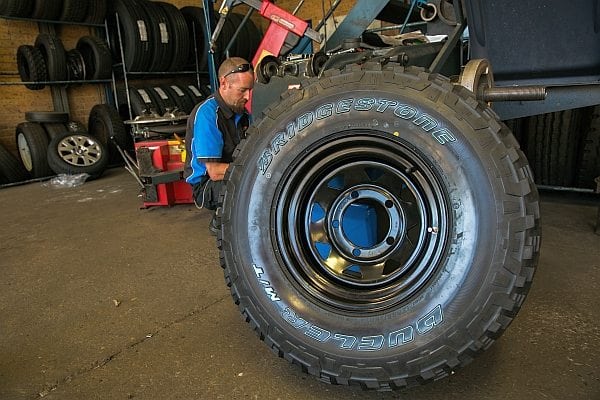 The Bridgestone Dueler M/T D674 tyres have the offroad credentials that I am looking for in Project 130, and look sharp with the Dynamic steel wheels.
The Dynamic wheels are a great option for the Defender. They are one of the few companies that still cater for the uncommon PCD, and they provide a variety of size and offset options. I chose steel over alloy because the style suits the vehicle, and the variety of sizes and offsets available meant I could find something to suit my own application.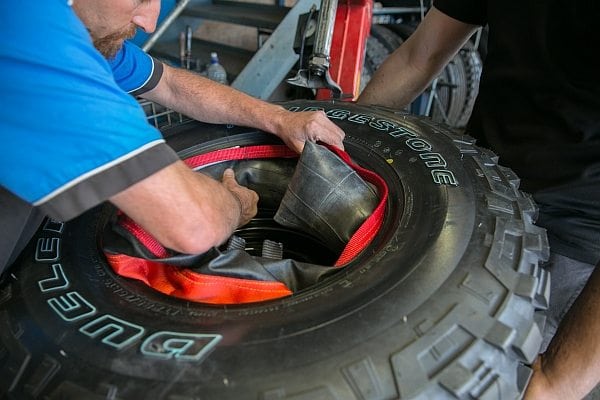 To get the most out of these wheels and tyres, increasing their performance and reliability in arduous, low pressure conditions, I have had some internal beadlocks fitted.
Why fit these to a touring vehicle? That's a good question, and many believe that beadlocks should only exist in the domain of competition rigs. But I disagree,  simply because they will increase my vehicle's performance offroad, and my own confidence in it's capabilities. And I am sure I don't have to tell you why more capability is better … Effectively a tube in a tough sheath, keeping the beadlockers pressurised will keep the tyre sandwiched against the bead, locking it in.
We all know how great low tyres pressures can be for a 4X4's comfort and capability, but the normal caveat there is you do run the risk of peeling the tyre off the rim if you drive too hard with pressures too low. Also, tyres can slip and spin on a rim when being driven in technical offroad situations, resulting in balance being lost. Secondair's internal beadlocks don't completely remove this risk, but you'd have to be really pushing the envelope to run into trouble.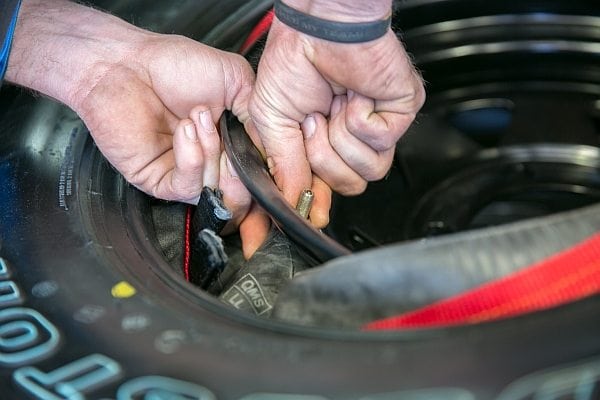 If you think getting the rims drilled will make the whole operation too expensive, think again. I paid the princely sum of $20 per wheel at a local engineering firm. You will have to pay extra for fitment of the beadlocks to the wheels however, as it does take a bit longer to get it all done right.
This setup will be getting a thorough testing in a variety of situations and terrains over the coming months, published in Pat Callinan's 4X4 Adventures magazine. To grab a subscription, head over to the MR4X4 shop now.
Thanks to AGM Engineering for modifying the wheels, and Gordon Leven Tyres & More for fitting everything up.
For more information on the products, follow the below links:
Bridgestone Dueler M/T D674: https://www.bridgestonetyres.com.au/dueler-mt-d674
Secondair Beadlocks: http://www.secondair.com.au/
Dynamic Steel Wheels: http://www.dynamictyres.com.au/