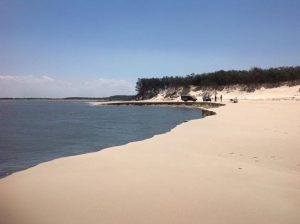 In breaking news, another sinkhole has reportedly opened up at North Stradbroke Island earlier today.
While it may look like a nice swimming hole, Surf Lifesaving Queensland is urging people to stay away from the area (as common sense would dictate) and only swim between the flags.
It is unclear at this time what has caused the Stradbroke sinkhole to occur, or whether it's related to the tectonic activity that has been linked to the one that opened up at Inskip Point a month ago.
We'll keep you up to date as further details develop.