Our journalist on the road puts TJM's air compressor through its paces. Does it stand up to the rigours of Outback use?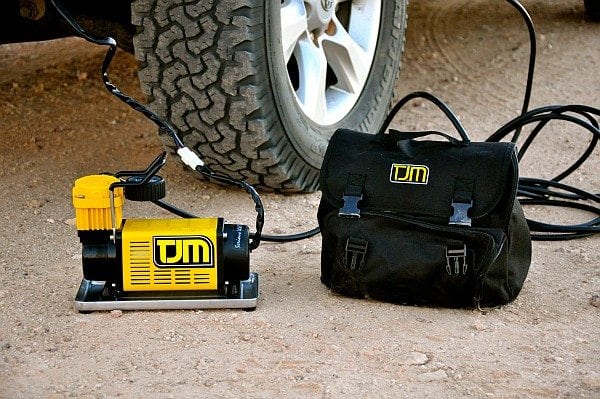 Looking after your tyres (and in particular tyre pressures) is paramount when travelling throughout this great country of ours and a TJM portable air compressor will ensure your tyres are inflated to the correct pressure before you get back onto the blacktop.
We road tested this compressor on a recent trip through Western Queensland and the edges of the Simpson Desert and it had no problems inflating all the tyres of the vehicle and camper trailer one after the other.
Weighing in at just over 5kg and able to pump out a maximum of 78 lpm (under no load) and around 40 lpm (under load) at 20psi, the TJM portable air compressor is a valuable piece of equipment that will help you enjoy your time travelling, and more importantly, return home safe and sound.
It comes with a whopping 7.2m quick disconnect hose, two mattress adapters, ball inflation needle, spare fuse and a tough carry bag. Priced at just over $200 and with a very impressive 5 year warranty this compressor offers great value for money for anyone looking to pick up a quality, portable air compressor.
For more information, head to www.tjm.com.au