This remote-area towing Iveco Daily 4X4 was built by the mob at Expedition Vehicles Australia. The owners call it the White Rhino and they love it.
Words and Images by Mark Allen: Late last year, Expedition Vehicles Australia (EVA), on Queensland's Sunshine Coast released their latest offering dubbed the 'White Rhino', which is based on the highly capable IVECO Daily 4×4 platform.
While the majority of this touring 4X4 is designed and built in-house at EVA's production facility, some high-end specialty manufacturers and suppliers have collaborated to provide products and knowledge to help bring to fruition what EVA claim to be "Australia's ultimate expedition vehicle on a 5500kg GVM chassis."
Standing tall on road-legal 37×13.5R17 Gladiator X-Comp rubber, mounted to nine-inch wide EVA alloy rims, the Daily indeed exhibits plenty of offroad cred. BHSS-TBSS Automotive Engineers provided the necessary brake upgrade via vented discs up front and larger cylinders at the rear. In-house-designed custom sway bars, combined with King shocks on all four corners control on-road body roll while allowing exceptional off-road suspension flex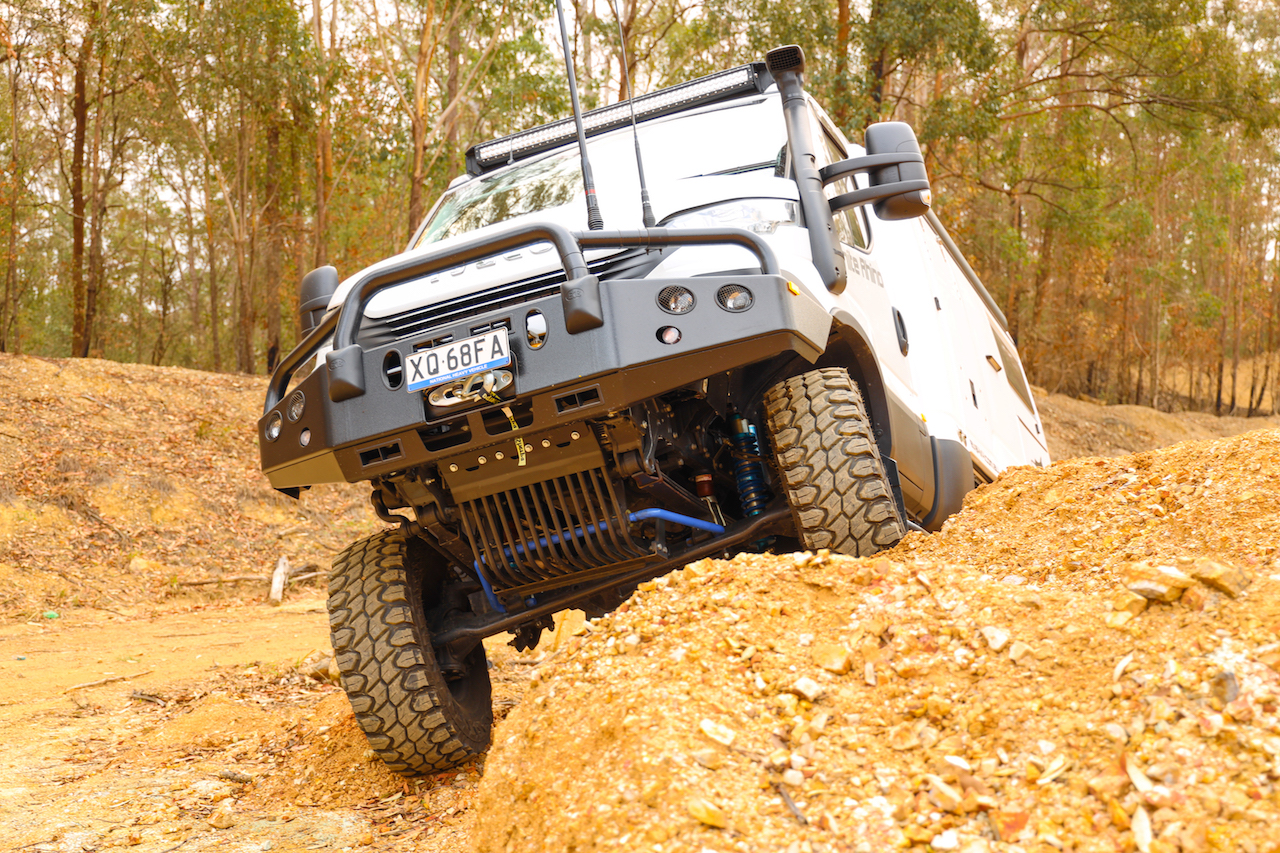 A Sherpa 4×4 25,000-pound winch is mounted into an alloy and steel bullbar, which also serves as a mounting place for GME UHF and phone antennas. EVA's sheet metal division produced the roof rack, which incorporates a Stedi 52″ Lightbar. Underneath is a 212lt potable water tank, while a 110lt Brown Davis auxiliary fuel tank has been teamed with the factory 90-litre fuel tank to provide plenty of outback touring range. Differential and transfer case breathers, coupled with a Travel Trucks snorkel, prevent water ingestion during deep crossings.
Inside the cab, an Alpine audio 9-inch 'Perfect Fit' display has been fitted, which incorporates Hema maps for easy and accurate on and off-road navigation. A GME XRS UHF is used for communication and GPS positioning – a great safety feature.
Removal of the rear cab wall is a significant body modification that enables walk-through access to the matching motorhome module – a claimed global first on an expedition vehicle. With over two-thousand hours of CAD design and post-processing, EVA used their custom-built CNC router to turn the land of Solidworks into real-world surfaces – technology at its best!
EVA's skinned the machined foam core with layers of fibreglass, leading to 'fairing', the process of filling and torture-boarding (sanding) the surface until a glass-like finish is ready to take paint. EVA tells us this initial design and concept, to fruition, took some six months to complete. This pattern or 'plug' then becomes the mould face. Layer after layer of fibreglass forms a 10mm thick skin, plus structural steel is added to ensure mould stiffness. Then like an egg hatching the mould was popped off the plug, ready for the bodies final construction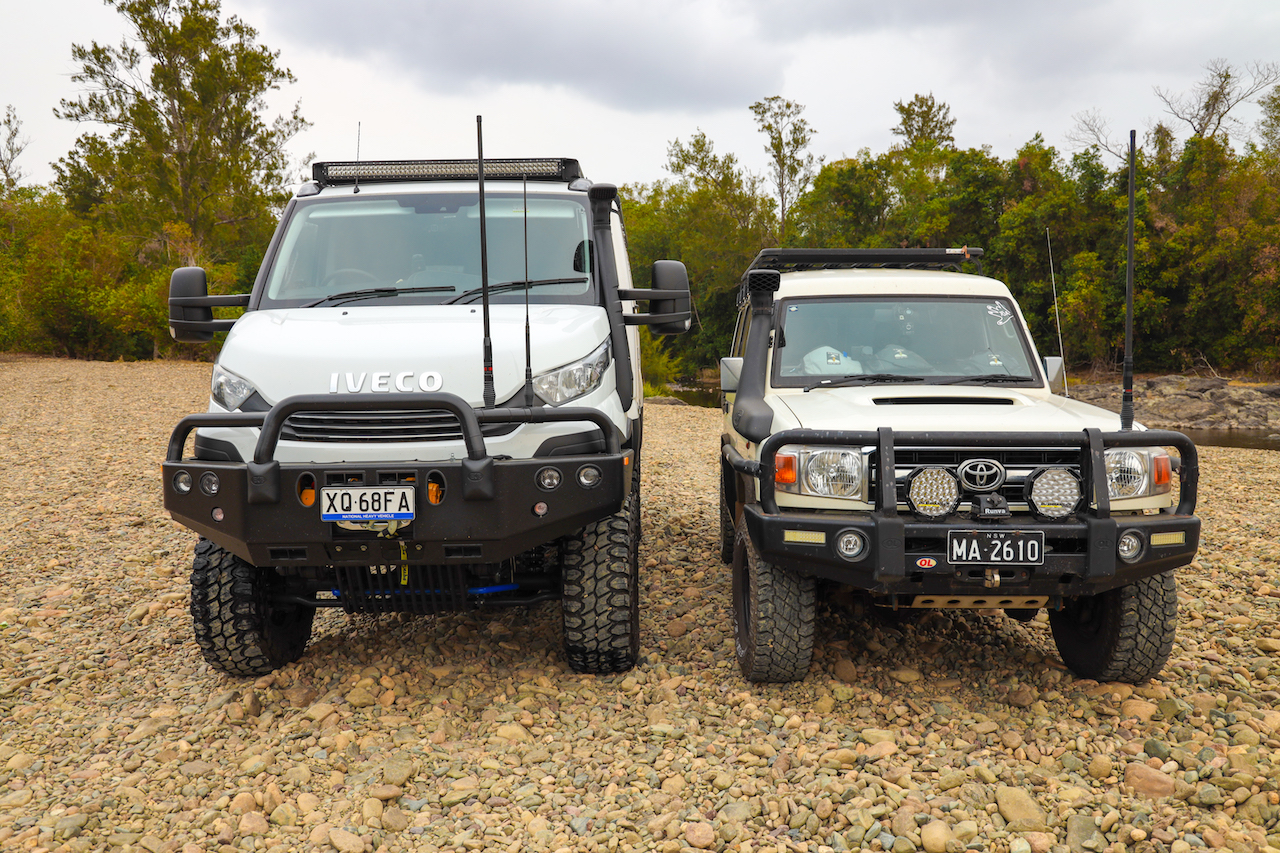 To maintain a low drive height, the pop-up roof rides on Danish actuators, leaving the customer with nothing more than a press button to quickly move the roof up or down. Roof-mounted Thule awnings are found on both sides, safely tucked away into moulded recesses, while Fresco supplied the roof-mounted 12v Air Conditioner. Like a tape measure blade, the roof is curved for stiffness and also incorporates alloy stiffeners to keep the fibreglass true in high ambient heat.
Inside the motorhome body, custom-built furniture and a fresh layout make good use of the 3.7mx2.1mm space. ADR approved seating, in a face to face layout with a swing-away table between allows for easy access. On the driver's side is a 130lt Isotherm fridge freezer with sink above, and is housed in a bench which tilts up to reveal a toilet and shower. A double bed to the rear with MSA 4×4 Drawers beneath utilises valuable space.
Ten USB points, three cigarette sockets and three 240 volt power points positioned throughout allow for easy recharging of all tech devices. Lighting is by three touch-sensitive adjustable roof lights and two positionable reading lights. Off-grid power comes from 640w of roof-mounted solar, driving a Victron MPPT to the 300AH LiPO4 battery. Alternator charge is through an ignition energised relay feeding dual Enerdrive 40A chargers for quick charge and multiple redundancies. A Victron inverter also runs the portable induction cook-top.
Outside, an additional shower is fitted along with 240-volt inlets, as well as lockable stainless water and fuel fillers. The lower section of the body is Raptor lined for chip prevention and to further aesthetically blend into the cab.
Rear storage hatches on both sides house the Sherpa tyre lowering winch, electrical systems, toilet cassette access and provide a large storage volume. All doors have double seals for the best possible barrier to dust ingress. To the rear is the second spare, which is also lowered by the electric winch.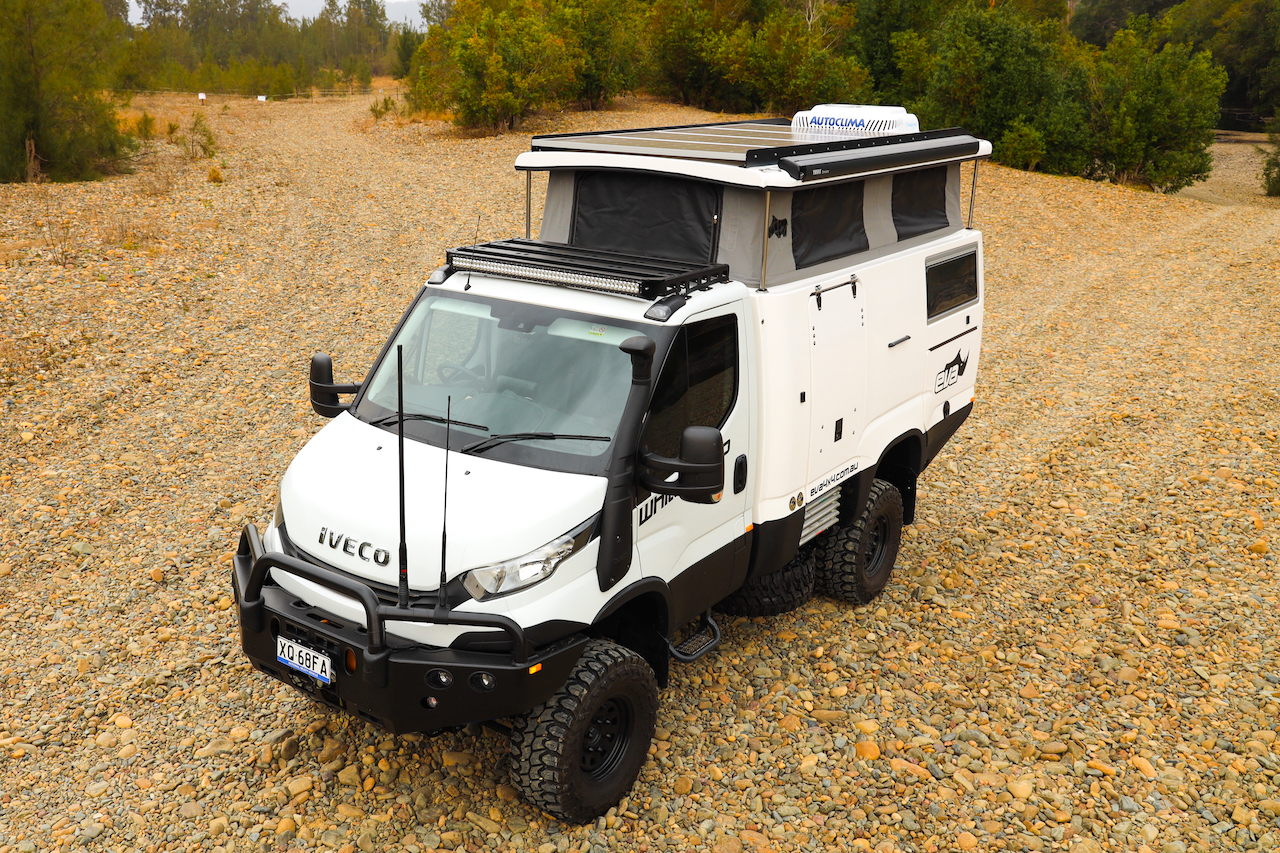 Pat Callinan's 4X4 Adventures magazine caught up with the owners mid-way through one of their first trips. To say they are tickled pink with their away-from-home living-quarters is an understatement. The off-road ability has allowed them to traverse soft sandy beaches, bush tracks, climb a few rocks and generally tour with ease.
For more information on the White Rhino, contact EVA via www.eva4x4.com.au