The best way to cool down in the Northern Territory (NT) is to find a beach or waterhole and throw yourself in. But, isn't the NT chock full of man-eating crocodiles? Well, given that the NT is home to the world's largest wild crocodile population with over 100,000 in the wild, there is no denying that the NT is indeed chock full of them. However, the good news is that there are still plenty of amazing swimming holes that are safe to swim in.
Here's the best of the best when it comes to swimming croc-free in the NT
The Red Centre
Heading west from Alice Springs into the West MacDonnell Ranges you will find yourself in the vicinity of some amazing croc-free swimming holes. Five to be exact, of which two require a 4WD to access. The best part? There is camping at every single one of them.
Find Ellery Creek Big Hole around 90 kilometres west of Alice Springs. Here, the waterhole cuts through the red, towering cliffs for a picturesque croc-free experience.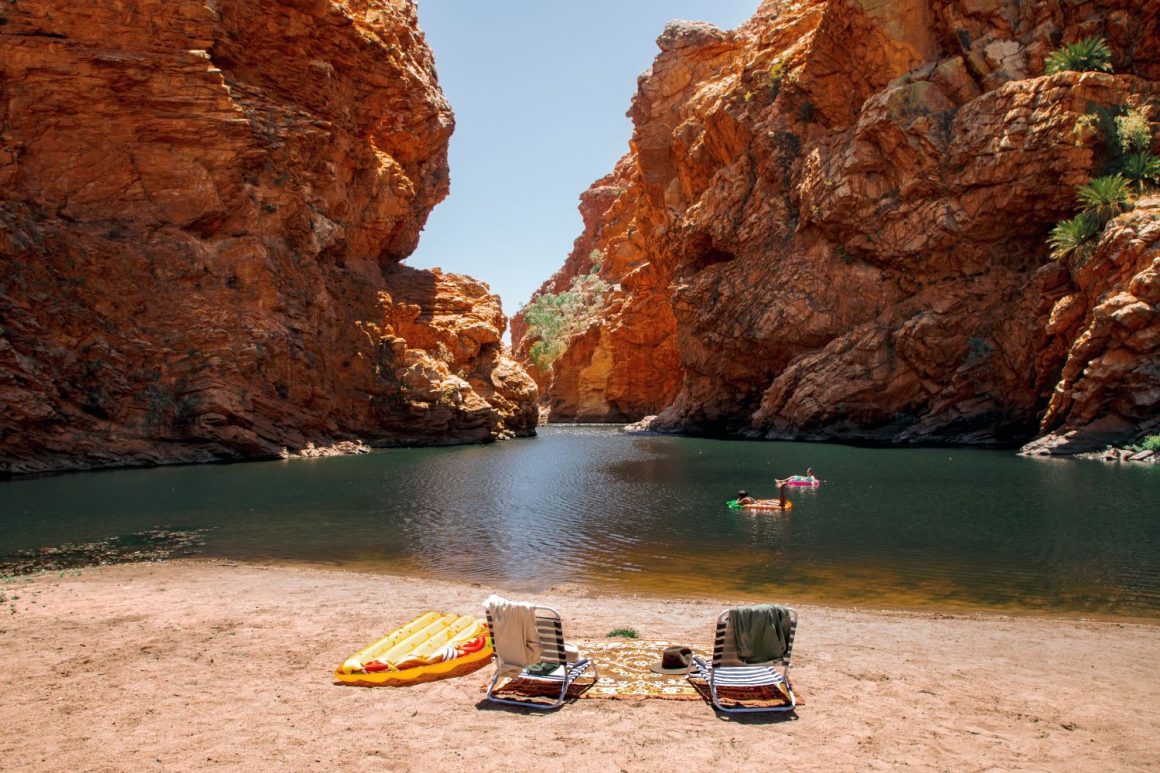 Finke 2Mile, Ormiston Gorge and Glen Helen Gorge can all be found approximately 130 kilometres west of Alice within close proximity to each other. Finke 2Mile requires a 4WD but it's here that you'll find the best camping. Although there are no facilities, you can spread out and camp right next to the ancient Finke River, which at around 350 million years old, is believed to be the oldest in the world. Like Ellery Creek, Both Ormiston Gorge and Glen Helen Gorge boast stunning towering red cliffs as a backdrop.
Redbank Gorge is the furthest west at around 160 kilometres from Alice Springs. A hike is required to reach this swimming hole and you will want to carry in a floaty. Why? Because it's really fun to wade up the narrow chasm and float back down. A 4WD is recommended to access Redbank Gorge.
Katherine Region
The Nitmiluk National Park in the Katherine region has a number of croc-free swimming options. Although, don't jump in just anywhere along the Katherine River as the body of the river is not considered safe for swimming. Head to Edith Falls around 60 kilometres north of the town of Katherine. It's a top spot and features a waterfall with both upper and lower pool areas. Hiking trails reach other croc-free swimming holes from here such as the 4.5-kilometre trek to Sweetwater Pool. Many of the swimming holes at Nitmiluk are only safe in the dry season so make sure to check at the Nitmiluk Visitor Centre before you jump in.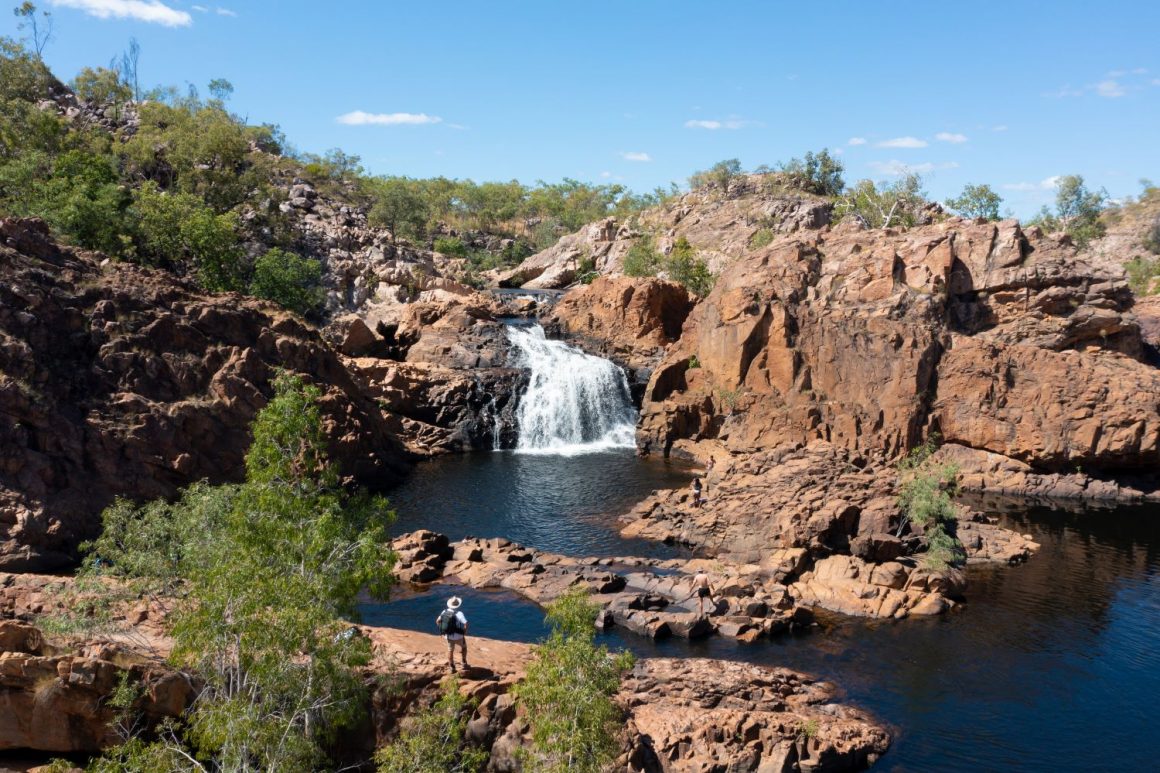 Okay, so hot springs aren't exactly refreshing on a hot day but these are too good to pass up. Find Katherine Hot Springs within Katherine itself and enjoy a series of crystal clear pools on the edge of the Katherine River. Want more? Around 100 kilometres southeast of Katherine you will find a set of spring-fed thermal pools in Mataranka and a few kilometres away, Bitter Springs, which is a stunning turquoise, unlike anything you've ever seen before.
Kakadu National Park
You may be surprised to learn that croc-free swimming holes can be found in the Kakadu National Park. Many of which are accessible from popular campgrounds. Stunning options include Maguk Falls, Jim Jim Falls and Twin Falls, which are all accessible by 4WD. For those willing to hike in, Jarrangbarnmi Gorge Waterfall is a top choice.
The majority of waterholes are seasonal in the NT, including the above-mentioned Jim Jim Falls. It closes during the wet seasons for half of the year when it transforms into a thundering waterfall dropping down a 200-metre high cliff.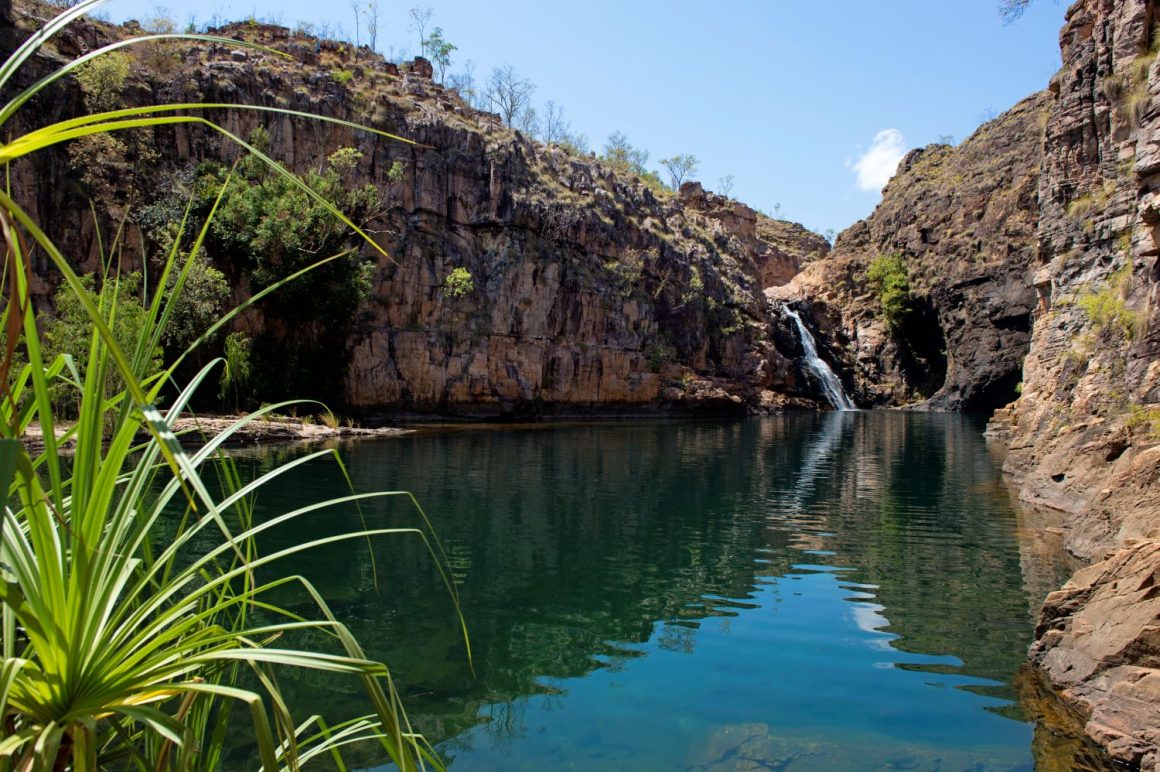 Possibly the most brag-worthy is Gunlom Falls, an infinity edge pool perched high on an escarpment. Here there are blue skies above and the vast Kakadu National Park spread out in front.
Litchfield National Park
You'll be spoilt for choice in Litchfield National Park and due to its proximity to Darwin, it's a popular day trip. Stunning croc-free rock holes and plunge pools? Yes, please! Both Buley Rockhole and Florence Falls are open all year round (unless there has been extreme flooding) and Wangi Falls, Florence Falls, Walker Creek and Tjaynera Falls are open in the dry season only.
Florence Falls is simply stunning. Surrounded by monsoon greenery, it features a double waterfall that cascades down into a fairly secluded plunge pool. Buley Waterfalls is a different, but no less amazing experience, featuring plunge pools and a series of small waterfalls that feed into a number of rock holes. Go for a stroll to find your very own private rock hole to cool down in.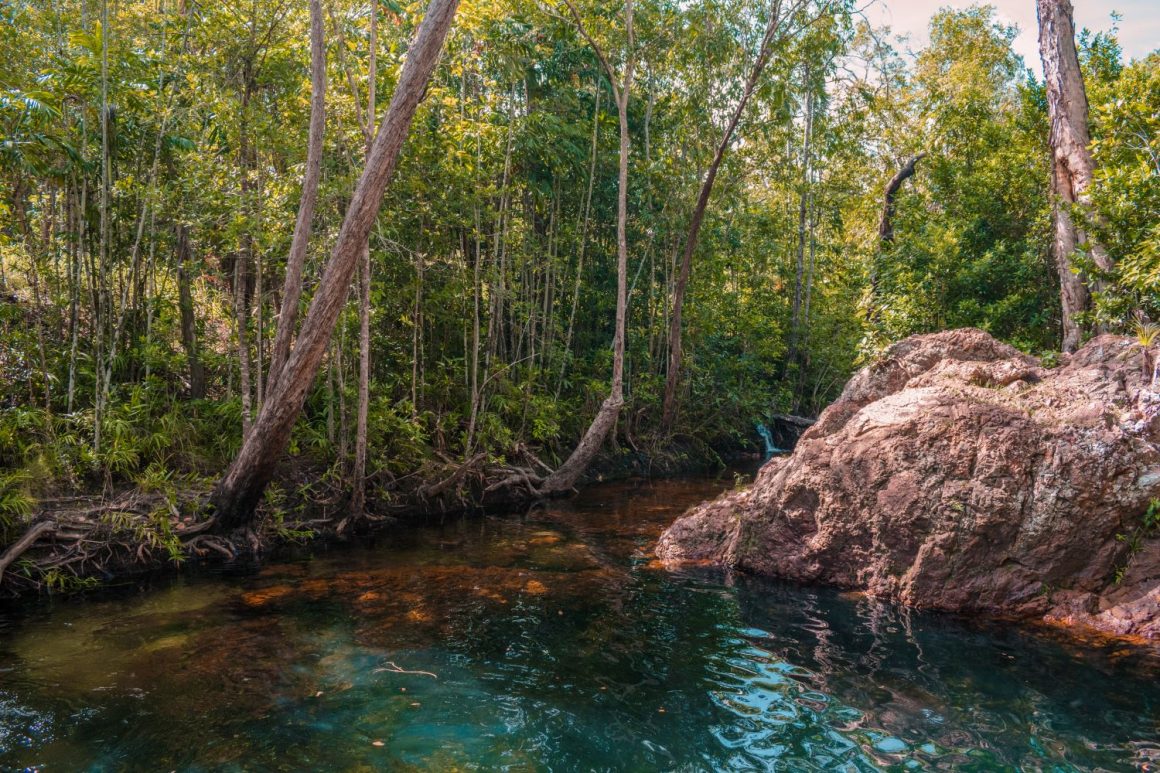 The croc-free swimming holes in the NT are not only stunningly beautiful but offer a memorable experience to beat the heat with some wild swimming. Please remember to always obey the signs as many waterholes in the NT are seasonal. If you are unsure, it's better to play it safe and stay away from the water.