This is the Jeep Compass Trailhawk, the small 4WD that fills the boots of a decidely forgettable unit sold previously. We got an invite in the mail, and thought what you're probably thinking now: "No thanks, it's just a softroader. I prefer rock crawling over mall crawling, whilst I stroke my huge beard in my flanno." But Jeep were keen for us to drive it, telling us it's much more than just a fancy softroader. They think it's a proper little 4WD. Alright, then. There's only one way to find out …
First Impressions
The Trailhawk's listed 225mm of ground clearance sounds impressive, but my impressions were that it probably had a bit less 'real world' underbody clearance than the spec sheet suggests. 225mm is similar to your typical dual cab ute, for reference. Importantly, the bash plates, 3mm plate steel under the engine at the front and near each of the rear wheels, are quite stout. They get a fair workout as you navigate ruts and cross-axles, but they are up to the task. And that's what they're there for, at the end of the day.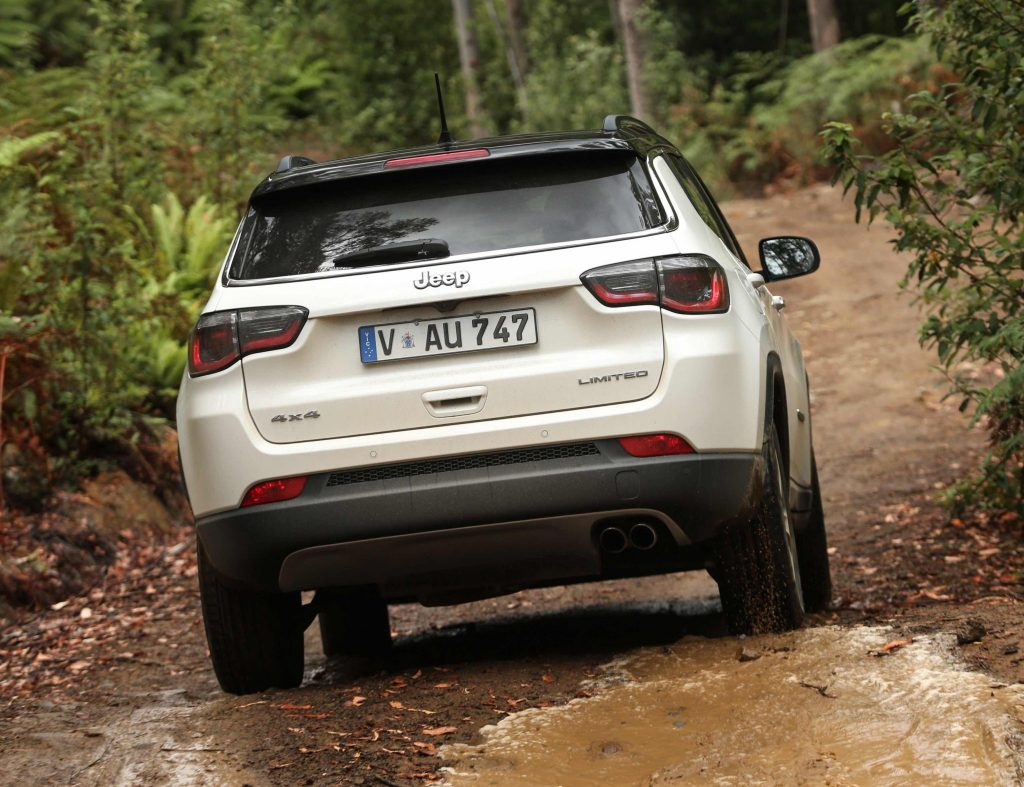 Where the Renegade is 4.2 metres long and the Cherokee is 4.4 metres long, the Compass slots in between perfectly with a length of 4.4 metres. Don't ask me why such a small amount makes such a difference… I would probably be an awful auto executive. The Compass a very important vehicle for Jeep in Australia, who is using a new state-of-the-art production facility in India and are keen to regrow trust with the brand from a lot of disheartened Aussies.
The Elephant
Jeep know their reputation has been slowly swirling down the gurgler lately. It's a hard thing for a big company to face up to and admit, but Jeep know they had big problems. My impression is that they are genuinely working hard to try and fix the problems. They know it's not going to happen overnight, and the most important thing is quality of the product. It's a long road, but it starts with quality product. And they reckon the underlying quality of the Compass shows the improvements they have made.
The Compass is a pretty small car, but offers good space for the 1st and 2nd row of humans. You're not really left wanting more space or comfort, unless you're particularly tall and skim your head on the roof in the 2nd row. Plus, there's enough boot space for your typical family run: a few big bags of luggage, or a pram and other stuff.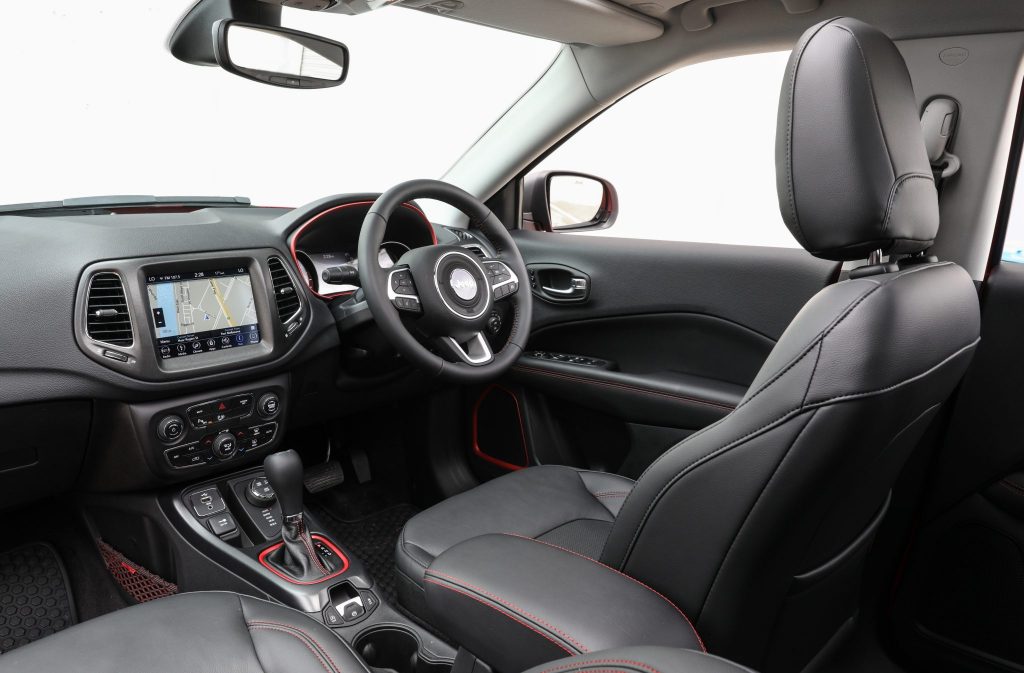 4WD Stuff
The Compass Trailhawk has a fairly special 4WD driveline system, which is different from other 4WDs (and softroaders, for that matter). The transverse-mounted engine runs through a nine-speed transaxle, with a disconnecting rear axle setup. It's kind of like the shift-on-the-fly that so many 4WD utes have, but the other way around.
Most importantly this setup does give you a 'proper' 4WD setup, with a 50/50 split of torque between the front and rear ends. The nine-speed gearbox also comes with a 'granny' 1st gear, which has a 20:1 reduction ratio. That's not too shabby.
The Compass is based on the the FCA Small Wide Architecture, which is shared in common with the Renegade, and some Fiats. That means indepentant all-round suspension, unibody construction and a transverse-mounted engine. In order to get the off-road capability up to scratch, Jeep engineers had their work cut out to build extra off-road suitability into the platform. The independent suspension is modified over other vehicles, to improve ground clearance and articulation.
Jeep claim the Compass has class-leading articulation, but that's kind of like saying you're a faster runner than a guy with no legs. There is precious little flex available from the Compass, which mostly only comes from wheels tucking a little over obstacles. But, you can't expect it to do much more, really.
How does it go off-road?
So, little unit lifts wheels aplenty off-road, which means traction control has it's work cut out to keep forward momentum happening. But there's good news here. Your '4WD lock' and 'Low Range' buttons actually work and make a proper difference. We found crossing the car up on rocky climbs were much more easily dispatched with the 'Low Range' engaged, and the dial flicked into Rock Mode.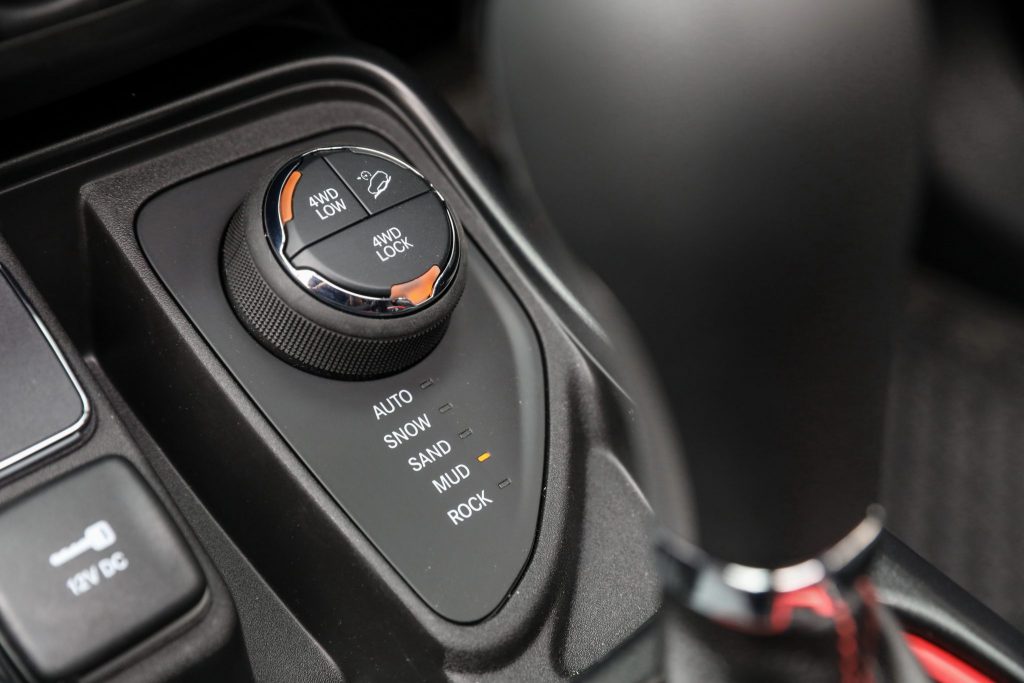 Where we were stuck without those modes engaged, pressing some buttons definitely tightened up the response of the brakes through the traction control system. This means it does like throttle and a touch of momentum to go over obstacles, rather than slow crawling. Thank goodness those bash plates are solid …
So, it's not all fluff from Jeep. This is a good little 4WD with some genuine capability. It's powered by a 2.0 litre turbodiesel 'MultiJet' engine, which comes via the FCA conglomeration. It's a good little performer: 125kW at 3750rpm and 350Nm at 1750rpm push the little unit along quite nicely.
What about the rest?
It's a fairly refined affair overall: the 9-speed gearbox is slick and responsive, and the suspension is tuned nicely for a good on-road drive. We drove it through some fairly twisty and bumpy roads in lovely Tasmania, and it managed to keep it's compsure really nicely. The firm suspension does get a bit jiggly and shaky on the unsealed roads, however.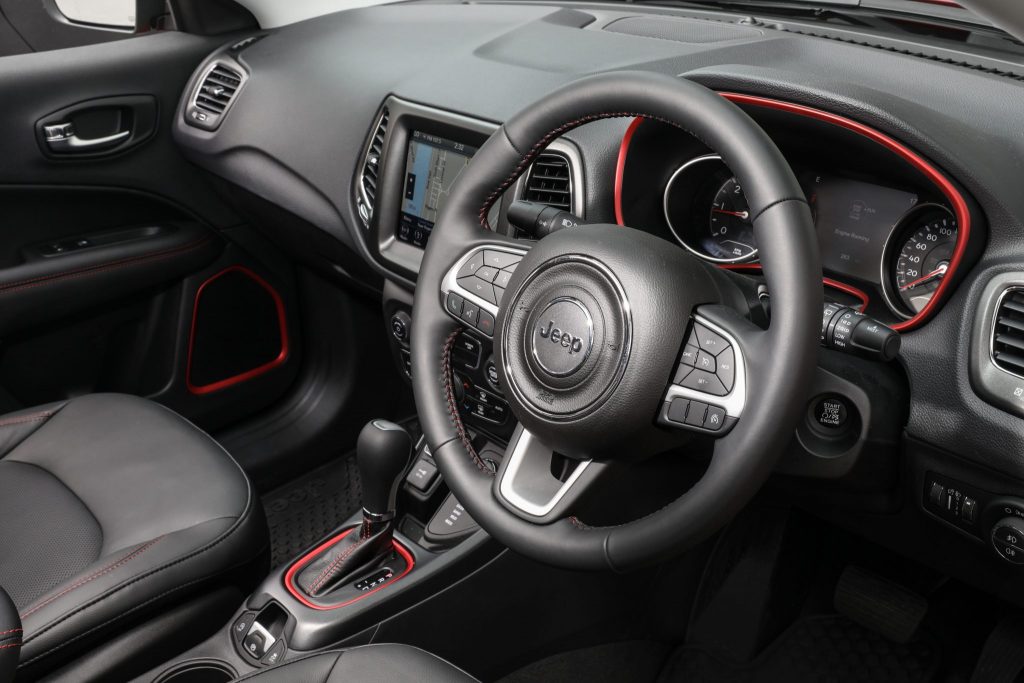 So, who's buying this Compass? Obviously you're not going to trade in the 1HD 80 Series and go touring this big brown land in a Compass. It's not that car. But, for the $46,000 they want for the Trailhawk, you're getting a pretty swish and refined little go-getter with plenty of pizzazz and character. It feels well put together, and drives particularly well. And the off-road capability, compared to other small SUVs and softroaders, is definitely one main point you can't avoid. It does go off-road, and it does it pretty well.
Do you want something small and easy to zip around in town, but also something with a bit of character and a bit off-road capability to boot? Then, this little Compass is worth a good look.