The Defender as we know it is dead… so can this all-new, softer looking off-roader live up to the name? Check out our 2020 Land Rover Defender Review.
Editor's Note: You might be reading elsewhere on the Interweb about outlets that drove the new Defender in Namibia, Unsealed 4X4 was lucky enough that our OS man of action, Paul Horrell, snagged a drive of the new Defender in his own backyard.
What we like:
The on-road ride and handling;
The interior look, feel and practicality.
What we dislike:
The price;
The fact that if it breaks down in the bush, you'll need a tow truck.
Words by Paul Horrell: Fifty metres into my first drive and it's clear as day the new Defender is a different kind of off-roader. All I've done is turn left out of a farmyard entrance and set off down a gravelly track.
There's a well-oiled precision to the steering, a suppleness in the ride, a quiet smoothness to the drivetrain, a sense of solidity in the monocoque rather than the separated motions of a body-frame pairing. It's seriously impressive. Which worries me. Can a car this plainly civilised actually be much good out among the dirt and rocks? If you were feeling uncharitable, you'd say this thing feels a bit, whisper it, crossover-y.
See, it's surprising how much you can tell about what a vehicle's gonna be like in the dirt just by driving it on the road. A Wrangler makes shuddery progress over even slightly lumpy bitumen, and fidgets side to side. That's because of the live axles, the very thing that give it such good articulation. A Jimny pitches and squirms, because the ratio of unsprung to sprung weight is high due to the tough axles and lightweight body, and it's got a short wheelbase and narrow track to make it manoeuvrable among the boulders and trees. LandCruisers float and pitch, because they're designed to yield their suspension travel easily in pursuit of traction. The Defender? Nope, none of the above traits.
While you all desperately want to know how this thing drives in rocky terrain that's not the most surprising thing about the new Defender. So, I'll talk first about how it acts when it's on the road. Because that's what Land Rover has most drastically improved. And what it most needed to, at least for the users who don't spend 90 per cent of their time deep in the bush. And we don't think anyone buying this vehicle going forward will be doing that.
Anyway, the off-road capability probably hasn't been transformed. It'll go further than the old stager, but not that much. What's most changed off-road isn't what it does but how it does it. Another highlight of the new Defender is the way it uses technology to make the off-road driver's job easier, and its progress across the terrain more easeful and comfortable.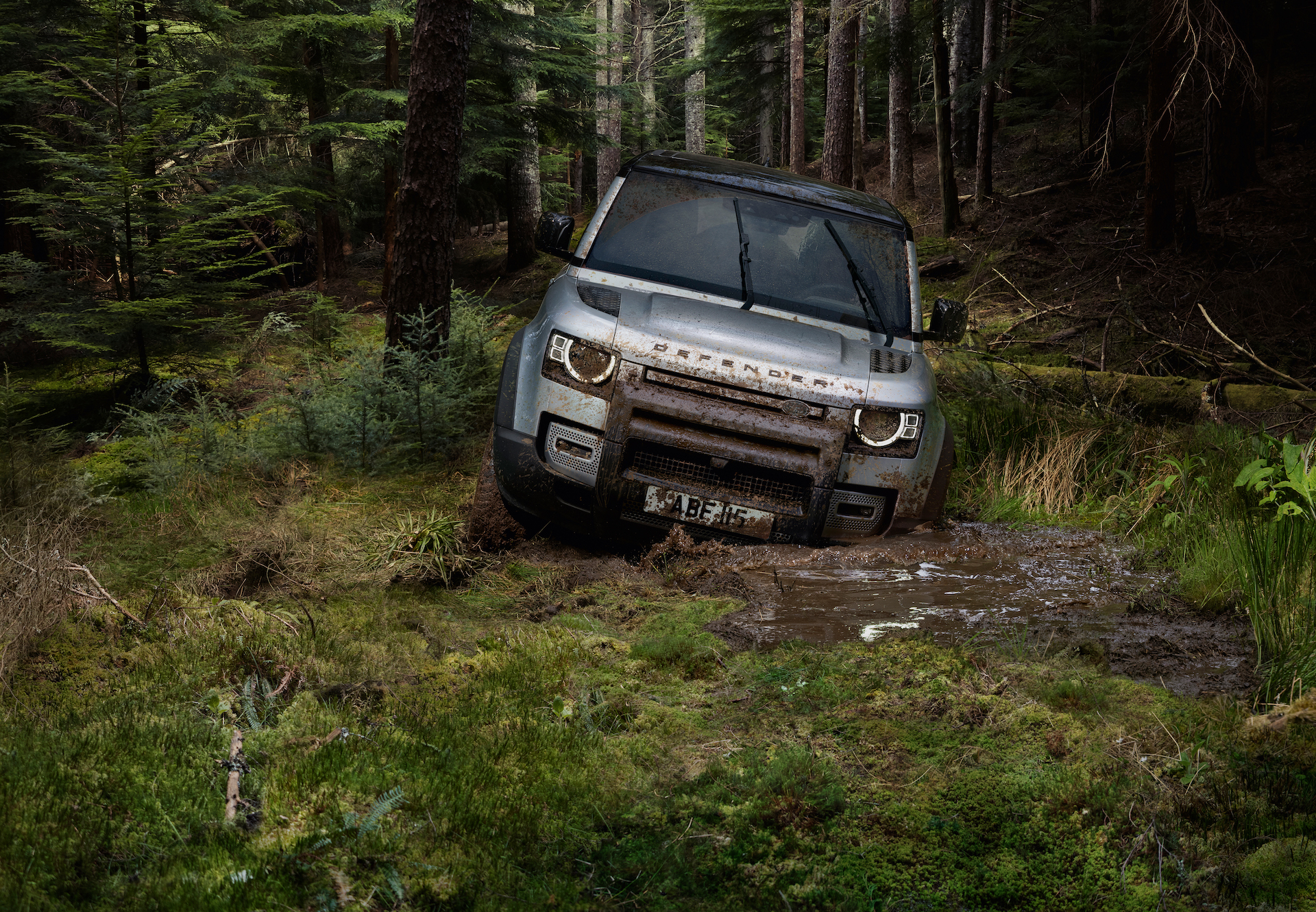 I'm in a 110 D240 First Edition. Translation: long wheelbase, 177kW four-cylinder diesel, lots of lush trim options. An eight-speed auto is standard on every new Defender, the 90 short-wheelbase and the long 110. In all cases it's hooked to a two-speed transfer box. Base-model 90s will get coils, but all 110s have air suspension.
There's more than enough power. The right pedal is calibrated 'long' – it takes a deliberate flexing of your foot to get the thing moving smartly. And the autobox slurs its upshifts, the revs dropping away only slowly, rather than snapping down. That smoothness is the off-road heritage showing: no sudden power application or harsh gearshift will break traction. It's also really quiet. But dip deep into the torque and the engine gets louder if not harsh, and it accelerates pretty smartly. The vigour drops noticeably only when you're close to 100km/h. FYI in Europe it'll cruise at 130km/h entirely comfortably.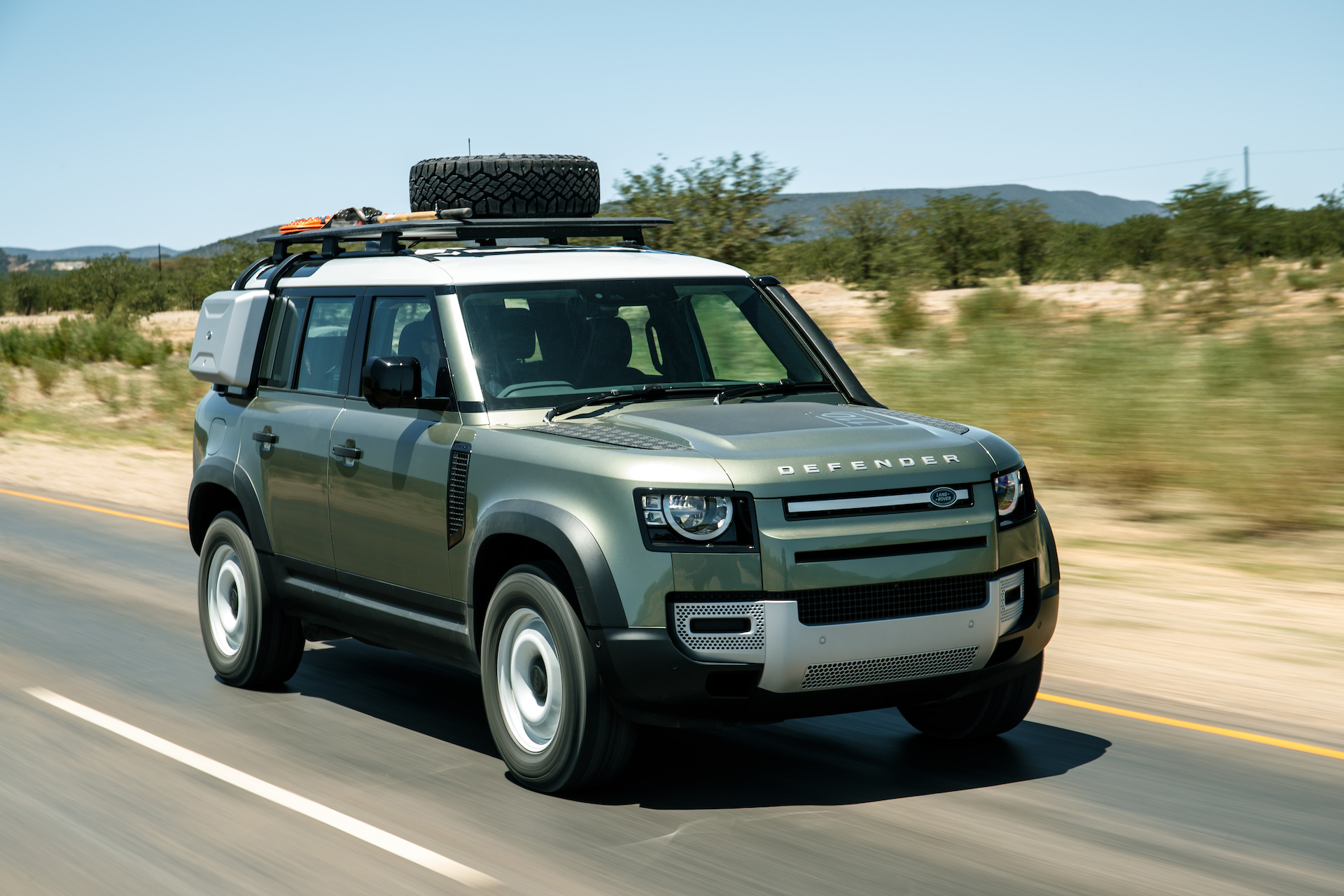 Apart from that high-rev engine noise, it's almost uncannily quiet. Barely any wind bluster at highway speed, and the test car's Pirelli Scorpion Zero tyres just whisper. But add a roof rack and stick it on knobblies and both those things will surely change.
Those tyres can take some, but only some, of the credit for the way it steers too. Which is superb, with a disciplined adherence to straight lines and a progressive swing into a curve. Through a series of bends, with crests and dips too if you want, it keeps impressive control of body sway and heave. More so even than a Discovery and approaching how a luxury road-biased crossover should act (but many of them don't because they're too firmly sprung in pursuit of a fake kind of 'sportiness'). So, it's an easy vehicle to stroke down the road, even a tricky road, at a surprising lick.
All the time the ride is superb. Not just supple and reasonably well-damped over big undulations. That's easy to achieve. The clever bit is the suppression of wheel hop and shudder. Obviously, it has a better chance to do that than a live-axle 4X4 but, even so, most independently sprung 4X4s also suffer to an extent, as a by-product of their heavy tyres, hubs and suspension arms, and (less obviously) their soft engine mounts. Not here. Even over wash-boarded surfaces the Defender remains remarkably serene.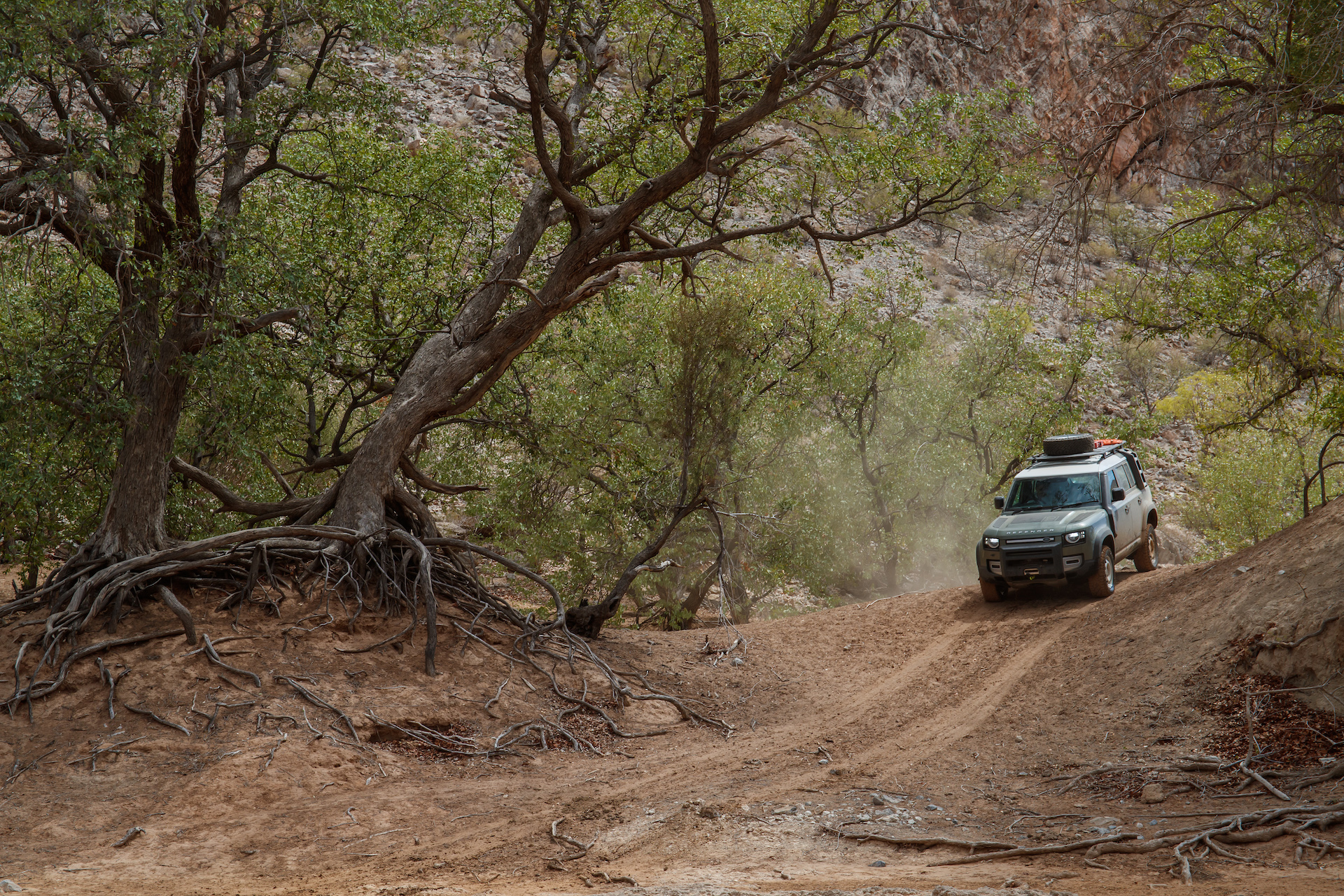 All of this makes it a great road vehicle, whether for the daily grind or long-distance road-based hauls. Nothing so far gives the driver a clue whether this is going to be a hardcore off-roader. But… Much as it frustrates men in the bush with hammers and socket sets, the fact is all modern 4X4s rely on software as much as hardware. So too with the Defender. The list of electronics here is lengthy. And it works.
First the Terrain Response system, invented by LR and widely copied. According to the terrain type you dial in it sets up the mapping of throttle and transmission, the locking of the diffs, the ride height, the slip-control thresholds. The 'wade' setting even shuts off the cabin air intakes.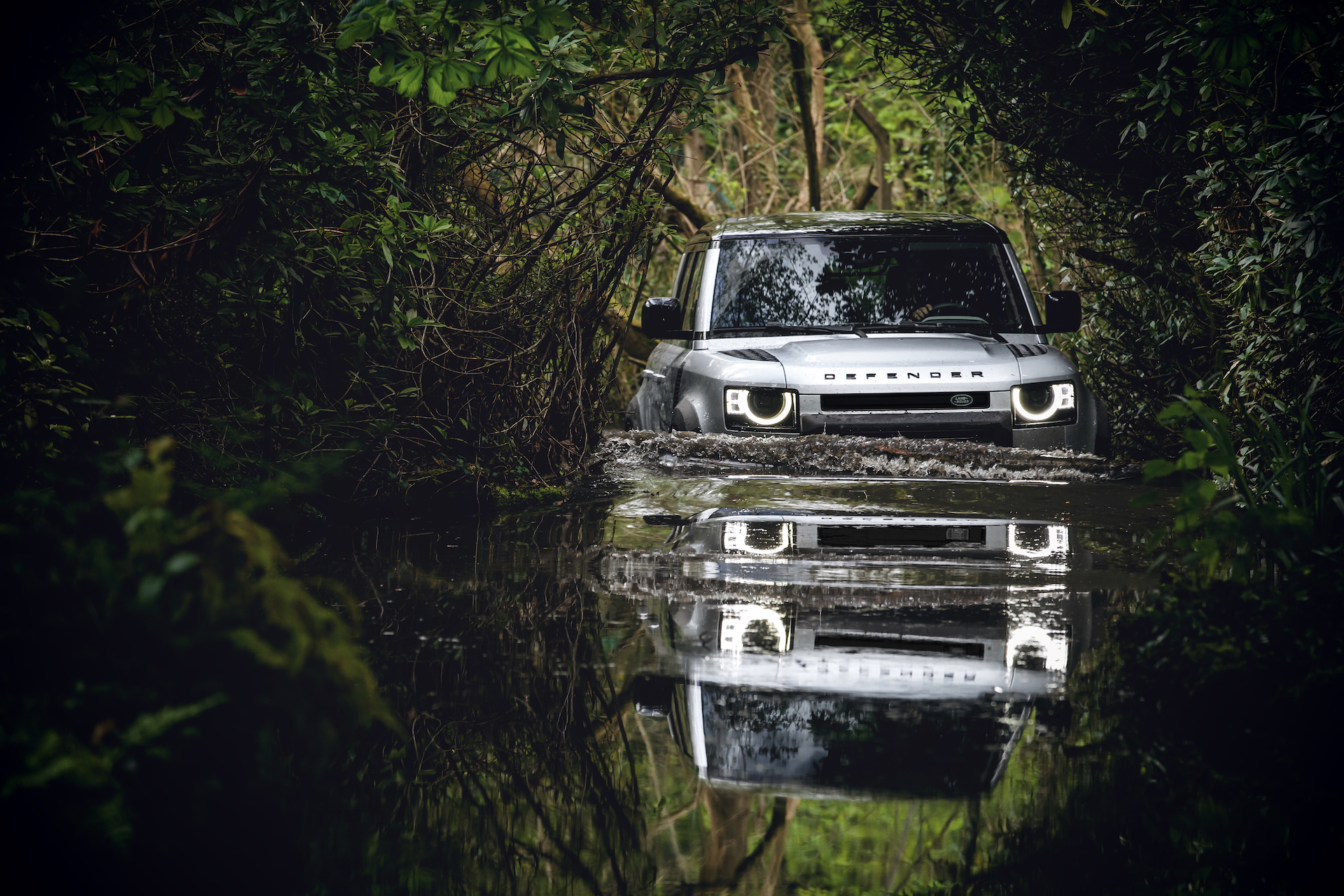 Then you've got low-friction launch. In snow or mud, you don't want to get the tyres spinning at all, so it just eases you away with supernaturally subtle applications of torque to any wheel that can handle it. I got stuck going up a mud slope. Didn't bother reversing back down for another more aggressive attempt. Did the opposite. Called the low-friction launch and marvelled as it found subtle traction and inched me up to the top.
Next, all-surface progress control. I love this. It's like hill descent control, keeping your speed constant, but it also operates on the level and uphill. So, you just dial up say 5km/h, take your feet off the pedals and off it goes, trucking smoothly along, checking and adjusting traction. So you're saved the jerks of your foot bouncing on the throttle.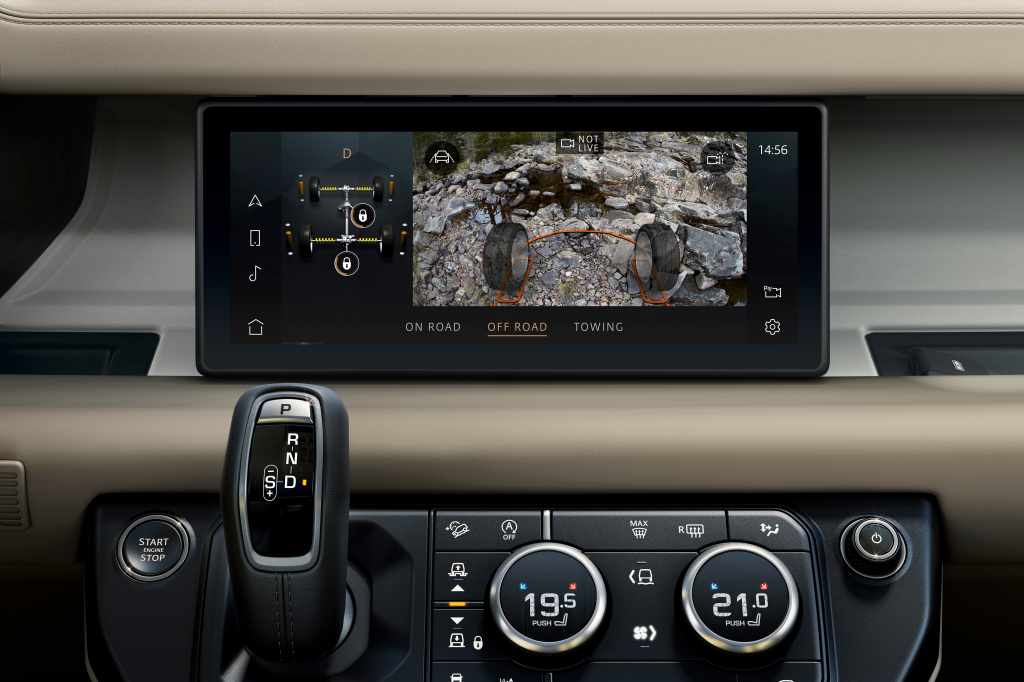 'Clearsight' is a suite of front-bumper cameras and processors that turn their feed into an image of the out-of-sight area under your nose. Great for avoiding ruts, rocks and stumps. (And, yes, city kerbs.)
So, to the hardware. The air suspension can raise ground clearance to 291mm. And without diff banjos the underbody is smooth. At that ride height you also get 900mm of wade depth. More numbers: approach and departure angles are 38 and 40 degrees, with a 28-degree breakover even in the 110. Of course, raising it right up does cut your drop articulation, but the total travel is a very generous 500mm.
Versus a Wrangler Rubicon, the only piece of missing hardware is a disconnect for the sway bars. Land Rover has used such things in the past actually. But the Defender seems to be able to combine articulation with traction control and locking diffs pretty well. Maybe the engineers didn't think it mattered if it occasionally cocks a wheel.
Payload is 900kg, enough wiggle room for expedition accessories and cargo. Tow limit the expected 3500kg. Options include an electric retractable towbar that doesn't compromise departure angle. The recovery points are safe for a 6.5-tonne snatch load, and the optional winch is good for 4.5 tonnes of pull.
There are some vulnerable and fragile plastic parts around the lower nose (mostly of aero and styling purpose, so superfluous for off-roading). But behind is a tough chassis. Hardly any parts are shared with the conceptually related Discovery underpinnings. It's all beefed up. F'rinstance, one test was to repeatedly drive prototypes at a 200mm vertical concrete kerb at 40km/h.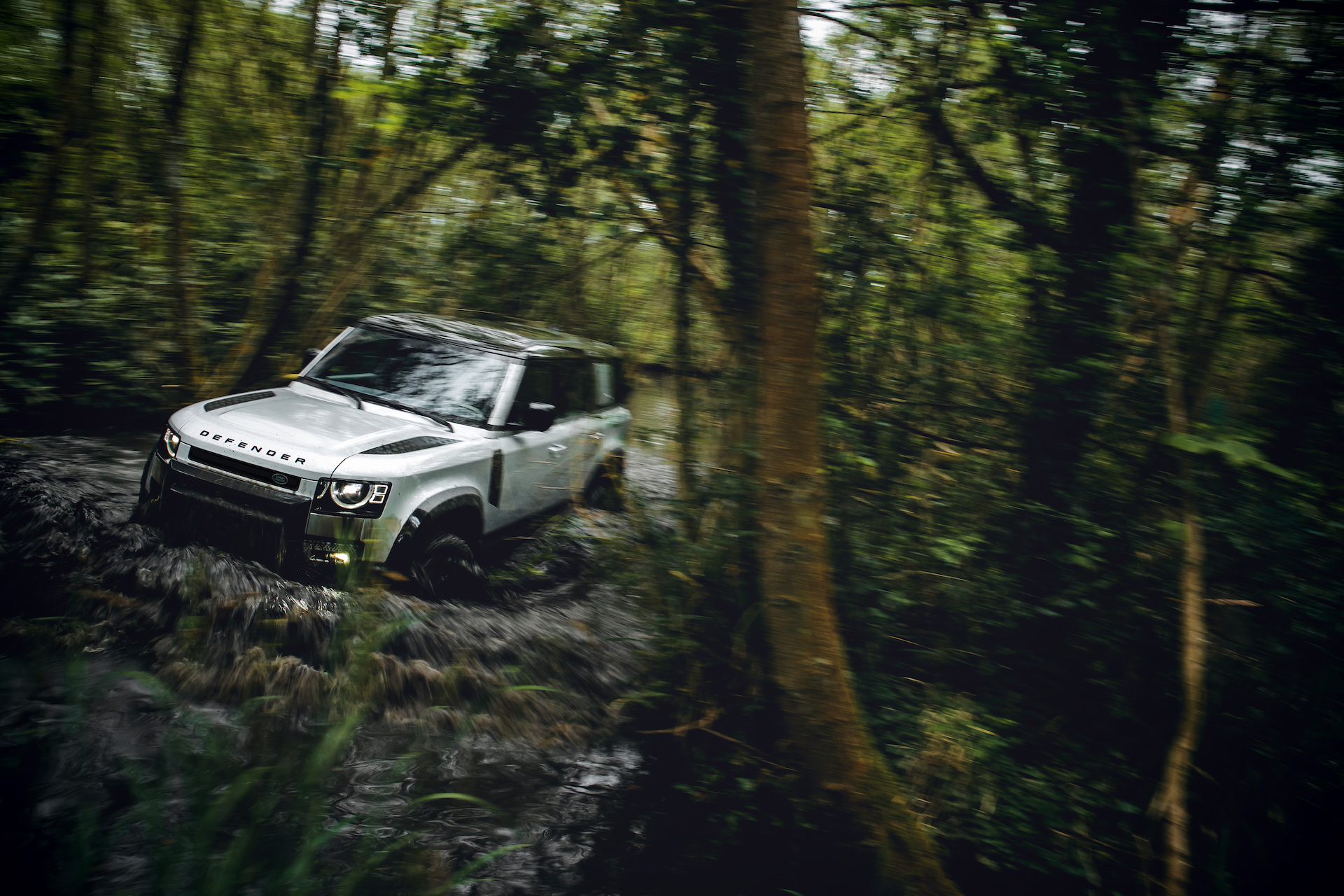 So straight out of the box, it has really solid capability. You probably wouldn't go with the standard tyres, but you can buy it new with a more aggressive set for a low substitution price. What most gets under your skin is the way it approaches tricky obstacles and trails with so little fuss. The traction-control doesn't hammer, it just flutters. The suspension doesn't crunch, it breathes. The transmission doesn't shunt. The body doesn't clang.
The cabin adds to your wellbeing. It's big inside here. You sit upright in a wide supportive seat. It's a properly commanding position and makes the square-sided vehicle easy to place, whether between outback trees or city car-park pillars. The windscreen is upright, but not so close as to feel constraining. And it's wide.
That's a contrast to the Wrangler's elbow-bashing cab, a consequence of the Jeep's signature look of a narrow body atop wide flattened wheel-arches. Cleverly, the Defender's door cards are actually structural – they carry the window motors and locks. Normally they'd be covered by a further layer of space-consuming trim, but not here, so the Allen bolts that hold them in place are genuine.
Also structural is the cast magnesium beam running across in front of you – it's the main carrier for dash systems and the steering column. And by omitting its trim cover, LR has made room for a big shelf, just like on an old Landie. The floor is wipe-out rubber, and the base of the boot comes out and can be hosed clean.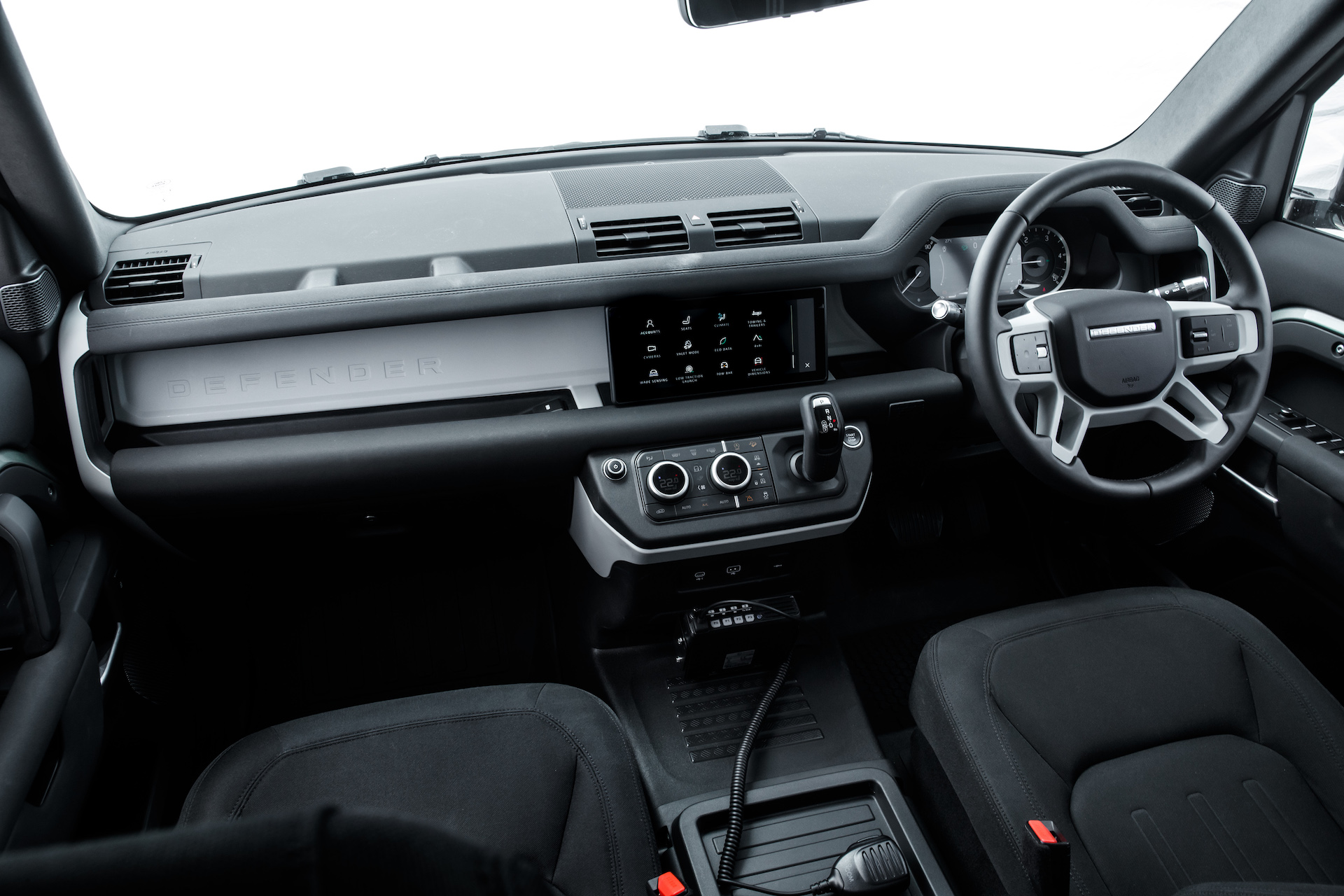 So, it's a cabin that's super-practical and it reminds you it wants to be out on the trail. Yet paradoxically that adds to the luxury, because it's honest and you don't have to tiptoe around trying to avoid scratching or marking so-called 'high-class' materials.
The centre screen is a brand-new system, far more responsive than the laggy setup in other Land and Range Rovers. Competitive with anything even the premium rivals have. Provided it doesn't go blank on you, as LR's old system was prone to doing. The display has pages of off-road graphics – axle and steering angles, state of the diffs, depth of wade, suspension height, terrain response mode. You switch between those modes by pressing a hardware switch on the climate-control panel, and then the driver's heat knob becomes the TR selector. Nifty. Suspension-height and low-box buttons also reside there.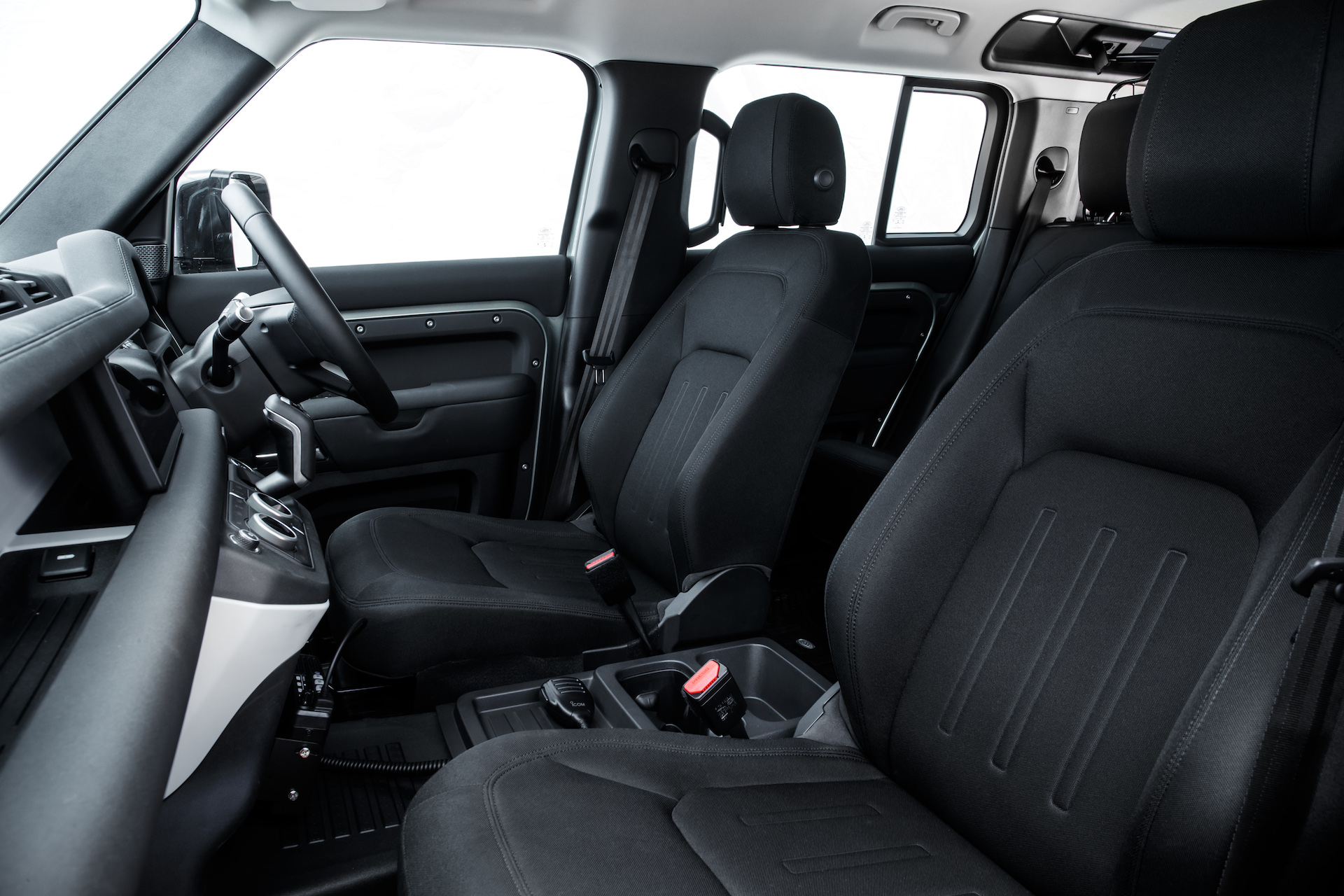 The car I tested has a broad console between the front seats, housing shelves on two levels, and a deep box, armrest, cupholders and several power points. But in its place, you can option-up a central jump-seat, its cushion higher and narrower than the outer pair – your eight-year-old will absolutely adore it. So, a family of three can go on expedition with the back seat permanently folded for gear carrying. Rear seat legroom is limo-like, and there are options for separate climate control and infotainment back there. A more numerous family can get a small third row for 5+2 people.
Even base cars have heaps of spec, including LED lights, surround camera, wade sensing and connected navigation. On either wheelbase you can walk up through the spec levels to get hold of an active rear diff, extra chassis electronics, augmented driver assist and even more luxury.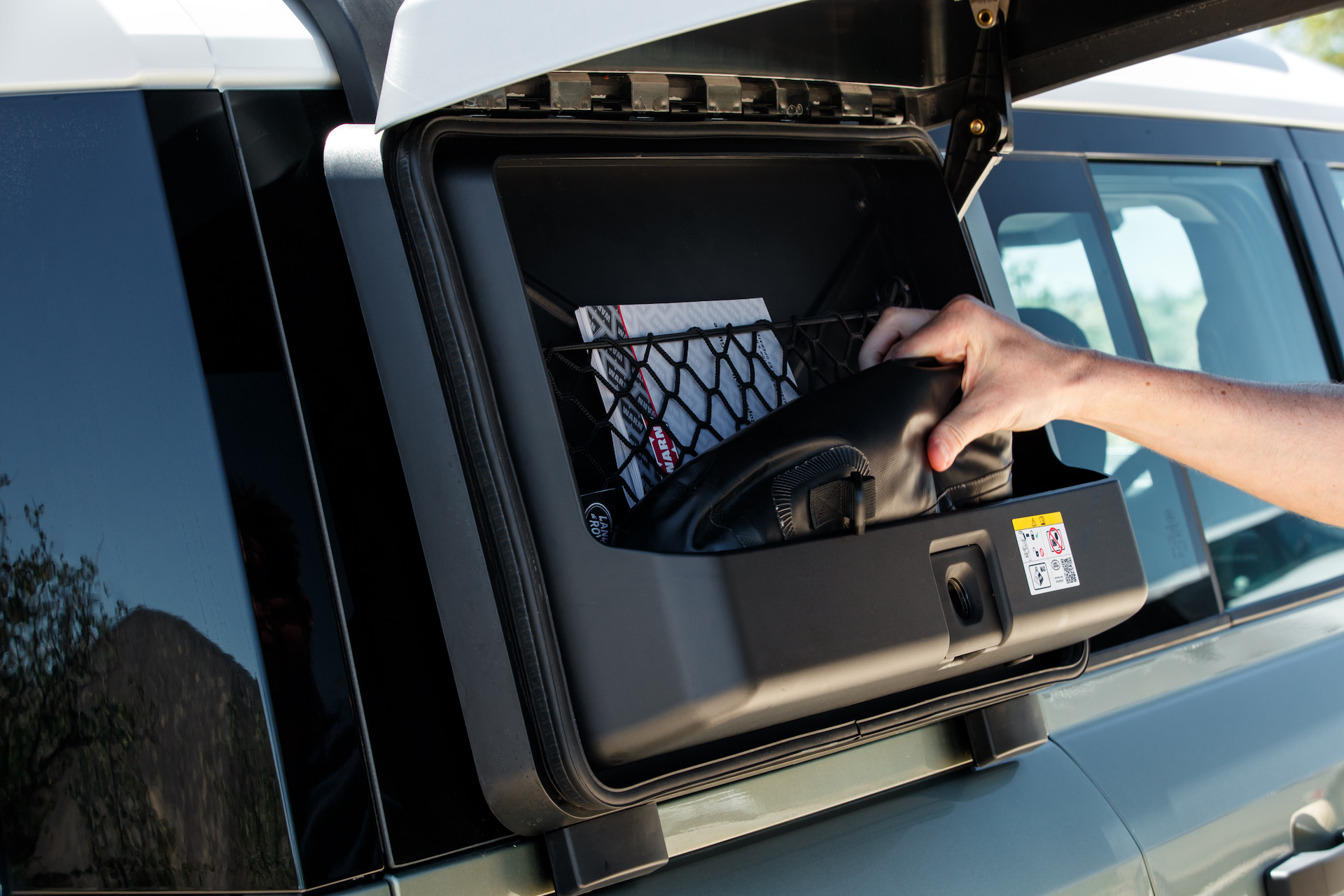 The aftermarket will take a while to get going on Defender accessories. LR's own catalogue isn't as extensive as Jeep's. But it does have some items that'll add hugely to touring. There's a roof rack that'll take about 150kg when driving, or when parked up a roof tent and 300kg – two of you. A folding side ladder gets you up there.
Lockable panniers, mounted out of the way up against the rear side windows, keep wet or stinky gear out of the cabin. You can also select an integrated compressor for airing up and down, storage boxes, any number of protective covers for the interior, and even a matte body wrap that's claimed to self-heal scratches in the warm sun. No full bull bars, but an A-bar and aluminium front undershield.
The monocoque body and independent air suspension make it less amenable to major surgery than old-school 4X4s were. It's not a job for a home mechanic to tear off the front cowl for a bull bar, or to raise the suspension for more articulation.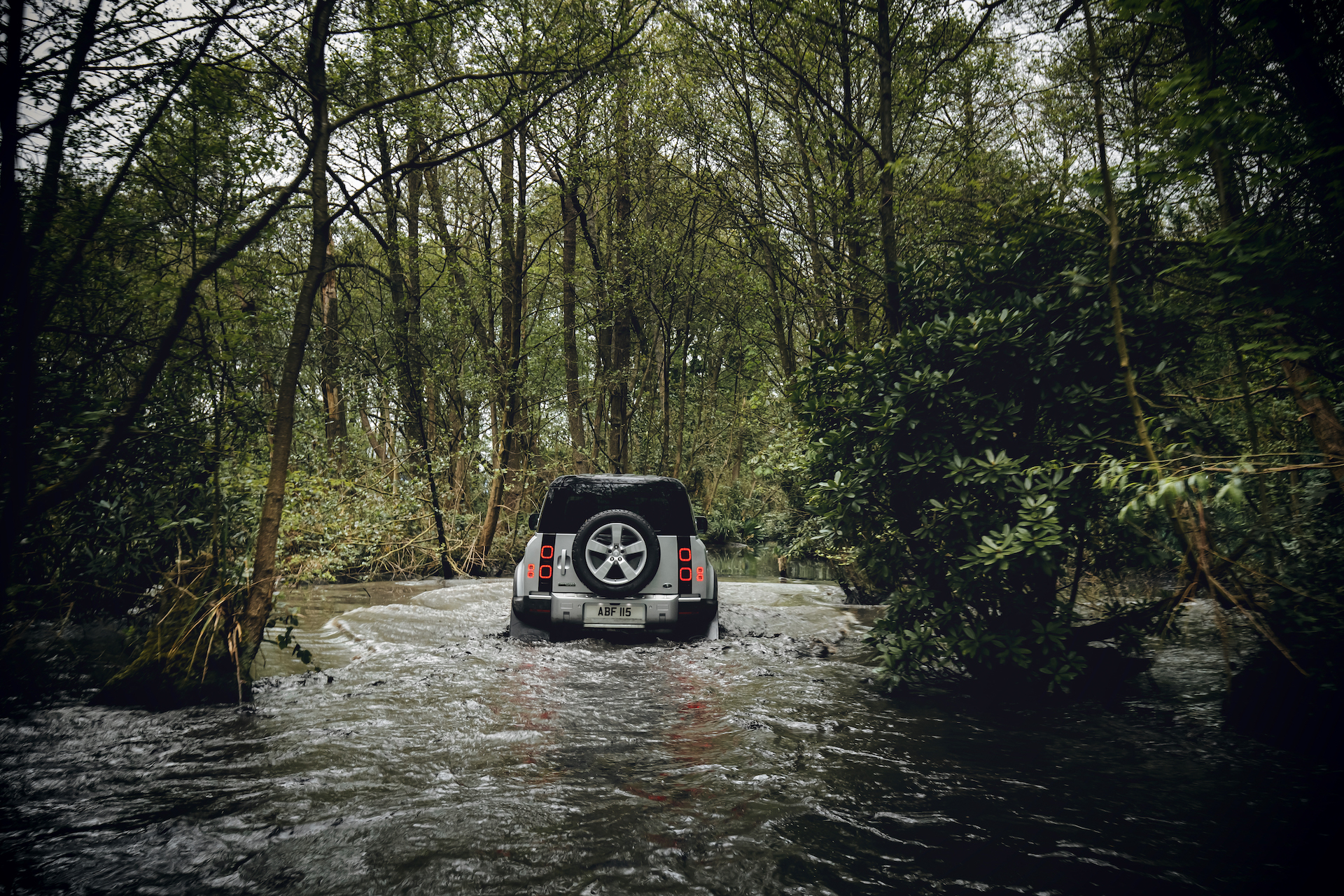 Clearly then it's not a direct replacement for the old Defender. But hey, there weren't enough buyers for something so basic. It was only about five percent of Land Rover's sales. For a start the new Defender will be just-so for people who bought a Discovery 4 but find the Disco 5 a bit grand and urban. It's not cheap, though it vastly undercuts a Mercedes G350 d which is in many ways the nearest equivalent.
It is not, obviously, a car for DIY-ers or people who spend more cash on adapting and kitting-out their vehicle than they do on buying it. But then, they mostly buy used, and there's no business case in building a car that only second-hand buyers want. If you're able and willing to spend, there's huge allure in the new Defender. It can do so much so well, a truly tour-capable off-road vehicle that's also really happy on the road.
2020 Land Rover Defender 110 D240 Specifications
Price: Engine 2.0-litre four-cylinder turbo-diesel Power: 177kW Torque: 430Nm Transmission: Eight-speed automatic Angles: 30.1 degrees approach (up to 38-degrees in off-road mode); 37.7-degrees departure (40-degrees in off-road mode); 22-degrees rampover (28-degrees in off-road mode) Ground Clearance: 218mm (291mm in off-road mode) Dimensions: 5018mm long (including spare); 1967mm high; 2105mm wide (mirrors included); 3022mm wheelbase Wading: 900mm Bootspace: 1075 litres; 2380 litres second row folded Weight: From 2323kg Towing: 3500kg Towball Download: 350kg Payload: 900kg GCM: 6650kg