While we recently brought you all the details on Isuzu's all-new D-MAX we weren't allowed to tell you what it was like to drive… until now.
So far we've sampled a D-MAX LS-U and the new top-of-the-range D-MAX X-Terrain for a first drive, and what we can tell you from the outset is that the all-new D-MAX is a big leap forward from its predecessor in terms of ride and handling, refinement, equipment levels and safety standards. Sure, power and torque peaks are only up slightly but, importantly, there have been improvements in torque delivery, and the six-speed auto has also been upgraded, so despite the modest on-paper output improvement, real-world performance is significantly improved.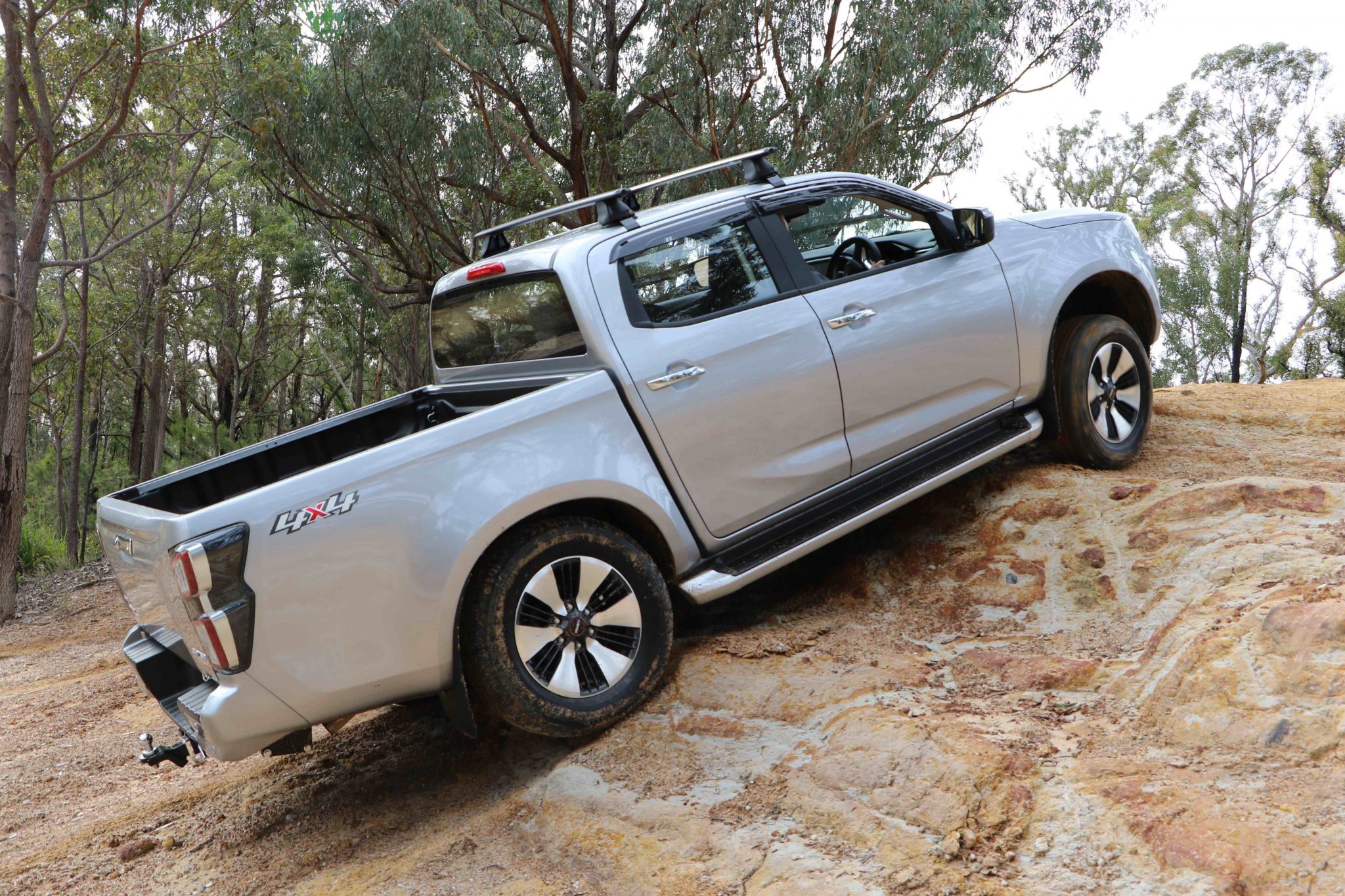 Off-Road
Our off-road test included a run along a gravel road, a muddy track, some reasonably deep bog holes, and a few steep climbs and descents. Despite the highway terrain rubber, the D-MAX performed well in all of these conditions.
The ride quality continued to impress as road conditions deteriorated although we're looking forward to a longer test drive to try the D-MAX on some longer corrugated dirt roads than those offered on our test loop. Nevertheless, the D-MAX felt as though it handled big road-surface irregularities well and it had no problems ploughing its way through the longer muddy sections of track.
Isuzu claims an 800mm wading depth for the new D-MAX, so we didn't have any concerns tackling the deep mud sections we were presented with. Thoughtfully, Isuzu has included a prefabricated pathway in the internal wheelhouse panel for the easy fitment of aftermarket snorkels, and the standard diff breathers are equipped with extension tubes.
Shifting between 2H and 4H a hassle-free and fast affair and can be performed at speeds up to 100km/h. Slip the transmission into neutral and the transfer case will slip into 4L pretty quickly, too. Low-range gearing isn't super low with a transfer case reduction of 2.482:1 resulting in an overall crawl ratio in first gear of 33.3:1 for the auto, but the D-MAX had no problems tackling the steep climbs on test… once the rear diff lock was engaged, that is.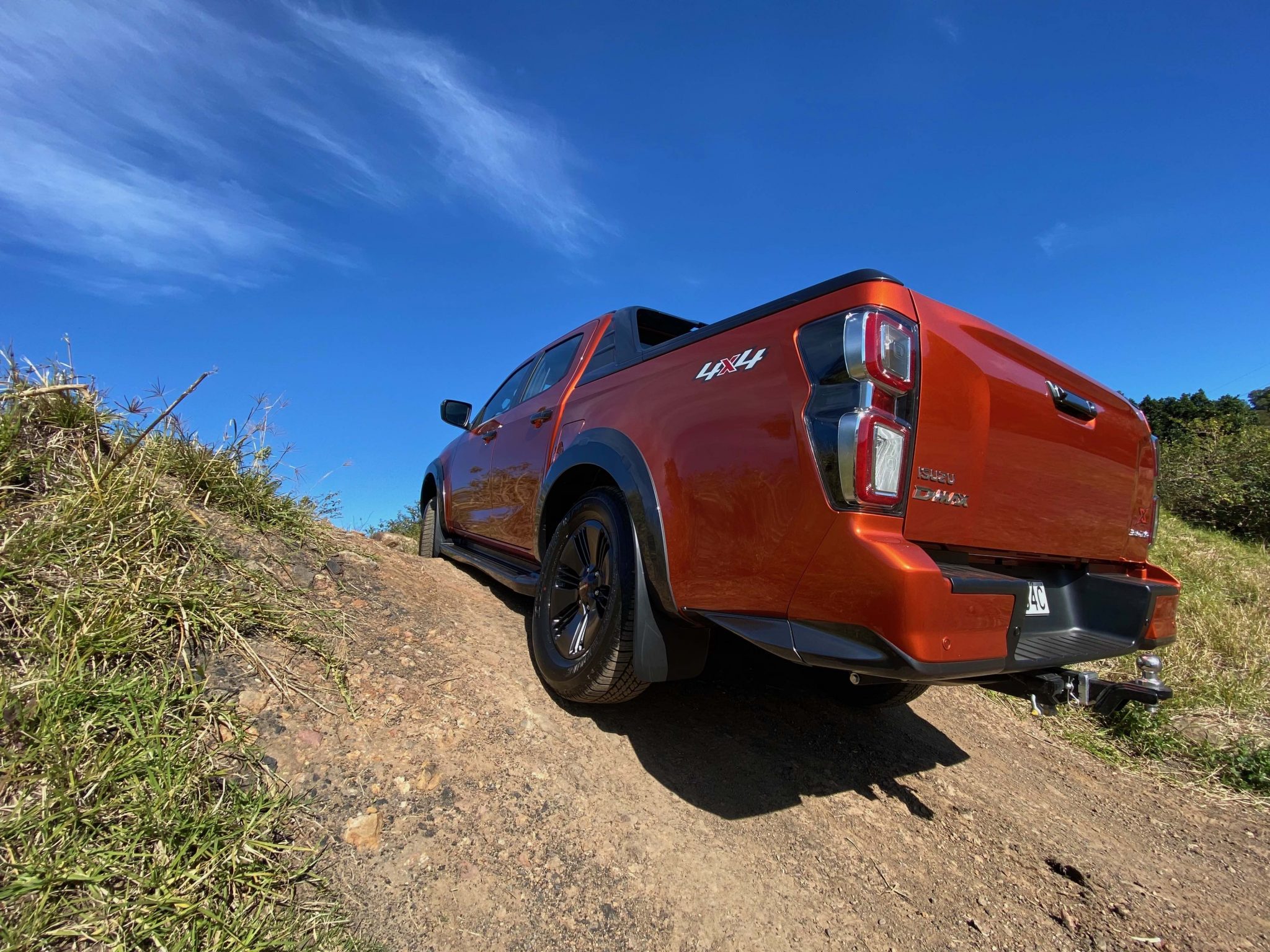 The electronic traction control system struggled on a couple of undulating sections, at which point the rear diff lock was engaged and the D-MAX made the climb. It should be noted that engaging the rear diff lock renders the traction control inactive, so in certain scenarios off-road performance might be better with the diff lock disengaged. The rear diff lock can be engaged at speeds up to 8km/h, and it tends to engage more quickly of the vehicle is moving; if you're at a standstill it can be reluctant to engage and disengage. It will, however, disengage automatically once vehicle speed exceeds 30km/h.
The tall-ish overall low-range gearing means there's not a lot of engine braking available on steep off-road descents, but the Hill Descent Control can be used to maintain a sensible speed in these situations.
Both the LS-U and X-Terrain offer a claimed 240mm of ground clearance (lower grades have 235mm) and while approach and departure angles are pretty good for a dual-cab ute, care needs to be taken when driving over spoon drains and the like due to the vulnerable side steps. Other than the steps, underbody protection is decent with steel guards under the sump, transfer case and fuel tank leading edge, and a reinforced resin guard under the fuel tank, and everything is nicely tucked up and out of the way.
The good visibility from the driver's seat helps when driving in undulating off-road conditions and it's pretty easy to judge where the extremities of the vehicle are.
Overall the D-MAX performs quite well off-road – certainly better than its predecessor which had no rear diff lock – and we're looking forward to subjecting it to a more comprehensive test in the not-too distant future.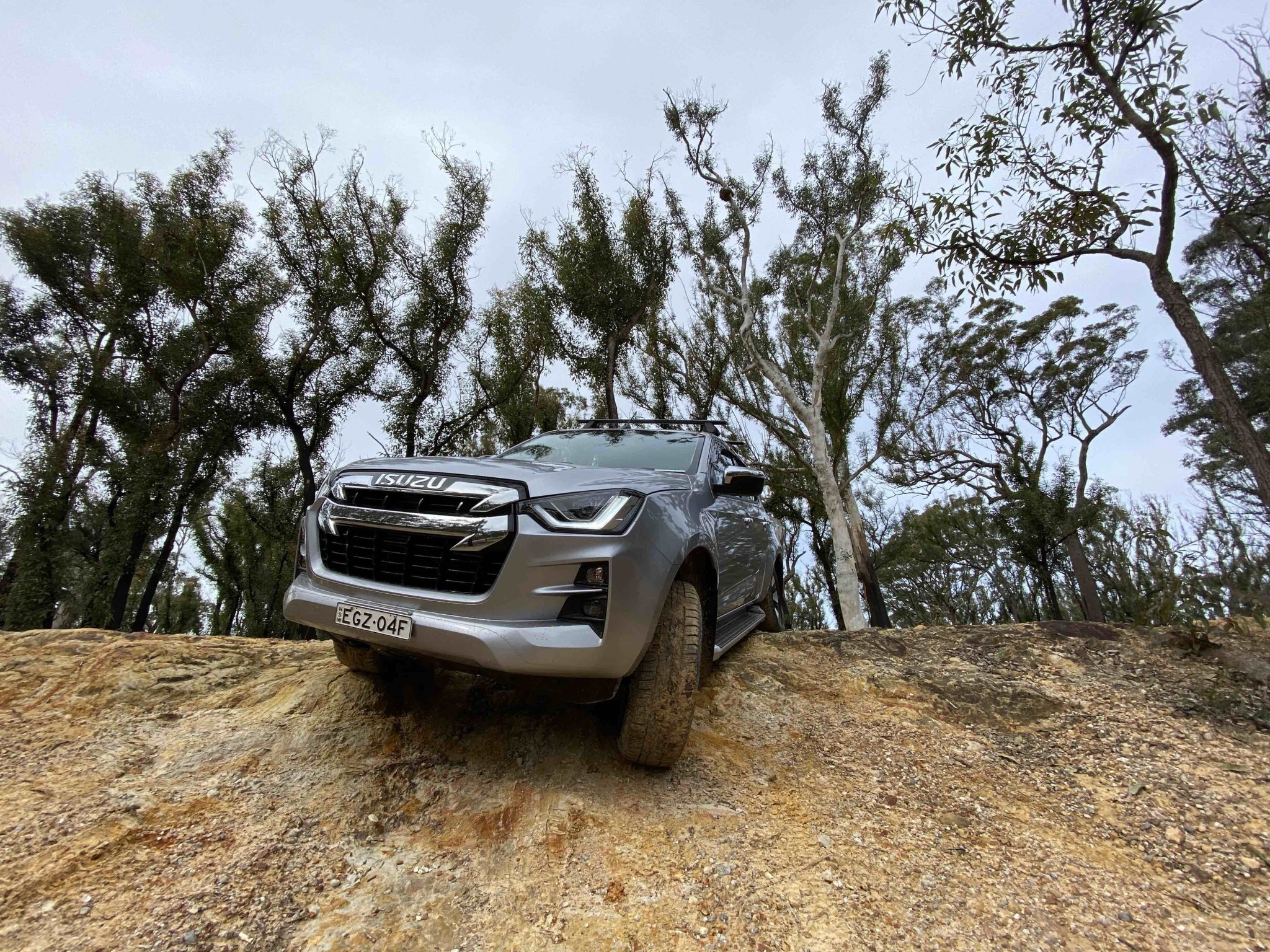 On-road performance
Fire up the new 3.0-litre four-cylinder turbo-diesel engine and there's no mistaking it for an oil-burner, although the diesel clatter at idle is well muffled suggesting there's plenty of sound insulation between the engine bay and the cabin.
Select 'Drive' and hit the throttle (at this stage we've only had the opportunity to test the six-speed auto variants; the most popular driveline) and acceleration is almost instant, with hardly any turbo-lag. The first time I did this there was an audible 'chirp' from the rear wheels as the D-MAX leapt from standstill, with revs quickly rising and the auto smoothly and quickly upshifting. Sure, the on paper 140kW and 450Nm power and torque peaks might not look that impressive but there's certainly plenty of performance on offer, at least when the D-MAX is unladen.
The engine is surprisingly smooth as revs increase and Isuzu has obviously put a fair bit of effort into minimising NVH levels with this new D-MAX. Sure, it can sound a bit raucous at full throttle, but in general driving it's quiet and refined. It's also well mated to the Aisin-sourced six-speed auto, which has a nice spread of ratios and a smooth shifting nature. It's certainly geared low enough for quick getaways in the lower ratios, and tall enough for relaxed highway touring in fifth and sixth.
The auto also works well when decelerating. Give the brakes a brief touch on a downhill section and the auto will readily drop a cog or two to help keep speed in check. If you want it to upshift again while leaving it in auto, just nudge the accelerator pedal and it will quickly comply. Of course, for full control you can always knock the lever over into manual mode and pull it back for downshifts and push it forwards for upshifts.
Isuzu has increased the front brake disc diameter to 320mm, but the D-MAX retains 295mm drums at the rear. Braking performance on test was more than adequate, but that's without a load on board. When we get the chance we'll load the tub to capacity and let you know how it drives.
The shorter overall length and reasonable 12.5m turning circle aid manoeuvrability in tight spots, such as driving around town or driving on narrow bush tracks, and the lower roof height will please those who have undercover parking. The X-Terrain has a slightly higher roof height than the LS-U due to standard fitment longitudinal roof rails.
On the open road the D-MAX feels more refined than before, with noticeably less road noise and wind noise than the previous-generation D-MAX.
Fuel consumption (ADR Combined) ranges from 7.7L/100km to 8L/100km depending on variant, which is up slightly on the preceding model due to increased vehicle weight, but that's to be expected with the improved NVH and added safety tech and extra equipment. With a 76L fuel tank capacity you can expect touring range to approach 900-950km between refills.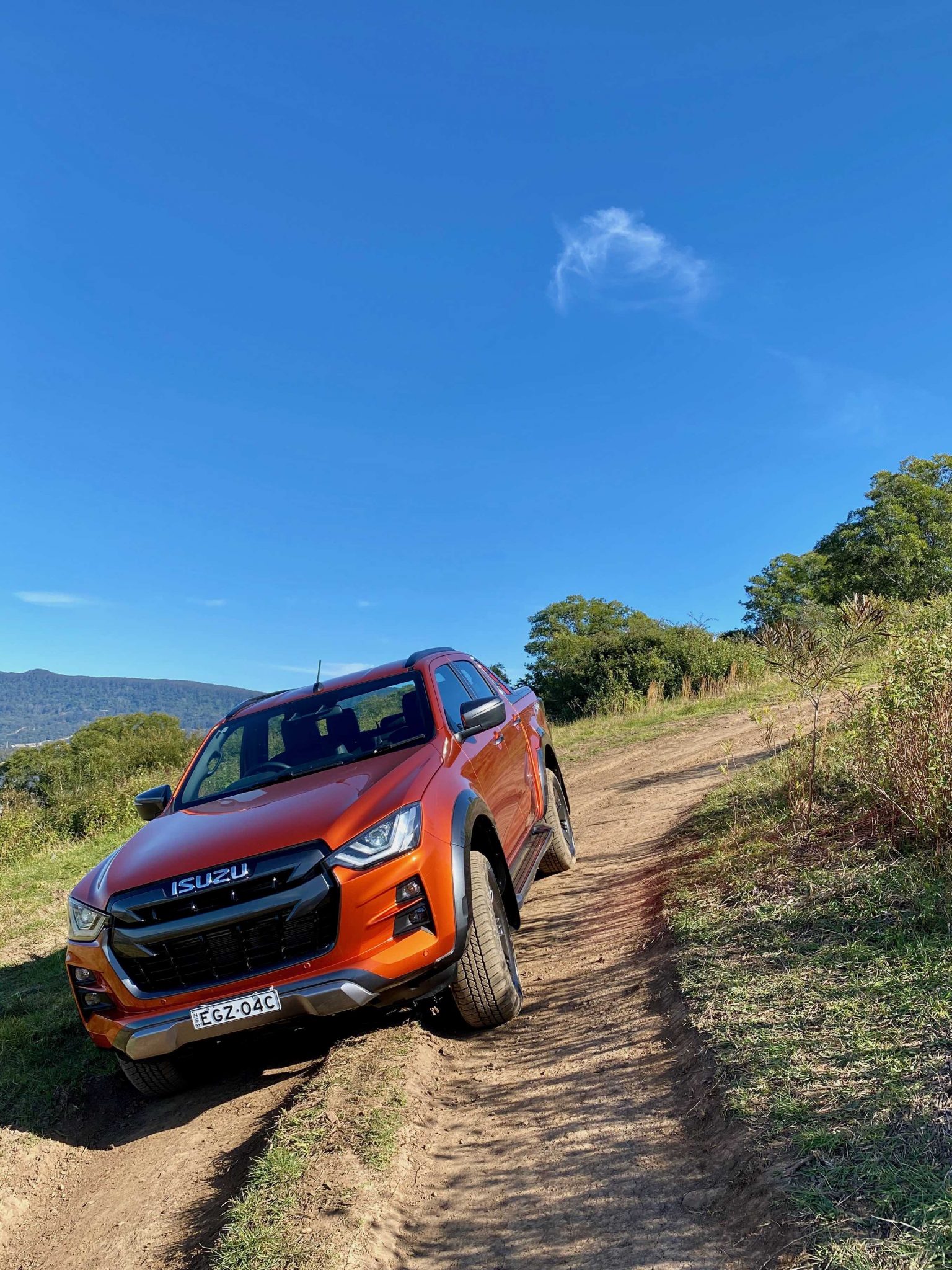 On-road ride and handling
The most noticeable difference on the road compared to the previous-generation D-MAX is in the new model's steering response and feel. Gone is the old hydraulically assisted power steering, replaced by an all-new electric power steering system, which offers super-light steering at slow speeds and more weighted steering at high speeds. It offers great feel and plenty of feedback, and steering response feels quicker too. The new electric power assistance also works in conjunction with the D-MAX's Lane Keep Assist and Lane Departure Prevention active safety features, both of which fall under the Intelligent Driver Assistance System (IDAS) umbrella.
The front suspension has been upgraded with revised geometry, new high-mount upper control arms and a redesigned (read: chunkier) anti-roll bar. The changes are aimed at minimising body roll and improving predictability and handling, and the front-end certainly feels planted.
As mentioned, at this stage we've only had the chance to drive the D-MAX unladen but the ride quality with an empty tub is impressive for a ute with a live-axle and leaf spring rear-end. Like the previous model, the D-MAX's rear leaf packs only have three leaves per side, but these too have been upgraded and are now claimed to be stronger and lighter. The slightly longer wheelbase (+30mm) probably contributes to the improved unladen ride quality, as do the repositioned rear dampers.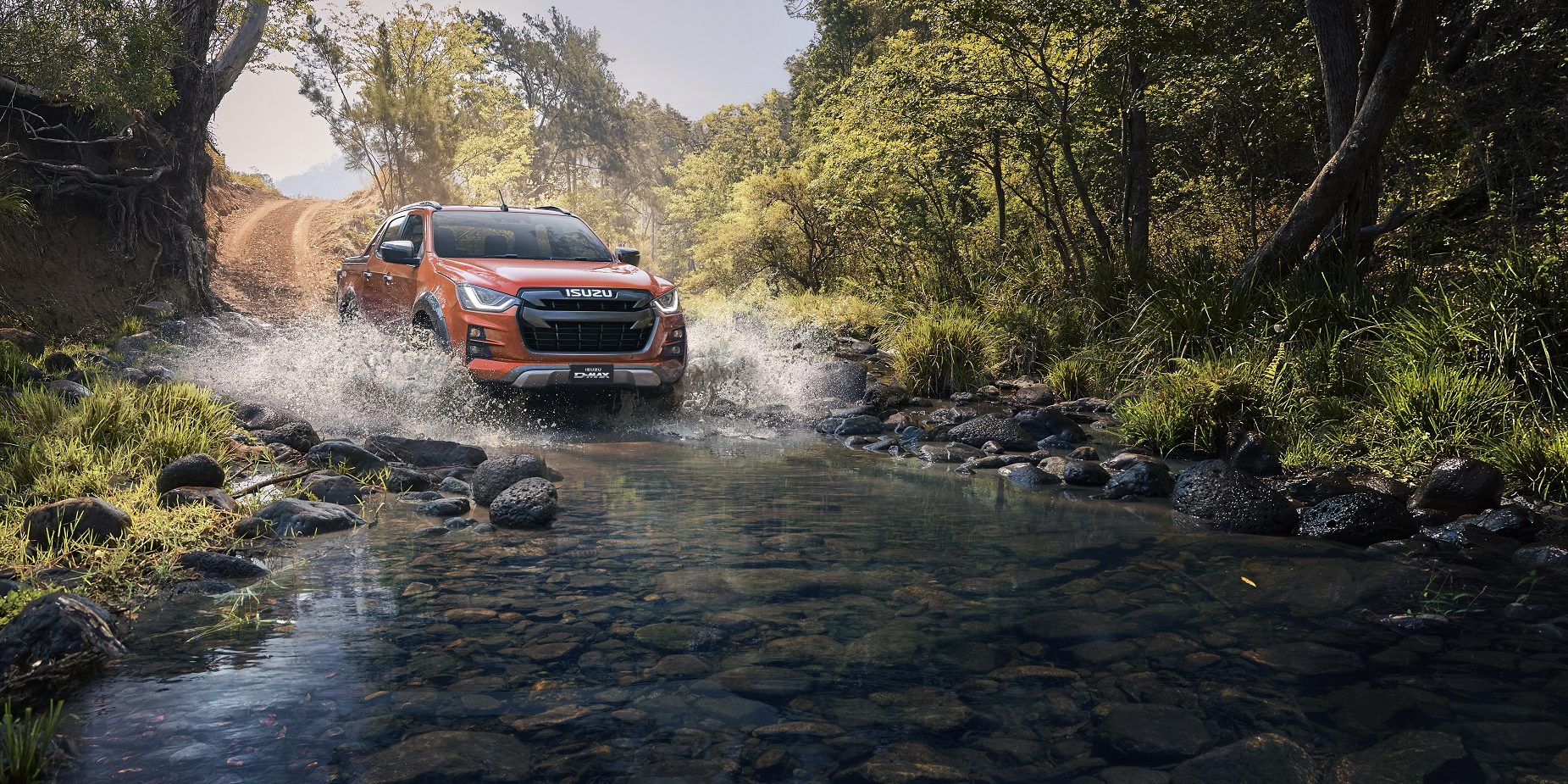 Both the LS-U and X-Terrain models wear 265/60R18 Bridgestone Dueler H/T rubber which proved quiet on the road and seemed to offer ample grip in dry conditions. It didn't rain while we were testing the D-MAX so we can't comment on their wet-weather performance.
Those unfamiliar with Lane Keep Assist, Lane Departure Prevention and Turn Assist active safety features may find the feeling through the steering wheel a little disconcerting at first but, if you don't like it, these IDAS features can be switched off. The default for IDAS features is on, however, so they will have to be switched off each time you restart the vehicle.
Other handy IDAS features include Adaptive Cruise Control (ACC) with stop-and-go traffic functionality (on auto models), Blind Spot Monitor (BSM), Rear Cross Traffic Alert (RCTA), Driver Attention Assist (DAA), reversing camera and auto headlight, high-beam and wiper functions. Although Isuzu says the Traffic Sign Recognition (TSR) system was calibrated for Australian roads, on the test-drive loop it picked up a couple of signs on off-ramps which resulted in it occasionally displaying the wrong speed on the dash.
The D-MAX is also packed with passive safety features, including a total of eight airbags; one of these is a centre airbag, which Isuzu says is the first of its kind in a ute.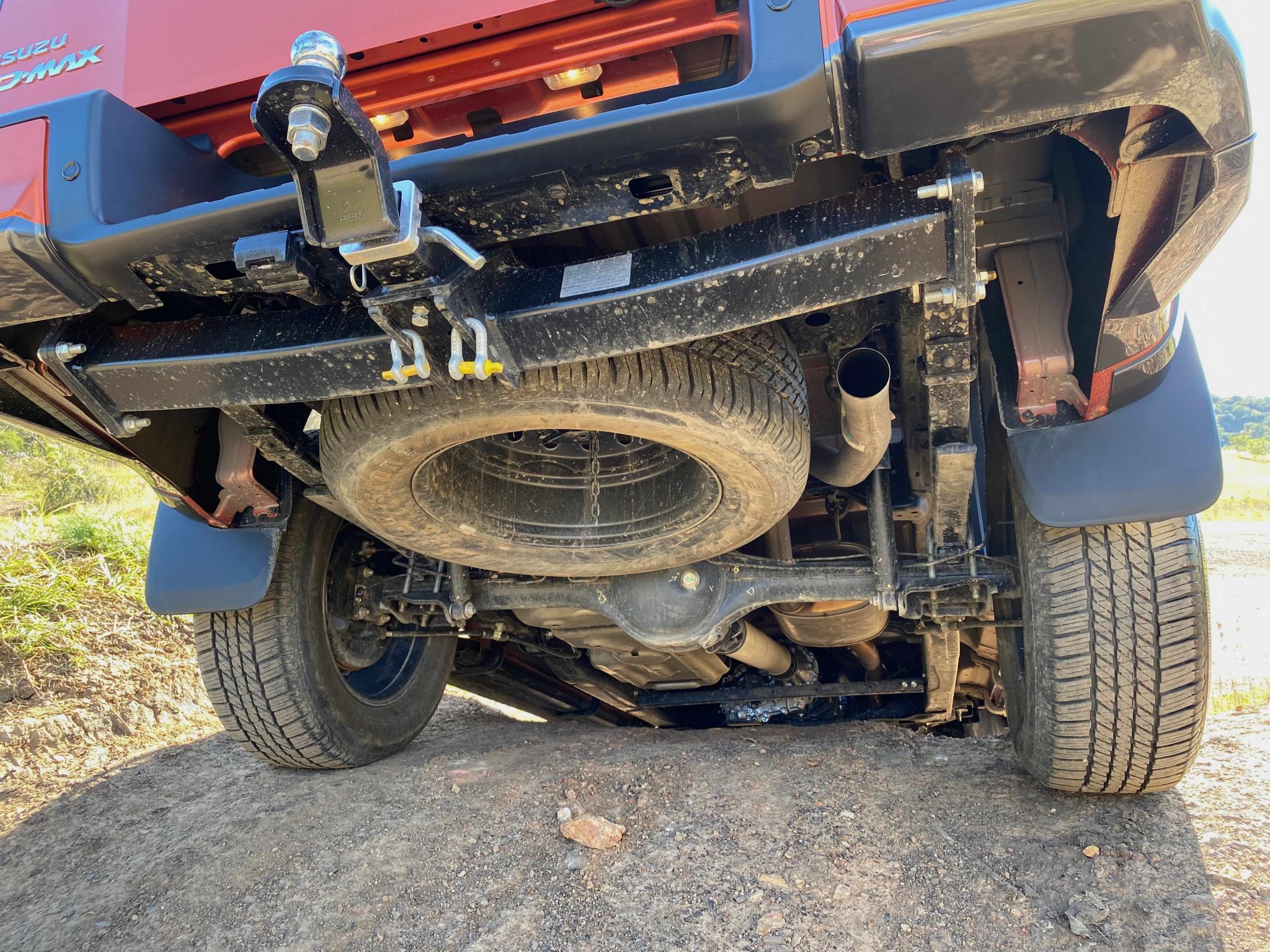 Interior package
Getting comfortable in the driver's seat is no hard task. The seat still feels supportive and in LS-U spec it offers power lumbar adjustment, good side bolstering, plenty of fore and aft adjustment and height adjustment. The X-Terrain has eight-way power adjustment. All model grades have tilt and reach adjustable steering, so you won't have any problems finding the 'right' driving position.
Visibility from the driver's seat is good too, with the shortish bonnet dropping away out of sight and plenty of depth in the side windows and a generously deep rear window.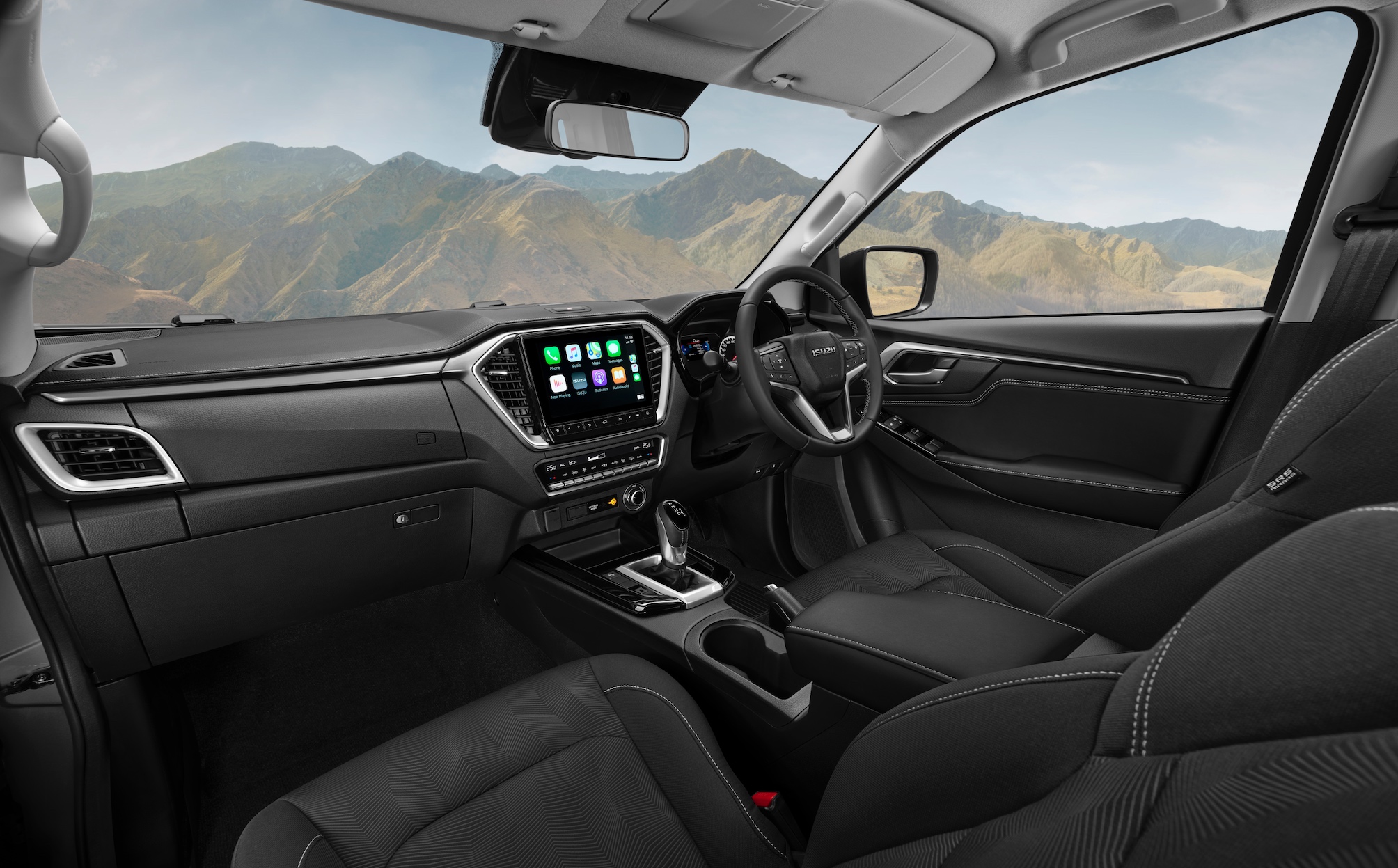 Rear-seat occupants will be pleased with the leg room on offer and there's about class-average width, which translates generally to enough space to comfortably seat two adults or three kids. Try to fit three big blokes across the back pew and you'll be pushing the friendship. Rear vents are standard across the range in dual-cab models and there's a rear USB outlet, as well as a fold-down centre armrest with two cupholders.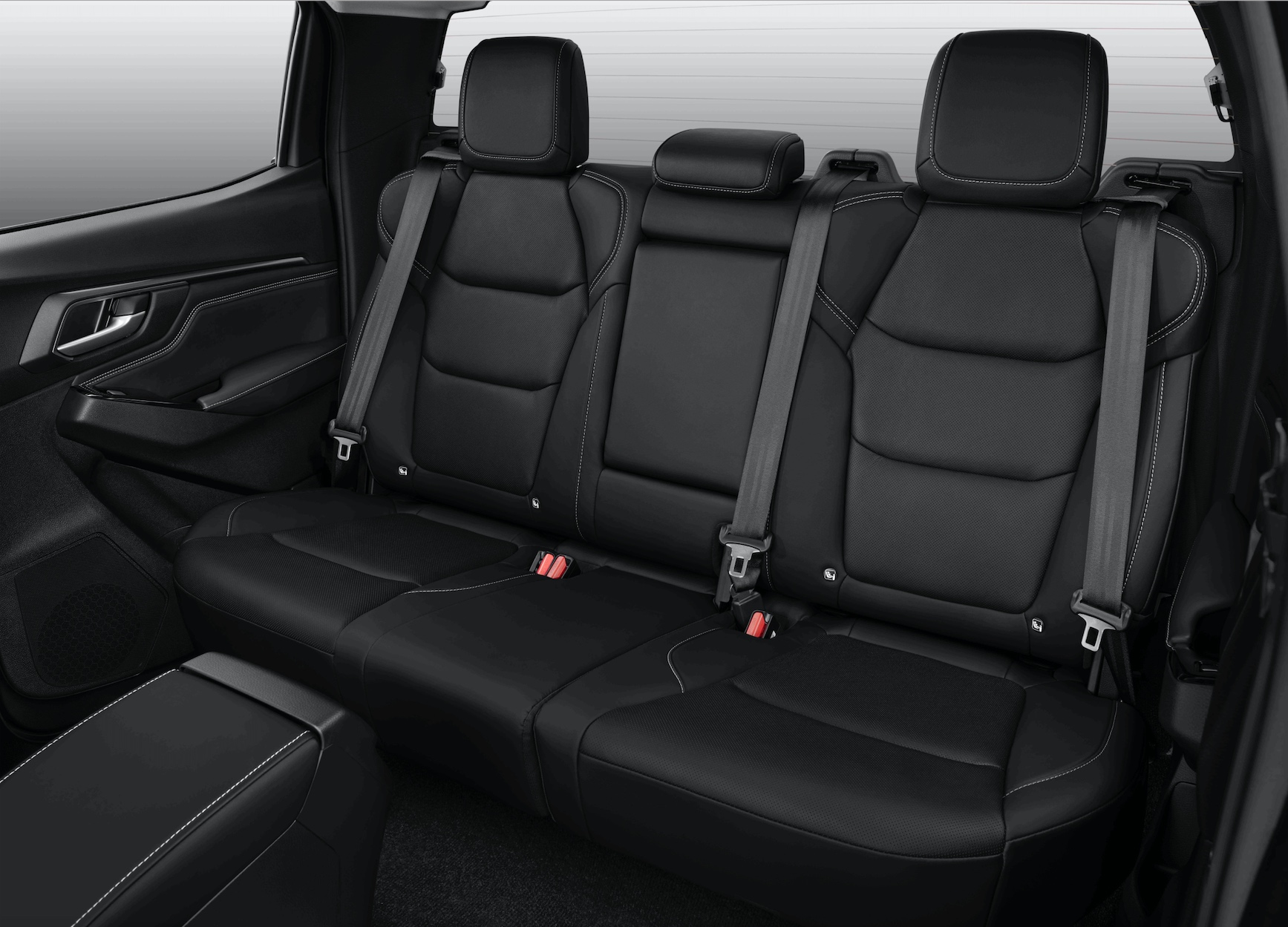 The rear seat base is a 60/40 split fold design and under it you'll find two storage bins. Fold the one-piece backrest down to access the basic tool kit and three child-seat anchors. There are also ISOFIX child-seat connection points on the two outboard seats.
There are plenty of other storage areas throughout the cabin including a double glovebox set-up, a generous centre console bin and a covered bin on the top of the dash. Door-pocket cupholders and map pockets are also a decent size.
The interior trim is a mixed bag with a great design and some nice materials used on the dash, door trims, centre console and air-vent surrounds, but some less-than-great hard plastics in other areas that lower the tone a bit. It certainly feels classier than the previous D-MAX but, in LS-U spec at least, the vehicle's commercial origins are still apparent. For the record, the dark cloth trim with contrast stitching on the LS-U seats feels and looks good, while the X-Terrain gets the full leather treatment, also with contrast stitching, upping the luxury feel.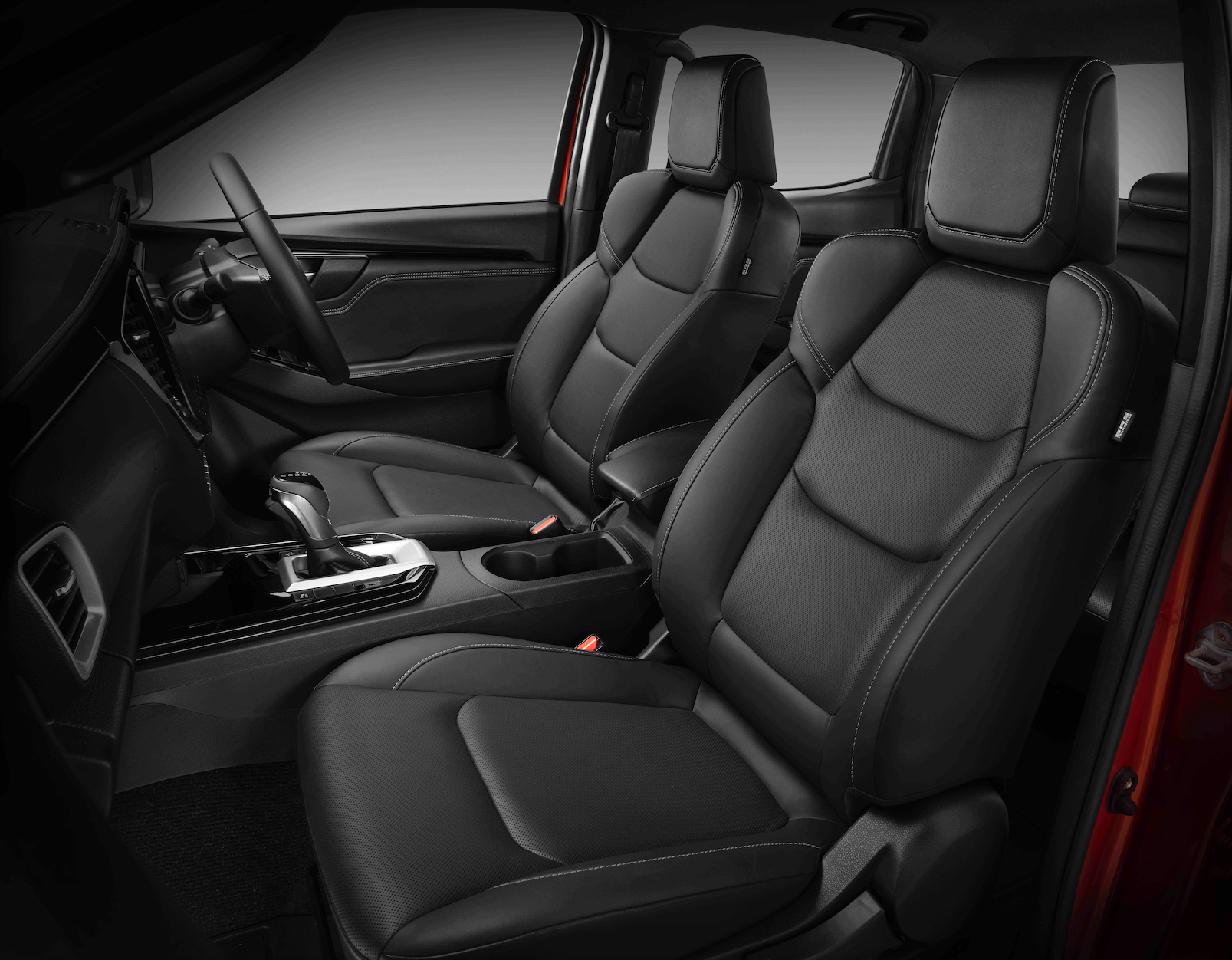 The new dash design is dominated by the large nine-inch centre touchscreen in LS-U and X-Terrain models (lower grades get a seven-inch screen). It features Android Auto and wireless Apple CarPlay connectivity, and incorporates a few physical buttons (home, sound, volume controls etc.), but no volume/tuning knobs for the sound system. The sound system itself in LS-U and X-Terrain comes with eight speakers and offers good sound quality.
The new steering wheel has large controls for the sound system, phone connectivity and radar cruise control functions, and also for scrolling through the pages on the 4.2-inch multi-information display.
The HVAC controls and display are positioned below the touchscreen and while neatly laid out they're quite small and require some familiarisation to use easily. Below these controls you'll find a 12V power outlet and USB port, and the dial for drive selection (2H, 4H and 4L), while the centre console has big and clearly marked buttons for the parking sensors, hill descent control and rear diff lock. Overall, it's a tidy and logical cabin presentation.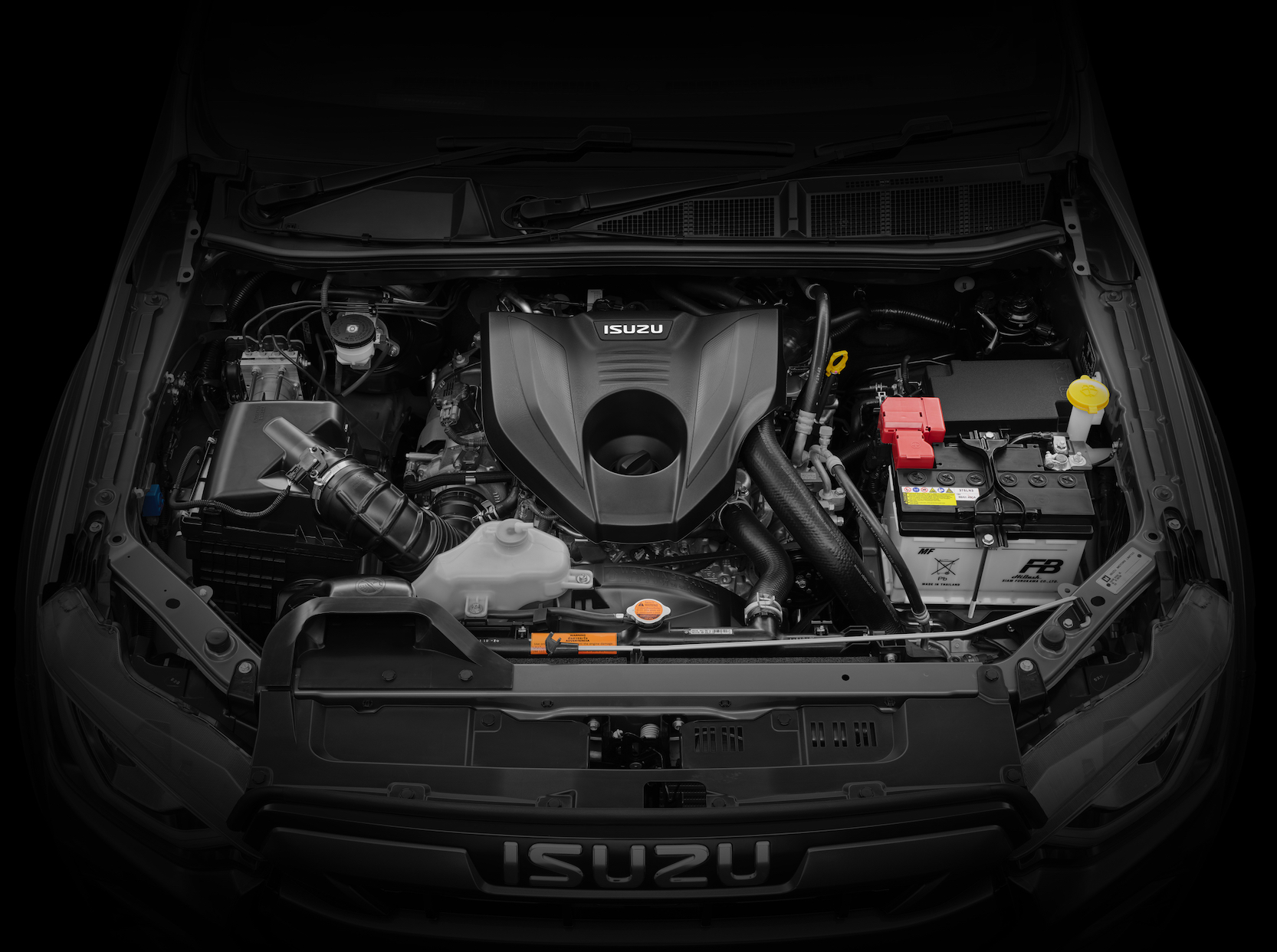 Carrying stuff
When it comes to load hauling the D-MAX LS-U auto offers a 1055kg payload (the X-Terrain a 970kg payload). For the record, GVM is 3100kg, GCM is 5950kg, maximum braked towing capacity is 3500kg and maximum ball weight is 350kg. Front and rear axle capacities are up to 1450kg (+100kg) and 1910kg (+40kg) respectively.
The new D-MAX's tub width of 1530mm is the same as the preceding model, but Isuzu says there's now more usable room, with 15mm more internal length and 30mm more internal depth. Cab Chassis models fitted with a factory tray also benefit from increased load areas. We'll load it up and hitch a trailer when we get a chance and bring you all the details.
The roll-top on the D-Max X-Terrain is easy to use and offers great security, and the tailgate is locked via the remote central locking system. The under-rail tub-liner is standard equipment on X-Terrain and there's also a decent step built into the rear bumper, but the painted finish on the bumper and the small extensions on the lower edge look like they'd be quite vulnerable when driving off-road.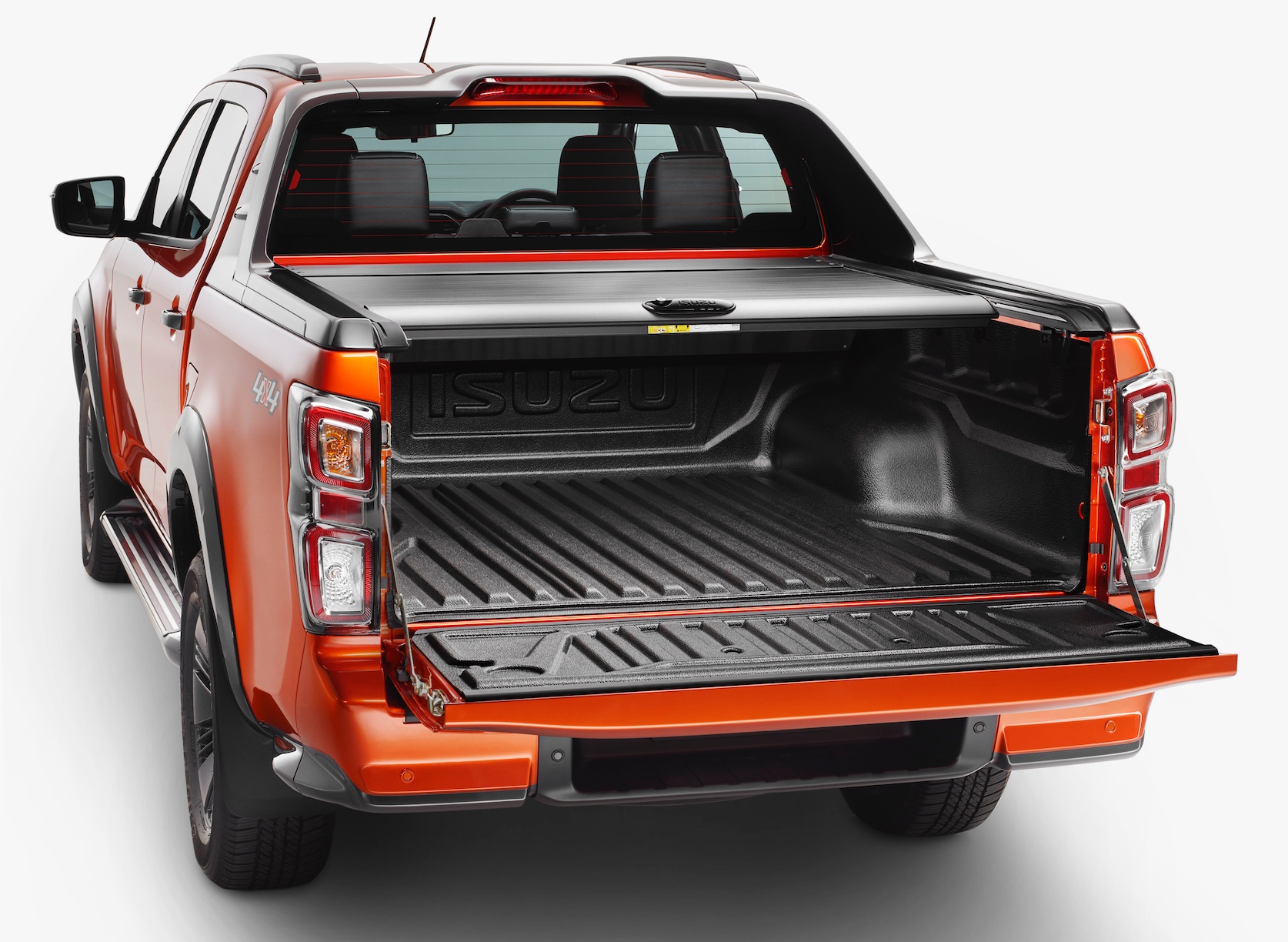 Summary
There's no doubt the all-new D-MAX is a big improvement on the preceding model, in all areas. It looks better, it rides better and it handles better. It is more refined and is packed with more equipment. It offers more safety features than just about any other ute in the category. And it has more slightly power and torque than before… although not a lot.
While some will will look at the D-MAX's on-paper outputs and say that 140kW and 450Nm is no longer enough to compete with vehicles like Ford Ranger (157kW and 500Nm) and Toyota HiLux (150kW and 500Nm), let alone TDV6 utes like the Volkswagen Amarok (190kW and 580Nm), others will know that peak outputs only tell a part of the story. Although significantly reengineered, the D-MAX's large-capacity four-cylinder turbo-diesel engine will appeal to many thanks to its broad spread of torque that makes it so useable.
The D-MAX is covered by a six-year/150,000km warranty with up to seven years of roadside assistance thrown in so long as you get your servicing done at an IUA dealer. Service intervals are 15,000km/12 months and there's also a seven-year capped-price servicing program.
There's a bunch of videos of the all-new D-Max in action on the IUA website for those who are interested.
SPECIFICATIONS
Isuzu D-MAX LS-U auto/X-Terrain
Engine: 3.0-litre four-cylinder turbo-diesel, 140kW at 3600rpm, 450Nm from 1600-2600rpm
Transmission: 6-speed automatic gearbox, two-speed transfer case, part-time 4X4 with locking rear differential
Weights: 2045kg/2130kg kerb, 3100kg GVM, 1055kg/970kg payload, 3500kg braked towing, 5950kg GCM
Size: 5265mm/5280mm long, 1870mm/1880mm wide, 1790mm/1810mm high, 3125mm wheelbase, 1570mm wheel track
Clearance: 240mm ground clearance, 30.5° approach, 23.8° ramp-over, 24.2° departure angles
Price: $56,900/$62,900