While you don't want to be in the water with some species of shark, diving with these gentle giants should be on every Australian water lover's bucket list. Whale sharks don't pose any danger to humans, preferring the taste of plankton and small fish and crabs. But their sheer size, up to and over 12M, makes witnessing them in the wild a truly amazing experience.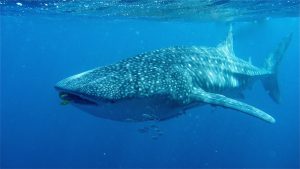 Arguably the best place to see Whale Sharks is in Western Australia at Ningaloo Reef, about 150km south of Exmouth. It's a pristine stretch of coastline that features an abundance of coral reef, fish species and clear warm water making it a diver's paradise. It's also a terrific 4×4 destination, with plenty of deserted beaches and some awesome coastal campsites. So if you're looking for an animal encounter like no other, get yourself over to WA and jump in with some Whale Sharks.
You won't regret it.