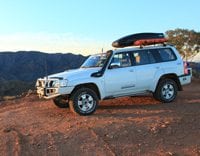 ARB Steel Winch Bar and Warn Winch
The Patrol's nose is protected by the best – an ARB Colour-coded Steel Winch Bar. It's the perfect armour for protecting the Nissan's vitals and of course, it's precious little passengers.
The bar is also the perfect place for the Warn 12,000lb winch to call home, as well as the IPF Sport driving lights and the iCOM UHF and HiTV digital aerials.
ARB Rear Wheel Carrier Bar
The rear of the Patrol is protected by a colour-coded ARB Rear Wheel Carrier Bar, which also has room to carry that extra jerry can of fuel or water.