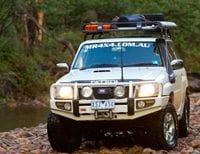 ARB Roof Rack and ARB Awning
With a family of five, fitting all of your gear inside becomes problematic, so the only way is up. An ARB Steel Roof Rack was installed here, and it has provided 30,000km worth of trouble-free touring.
These are also available in aluminium and are strong enough to carry all the gear you'd rather not keep in the cabin. The Thule Roof Pod system is lightweight and weather proof, so it's perfect for when the family need extra storage for sleeping bags and bedding… and the spare teddy bear or three. When the family stops for a break, the ARB Awning goes up in minutes to keep everyone dry or out of the hot sun – perfect for lunch stops or even for throwing a swag under at night.