Buckle up, 'cause I've got a mud-slinging, wheel-spinning story from our recent escapade in the stunning Israelite Bay.
Imagine, the sun painting the horizon in its golden hour glory, and there we were, trying to eat up those last few kilometres before hitting camp. You'd think with those flat terrains, it'd be a walk in the park. Boy, were we wrong. While we were cruising, thinking all's smooth, we were soon introduced to Mother Nature's sneaky soft side. So soft, in fact, that before you could say "muddy disaster," we were in it. Deep.
There was this moment when I thought the ground was firm and solid. But surprise, surprise! Just a couple of kilometres in and down we plunged into what seemed like a never-ending pit. While I managed to keep a tad bit of traction, poor Josh, well, he met the mighty clay bog underneath the deceitful sand. And let's just say, the clay wasn't planning on letting go anytime soon.
The look on his face? Priceless. The clay just turned his ride into a heavy brick and trust me, when you're in a situation like that, Instagram schools or ancient driving wisdom ain't gonna help you out.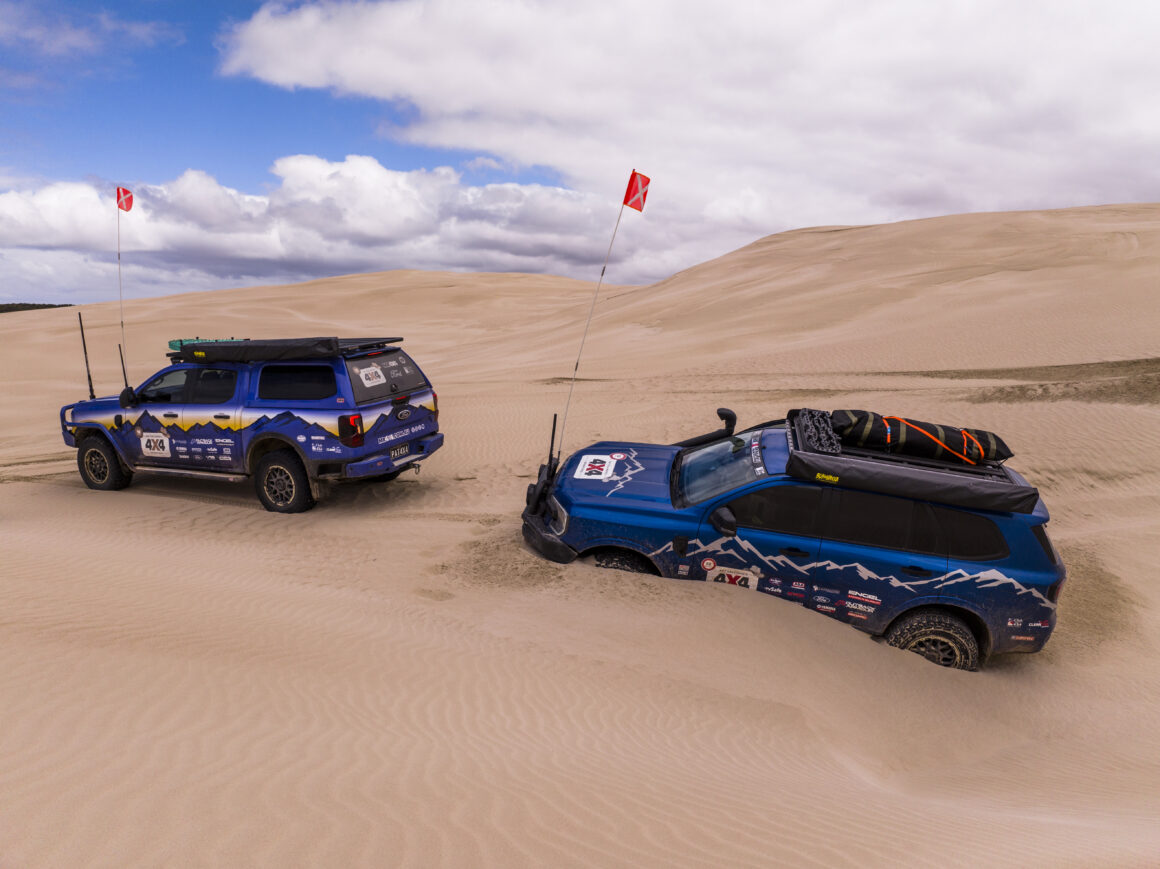 Good thing we had the Raptor. The plan was simple: Get it onto a slightly firmer ground and give a tug to our bogged buddy. But as luck would have it, our trusty Raptor found itself stuck too! Now, this is where things get dicey. With no anchor points in sight and my Ranger being the only way out, we had to put on our thinking caps.
I'm no stranger to getting out of sticky situations. Using the differential lock, turning off that pesky traction control and hoping for the best, I managed to get back onto the firmer turf. And oh, the sweet, sweet smell of victory (mixed with stinky mud) was in the air!
The moral of this story? Sometimes, even when you're prepared, Mother Nature throws a curveball (or a mud ball) and tests your limits. You've got to stay cool, get creative, and remember, no matter how many tons of mud you're pulling, teamwork makes the dream work!
So, here's to more epic adventures, some muddy lessons, and the age-old saying – it's not about the destination, it's about the journey. And sometimes, the detours in between.
Until our next dirt-filled rendezvous, keep those engines revving and spirits soaring!
P.S. Next time, remind me to pack extra mud boots. And maybe a mud mask for the full experience!