It isn't an easy task keeping a film crew happy living life on the road, a well set-up touring rig goes a long way… take a closer look at our humble crew car.
Keeping the film crew looked after is paramount to ensuring the production of our TV series', both Pat Callinan's 4X4 Adventures and RV Daily's Foodie Trails goes off without a hitch.
The vehicle needs to be able to keep all their gear charged, food cold, sleeping quarters catered for, easily driven and reliable. So it probably comes as no surprise that the filming crew drive an Amarok, just like Pat and I, fitted out with some top-level kit, but we thought it was worth walking you around the setup, and giving you a first-hand look of what's under the skin, and not often seen on the TV screen.
THE VEHICLE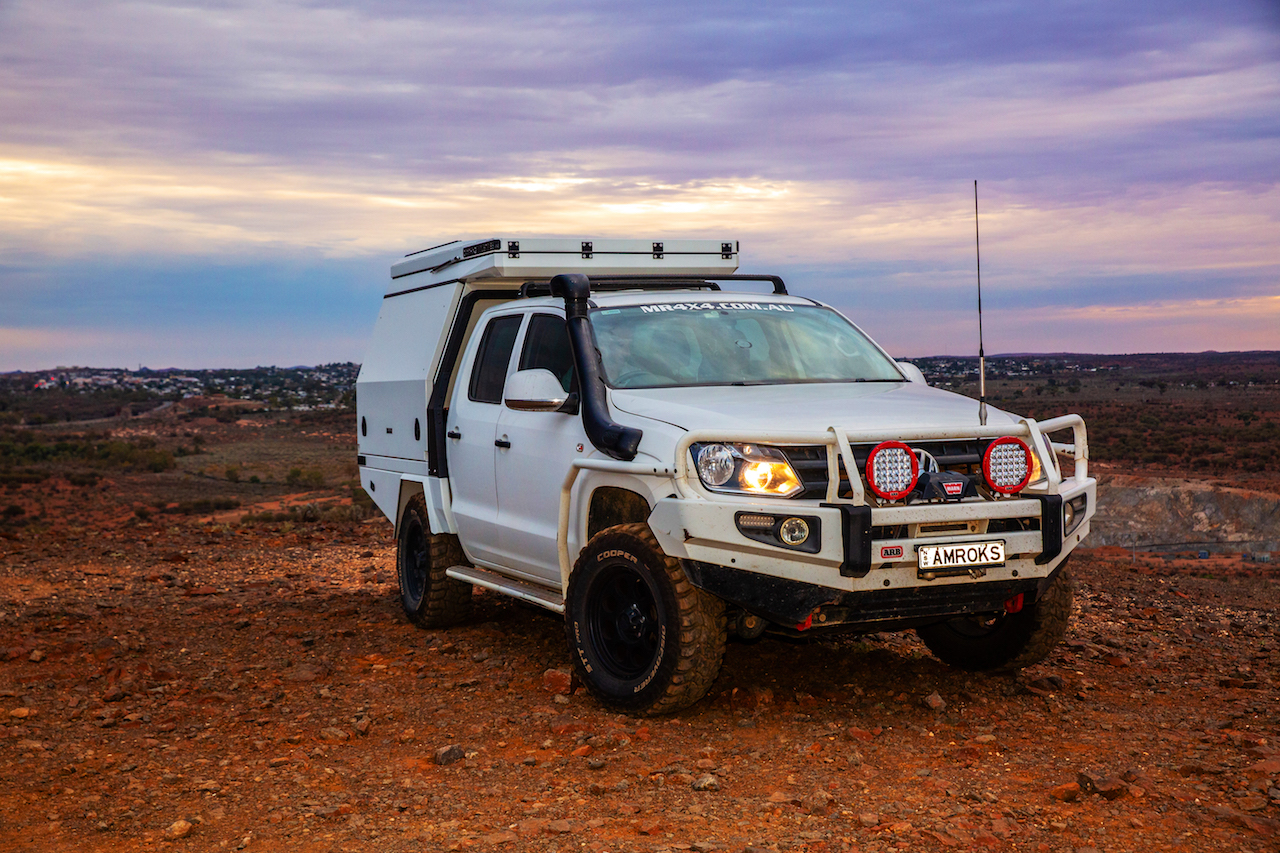 The crew vehicle is a 2015 Volkswagen Amarok with a 4-cylinder, bi-turbo diesel 8-speed automatic powertrain. It was chosen due to its relative simplicity, ease of driving, and we know the Amarok's will take everything we throw at them. The modifications we've done to the crew car over the past five years filming is where things start to get interesting.
The modifications were kicked off with what is arguably the most important: protection. It's got an ARB deluxe bullbar covering the front, mated to a set of scrub bars and steps, with full-length bash plates looking after the powertrain underneath. It's also got a set of fully rated recovery points up the front, with a Warn winch mounted in the front bar for recovery duties.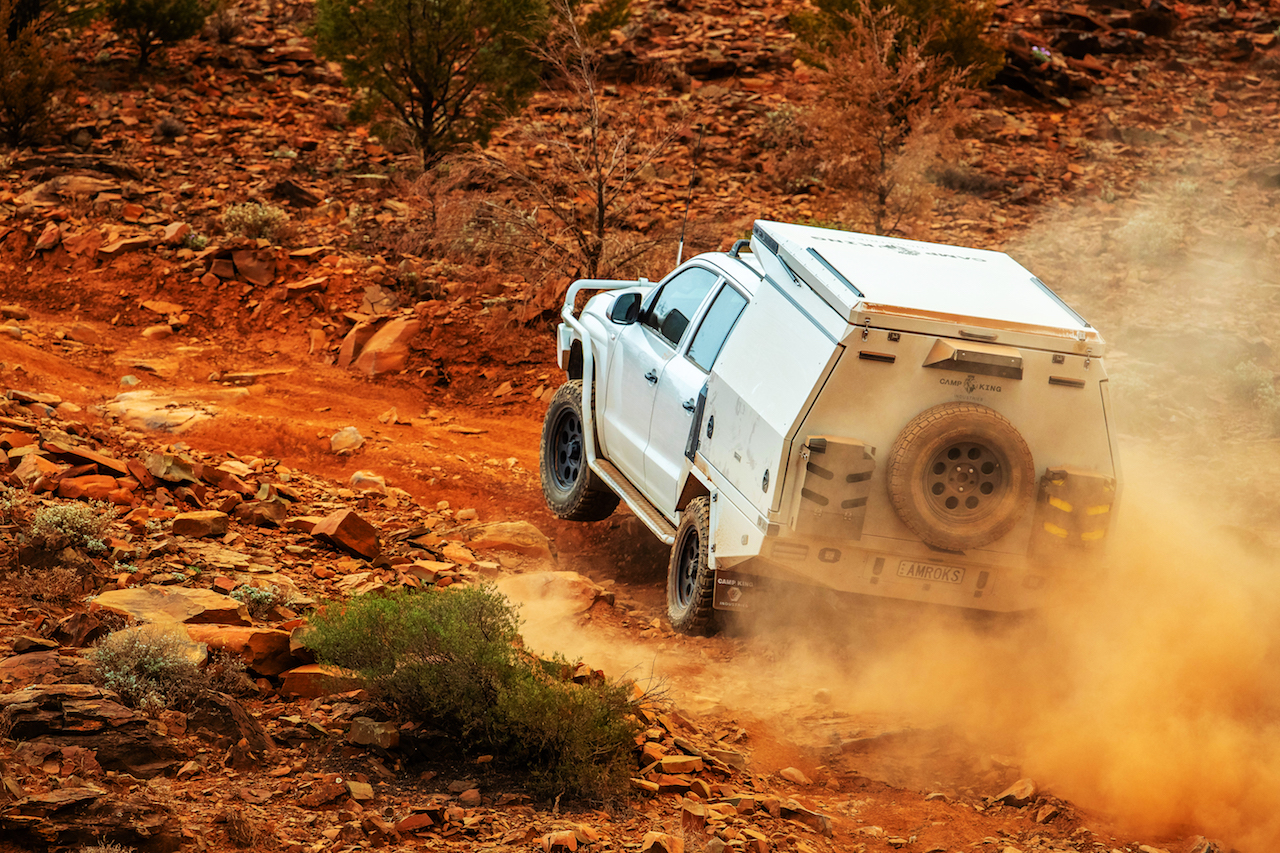 Keeping the 'Rok firmly planted on Terra Firma is a set of 17-inch ProComp alloy rims wrapped in BFG KO2 of the 265/70R17 variety. A 20mm lift Old Man Emu gains us a touch of height for clearance, while not going too overboard and increase the centre of gravity too far. Lighting the road ahead a set of ARB intensity spotlights offers solid night driving capability, and a Seikel snorkel looks after the intake for water crossings, and the dustier of outback tracks. We've also plumbed in a set of diff breathers too, to keep the water out, and oil in when crossing rivers and creeks.
Inside the cab, the seats are kept clean with Black Duck seat covers, while a Uniden UH9080 UHF and aerial look after keeping in contact with the crew on and off the road. Redarc G52-VVA dual voltage gauges let the crew keep an eye on battery health while driving too, especially considering how critical power is to their travels and work.
THE CANOPY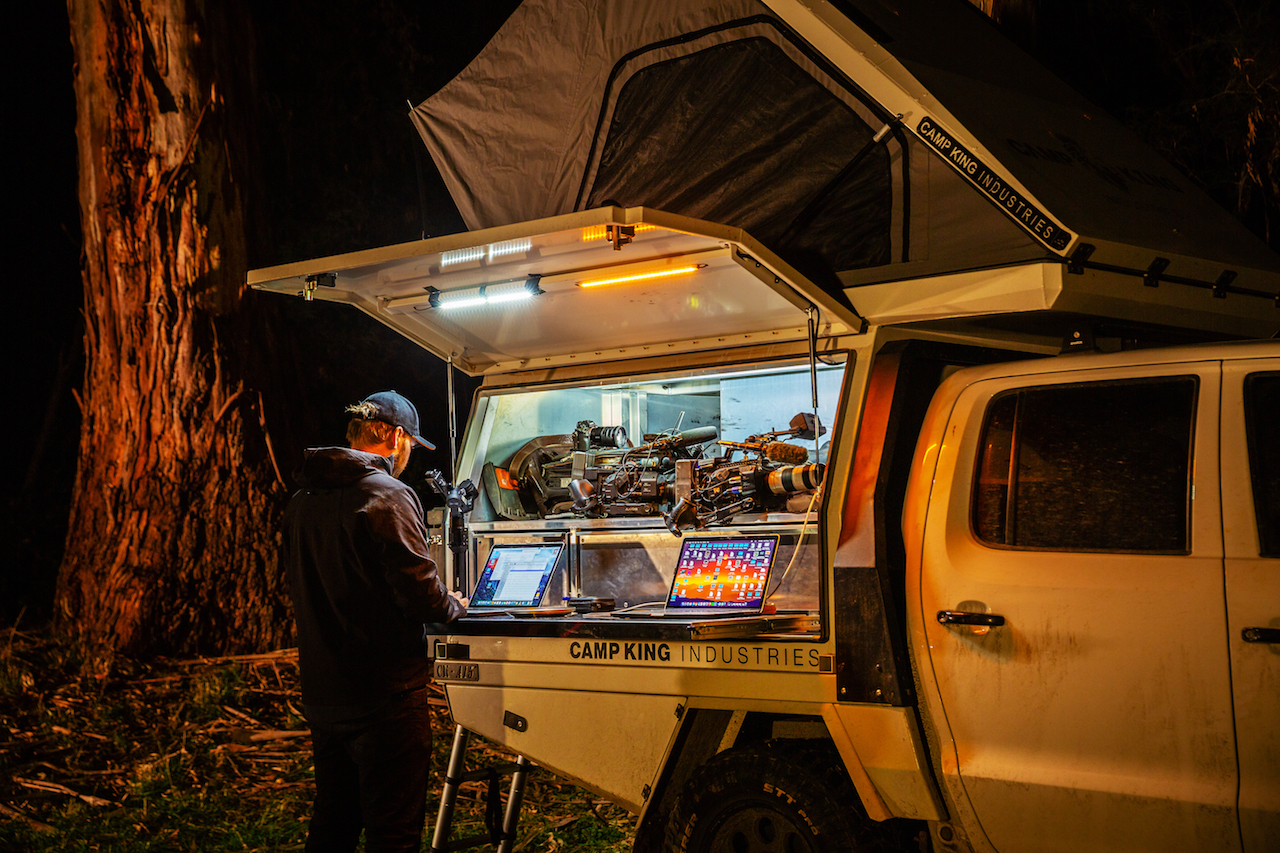 Now, this is where things get rather exciting; the canopy. Designed, manufactured and out-fitted entirely in Australia, the Camp King canopy truly is something to behold.
We sat down with the Camp King Industries team and detailed exactly what we needed out of the crew car's canopy. It needed to be functional, exceptionally well built to handle arguably the hardest off-road life of any vehicle in the world. Considering where we take the Crew Amarok, and what it's used for, they certainly delivered!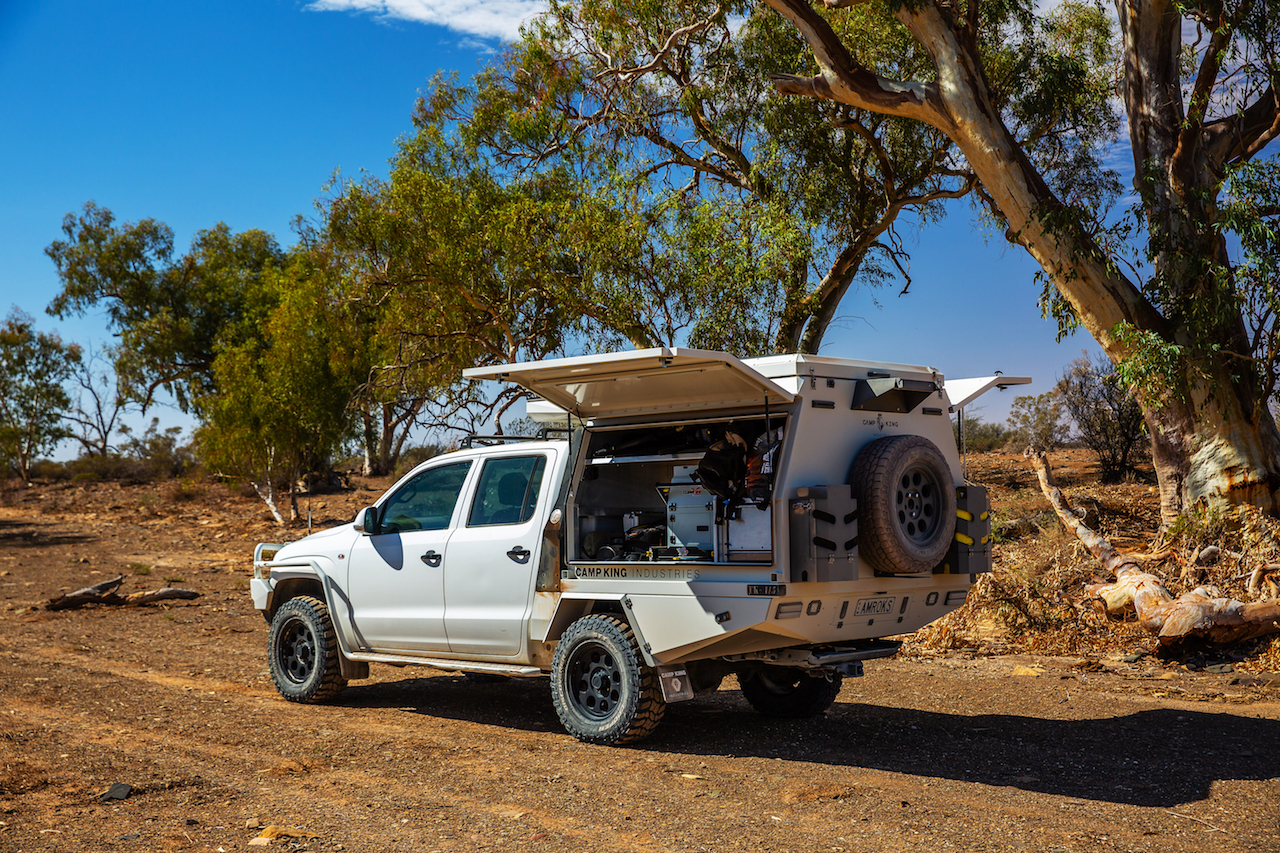 The canopy itself houses a clam-shell style rooftop tent, using quality Aussie canvas and components, with an exceptional sleeping arrangement that our series producer Scotty can attest to. Inside the canopy are more drawers, shelves, and a rather neat slide-out table to work from once we hit camp too! The spare wheel is mounted on the rear of the canopy, getting it up from under the back, plus a pair of jerry can holders for water or diesel depending on where we're off to on the next trip. A couple of toolboxes under the rear quarters houses all the recovery gear in an easily accessible spot and offers additional storage for longer trips away from home. Reverse lights and indicators are housed in the rear panel, with a slide-out drawer hidden behind the number plate.
A pair of 100Ah Revolution Power Solutions lithium batteries supplying power to the 47-litre ARB Classic Series II Fridge/Freezer, a set of Hard Korr Lighting LED strip lights in both white and orange (to keep the insects away) and a 1000W Redarc inverter for charging up everything from laptops and batteries to stills cameras and the entire crews video cameras. Keeping the lithium batteries charged is a Redarc BCDC1250D, which has the appropriate lithium charging profiles, keeps the batteries in perfect condition and topped off nicely. We've also got a Redarc solar blanket that gets thrown over the windscreen that keeps the charging system humming along on the longer stays in one location.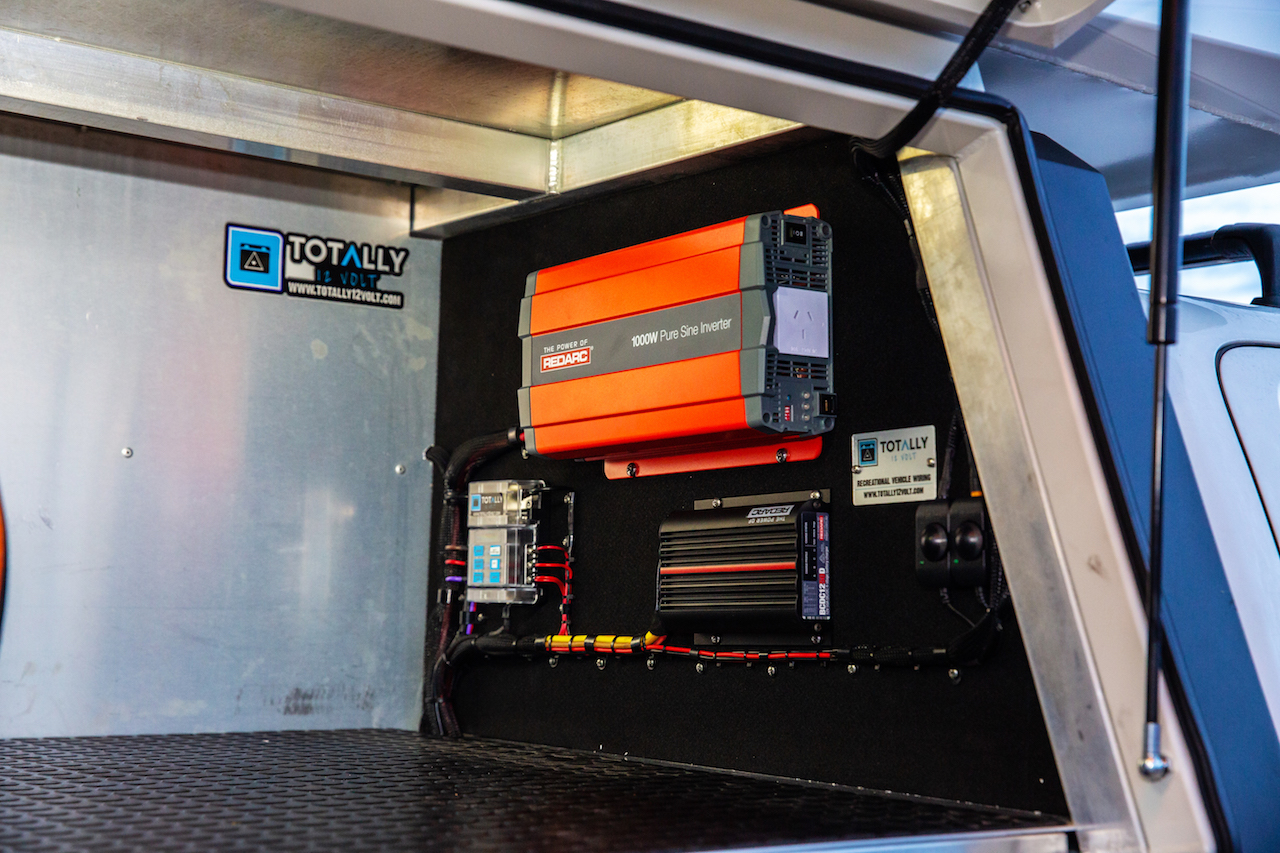 A Clearview Accessories Pantry mounted to a Clearview Easy Slide looks after feeding the crew when they're not feasting on Pats culinary delights, keeping the condiments and cooking gear packed away over the rough tracks.
From my perspective, utilising the lithium batteries has been a rather nice change. Going from lead-acid that don't seem to last as long as they should to a pair of lithium batteries that keep putting out power is incredible. Suffice to say that when I'm up for a new set of batteries in my 80 Series, chances are I'll be making a move to lithium power.
FINAL THOUGHTS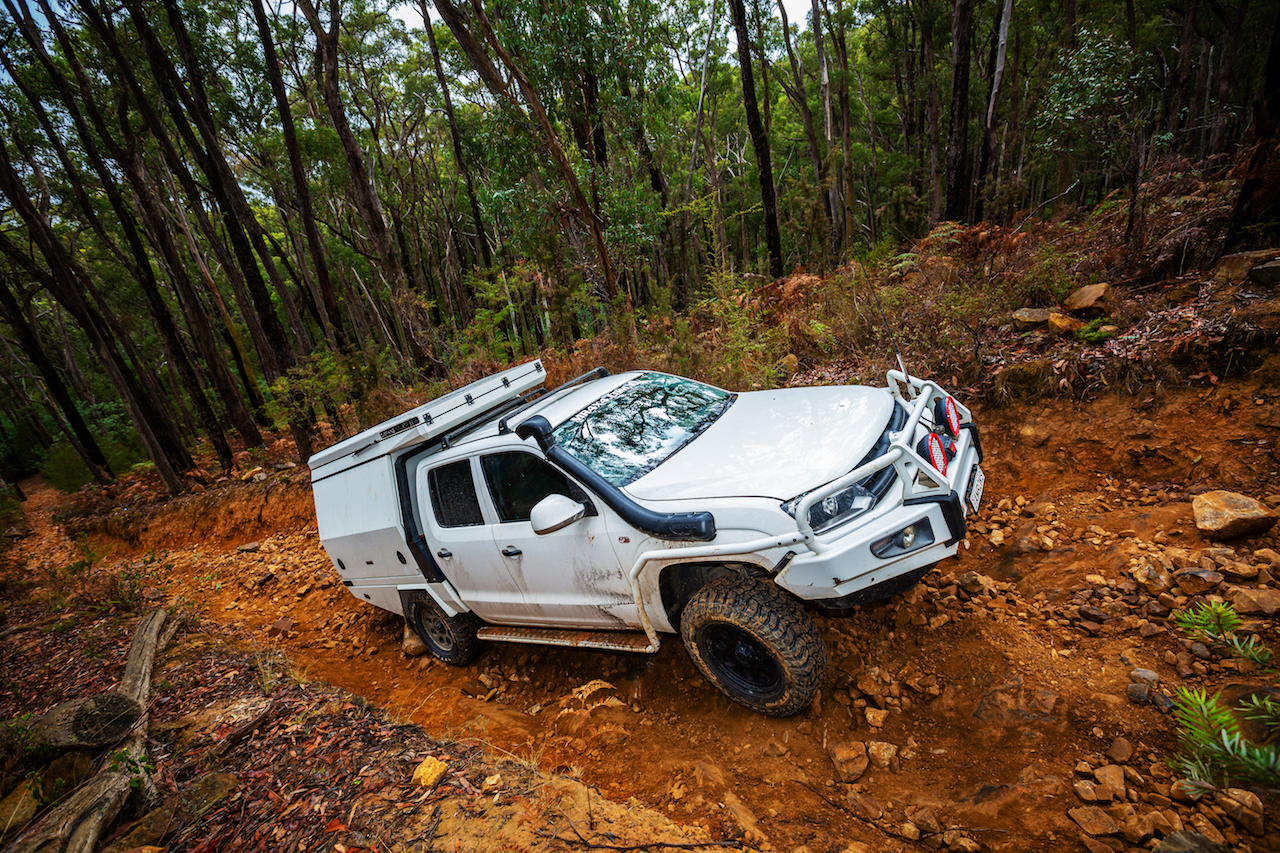 Something often forgotten, is that all of the vehicles in the Pat Callinan Media fleet spend 95 per cent of their life touring and driving the toughest tracks Australia has to offer. They're all built with a particular purpose in mind – getting to some fantastic places and back, without issue. At the end of the day, we stake our lives, and productions schedules (which is just about as important as our lives), on the 'Roks and their builds and accessories working exactly as they should, and not giving us any hiccups or speed bumps.
For a crew car that drives the same tracks, and goes the same places as both Pats V6 Amarok, and my four-cylinder Amarok, while keeping the crew fed, warm, dry and well slept, I'm amazed at how well it does it, and without any complaints…