Having driven solid-axle four-wheel drives for the past 20-odd years, you'd forgive me for being a little apprehensive about this year's filming of the TV show, driving an independent front suspension (IFS) four-wheel drive. This is especially so when the Ford Everest had somehow gotten itself a name as a bit of a family wagon, dare I say, 'soccer-mum' vehicle.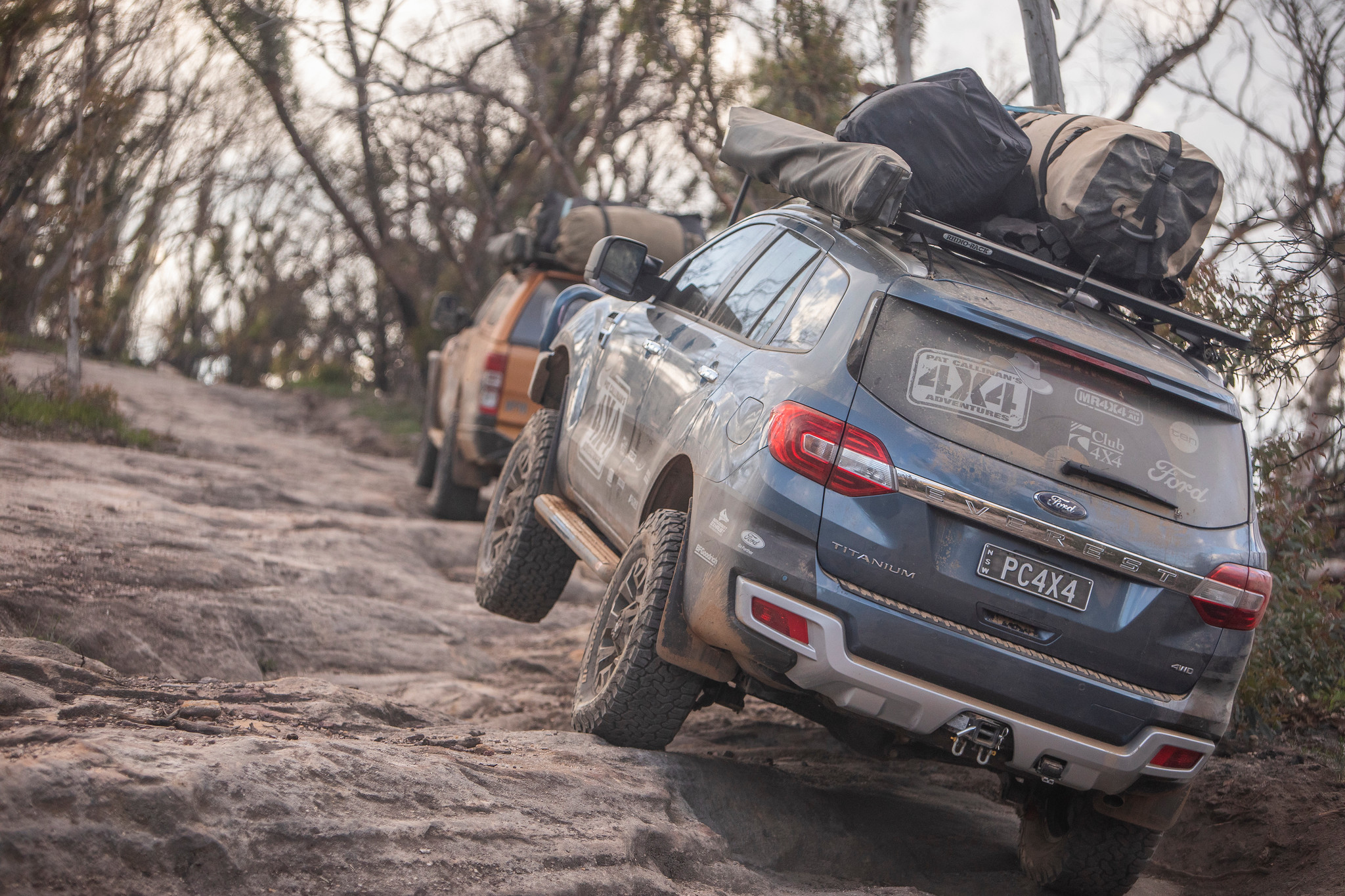 But I tell you what, after filming season 13 and putting the Everest through its paces and taking it up one of the most technical tracks in New South Wales, I'm happy to report that this 'family wagon' is more than capable as a low-range, crawl-anywhere four-wheel drive. Plus, with just a few accessories thrown at it, it can be easily transformed into one of the most capable tourers on and off the road.
For those who read our print magazine, it'll be no surprise to you that I have a somewhat unhealthy infatuation with old Toyotas, but after the time with the Ford Everest, I think I may just be a changed man. Come along for a ride with me now and I'll show you everything we've done to the Everest, how we've made it all work, and some of the places we've managed to take it.
EXTERIOR
First things first, the protection. Despite how much experience you've got driving, decent quality bar work is critical in protecting you, your family and your pride-and-joy from oops moments on the tracks, or animal strikes outside of suburbia. Bearing this in mind, the Everest has a colour-coded ARB Summit bull bar that features high-mount jacking points and provision for fitment of a winch, driving lights and UHF antennas.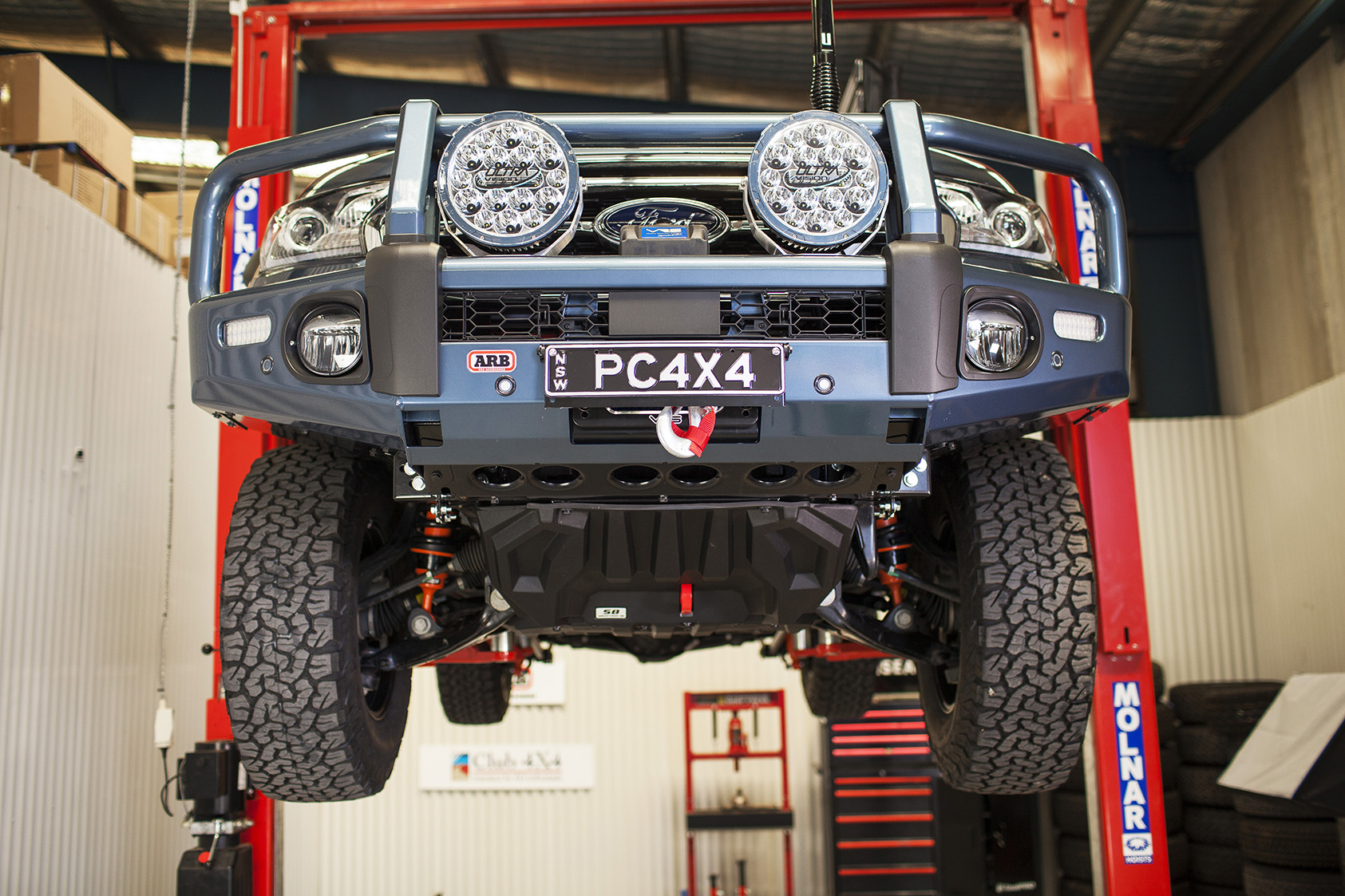 Speaking of the winch, we've fitted a 9500lb VRS V9500 from Ateco Equipment, which came in awfully handy when recovering Pat after he became 'tractionally challenged' in our episode out to Sofala and Hill End. The V9500 made light work of dragging him up and out of the sticky mud, and this model is fully IP68 rated thanks to its double-lipped seals, while it has a decent 30-metre reach with the supplied synthetic rope.
Lighting the way for me in the Everest, I've got the Aussie made Ultravision Nitro 140 MAXX lights for the longer distances, and an Ultravision Raptor 180-watt 40-inch light bar for infill, as well as a pair of Raptor 9-inch lightbars for work/camp lights off the sides. It's not that I'm afraid of the dark… it's more that I just don't like it! Worth noting with the Ultravision Nitros is that you can get the bezel of the spotlights colour-matched to your vehicle too; that's a pretty cool touch, if you ask me.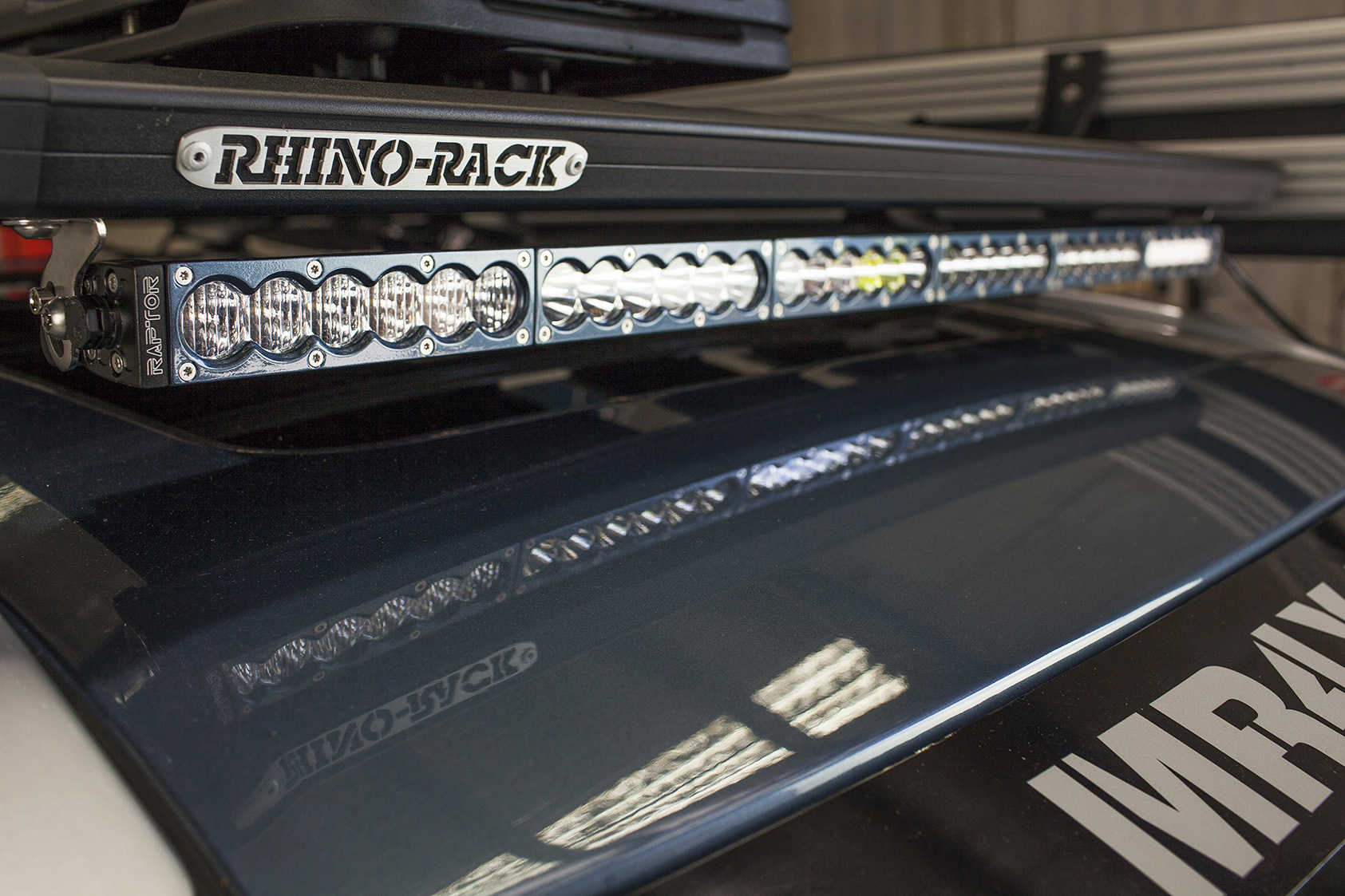 Looking after the sills, I've got a set of ARB slider/side steps that, aside from looking after your sills and stopping you snagging them on rocks, are a great place to belt the boots before getting back into the Everest. Also adorning each side of the Everest is a set of the Clearview's new Next Gen towing mirrors, as well as a Safari Snorkel that ensures the Everest breathes clean and dry air.
Which just leaves us with what we've bolted to the roof to talk about. Up on top, you'll find a Rhino-Rack Pioneer Platform held to the roof of the Everest with crossbars. The lightbars from Ultravision are mounted to the Pioneer Platform, as well as a set of Exitrax recovery boards on their mounts in the centre. Off the side, the Australian made Bushwakka True Blue 270-degree awning is on shade duty when it's either too bright or it's raining.
UNDERBODY AND SUSPENSION
It should come as no surprise that we've kitted out both the Everest and Pat's Ranger with aftermarket suspension kits, both of which carry the Outback Armour brand. The kits we're running give us a 50mm lift above standard, and I've got to say, the adjustable bypass shocks on the Everest are incredible. They easily soak up the bumps and bashes of driving the more corrugated and wrecked of outback tracks, yet they still flex and move well enough to allow me to keep the power down when climbing through rutted tracks closer to the coast.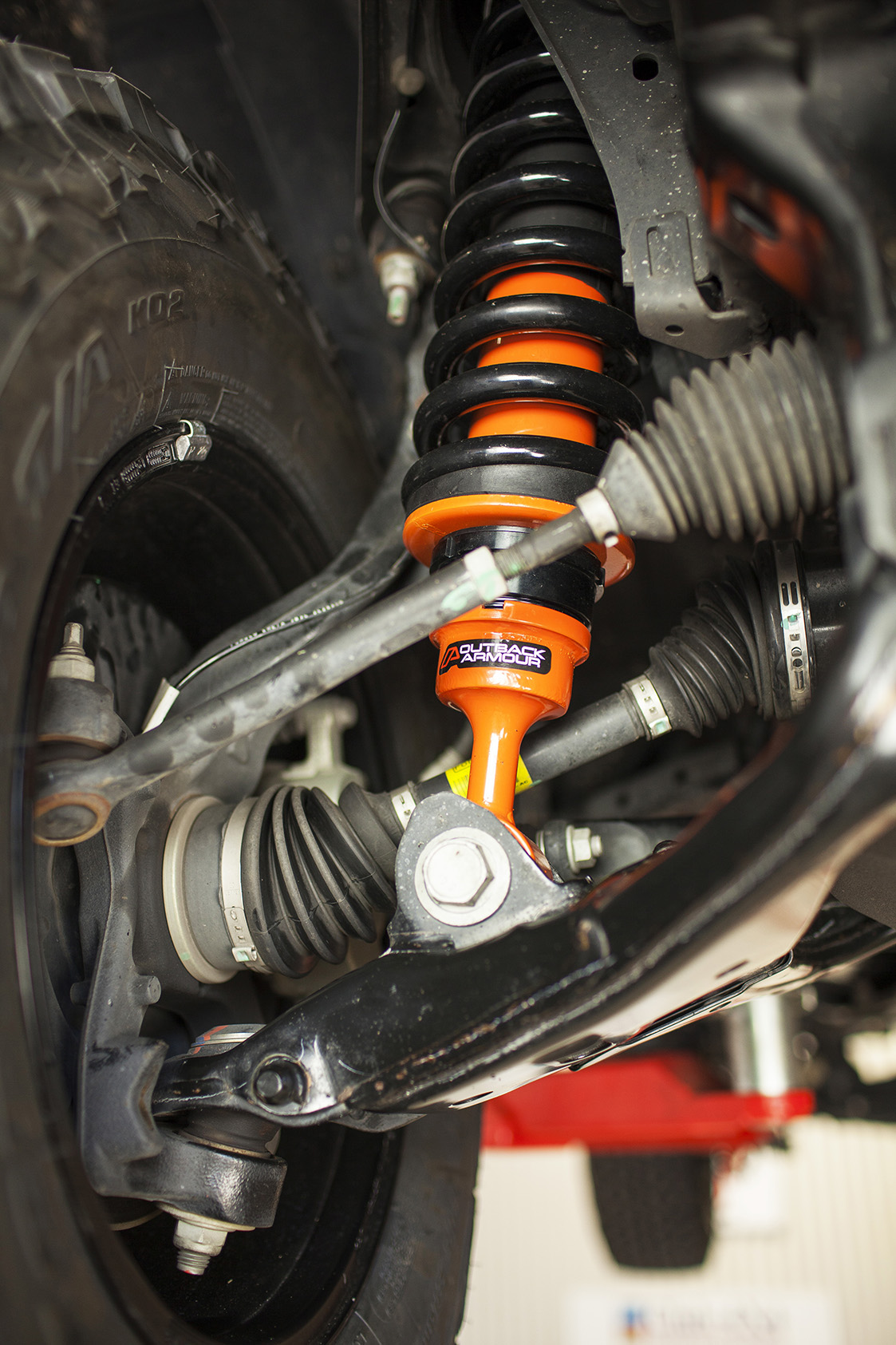 Protecting the rest of the Everest's underside is a Smart Bar under vehicle armour setup. Much to the chagrin of some, these plates are made from a crosslink polymer, and are incredibly strong, durable and weigh less than their steel counterparts. These plates cover the underside from right up against the bull bar, looking after the sump, gearbox and down as far back as the transfer case. Despite my best efforts (and making them kiss the rocks a few times), they held up exceptionally well to the abuse I put them through.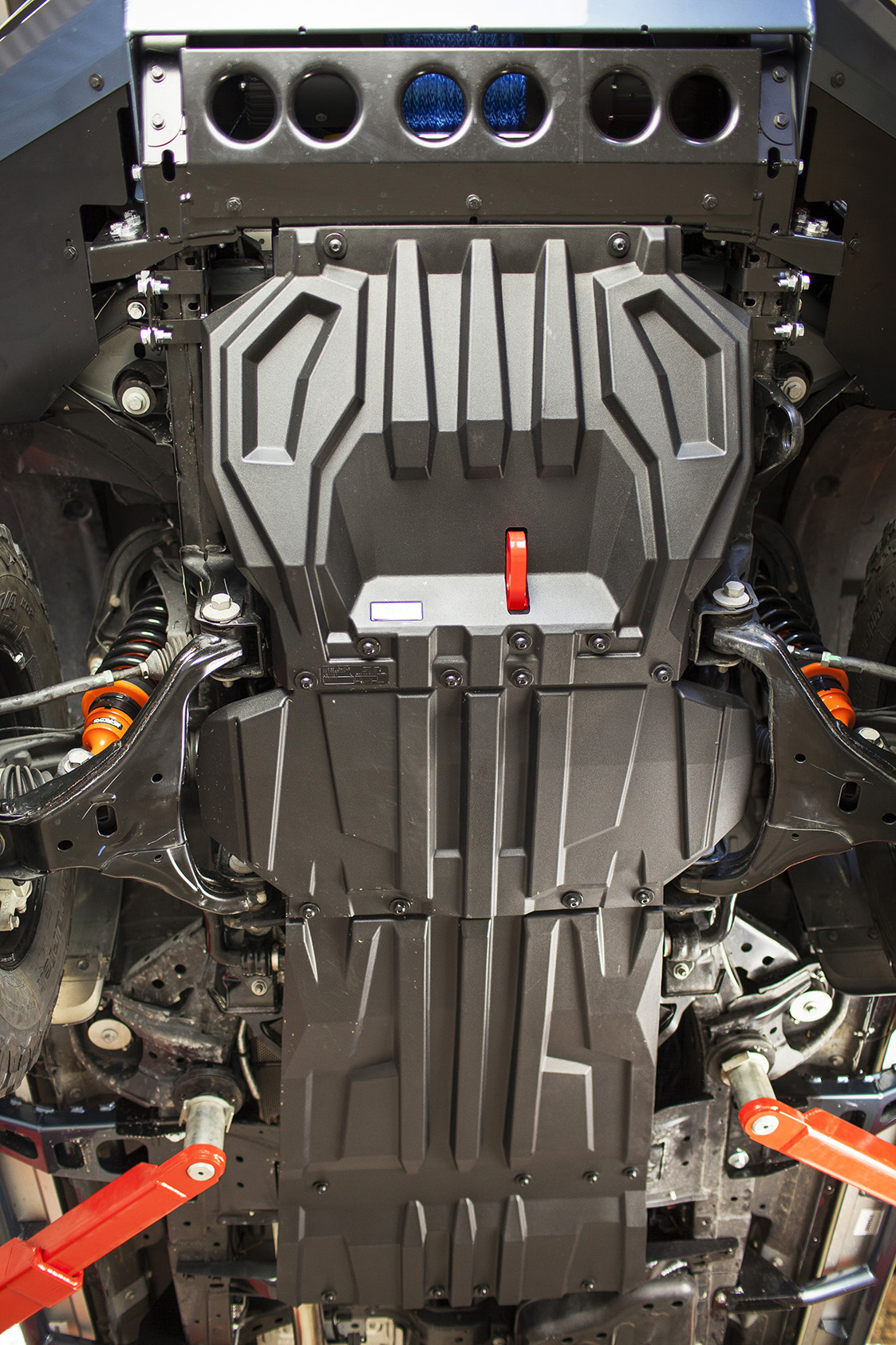 Just as importantly, the 50mm height increase gives us the room to fit the 285/70R17 BFGoodrich All-Terrain KO2s in the guards. The BFGs, wrapped around Fuel Wheels in the matte black milled Assault flavour, provide the Everest with plenty of traction and kept me moving along quite happily in the sloppier trails.
Exhaust wise I've got a full two and three-quarter-inch stainless-steel setup from the team up at Beaudesert Exhausts. It fits perfectly and gives the Everest a decent note, growling up and down the trails and tracks. As a testament to the research and development that Beaudesert Exhausts puts into the kit, there wasn't a peep of drone out of the system while we were on transport stages, racking up the big kilometres on the blacktop.
INTERIOR
Out the back of the Everest is where the magic really happens. There's a Fourby Fitouts drawer system behind the back seat that lets me keep everything where it should be, and yet still offers easy access to those bits of kit not needed so often. For example, there's a 20-litre water tank built into the drawer system, which you wouldn't know was there if you weren't told, and a lock-up soft shelf up top allows you to use the space between the drawer top and roof for your soft gear. Then, of course, there's the 40-litre Engel MT-V fridge keeping the food and beverages cold. As you can imagine, the Engel is incredibly efficient in its power usage thanks to its Sawafuji compressor cycling as needed. Something that really impressed me was that the drawer system also has a chopping board that fits perfectly in the open drawer, to give you a solid, stable table for making lunches on.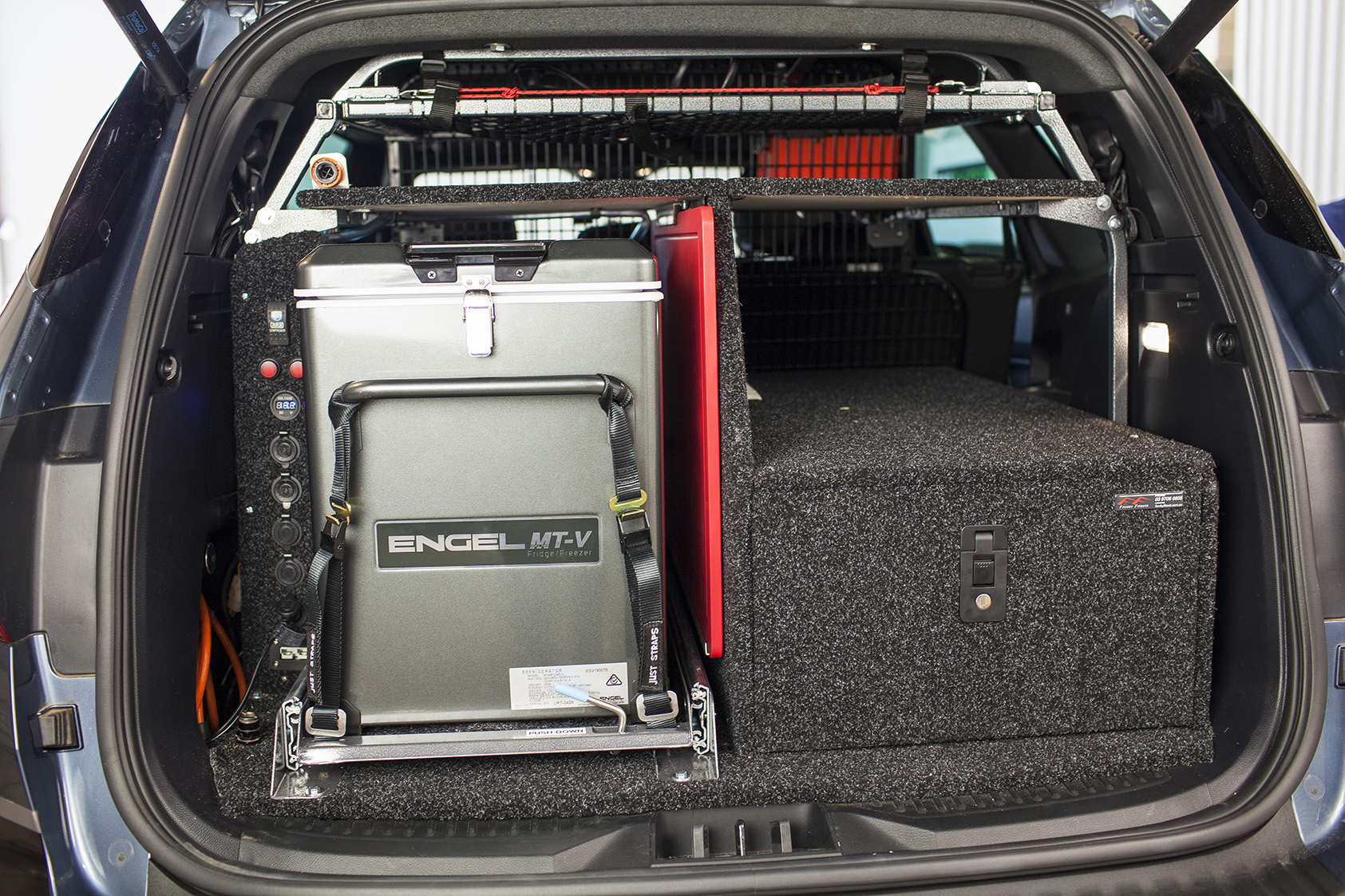 Keeping everything powering along is an Orange Top 100Ah lithium battery from the team over at Revolution Batteries, which is charged by a Redarc BCDC1250D. This setup also powers the 1000-watt pure sine wave inverter from Redarc for charging my camera gear and laptop while out on the road, plus the myriad of 12-volt and USB chargers I've wired in all over the place. This allows the starter battery to focus solely on firing up the Everest's engine. Any poor power management on my part won't see me stranded with a flat starter battery.
Moving toward the front, I've got a Uniden UH9080 UHF for poking fun at Pat when he gets bogged, which is paired up with the Uniden ATX970S 3.0dBi antenna. This antenna gives me enough range to chat to the trucks up and down the highway and lets me punch over the mountains when we're in the tighter tracks. One of the greatest things about the UH9080 is that when I'm mumbling, it's got a replay feature, so Pat can have a couple of runs at trying to understand what I mumbled, before having to ask me to pronounce my words a little better. Pat tells me that may have happened more times than I'm willing to admit. Apparently, I have a habit of getting a bit excited about a cool bit of track and forget how to speak .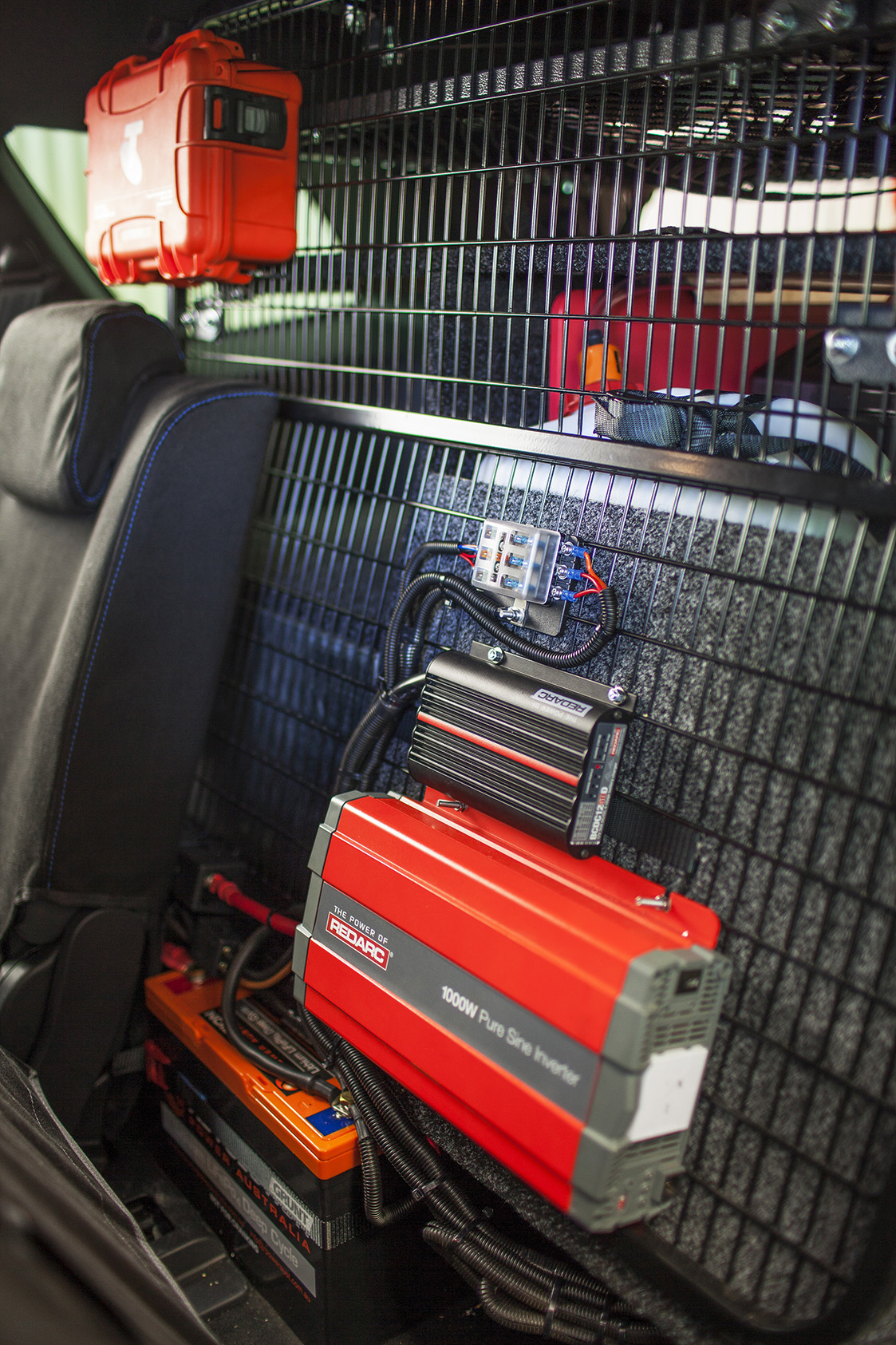 Considering the Everest is the Titanium model, it's got leather, carpet and luxury everywhere, so I'm more than a little glad I've got a set of 4Elements seat covers from Black Duck under my backside. They're much more agreeable to sit on than the canvas jobbies and they wear just as well, too. Speaking of wearing well, there's a set of Australian made TruFit 3D floor mats in the Everest as well, stopping me from grinding mud and muck into the supple carpet with my size 14 boots! I've got the rubber versions in the Everest, whereas Pat has the carpet set in the Ranger. Not sure if he's trying to tell me something there, but either way, they worked a treat for me.
For safety, we've got the Telstra satellite phone mounted on the cargo barrier for easy access, and there's a Kap Industries fire extinguisher mount bolted in at the base of the passenger seat. This keeps it somewhere it's secure, yet very easy to get to and deploy if something untoward were to happen.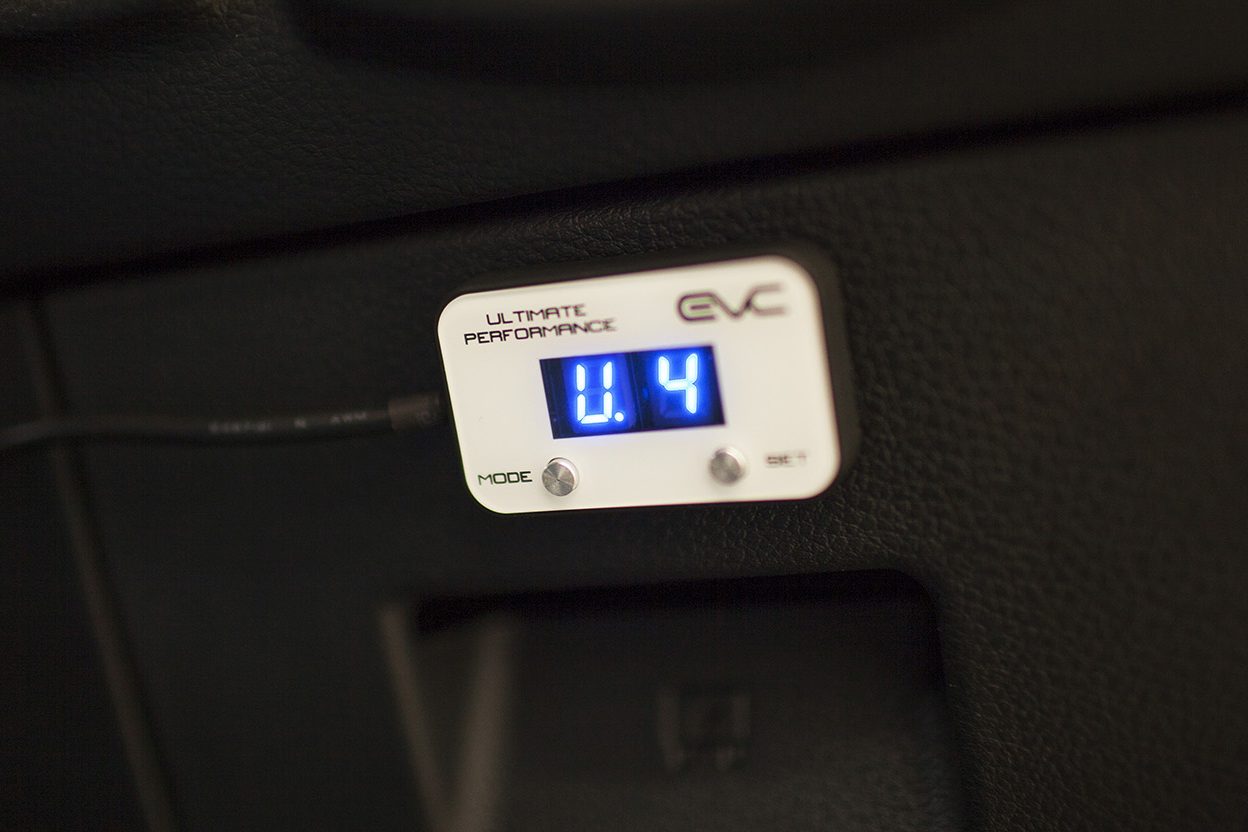 Up onto the dash, you'll find the Ultimate 9 EVC throttle controller, which doesn't actually give more horsepower, as some believe, but it certainly gives you a lot more control over the throttle. Don't get me wrong, the factory throttle map in the Everest is actually very good, but for proper-slow tracks, you can dial throttle input right down, so there's no jerkiness, allowing you to have ultimate control over throttle input. Plus it provides slightly quicker acceleration profiles if you're in a hurry.
WES' FINAL THOUGHTS
Considering I held a certain reservation about driving the Everest this season, due in part to what I can now unequivocally confirm was a misguided 'family wagon' reputation, I'm blown away by how well the Ford Everest performed. From touring to crawling to mud driving and rock climbing, the Everest performed flawlessly.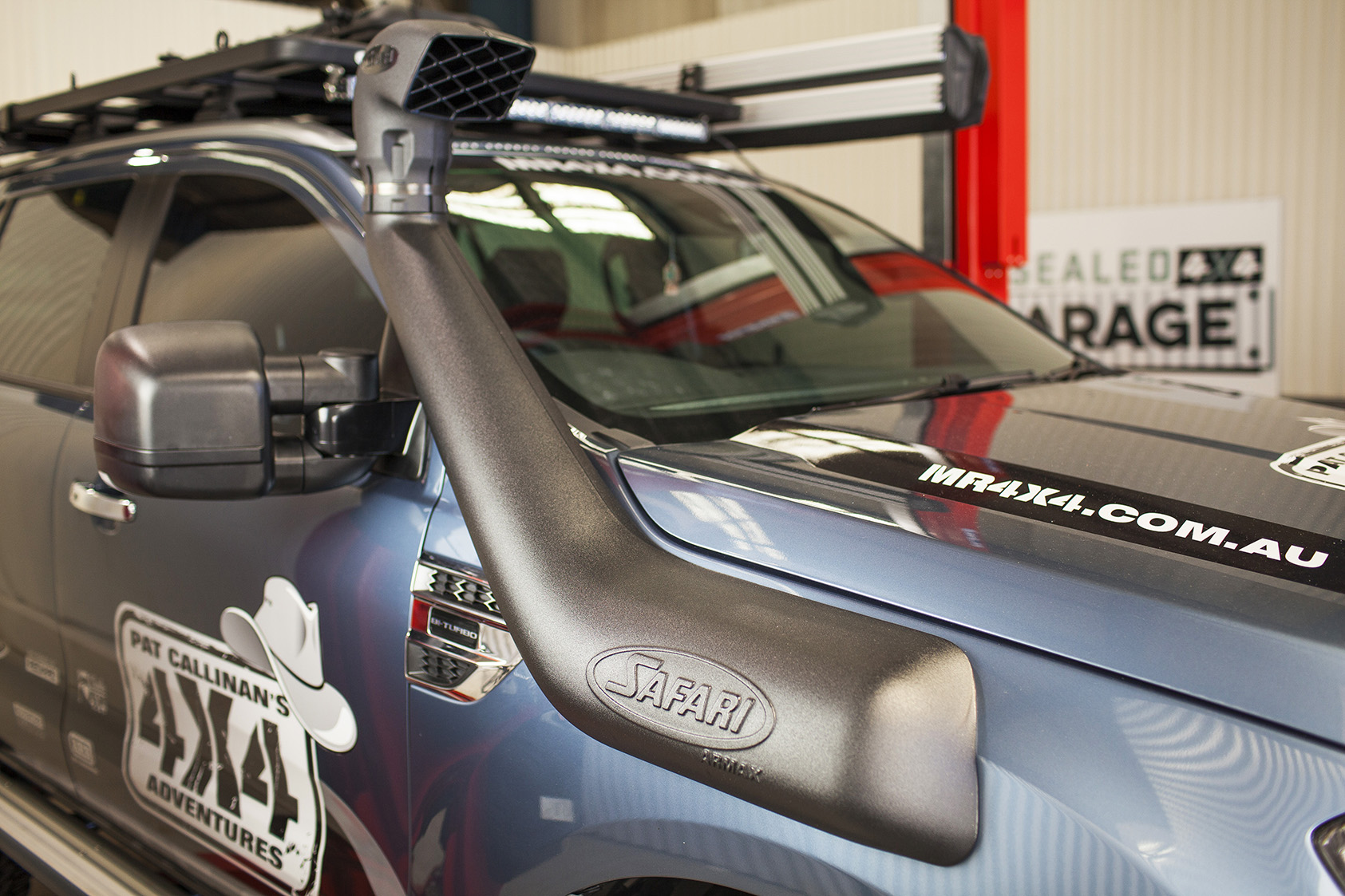 That is a testament to both the platform that is the vehicle, and the modifications that can be made to let you push the envelope just that much further. A 20-year career driving four-wheel drives has certainly taught me a lot, but it's great to still have a vehicle put a smile on your face from time to time.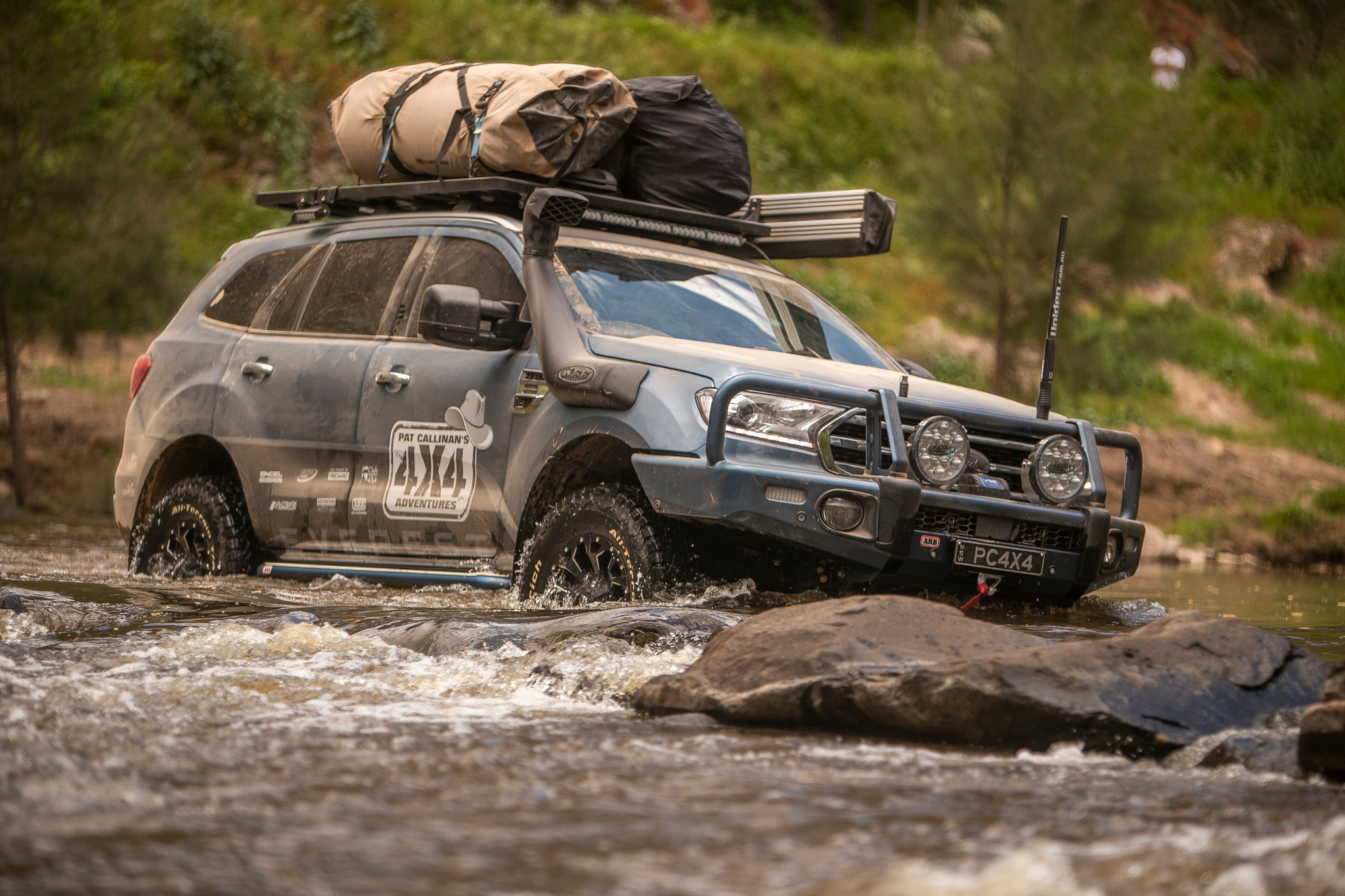 All in all, the entire setup has worked perfectly to take me everywhere we pointed the Everest this year. In case you wanted any more proof, there was a certain drive of the Spanish Steps on which "Wes' Little Everest That Could" seemed to have an easier time of it than Pat's Ranger. Don't get me wrong, they're both amazingly setup vehicles, but if you're ever thinking about a wagon as opposed to a dual-cab ute, the Everest is absolutely worth a look in.