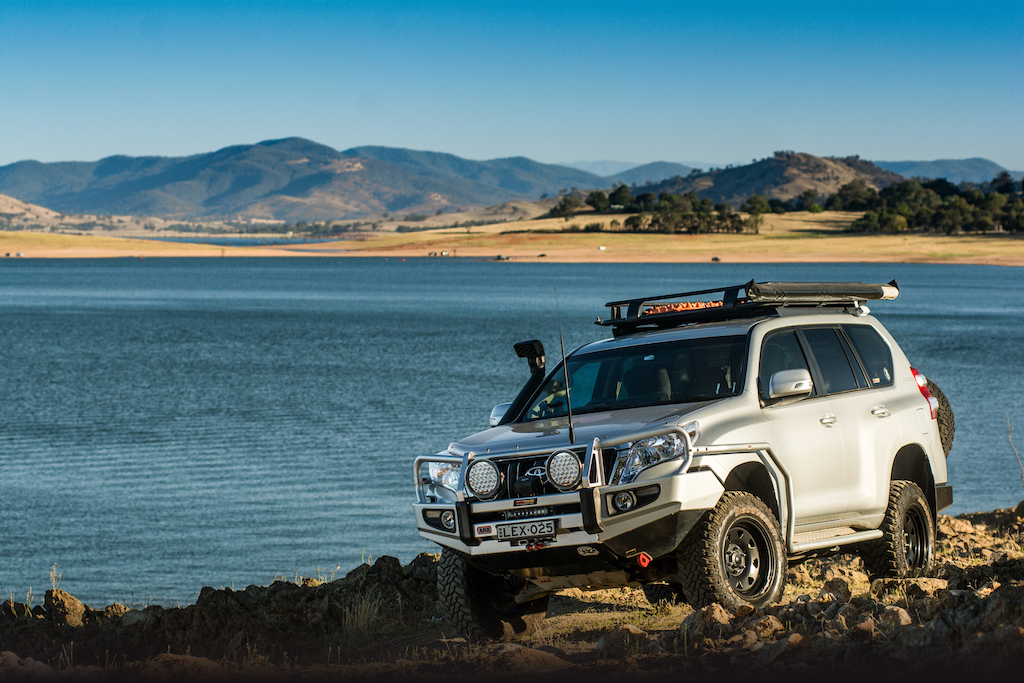 The Toyota Prado has proven itself in the outback but it still cops a bad wrap…this custom Prado isn't your average 'pavement princess'.
Words and images by Harry Temple: You'd be forgiven for lumping 'pavement princess' and 'Prado' into the same sentence, as more often than not they are synonymous and allude to a bog-stock, baby-carrying, soccer-mum-styled town car that never sees a lick of dirt in its entire life. However, before you start flooding our inboxes, there is a niche of owners who actually use their Prados as Toyota intended them. Lex is one of those owners, and he has spent the last four years modifying his 2015 1KD Prado to tackle anything he points it at.
Lex is no stranger to adventure. Growing up around his parents' Subarus, he enjoyed many overlanding trips as a child, but as he got older, he swapped four wheels for two and began motorcycle racing. Following a stint working in the family motorbike shop in his late teens, the family moved and he followed them down to Melbourne. Wanting to build upon the adventures he experienced as a child, he acquired a 1983 Falcon ute and began modifying it to set off across the Simpson chasing the summer with future wife, Kez. They fitted bash plates, off-road tyres, roll bars and an extra fuel tank because, as Lex puts it, "you could get anywhere with a decent run-up back then!"
After deciding they needed a four-wheel drive, they jumped into a '64 Cruiser ute before buying a brand-new '05 MK Triton. For the next nine years, the Triton took them across the Simpson three times, up to the Cape and all through the High Country. The fast-paced, adventure-driven lifestyle may have led to a literal heart-stopping moment for Lex five years ago. He suffered a complete cardiac arrest, caused by a spontaneous clot next to his heart, and he dropped dead on the floor where he stood. Lex explained that it slowed them all down and changed their perspective and how they spend their time together. Now, the focus is on today and tomorrow, rather than getting caught up trying to micro-manage every little aspect of their plans. The big trips will still happen, but the stress is being avoided and they are happy to let things fall into place. He enjoys his day-to-day job as an auto electrician, something that has proven very handy when building his latest touring vehicle, this 2015 150 Series Prado.
Brought about by the stress of driving an aging, agricultural ute around Melbourne, the Triton was retired in favour of the last of the 'big block' (3.0-litre 1KD) Prado. Lex specifically wanted the older motor and his reasoning is sound. "You never go for the newly released motor, stick with the third or fourth version of the previous engine generation as they've had all their issues sorted out before you come along". He isn't a fan of the way new diesel engines are going and I can't say I disagree with him there. Practically speaking, the Prado is easier to drive around Melbourne and is more spacious in the rear for their teenage daughter. It's a workhorse that only comes out once in a while because it's been built for a purpose. Both he and his wife have daily drivers, so it sits in the shed until they take it on a trip or need to tow something. As a result, it never gets cleaned or washed and in fact, Lex couldn't remember the last time he cleaned it before our shoot
From the front, the Prado looks like it is kitted out with exclusively ARB gear. Granted, the ARB underbody protection, winch bar and side rails form the basis of the front end, but mounted on top and behind the bar work are a set of Roadvision 9-inch Dominator LED spotlights and a Smittybilt 10,000lb winch. Lex went for that particular winch because it features an external brake that won't melt a rope during the one time you need to winch backwards. The rear bar is a Kaymar, upon which he has mounted two spares. It does weigh a fair bit, but once you combine the added protection and factor in no longer having to lug an extra spare onto the roof, I can see reasoning behind dedicating some of the Prado's GVM to it. Lex also says he's had a few people ask if he just "threw an ARB catalogue at it", but he spent time planning it out long before he purchased one. He did his research, drew on his past experiences and coincidentally it turned out that ARB supplied a large percentage of the gear that suited his application perfectly. He didn't see much point in travelling over to another supplier for one or two parts and that way if he ever has a problem, it's essentially a one-stop shop for diagnosis.
Besides the Safari snorkel, Lex has kept the 1KD and engine bay relatively stock. Unless you count a set of diff breathers and some battery re-arranging, mechanically the engine bay is otherwise unchanged. Under the bonnet, there is a controversial lithium auxiliary battery install. According to Lex, everyone on the forums he frequents has plenty to say about how it's going to end in tears, but he is confident in his methodology and swears that he could place his hand on top of the battery after crossing the Simpson Desert. Happily, Redarc helped him out, supplying a charger in exchange for feedback and data throughout the install. He had to do all the re-cabling to facilitate a crank battery swap due to the 'Prado problem', which boils down to trying to fit a battery over on the driver's side among all the rear air con pipes that can't be bent or moved. Nevertheless, it is now complete and keeps more space available for storage inside the vehicle.
You'll be surprised to learn that this Prado has three pedals rather than two. Lex understands the advantages of the auto box around town, but for his application, he insisted on maintaining full control over the vehicle at all times. Both the gearbox and transfer case have remained stock for simplicity, but the diffs are a different story. Not wanting to beat around the bush, Lex got the team at ARB Albury to install air lockers in the front and rear, powered by an ARB twin compressor tucked away out of sight.
Keeping his spine intact is a set of BP-51 shock assemblies in the front, with the same in the rear alongside some Old Man Emu 400kg constant weight coils. This not only means the Prado can sit level when fully loaded, but it means Lex can fit both his sets of tyres without damaging them or the inner guards. He runs two sets of tyres; the first set is his 'town tyres', a combination of Cooper S/T Maxxs wrapped around factory alloys and his second set are his 'touring tyres'. This set is built to take more punishment and look decidedly tougher on the Prado. Sticking with Coopers, he runs a set of six STT Pros in 265/70R17 on a set of black steel rims for when the going gets tough.
Justifying the 400kg constant springs, he has built a mobile work station in the back of his Prado. The Outback drawer system forms the base upon which the Engel fridge and Kaon cargo barrier sit. Taking care of lighting, he has stuck a strip of LED lights along the inside of the rear door, which is more than enough to light the entire back of the vehicle. There is a 55-litre Black Widow water tank that slots in out of sight and is plumbed around the outside of the drawers to provide water for drinking and washing hands. Also from Black Widow, the side awning is a hand-me-down from the Triton days and it's still going strong. Lex has kept it because at the time it was the most expensive awning on the market and the only one that was rated to cook under. It's bolted onto the side of the ARB roof rack, which also houses the recovery tracks, shovel holder and side lights.
Inside the cab, Lex has expertly hidden the majority of the aftermarket accessories. There is a generous helping of USB and cigarette sockets throughout the interior (probably around a dozen), meaning the days of a flat device are over. With map lights installed for rear passengers to read, those in the front can use the GME remote head UHF, as well as control the power to the Victron Energy 240V inverter in the rear. Lex has used factory blanks or placed switches in a location that mimics factory installation to maintain the clean look. Switches are confined to the right-hand side of the dash, below the HEMA HN5 and along the base of the radio fascia behind the gearstick.
Aftermarket upper control arms are on the cards as the front two wheels are pointed in slightly, but because he has a set of six tyres on the go and a regimented rotation schedule, no uneven wear has been noted yet. Lex still says he will address the issue, but as a red-blooded 4WDer, he is scared of what that simple fix might escalate to.