We take a look at Great Wall Motors and their Ute update.
Back in 2017 the Great Wall Motors ute was called a Steed, and I drove one, stock-standard, over the Simpson Desert along with a Haval H9. Both vehicles offered great value for money in terms of features and both did the job pretty well. But the Steed was, well, not the greatest performer. Small, lacked clearance, power, towing and offroad capability but it was cheap; classic Chinese car.
Now the thing about Chinese cars is that history is repeating itself. Back in the day, Korean cars were cheap, and rather nasty…Excel, anyone? But today I can assure you the Hyundais and Kias of the world are absolutely the equal of, and often better than the Japanese equivalents, despite some residual prejudice lurking in some ill-informed corners of the world. And in fact if you go back far enough, what was once "Jap Crap" has now become venerated "Jap Jewels".
The Chinese cars are the next generation of cars which will go through this underdog-to-competitor evolution, and this is exactly what we're seeing with the Steed being replaced by the Ute. Yes, the "Ute"…one thing Chinese manufacturers never quite seem to get is translations or appropriate names for their cars. So we have here the Great Wall Ute, which is available in three specs; Cannon, Cannon L and Cannon X. And to clear up some naming confusion; the original plan was for the company to have two separate brands, Haval and Great Wall. That's now been changed so Haval is a sub-brand of Great Wall focusing on SUVs, and Great Wall does utes. And also owns the Haval brand. Everyone clear? Good.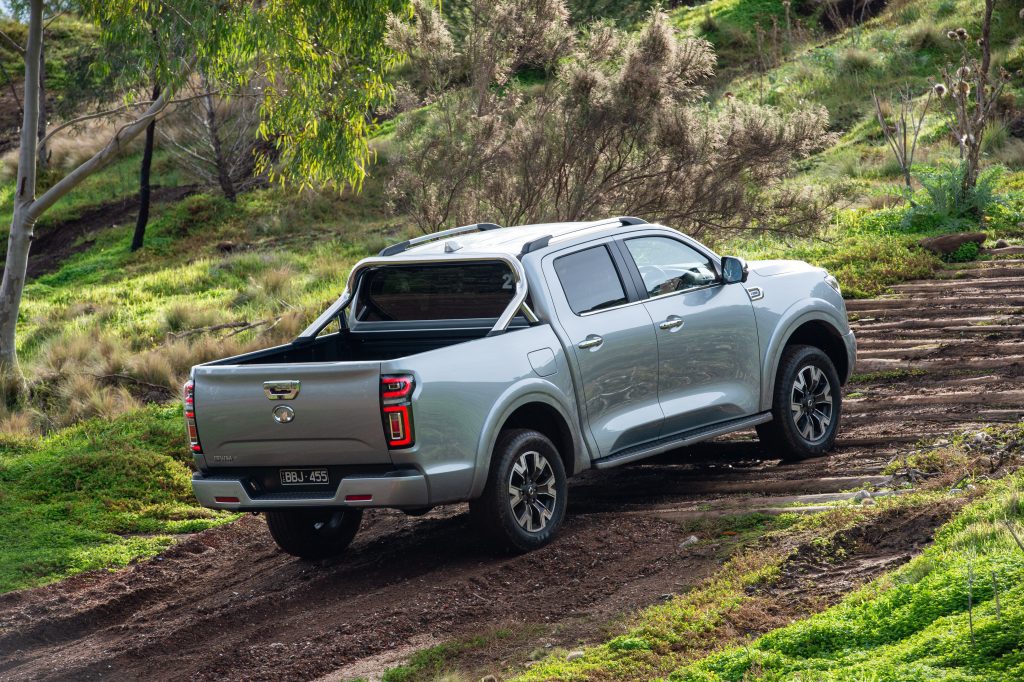 I attended a press event to take a look at various things Great Wall, and the reason as far as the Ute was concerned was to evaluate the changes to the throttle map since its launch in October 2020. The reason for the changes was customer and journalist feedback – apparently the throttle was too doughy, not sharp enough. So, GWM reacted and made changes, as below: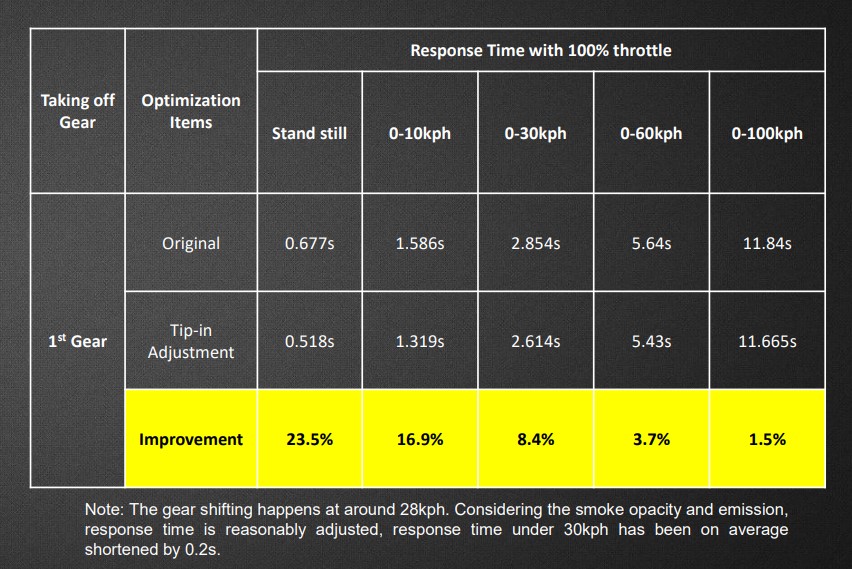 This change is part of GWM's FIDA development process, or Fast Iterative Development Approach. It's outlined below:
Basically, multiple media test drives are used to optimise the vehicle. Now this is an interesting approach; on one hand I applaud the quick and continual development, and real-world feedback. On the other, it could be suggested that it's using the real world to do development. Interested in your views.
Regardless, I cannot comment on the effectiveness of the Ute's throttle map change as I never drove the original Ute, and the nature of the course we had was a drive of about 15 minutes in low range over easy terrain. But, there seems to be no reason not to take GWM's word for it that they've improved the vehicle. The drive and event didn't leave me a lot of time to evaluate the Ute, especially given as there were other things going on such as a presentation on GWM's activities and of course the very interesting Tank 300. However, afterwards I did borrow a Ute and took it off away from the easy set course to a proper little cross-axle climb. There I was able to determine a few things of interest.
First, the brake traction control (BTC) calibration is quite ordinary. It's not really any better than that in my 2012 Ranger PX1, and I know this, because I brought my own PX1 specifically to provide a benchmark and was able to run it over the same ground. The Ute does have a rear locker, and I can confirm that BTC is disabled on the front axle when the rear locker is engaged. The locker engages and disengages quite easily which is always a good sign. Low-speed throttle controllability was good, but there was some electronic oddness with I think the hill start assist system getting in the way of a takeoff, and at one point I felt the ESC was retarding things which should never happen in low range, so perhaps it was something else. I really need more time in the car to figure all this stuff out, and it may have just been my lack of familiarity with the vehicle.
Anyway, I can say that the Ute definitely has some reasonable offroad creds and is far better than the Steed in that respect – the Ute is no Hilux offroad, but it's good enough to get most places. I don't have any comment on anything else such as onroad handling as that wasn't part of the drive course, but I did take a look around the Ute. I liked the fact the second row seatback folds down, there's under-seat storage beneath the second-row seat base, and it's a pretty decent size – length is 5410mm compared to Ranger as 5446mm.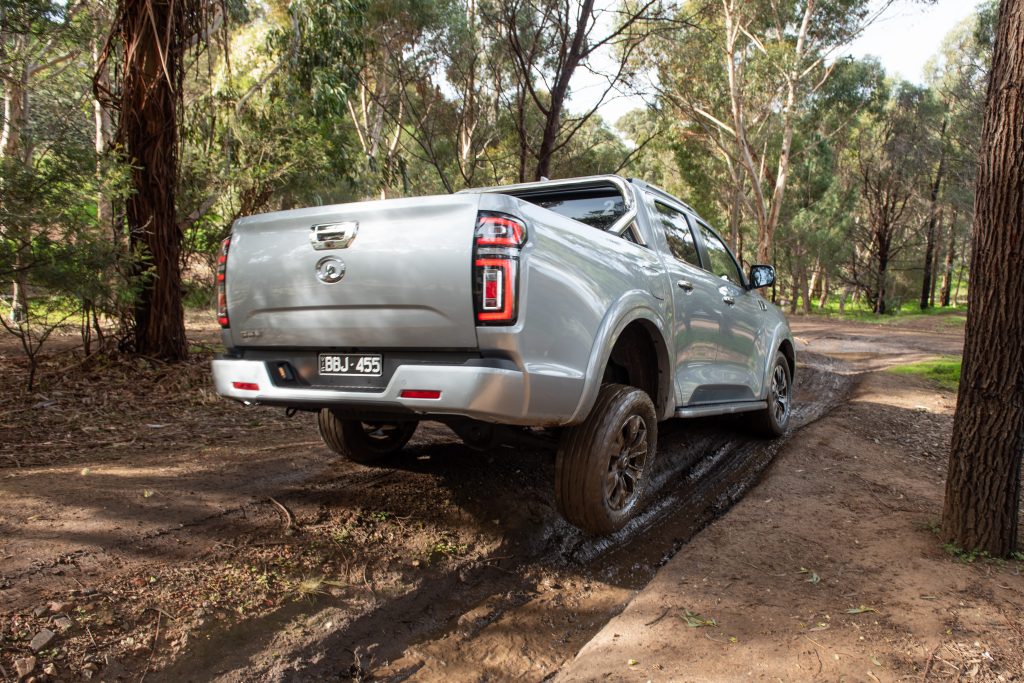 And the payload is pretty good; tare weight is 2100kg, and GVM is 3150kg so that's a decent 1050kg of payload! Towing is 3000kg, but let's look at the specs. The GCM is 5545kg, so that means with vehicle loaded to 3150kg there's only 2395kg of weight left for the trailer, not a lot. A GCM of 6150kg would have been better. Conversely, if you want to tow the maximum of 3000kg, then the vehicle can weigh only 2545kg so that's only around 450kg of payload…out of which you need to deduct your towball mass of say 300kg. So, a heavy tow vehicle the Ute is not, despite its good payload, but to be honest all the ute makers overstate their capabilities. The small 120kW and 400Nm engine output doesn't help, although the excellent 8-speed ZF automatic would help redress matters.
The Ute is also notable for being one of the few all-wheel-drive utes, running BorgWarner's Torque On Demand (TOD) system with no manually lockable centre diff, and it has rear disc brakes although still leaf springs at the rear. And the warranty is 7 years unlimited km, which is pretty amazing, plus a 5-year roadside assist package so that's a clear statement by GWM they have faith in their product. There's a decent array of safety features too such as adaptive cruise, lane keep assist and AEB. Finally, pricing is as usual sharp; the base Cannon model is a mere $34,990 driveaway and the top spec Cannon X is only $40,900. As a comparison, the lowest of the five Triton 4×4 dualcab specs is $40,890 driveaway, and the Triton is cheaper than the likes of Ranger or D-Max.
So the Ute is probably worth a closer look if you're after an affordable ute with a long warranty, but not for towing heavy loads and with limited aftermarket support compared to the more popular vehicles. But we can expect GWM to keep on improving and their commitment to the Australian market is clear; the local executive's presentation was heavy on future investment, research and development with sales this year 250% up on 2020 to a projected 18,000, albeit coming off a low base. There will be 90 dealers by the end of 2021, and more models confirmed with others under consideration, not least the Tank 300.
So it's probably just a matter of time before we talk of the Chinese cars in the same vein as Korean, and then the question is; what'll happen to the Japanese?