In Season 14, Pat headed to the Red Centre to explore some of the most amazing landscapes in Australia. Starting at Alice Springs, he took us south into the Rainbow Valley Conservation area to see colourful rock structures made from Hermannsburg sandstone. We then followed along off-road to the incredibly unique Palm Valley before taking the 'back route' through Boggy Hole and Running Waters to Kings Canyon.
After exploring Kings Canyon the best way possible, by hiking the six-kilometre rim walk, Pat then drove the iconic Mereenie Loop Road through to the West MacDonnell Ranges. But not before stopping at Tnoralla (Gosse Bluff), a crater created 142 million years ago by a comet crashing into the earth.
You would think that would be enough adventure for one trip, right? Well, I can assure you there are plenty more amazing places to explore in Central Australia. Let's pick up where Pat left off in the West MacDonnell Ranges and head over to the East MacDonnell Ranges where we'll show you some other amazing places to visit in the Red Centre of Australia.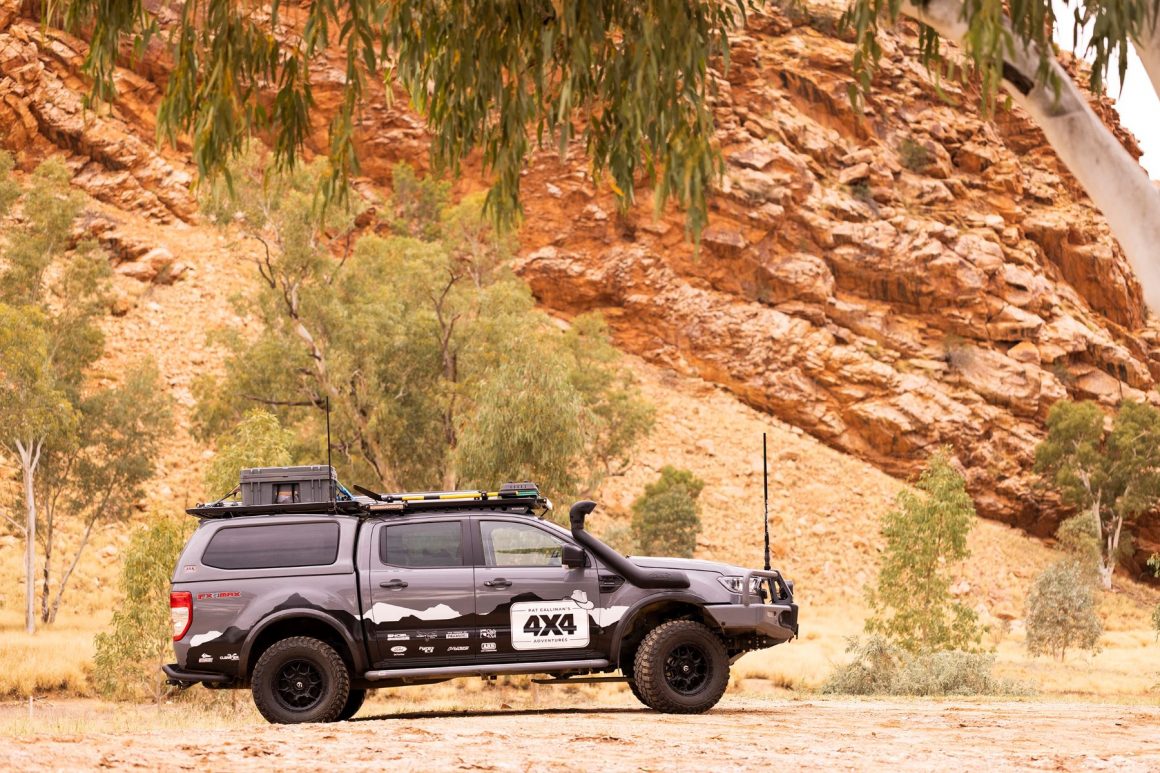 The West MacDonnell Ranges
Stretching around 161 kilometres west of Alice Springs, the West MacDonnell Ranges are your best bet for gorgeous swimming holes. Wheel-lifting action isn't the norm here. However, there is swimming, towering red gorges and more stars than you've ever seen. Here are three top spots to visit in the Red Centre's West MacDonnell Ranges.
Finke 2 Mile
Finke 2 Mile is a lesser-known camp area in the West Macs. It's so lesser known that I once accidentally busted an elderly couple having a naked swim in the river here. They had ridden in on a Kawasaki KLR650 and had to make a sheepish dash sans clothes back to their swag when they realised they weren't alone anymore.
Camp right next to the ancient Finke River, which at around 350 million years old, is believed to be one of the oldest in the world. Wake up to the sounds of budgerigars singing from the ghost gums and enjoy the swimming and 4WD tracks along the sandy creek bed. There are no facilities here so you will need to be completely self-sufficient.
Ormiston Gorge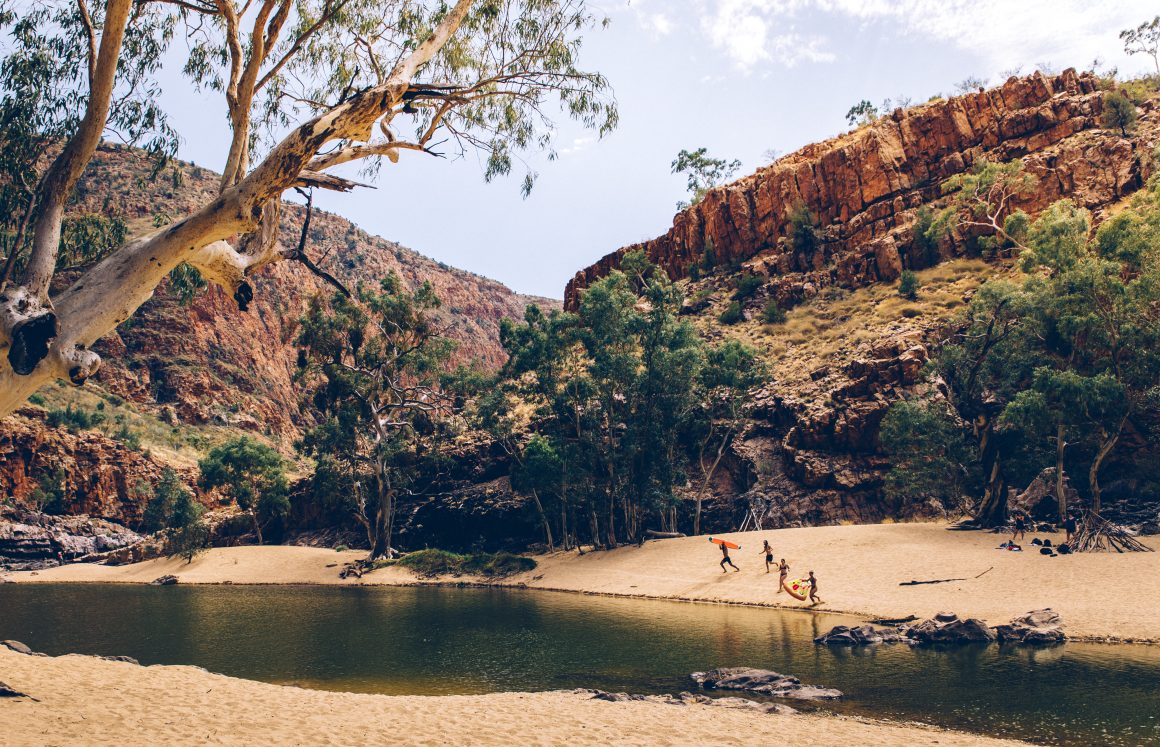 Drive around 135 kilometres west of Alice Springs to find one of the prettiest swimming holes in the Red Centre. Ormiston Gorge is an easy 500-metre walk from the visitor centre and is simply stunning. The water level varies drastically with the season. Think of it like a desert 'beach' with towering gorge walls, a cool waterhole, white sand and magnificent white gums.
Rise early to take a sweaty 20-minute hike up to the lookout for amazing views. Alternatively, if you're feeling adventurous, hike the four-hour Ormiston Pound Walk. If you're seeking a flushing toilet and hot shower, Ormiston Gorge is the place to camp. Fees for camping are paid via an honesty box but get in quick, as it's first-in-first-served.
Redbank Gorge
Find Redbank Gorge at the far reaches of the West MacDonnell Ranges, around 156 kilometres west of Alice Springs. This swimming hole requires a one-kilometre hike in and also some scrambling over boulders to reach it.
Make sure you carry in a floaty as you can wade up the swimming hole through the narrow red gorge and float back down just for fun. Redbank Gorge is our favourite swimming hole in the Red Centre. Why? It feels really remote like you've just discovered a secret paradise.
There are two national park campsites here. Both have drop toilets and are first-in-first-served with fees paid via an honesty box.
The East MacDonnell Ranges
Stretching around 150 kilometres east of Alice Springs, don't assume the East Macs are the same as the West Macs. Here you'll find a historic gold town, Aboriginal rock art, charming homestead stays, a sandy river bed teeming with red garnets and a dramatic landscape. Below are our three top spots to visit in the East MacDonnell Ranges.
Arltunga
Find Arltunga Historical Reserve around 117 kilometres past Alice Springs. Arltunga is the ruins of what was once Central Australia's first town. Like most pioneering towns, it was built on a gold rush. Gold was discovered in 1887 and miners had to travel approximately 600 kilometres from Oodnadatta railhead (mostly on foot) to seek their fortune. Alice Springs was barely an outpost at this point in history.
Explore the restored police station and jail, and play with the old mining equipment, some of which have been set up as an interactive display. For those keen on striking it rich, there is a fossicking area located outside the reserve.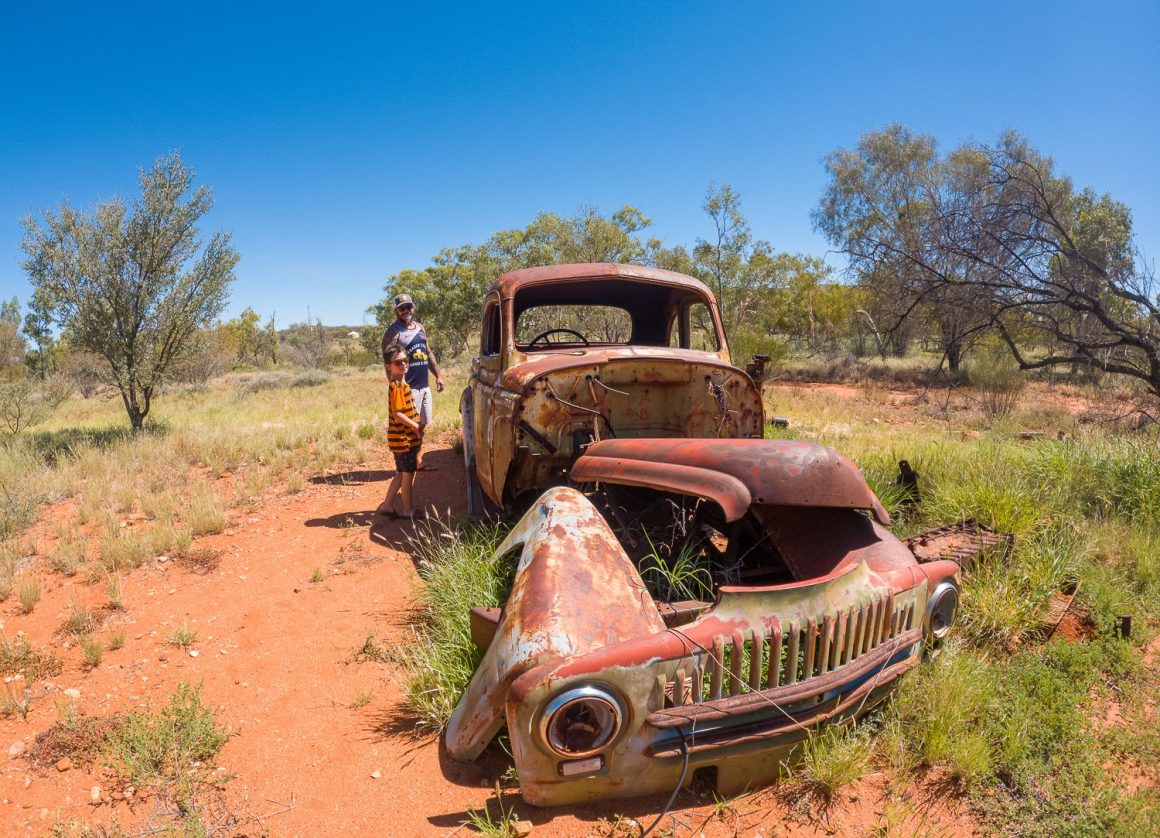 Ruby Gap Nature Park
Getting to Ruby Gap Nature Park is half the fun with multiple creek crossings and a track that changes in difficulty with the season. Ruby Gap is around 152 kilometres past Alice Springs. There are no facilities, no phone service and plenty of memories to be made here. Expect high gorge walls, a semi-dry sandy creek bed for 4WD action and swimming holes.
Spotting red garnets is as easy as picking up a handful of sand in the right place and letting it flow through your fingers. In the 19th Century, it was the site of a 'ruby rush'. However, the novelty wore off quickly when the rubies were found to be red garnets, which are worth a lot less.
A high clearance 4WD and experience is essential here. Camping is available here along the river bed but you must be completely self-sufficient. Pay your National Park camping fees via the honesty box at the entrance to the park.
Hale River Homestead
At around 128 kilometres past Alice Springs, you'll find Hale River Homestead on the well-known Binns Track. Camping is available here and the homestead itself has an amazing cafe with plenty of character and great food. Go for a bush walk, drive to Frederick's lookout or just relax and enjoy the wide open space.