The Collins Dictionary defines 'wild swimming' as the activity of swimming in a naturally occurring body of water. So in other words, swimming in lakes, creeks and the ocean but not in a swimming pool or anything man-made.
Those of you who watch Pat Callinan's 4×4 Adventures will know that Pat often finds fantastic locations for a spot of wild swimming and the last episode of season 14 where he headed to K'gari (Fraser Island) was no exception.
On this particular trip, Pat hit up a few great wild swimming spots like Eli Creek, Lake McKenzie and the Champagne Pools. However, there are quite a few more stunning spots for wild swimming on K'gari and we're going to share the best with you.
Lake McKenzie
Lake McKenzie is the lake you usually see plastered all over social media when it comes to images of K'gari. It's most definitely one of the most beautiful lakes in the world but finding a shady spot in the school holidays is nearly impossible at this perched lake as it's a popular stop for both off-road tour buses and 4WDers alike.
This doesn't mean that you shouldn't visit. In fact, you definitely should. Lake McKenzie is a wild swimming bucket list destination. Our advice? Get in early before the tour buses to secure both a parking spot and a shady spot on the shoreline of the lake.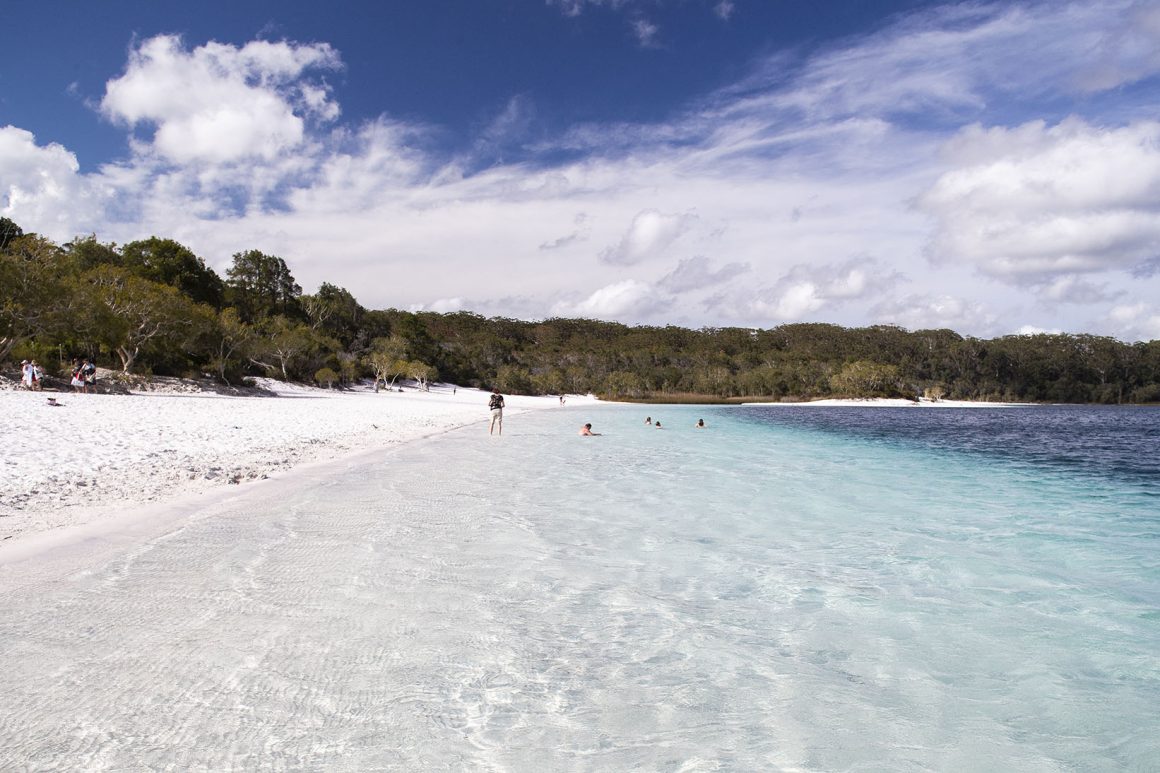 Lake Birrabeen
Birrabeen is very similar to the famous Lake McKenzie but we reckon it's better because there are fewer tourists. It features the same white sand, deep blues and crystal-clear water on the edges. Lake Birrabeen is a perched lake. This means it's a lake that occurs above the water table with a base of organic matter and sand which acts as a catchment for the rain.
Champagne Pools
The Champagne Pools are a set of natural rock pools that are best enjoyed at low tide and in good weather. In wild weather and at high tide they can become dangerous, with treacherous surf pounding on the rocks.
Both the young and young at heart might like to bring a snorkel here for their wild swimming adventure. Why? Because there is an abundance of small fish that get trapped in the rocks pools in the outgoing tide.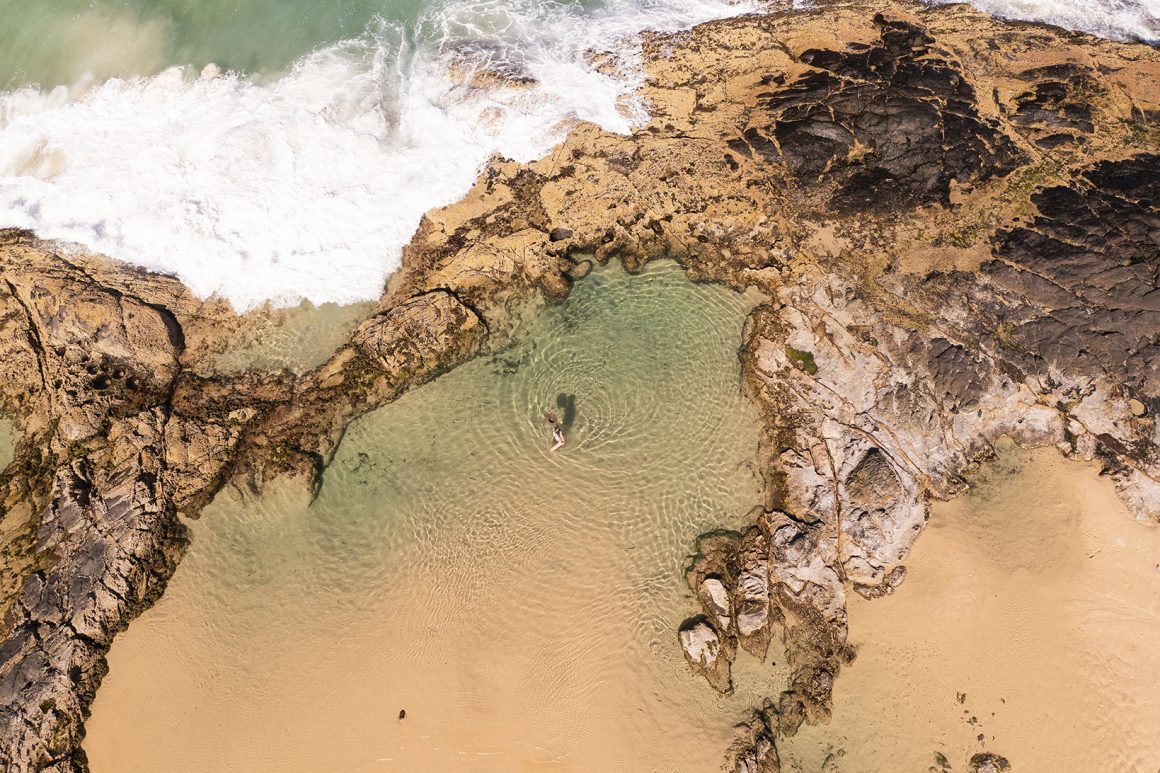 Ocean Lake
It's not as pretty as Lake McKenzie or Birrabeen but it's certainly just as memorable. Ocean Lake is a window lake, which means it has formed because the ground drops below the water table. The water is tannin stained from the tea trees so it isn't as clear as some of the other lakes but the fine white sandy base gives the water clarity by acting as a filter.
Its location away from the K'gari tourist hotspots makes it one to add to the bucket list. If you're up for a bit of fun, look out for a rope swing hanging out of a tree.
Eli Creek
You will have seen footage of Pat walking up Eli Creek in Season 14 however the best way to experience Eli Creek, is to walk up the boardwalk with your chosen flotation device, lower yourself gently into the water and ride the current until it spits you back out at the mouth of the creek where you have hopefully scored a creekside parking spot for the day.
Eli Creek reportedly released up to 4 million litres of fresh water into the ocean every hour!
Warning: This is the coldest wild swimming spot you can find on K'gari.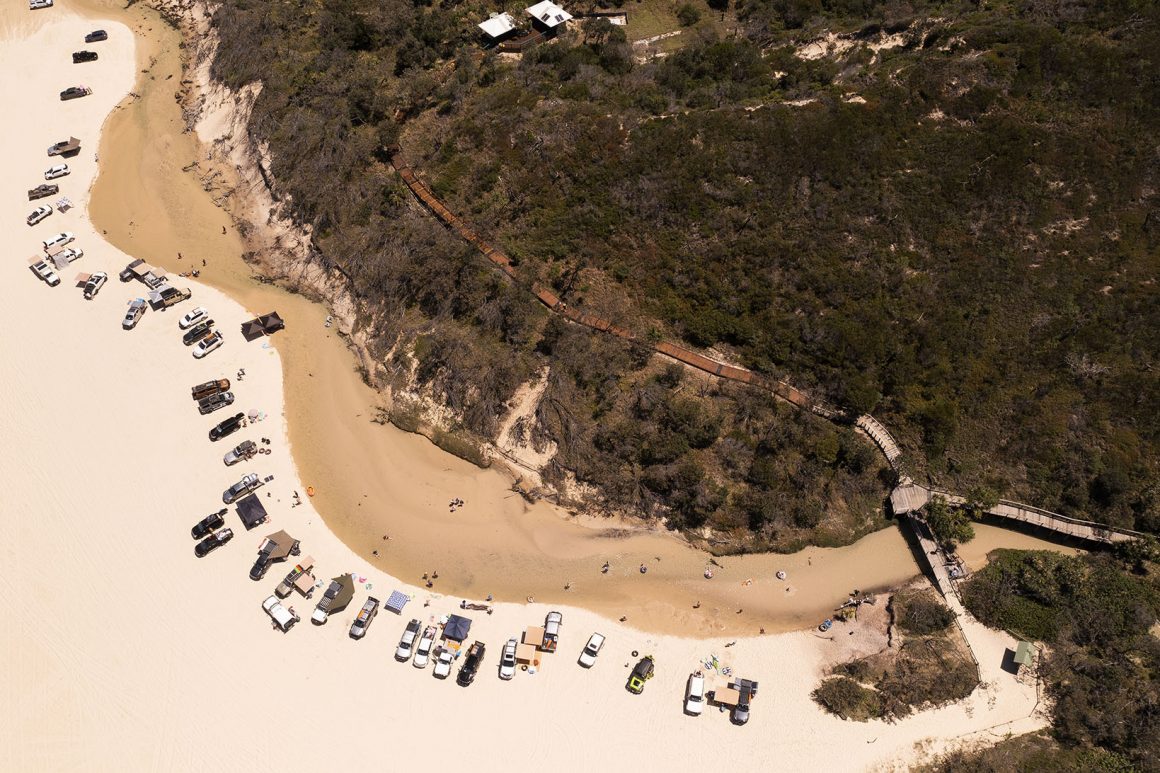 Lake Garawongera
Lake Garawongera is a perched lake and in a similar fashion to Ocean Lake, features tannin-stained waters. The wild swimming here is clear on the shoreline before fading to yellow, then red before becoming very dark as the lake deepens. It's a fascinating contrast to the blues of Lake McKenzie and Birrabeen.
Head here to avoid the crowds and you can enjoy lunch at Happy Valley afterwards.
Lake Wabby
Lake Wabby is incredibly unique for a number of reasons. The first is that it's both a window lake and a barrage lake. We've already explained what a window lake is but a barrage lake is formed by the damning action of Hammerstone Sandblow, which blocks the water of the natural spring. It is said that the sand blow will eventually engulf the lake as it makes its gradual progress westward across the island.
The second is that it's one of the few lakes on K'gari that supports several varieties of fish. In fact, the fish in this lake will nibble on your skin if you don't keep moving. A hike is required to reach this unique wild swimming spot.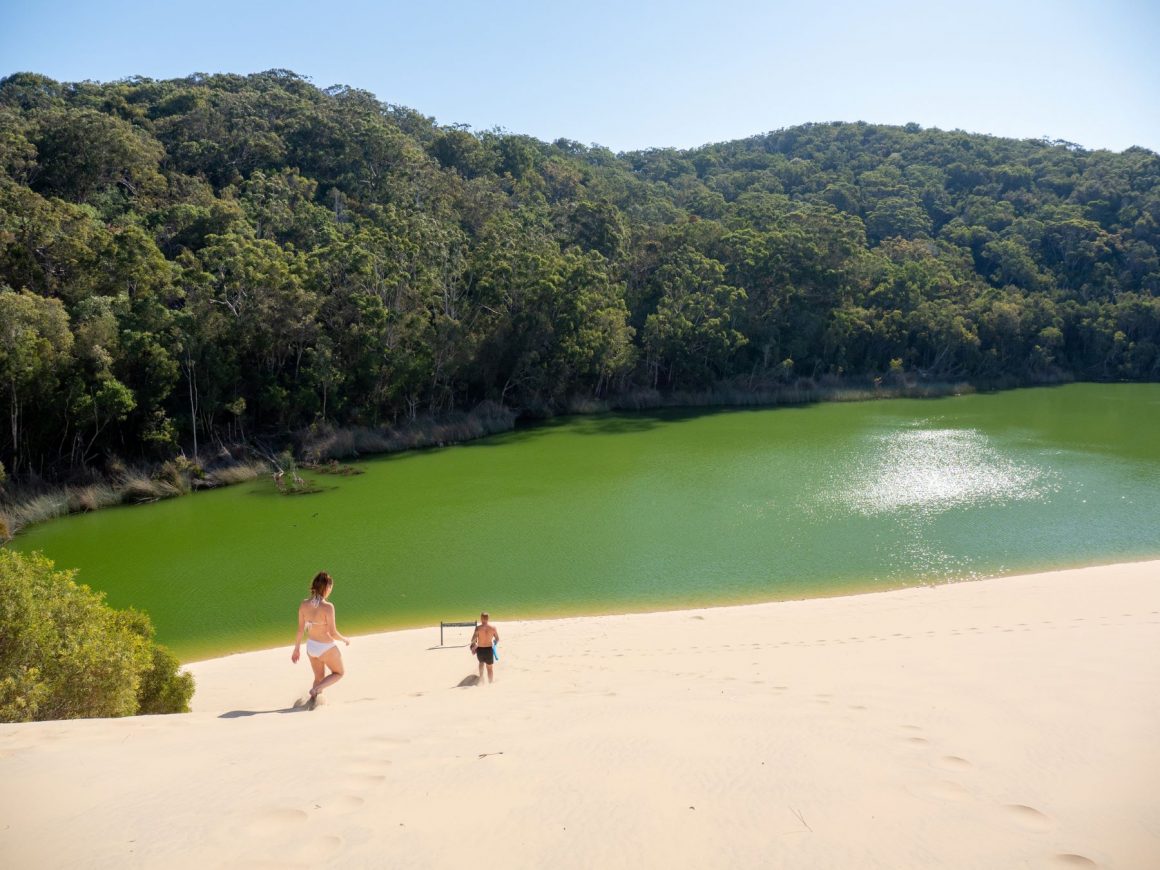 Lake Boomanjin
Boomanjin is a great one to tick off your wild swimming bucket list as it's officially the largest perched lake in the world. Surrounded by white sand, the water has a very distinct red taint due to three small creeks that feed heavily tannin-stained water into the lake.
It's not as pretty as the other lakes but its shallow depth makes it a top spot for families with young kids.
Lake Allom
Head to Lake Allom for a spot of wild swimming with turtles. Surrounded by a forest of Melaleuca and Hoop Pines, the water is dark due to the tannin and layer of vegetation that ensures it stays put. As a result, many people don't swim here, preferring just to sit on the edge. However, if you don't mind it's unpolished appearance, it's a peaceful lake to visit.