The facelifted D23 Navara has been launched in Australia and we get behind the wheel to see how it drives… on the road and off it.
There's no doubt the restyled front-end on the facelifted D23 Navara gives Nissan's 4X4 ute a completely different look. What was once one of the more svelte 4X4 ute designs has been transformed into something quite brash thanks to a big new grille and raised bonnet profile.
Yep, look at that grille; the facelifted D23 Navara is now as in-your-face as a Toyota HiLux, Ford Ranger or Isuzu D-MAX. Especially in ST-X grade as tested here thanks to the lashings of chrome up front.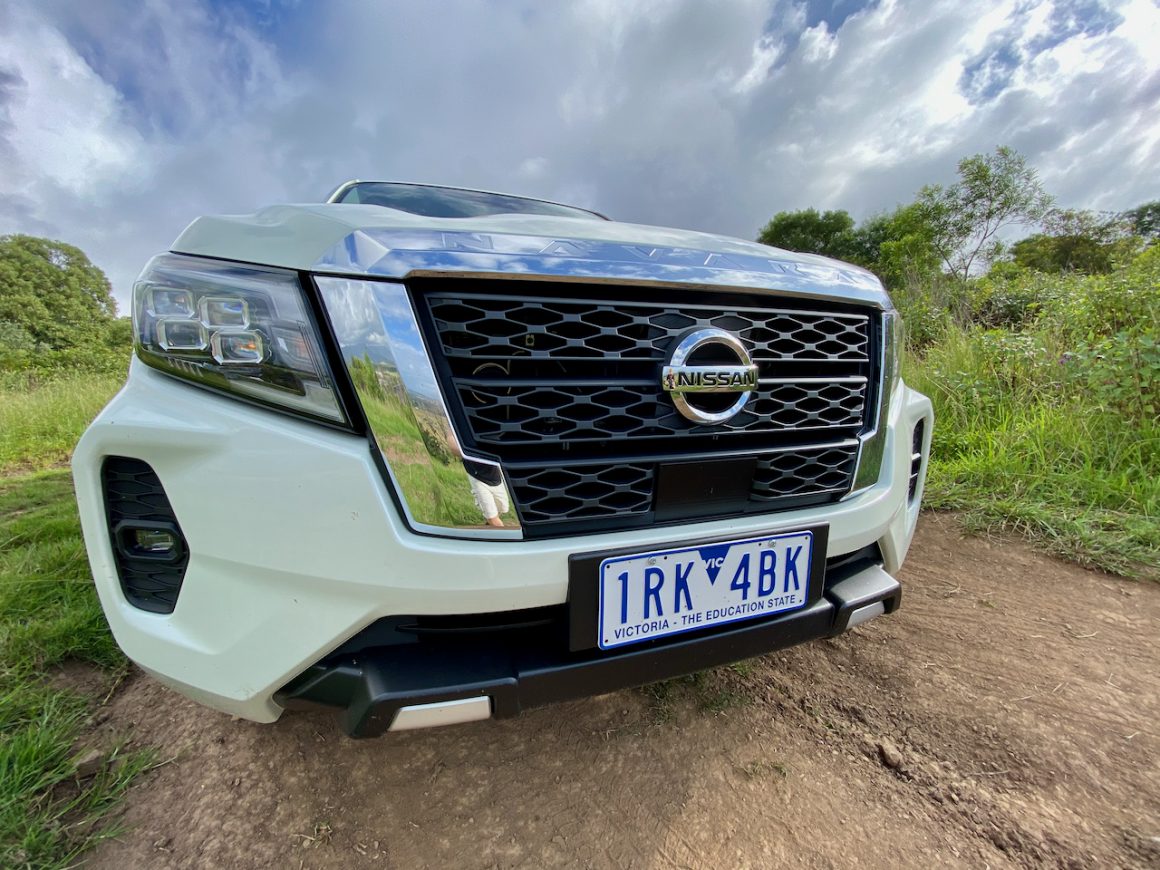 There have been design changes at the rear too, and Navara now gets higher tub walls, a redesigned tailgate and a new rear-step bar.
The facelifted D23 Navara line-up has been simplified and there are now four grades in the dual-cab 4X4 line-up, down from seven (the RX, ST-X Premium, N-Trek and N-Trek Warrior have been dropped). There are also single-cab and king-cab 4X4 variants which start at $39,300 and $45,800 respectively.
The 2021 Navara Dual Cab 4X4 line-up is now as follows (driveaway pricing):
SL
Dual Cab Pickup 4X4 (man) – $47,990
Dual Cab Pickup 4X4 (auto) – $49,490
ST
Dual Cab Pickup 4X4 (man) – $50,990
Dual Cab Pickup 4X4 (auto) – $52,490
ST-X
Dual Cab Pickup 4X4 w/ cloth interior (man) – $57,290
Dual Cab Pickup 4X4 w/ cloth interior (auto) – $58,790
Dual Cab Pickup 4X4 w/ leather interior (auto) – $59,790
Dual Cab Pickup 4X4 w/ leather interior & sunroof (auto) – $60,790
PRO-4X
Dual Cab Pickup 4X4 (man) – $61,290
Dual Cab Pickup 4X4 (auto) – $62,790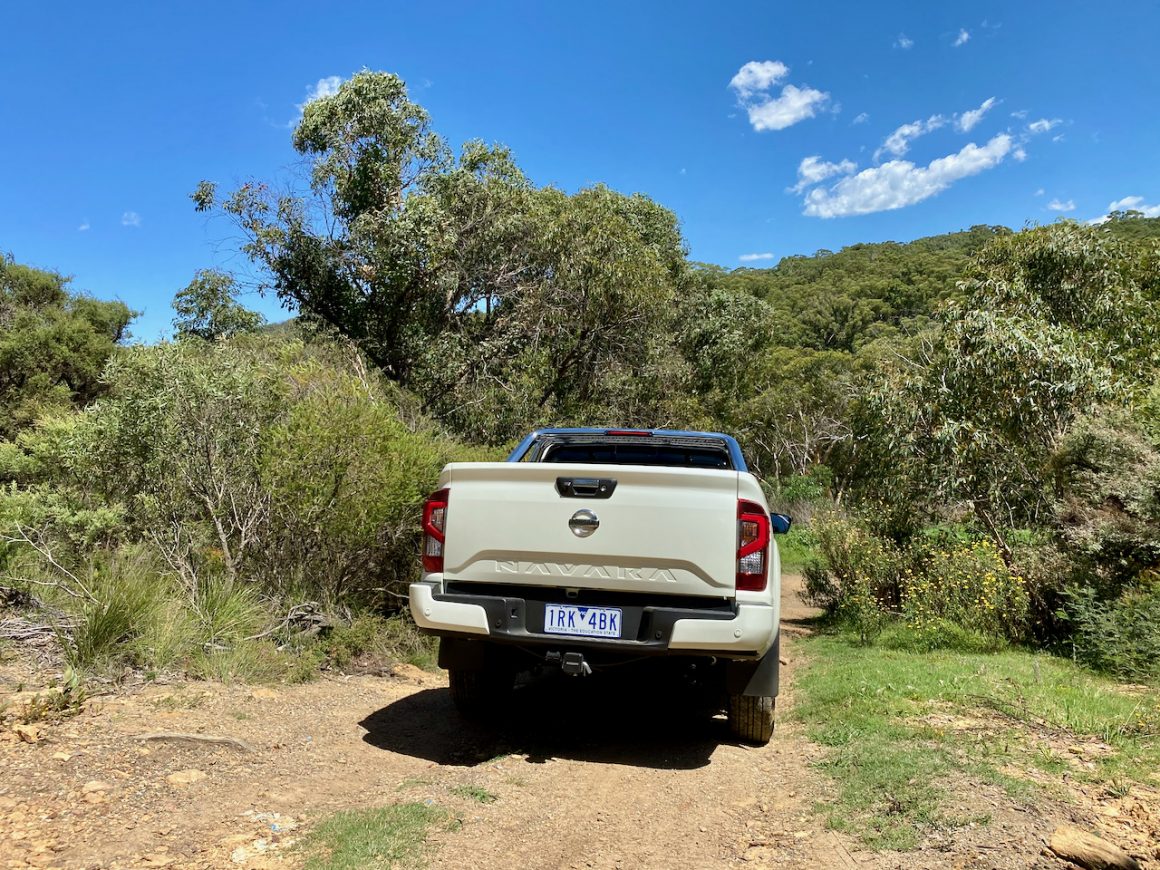 The PRO-4X is not quite here yet; Nissan Australia says the new range-topper will arrive in dealers by the end of March/beginning of April 2021.
For full details on the MY2021 Navara 4X4 line-up, and what you get for your money, hit this link.
What's changed on the facelifted D23 Navara… and what hasn't?
It might have an all-new look, but the upgrades to the D23 Navara for 2021 are not much more than skin deep.
The revised Navara ST-X runs the same separate chassis, body structure and driveline as the original D23 Navara which was launched here in 2015. That means the ST-X as tested here gets a 2.3L twin-turbo-diesel four-cylinder engine that makes a claimed 140kW at 3750rpm and 450Nm from 1500-2500rpm. Transmission options are a six-speed manual or a seven-speed auto (as tested), and the Navara runs a part-time 4X4 system with a two-speed transfer case and a locking rear diff.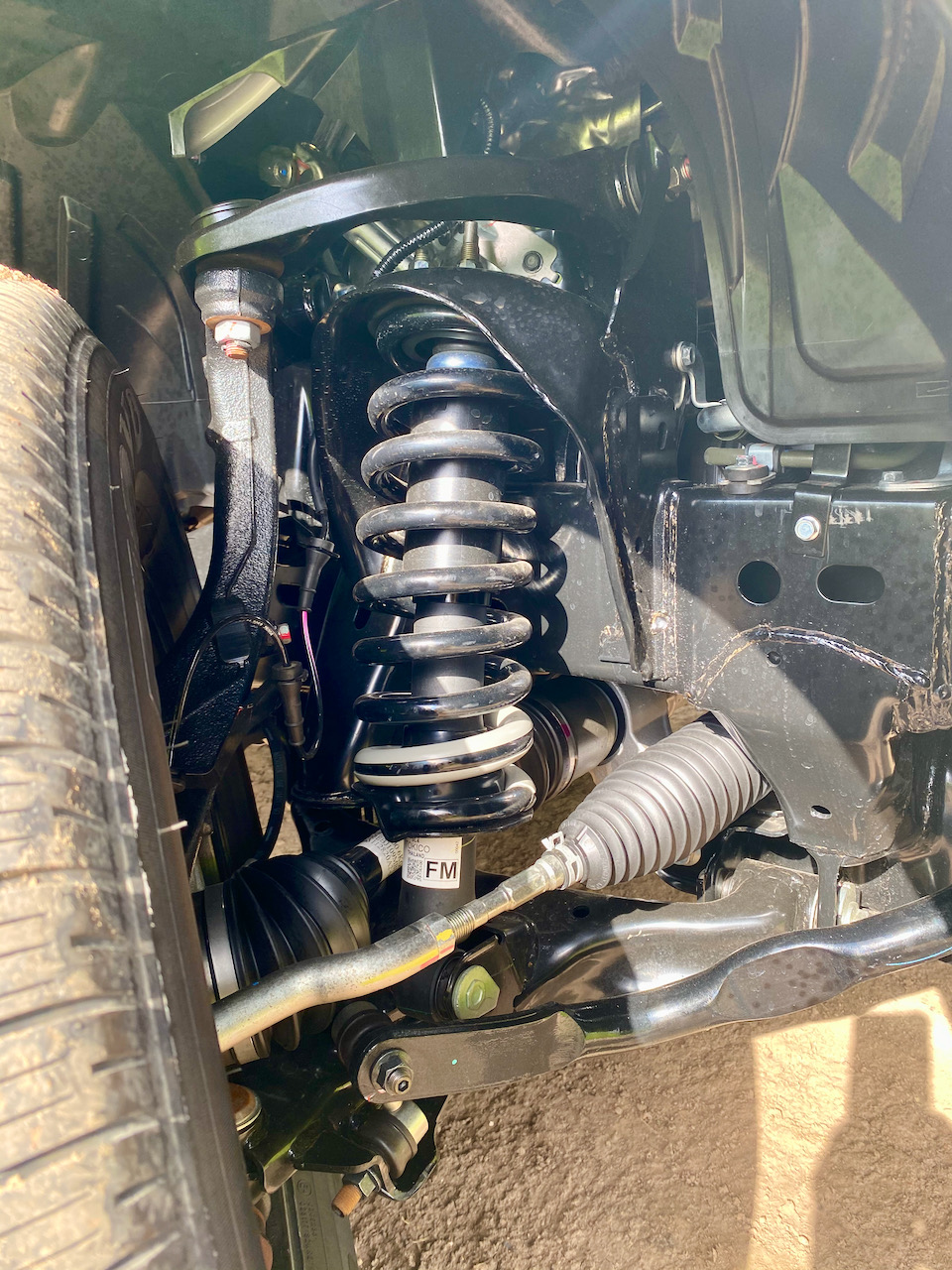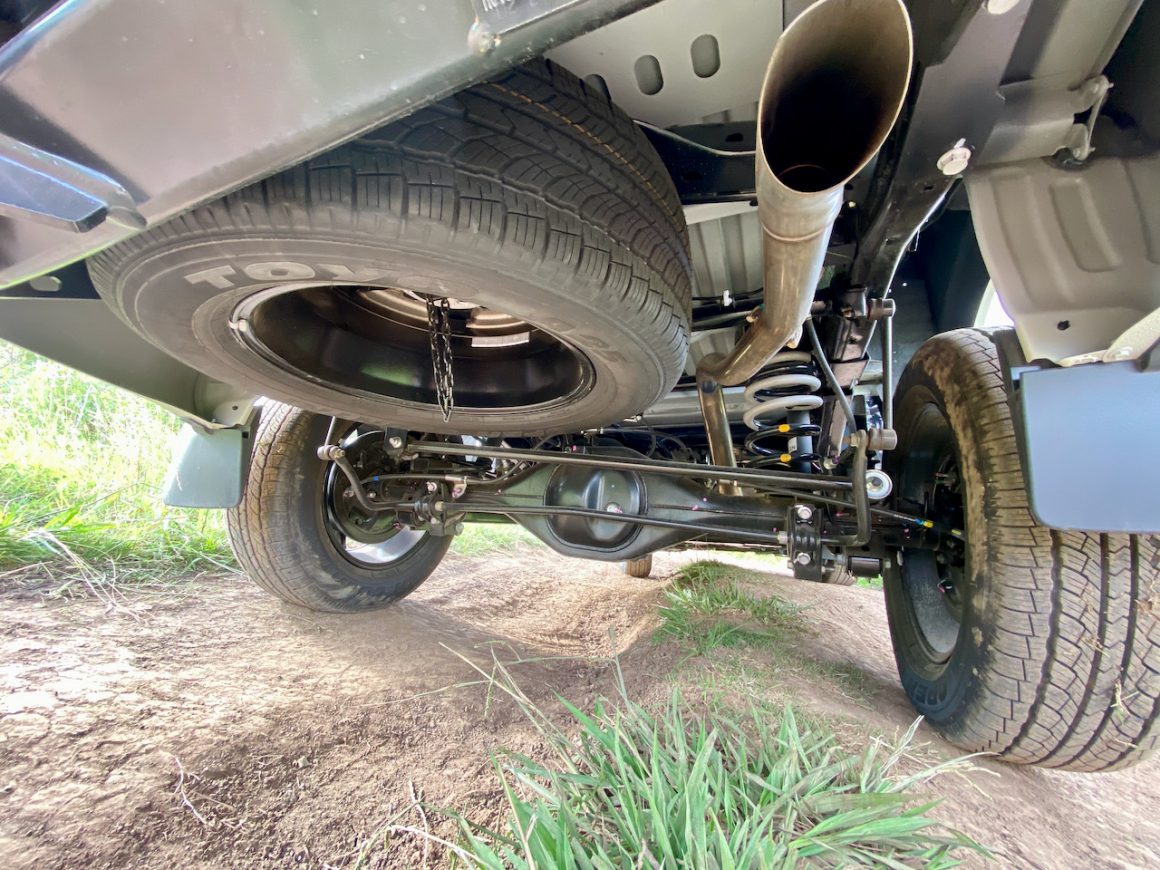 Up front there's an independent suspension set-up with double wishbones and coil springs, and at the rear there's a live-axle with a five-link setup and coil springs. Nissan Australia says the suspension tune (both springs and dampers) is a carryover from the previous model MY2020 Navara.
The rear axle has reportedly been strengthened for greater load-carrying capacity. In ST-X auto guise the maximum payload is 1024kg while all dual-cab 4X4 model grades have a 1000kg+ payload and 3500kg maximum braked towing capacity.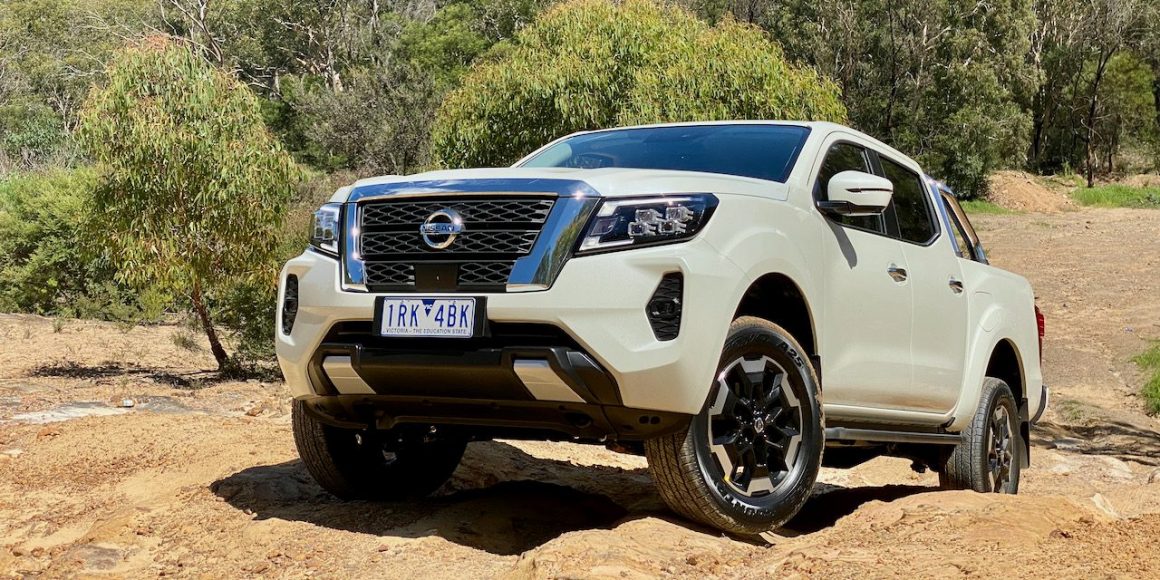 As well as the styling updates already mentioned, the Navara scores new LED headlights, new taillights, interior and safety upgrades, and additional sound deadening material.
The steering wheel has been redesigned, there's a new 7-inch TFT screen between the analogue speedo and tacho gauges, there's an 8-inch colour touchscreen (with Apple CarPlay/Android Auto), reshaped rear seats with cupholders in the fold-down centre armrest, and the addition of a USB-C port in the centre console bin, along with a 12V outlet and standard USB port. There are also 12V and USB ports in the front of the centre console.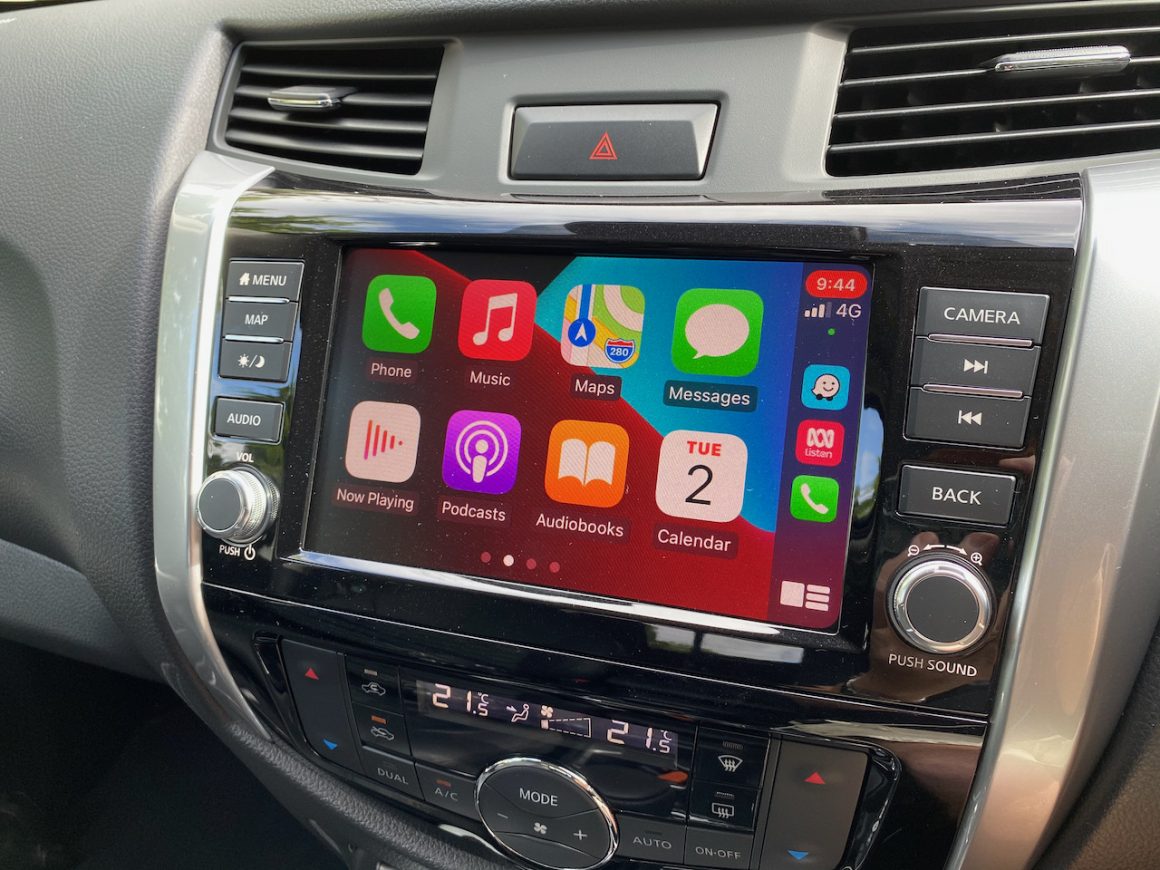 The safety package on Navara, which falls under the Nissan Intelligent Mobility moniker, now includes Intelligent Forward Collision Warning; Intelligent Emergency Braking; Intelligent Driver Alertness; Land Departure Warning; Intelligent Lane Intervention; Blind Spot Warning; Rear Cross Traffic Alert; Intelligent Around View Monitor with off-road monitor; seven airbags; and Hill Descent Control (HDC).
Trailer Sway Control is now standard fitment across all models, but noticeable omissions include traffic-sign recognition and adaptive cruise control.
Standard equipment on the new Navara
Considering the sub-$60k driveaway price tag, the Navara ST-X auto is well equipped. Standard kit includes heated power-fold mirrors; keyless entry/start; dual-zone climate control; rear air vents; rain-sensing wipers; auto headlights; high-beam assist; satnav, DAB+ radio; privacy glass; rear power sliding window; tailgate assist; tow bar; tyre pressure monitoring system; 18-inch alloy wheels; double-tube sports bar; and tub liner.
Tick the $1000 leather-trim option and you also get heated front seats, 8-way driver's seat with power slide/recline/height adjustment and power lumbar support. The electric sunroof option adds another $1000.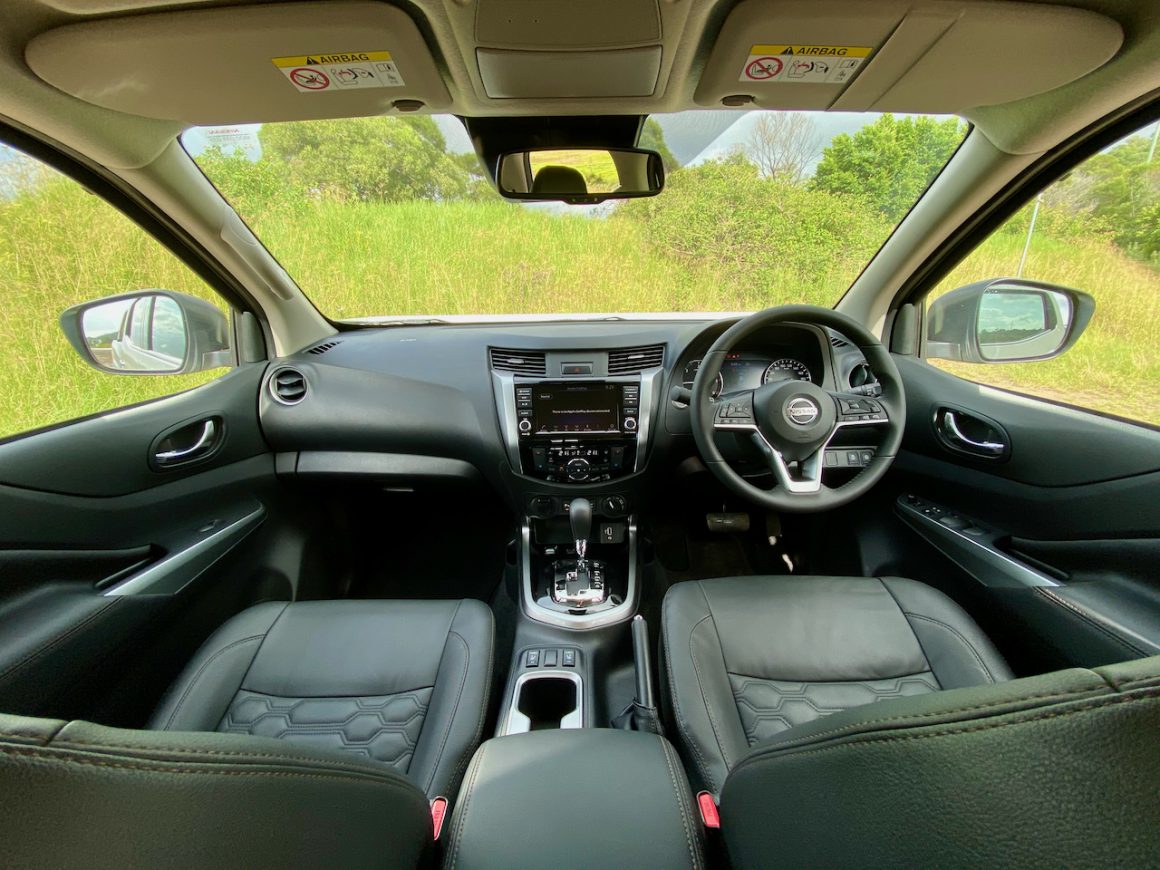 What is the facelifted D23 Navara like on the road?
The fitment of additional sound deadening material, combined with the Navara's acoustic windscreen, has paid dividends when it comes to reduced NVH levels. The Navara's 2.3L TD engine was already considered one of the smoothest around, and now engine noise is even more subdued from within the cabin, as is road and wind noise.
While engine performance isn't scintillating, it ain't that bad either; the Navara gets along at decent pace without the engine having to be revved too hard. There's a reasonable amount of torque down low in the rev range and the engine works well with the smooth-shifting seven-speed auto. Overall gearing sees the engine ticking along at a tad under 2000rpm at 100km/h on the open road, which makes for reasonably relaxed highway touring.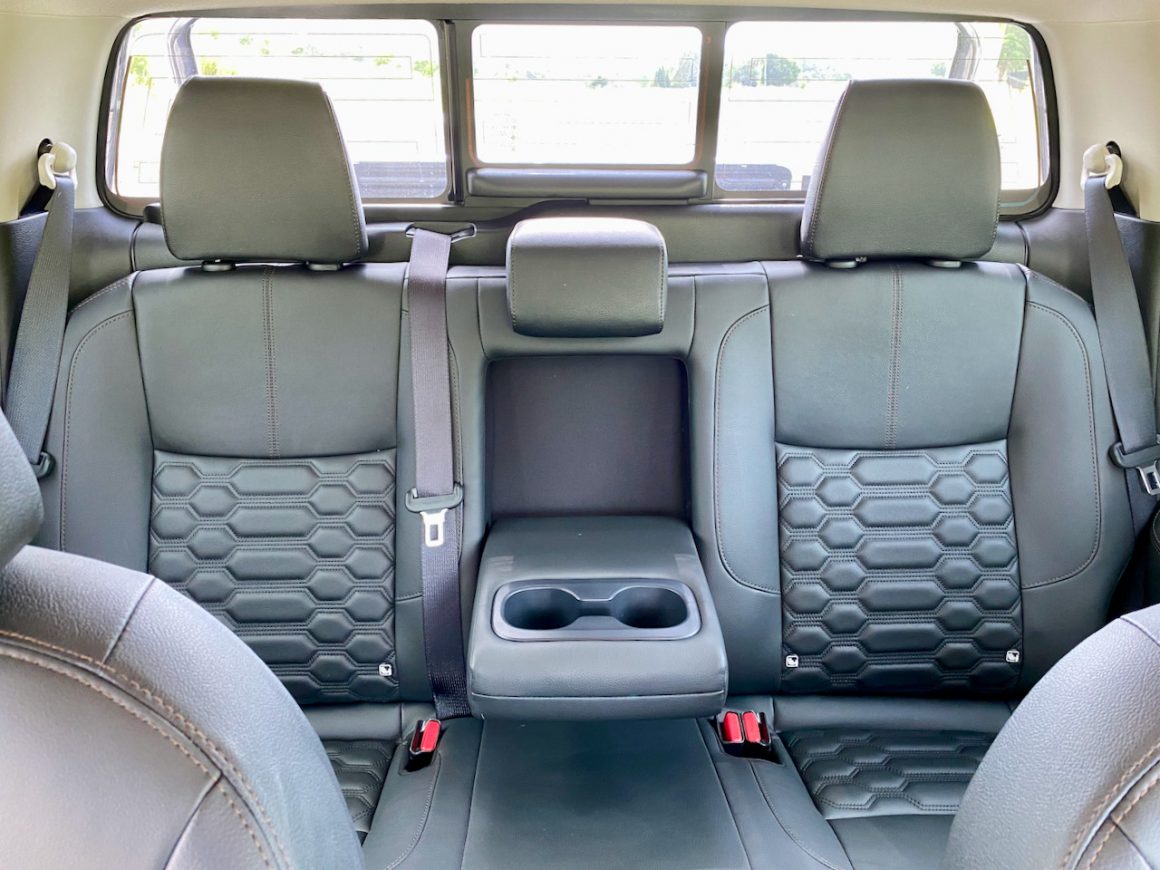 What isn't so great is the Navara's ride quality on less-than-smooth road surfaces. It feels quite jittery over bumpy roads and it can be thrown off-line if you hit a bump or pothole when cornering. Nissan has had several goes at improving the Navara's suspension tune since the D23 was launched in 2015, but the MY2020 carryover suspension in this latest iteration is still not quite on the money.
The Navara's 255/60R18 tyres don't have a lot of sidewall and they probably don't help when it comes to the Navara's less-than-ideal unladen ride quality; they do, however, offer decent on-road grip and are quiet on the blacktop.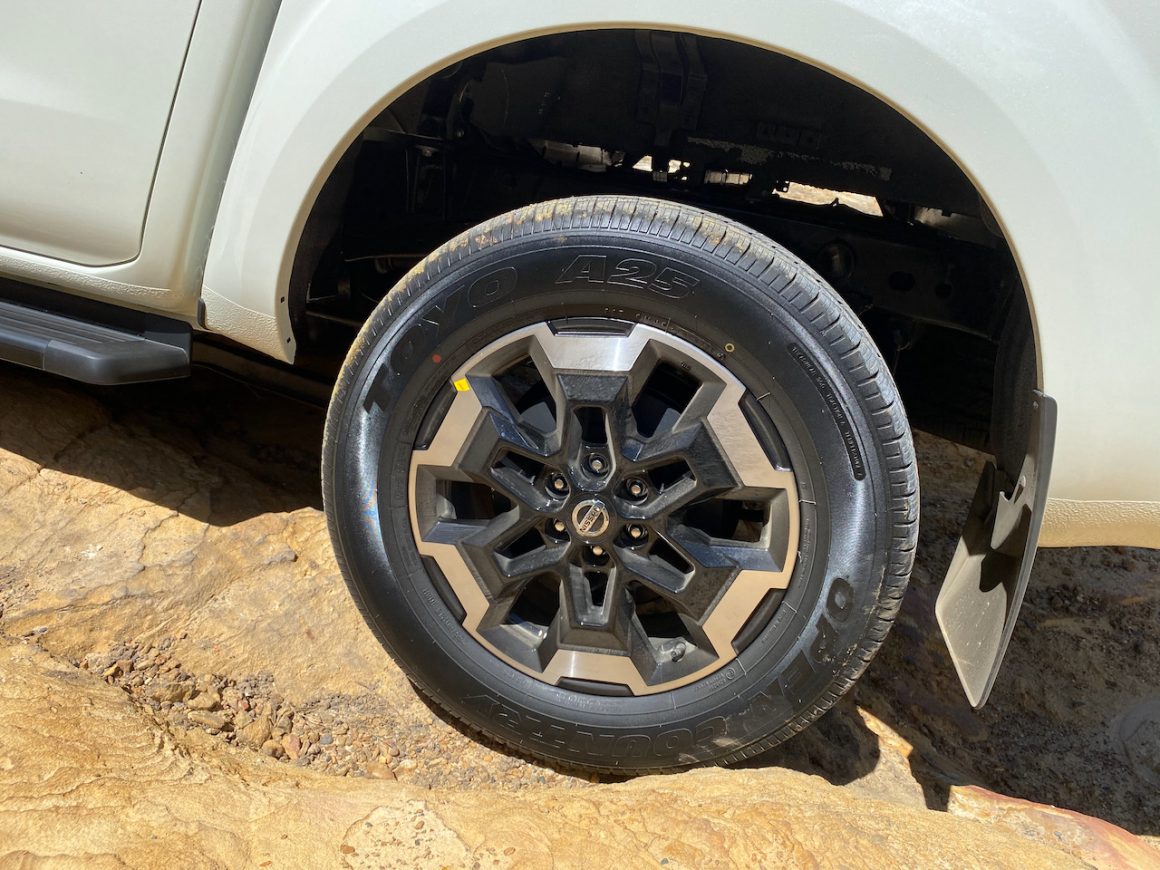 We only had the facelifted Navara for a short time for this first drive, so we'll have to get back to you on what it's like with a heavy load in the tub.
The steering feel is better than the original D23 Navara, but it too could still be improved. The power assistance is lacking at slow speeds (such as when manoeuvring for parking or in tight off-road spots) and as a result the steering is quite heavy. And as speeds increase, it feels a bit vague; certainly not as dynamic in this department as some of the newer 4X4 utes like D-MAX and BT-50, or even some older ones like Amarok or Ranger.
How does the new Navara perform off-road?
While the Navara's driveline is well suited to off-road driving, with decent low-range reduction, good low-rpm torque, effective-enough traction control system and a locking rear diff, it is hampered by not-so-flash off-road angles.
The Navara ST-X has just 224mm of ground clearance, while approach, ramp-over and departure angles of 32.7°, 23.2° and 20.3° respectively mean care has to be taken not to ground the bodywork, particularly when tackling rocky sections of track or exiting deep gullies and the like.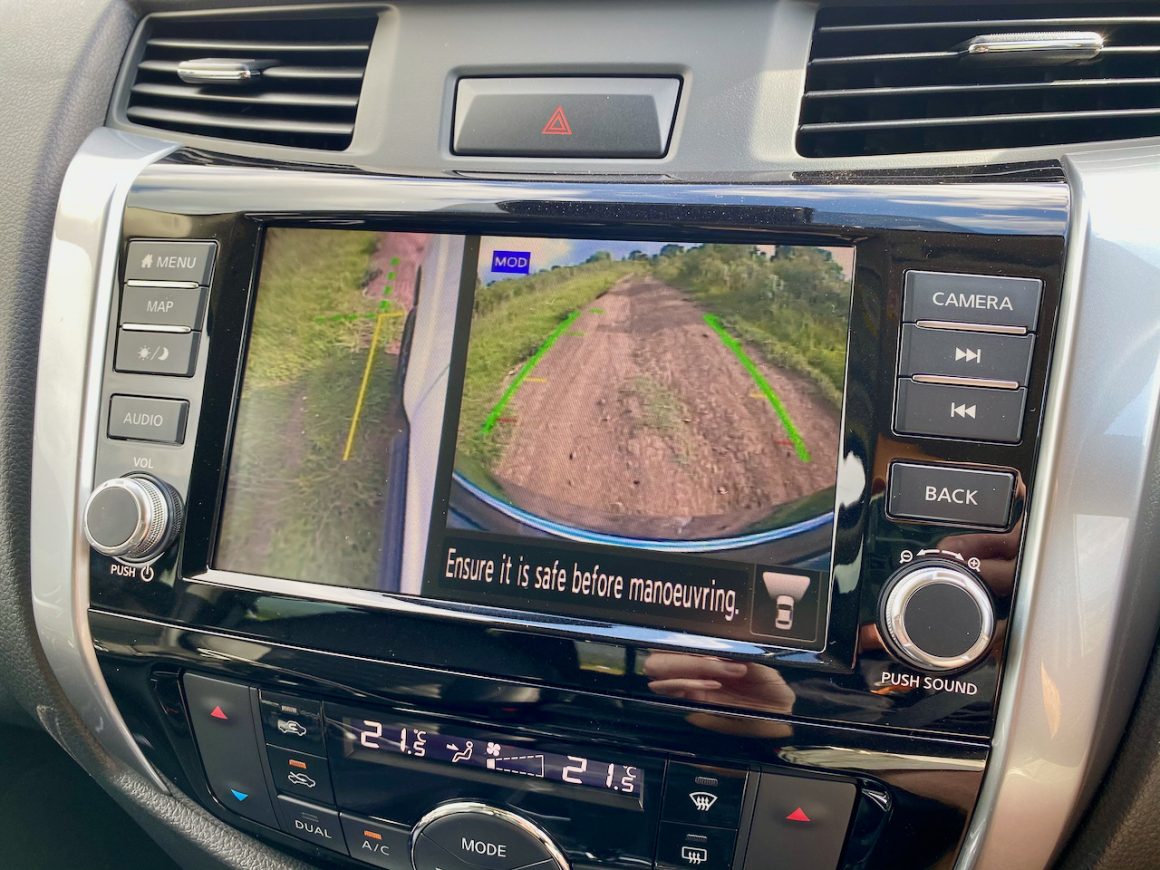 One thing that is handy in the scrub is the off-road monitor. This is a part of the Navara's Intelligent Around View Monitor, and it provides a forward view on the 8-inch touchscreen when the drive mode selector is in the off-road mode, or when low-range is engaged; this allows the driver to spot obstacles immediately in front of the vehicle that might otherwise be out of sight. The virtual overhead view is also very handy when manoeuvring in tight spots.
The Navara has a decent recovery point up front and as the ST-X comes standard with a tow bar you can easily fit a recovery hitch at the rear.
Practicalities
Navara's 1024kg payload capacity is impressive and it offers the class standard 3500kg maximum braked towing capacity, and a 350kg tow-ball load.
The rear tub isn't huge but it is practical. The assisted tailgate is light and easy to use one-handed, the standard tub liner offers good protection, there are four cargo tie-down points situated near the tub floor, and the ST-X also gets Nissan's Utili-Trak adjustable tie-down system. When Utili-Trak was introduced many years ago on D40 Navara, it consisted tub-wall and tub-floor mounted rails; in D23 there are just the two tub-wall rails.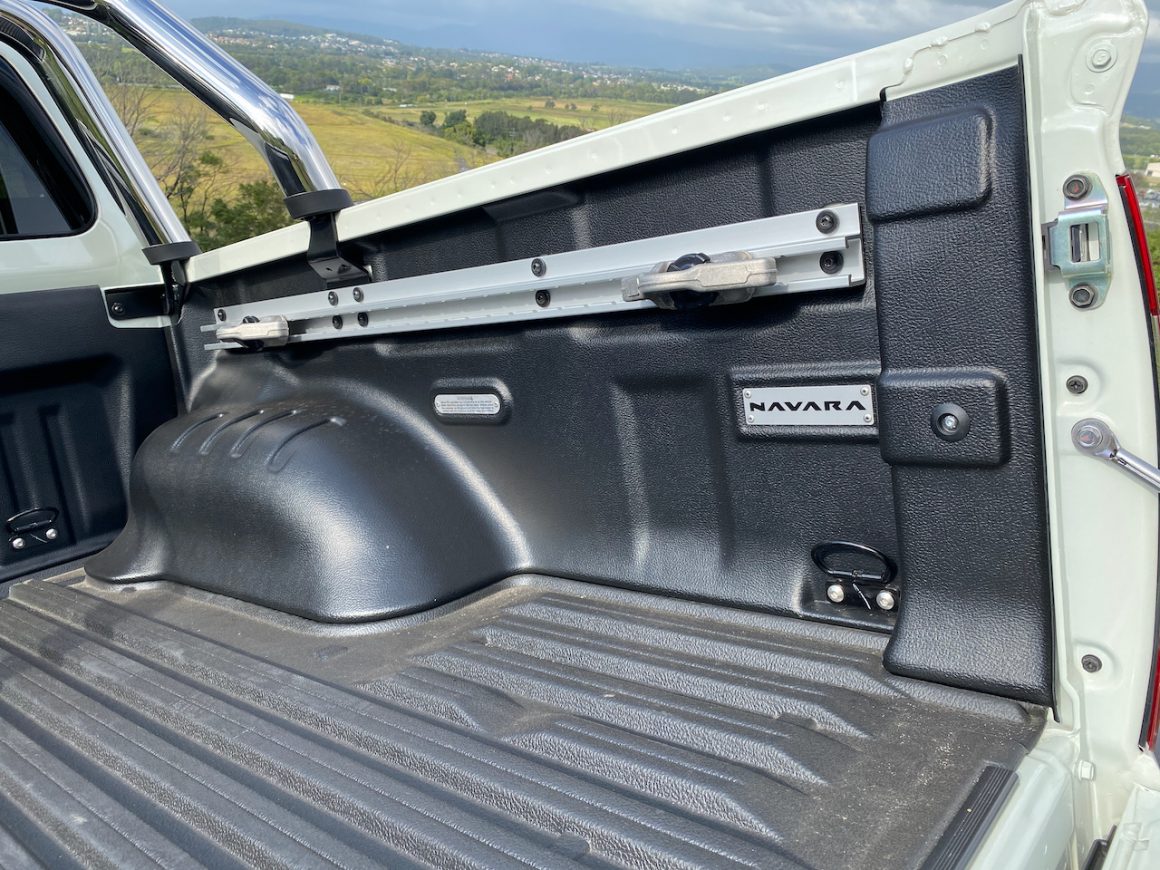 The standard tow bar will be appealing for many owners, and the design doesn't detract too much from departure angle. The rear-step tow bar is also a good deign, and the tailgate still has a flat top surface which is handy for resting small items on.
There's not a lot of space under the bonnet to mount a second battery and the engine air intake looks vulnerable to water ingress – it's just below the lip of the bonnet – so you'd want to fit a snorkel.
On test we recorded an impressive average fuel consumption figure of 8.3L/100km. The fuel tank holds 80 litres so if you match our test figure you could expect a touring range of around 900km, even with a 50km safety margin factored in.
Accessories
Together with a number of outside suppliers, Nissan Australia has developed a full range of accessories to suit the facelifted Navara.
There are a range of winch-compatible hooped and hoopless bull bars, a stage 2 underbody protection plate, nudge bars, LED light bar, snorkel, wheel-arch flares, roof racks and trays, tonneau covers, canopies and more.
Summary
The Navara is an incredibly important vehicle for Nissan Australia. In 2020 the Navara was the sixth best-selling 4X4 ute with almost 10,000 examples sold, and there has been a significant shift towards higher-grade models, hence the decision to flick the dual-cab RX and SL models and start the new MY2021 range at ST manual.
Nissan Australia says it expects Navara 4X4 sales to continue to grow in Australia. Will the new facelifted model be enough of a change to realise those expectations? We'll have to wait and see.
Hopefully we'll be able to get a hold of a PRO-4X model soon so we can bring you a more comprehensive test.
Let us know what you think of the facelifted D23 Navara in the comments section below.
Specific
ations
Engine: 2.3-litre four-cylinder twin-turbo-diesel
Power: 140kW at 3750rpm
Torque: 450Nm from 1500-2500rpm
Transmission: 7-speed automatic gearbox, two-speed transfer case, part-time 4X4 with locking rear differential
Wheels: 18-inch alloy
Tyres: 255/60R18 Toyo A25 Open Country
Kerb: 2142kg
GVM: 3150kg GVM
Payload: 1024kg
Max braked towing: 3500kg
GCM: 5910kg
Length: 5311mm,
Width: 1850mm
Height: 1830mm
Wheelbase: 3150mm
Track (f/r): 1570/1570mm
Ground clearance: 224mm
Approach: 32.7°
Ramp-over: 23.2°
Departure: 20.3°
Wading depth: 600mm
Fuel Tank: 80L
Fuel cons (on test): 8.3L/100km
Range (with 50km safety margin): 913km
Price: $59,790 +ORC
Price as tested: $68,140 +ORC