Now for some Friday frivolity … Ken Block's Raptor. Everything you wanted to know about it, annnnnnnnd some footage of a bloke fanging it around the US desert – specifically, Moab. 'Cause where else do you test your newly built full-size Raptor? Happy weekend folks, enjoy.
The new F-150 Raptor has been built in partnership with SVC Offroad, and leaves just about nothing unmodified. From the base F-150, the team at SCV have added their Gen2 Mojave front bar and skid plate, Gen2 Baja rear bar, as well as their Gen2 Bypass rack in the tub. They've also added ADV fibreglass guards, which in case you think this looks wider than normal, is extended by two inches.
Rigid Industries have supplied the LED light bars, with a 50-inch roof mounted, and 30-inch light bar mounted into the front bar.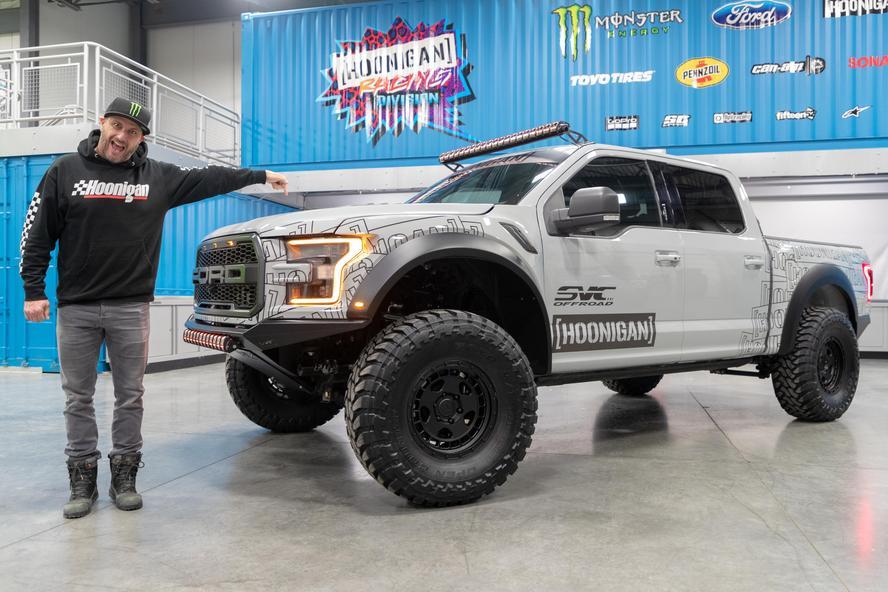 Under Ken Block's Raptor is the SVC mid-travel shock kit, with Fox 3.5 bypass shocks, SVC traction bars in the rear with Deaver Suspension +3 leaf springs and Fox 4.0 5-tube bypass shocks in the rear. Wheels are 17-inch Fifteen52 Turbomac HD fitted with 37-inch Toyo Tires Open Country M/T tires.
Into the power department, and the Raptor has an SVC tune, intercooler, SPD turbo adaptors and a full Stainless Works exhaust system, that of course dumps halfway down the tray. It's apparently pushing out a smidge over 400kW, and 800Nm of torque, so it's no slouch.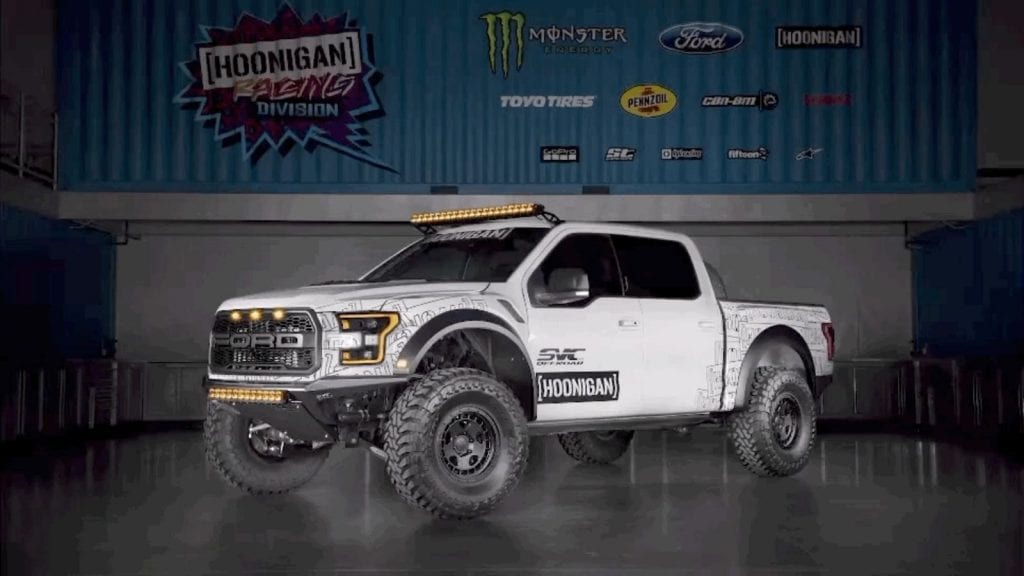 "I'm really excited with how this project turned out," said Block. "I've worked with SVC in the past with my RaptorTRAX project, so they were my number one choice to partner with on a properly sorted, more desert fun-oriented Ford Raptor build. Obviously I wanted a bit more power, but I also wanted something that I knew I could push beyond the factory set-up when I'm out ripping around in the desert of southern Utah. I think the team at SVC has delivered on that desire and more, now I just need to get south and open this thing up!"
Not going to lie … we'd have one!