MAN Megatourer: Custom 4X4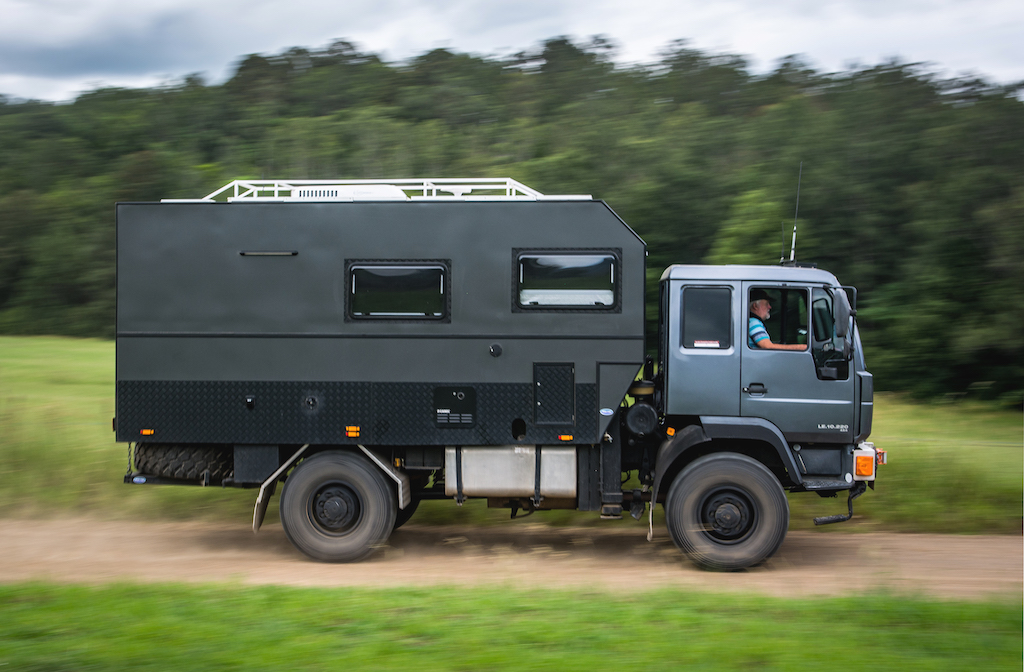 Wanting to hit the road full-time, John, wanted something capable and comfortable…and it had to be big and tough…enter the MAN (megatourer).
Words and images by Harry Temple: Come on everyone, let's do the math. Four 43-inch tyres, plus three lockers, plus a two and half thousand kilometre range and one exceptional camper equals …? You guessed it. 10 tonnes of fun. If I didn't know better, I'd say John was looking for an excuse to return to his hometown of Inverell when the ex-Telstra MAN emerged from under the auctioneer's hammer. Looking to make the step up from his kitted-out Isuzu 250, the MAN was the next stride towards full-time travel.
John is an upfront, no-nonsense bloke who spends his time doing what he wants to do, and frankly, he's earned it. A self-confessed contrarian, he has refused to own a conventional vehicle ever since he first acquired his license. Starting with a Kombi, he was cruising until he broke both his arms behind the wheel. His father promised him any car, as long as it couldn't get up to a breakneck speed. Sticking to his guns, he got another Kombi and cemented his life-long obsession with idiosyncratic vehicles. Over the last 40 years, he has owned more than his fair share of 4WDs. Not a die-hard brand loyalist either, he has piloted everything from Nissans, Jeeps, Toyotas, even a Haflinger. Based out of the mid-north coast of NSW, this avid fisherman and shooter has been retired for the best part of 10 years and without any ankle-biters chasing him around; he is free from the perils of parental responsibility and able to concentrate on his full-time pursuit of 'living the dream'. He gained his stripes in the reserves in the '70s and emerged as a civil engineer and went on to solve problems and engineer solutions for both the DMR and RTA across a variety of transport and road management crews throughout the country. When an industrial accident landed him on the back foot around 10 years ago, he knew that something had to change. Never far from the auctions, he nearly pulled the trigger on several ex-military Unimogs, but looking back he is glad he was duped at the finish line as his battered vertebrae can remain intact. "Those things are the roughest country dunnies around," he laughs. After sitting in the MAN's air seats, I have to agree that the MAN is light years ahead of any Unimog I have ever rattled around in.
Initially, he wasn't too fond of MAN trucks after driving a few during his time working with the road crews. However, the more he looked into the specifics and figured out he could register it as a motorhome, the combined registration savings and fantastic price led him to acquire the 2007 LE220 4X4 a couple of months before Christmas in 2017. Being a pensioner, he made the smart move of building the camper body onto the chassis to qualify as a motorhome, contrary to a slide-on camper where he would be forking out close to three large per annum to keep the wheels rolling down the road. He knew exactly what he was looking at from the start and was proud to inform me that to his extensive knowledge, he has one of only three examples of this particular model in Australia, as MAN ceased importing them in 2010 in favour of their larger 13-tonne and 18-tonne variants. He wasn't interested in those larger models because even though they would be a larger platform, they require a logbook and the associated bureaucracy of a heavy vehicle.
This aerial communications vehicle had a smidge over 200,000 kilometres on it when John drove it home. First on the agenda was removing all the unnecessary parts from its previous life, like the in-cab computer wiring and complex service body on the back. While everything was apart, he took the opportunity to spray over the drab white with some gunmetal grey. Working with the massive 10-tonne GVM, John knew that there would be plenty of wiggle room for accessories even after the new camper body went on. He kept the factory MAN bull bar but took a grinder to everything that protruded above the headlights to create a profiled look to the front end. Inside the bar, the second most important insurance policy sits in waiting, ready to use all 19,000lb of pulling power across a double or triple line pull to extract the truck. Being just slightly larger than the average 4WD, the traditional side rail and steps combination has been forgone, with a set of rails instead mounted on the roof of the camper, where they are much more necessary to protect the fragile A/C and communication componentry from low-hanging branches. Skid plates are a tad unnecessary, but the two low-hanging spares and their cradle protect the truck when John gets a bit adventurous.
The motor and drivetrain are stock standard, as John has played the horsepower game too many times in the past and he knows when to leave a well-designed system alone. The 6.8-litre MAN six-cylinder turbo-diesel revs to 2,500rpm and comfortably produces nearly 170kW. I expected take-off to be slow, especially mated to the six-speed manual box, but John didn't waste a second reminding me that if it were meant to go fast, it wouldn't be shaped like a Besser block! He is accustomed to the gearbox and knows how to keep the truck ticking along within the torque band. The driveline is based around the gargantuan diffs at either end, which looks like they each weigh about as much as a Prius. Both are factory locked for maximum traction, as is the transfer. The drive shafts are about as thick as a telegraph pole and probably need to be to cope with the pressure of forcing all that torsional force down to the ground through those massive 43-inch tyres.
How much did the camper cost you? That is the 64,000 dollar question John gets regularly, but in reality, you'd have to ask that question twice to get closer to what it ran him. He gladly wrote the cheque to Macron Campers after they spent eight whirlwind months building his new home. He would periodically check in to their Ourimbah-based shop to monitor the fit-out. He attributes the overall design to brainstorming sessions with an old DMR mate, Wayne Murray. Preferring to design it the old-school way, CAD was thrown out in favour of approximately 10,000 sheets of paper. When they could agree on a design, Wayne was able to use his extensive knowledge to ensure they squeezed out every last inch of space but remained within the regulations. The camper has polyurethane insulation on the roof and walls while the floor does just fine with thick ply. Heating or cooling is not an issue thanks to the diesel heater and air conditioner, which can run on either the generator or 240V power when it's available. Inside the spacious camper, a double bed sits behind the cab with ample storage above and below for all his personal effects. Marine fittings and fitted cushions adorn both the dining area and generous shower section, with an easily collapsible table that maximises the room available to the lavish full-height kitchen that sits in between. A three-burner cooktop, grill and fan-forced oven fit neatly between the entrance and the stainless steel sink, slotting in beside the cutlery draws and slide-out pantry. This camper has had no expense spared. From the recessed strip lighting down to the electrical system tucked away out of sight, John could appreciate the value of getting the set-up right, the first time.
After playing the suspension game one too many times, John knew that the MAN suspension was up to the task from the get-go. Consequently, he was able to use the coin saved in that department to create a kickass solar system and battery bank to power the truck wherever he pulls up for the night. Stepping down from the 240V starting system, John's 12V system in the camper can be charged via the alternator while in motion, but when things come to a halt, the system truly comes to life. There is nearly 1,000W of solar power fixed to the roof, most of which charges the four 200Ah auxiliary batteries under the lounge seat. Designed to provide 800Ah of charge for those cloudy days, John has made sure there is a backup in the form of an integrated generator and a mains power inlet for top-ups or long stays. The MAN is not only prepared electrically; John takes great pride in telling me the truck gets between 20-21 litres per 100 while cruising along. For something that weighs the best part of eight-tonne, stretching 575 litres of diesel into nearly 2,500km is no small feat. No stranger to water restrictions, a 505-litre water tank went into supply all his drinking, washing and showering needs for weeks at a time.
If John could change one thing about the truck, he tells me he would've coughed up the extra 15k and had the chassis and wheelbase stretched by a mere one metre, which would allow a generous 60 percent overhang behind the rear axle, which in turn would've added even more room to the camper. Overall, the project owes him about 190K, which I think is fantastic value for money. If he had got it built in a mainstream shop, it probably would've been up in the region of half a million or more. Consequently, John can spend his dollars on seeing more of our country and filling in more lines on his map. It doesn't get much better than that.
This article was originally published in Pat Callinan's 4X4 Adventures Issue 41