We're always striving to increase safety while reducing weight with our gear. Recovery gear is mandatory to have and is used in one of the most dangerous components of off-road driving. Australia's own MAXTRAX have diversified from their industry-first recovery boards to enter the synthetic winch recovery gear market with two SEMA prize-winning accessories.
MAXTRAX Hitch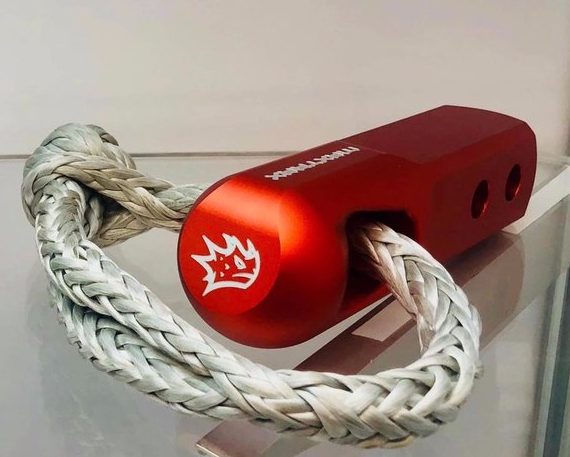 First up is the the recovery hitch, a variant of the popular 50mm hitch receiver recovery points. A recovery hitch is usually a heavy lump of steel sporting sharp edges for use with steel shackles. I use mine for putting tent pegs in. The MAXTRAX product is CNC-machined from billet 6061 alloy to be substantially lighter weight than the traditional steel versions. The smooth contours allow the use of synthetic soft shackles to be pulled from a wide variety of angles, without abrading the soft shackle. This cannot be used with a steel shackle. The actual recovery point is rated at eight tonnes WLL with the breaking point at 40 tonnes, although this doesn't account for the vehicle's drawbar and the rusty bolts holding it on!
MAXTRAX Winch Ring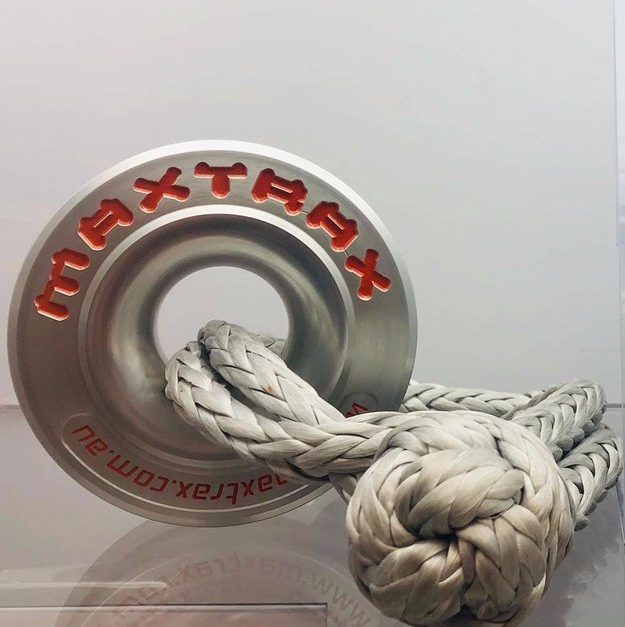 This solid pulley is made specifically for synthetic winch rope and soft shackles. A normal moving-wheel pulley can pinch synthetic rope between the wheel and side frame, causing the pulley to seize at best or break the rope at worst. This solid pulley is also CNC-machined from 6061 alloy and utilises a soft shackle as the axle and anchor point while giving a smooth surface for the synthetic winch rope to slide across. Rated at 12.5 tonnes WLL and with a breaking point in excess of 69 tonnes, these are suitable for practically any 4X4 recovery.
The pulley's diameter of 120mm is greater than that of the TJM 8000kg (98mm) or ARB 9000kg (110mm) snatch blocks. This is great for preserving your synthetic rope.
Note that rock climbers, cavers and canyoners have used similar pulleys for many years in both alloy and nylon versions. Frictional heat has not been found to be dangerous unless running as a high-speed zip line.
Pricing
After speaking with MAXTRAX, local pricing is still to be determined. At SEMA, $80USD and $120USD were given for the hitch and winch ring respectively as ballpark figures for US sales.
MAXTRAX are also expecting to have the new XTREME recovery boards in production in March, as well as MAXTRAX Mini and Jaxbase this month.