Pat's take on his new Sabre-Toothed Tiger; the Ford Ranger Wildtrak
After six years in an Amarok, I felt entitled to try something new. Of course, I was wrong. Just ask social media. Like a footy player who had gone to the dark side, I was a turncoat. How dare I place my butt in the seats of the best selling vehicle on the market!  
And while people generally don't like change, I do. At least when it comes to 4X4s. I knew the Amarok's inside and out and loved them, but "Dear Volkswagen, it's not you, it's me". I wanted a fresh start. Well, there's more to it than that, including an opportunity to help engineer the next model of Ranger (which ironically will also be the next Amarok). It was an opportunity to work with Ford that I couldn't pass up.  
Probably the biggest difference I noticed when modifying the Ranger, was the plethora of parts available. If one part was out of stock, you could grab another ten different brands. Suspension, wheels, switchgear, you name it. If someone is going to make a 4X4 accessory, it's likely they'll build it for the Ford Ranger first. And why wouldn't you? Not only is the Ford Ranger the top seller, it eclipses the second-placed HiLux by a mile when it comes to private vehicle sales (the HiLux gains much of its volume by sales to the mines).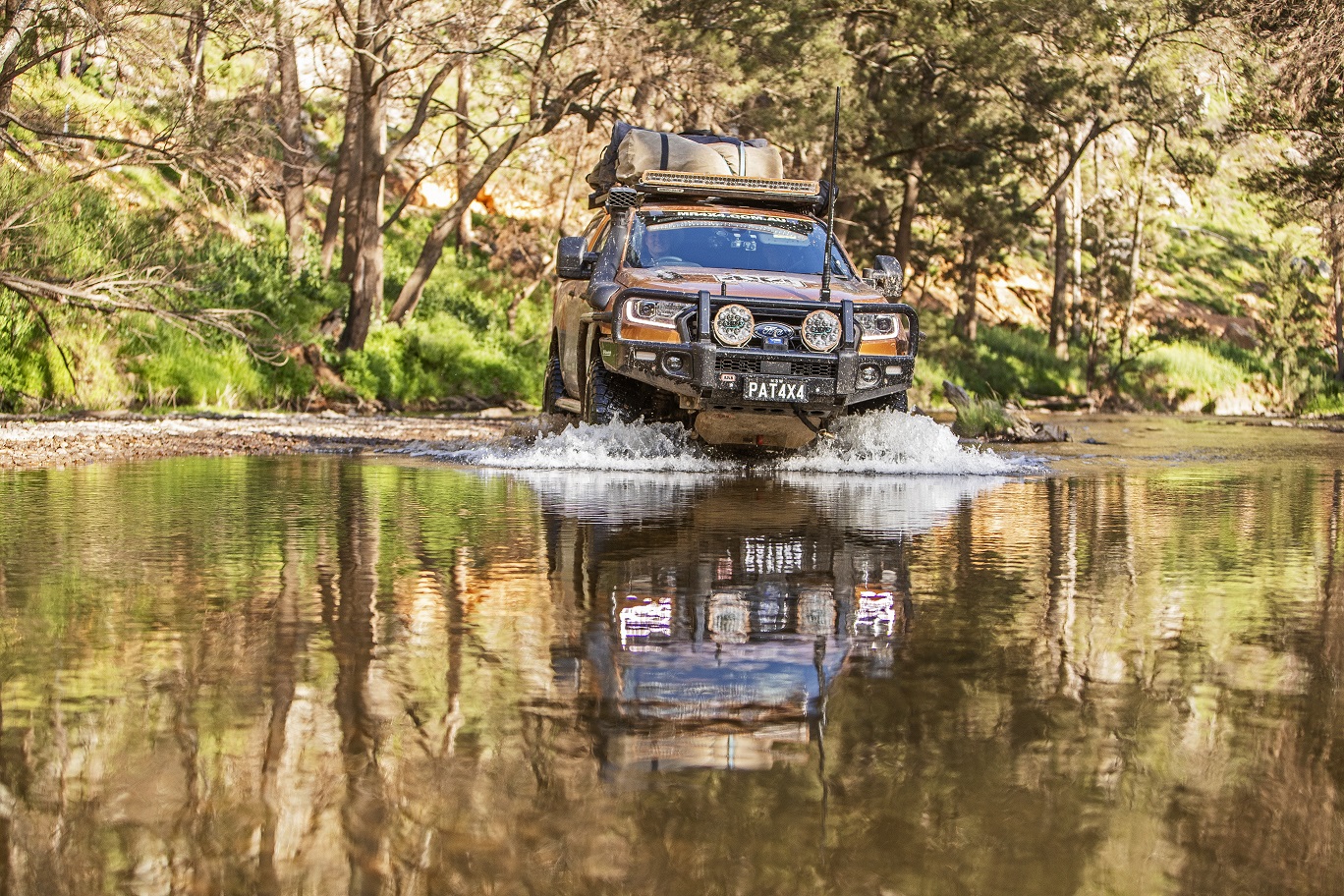 EXTERIOR
The duco of the bi-turbo WildTrak is Sabre Orange, so I thought I would try for the old black and orange look for my ride. So it was off to ARB Moorebank for a black steel Summit Bar. It's a fantastic quality winch bar that fits like a glove, and features a couple of hi-lift jack points, while importantly transferring all of the frontal collision sensors of the Ford.  ARB side rails are also attached and run neatly down to the side steps. It's a neat touring package all-round.  
Inside the bullbar sits a new VRS 12,500lb winch from Ateco. The control box sits up front, and out of that sits a wire connected to a receiver, which means the winch can be remote controlled. It's a nice small remote control unit with a 30-metre range, which can attach to your key fob; handy if you're driving and winching at the same time. The VRS winch is IP68 dust and water-rated, thanks to double-lipped seals. Synthetic winch rope comes as standard.  
Australian made UltraVision Nitro 180 lights sit up front, and this is my first experience with them. Oh my gawd – they throw some serious light! I've never had such light power up front. They're a premium light, that's for sure, and are buyers get the choice of two colour temperatures – 4000k or 5700k. Basically, it's the difference between a warm light or a white light. The Nitro's are mounted on an adjustable stainless steel bracket and come with a five-year warranty. But that's not where the lighting story ends. The leading edge of the Rhino roof rack features a full-width UltraVision Nitro Maxx 305W 35-inch light bar. There's nothing like a party trick, and with new passengers on board, I simply flick the high beams and wait for the expletives! It's actually the closest thing to daylight I've had at night. The cool thing with these Nitro lights is the fact that they can be run on low beam or high beam, controlled by a three-stage switch. But even cooler, is the fact that they're colour-coded from the Swan Hill factory. Just give the Ultra Vision team your paint code, and they'll match it. This is an awesome feature in my books, as it just adds the finishing touch to your 4X4.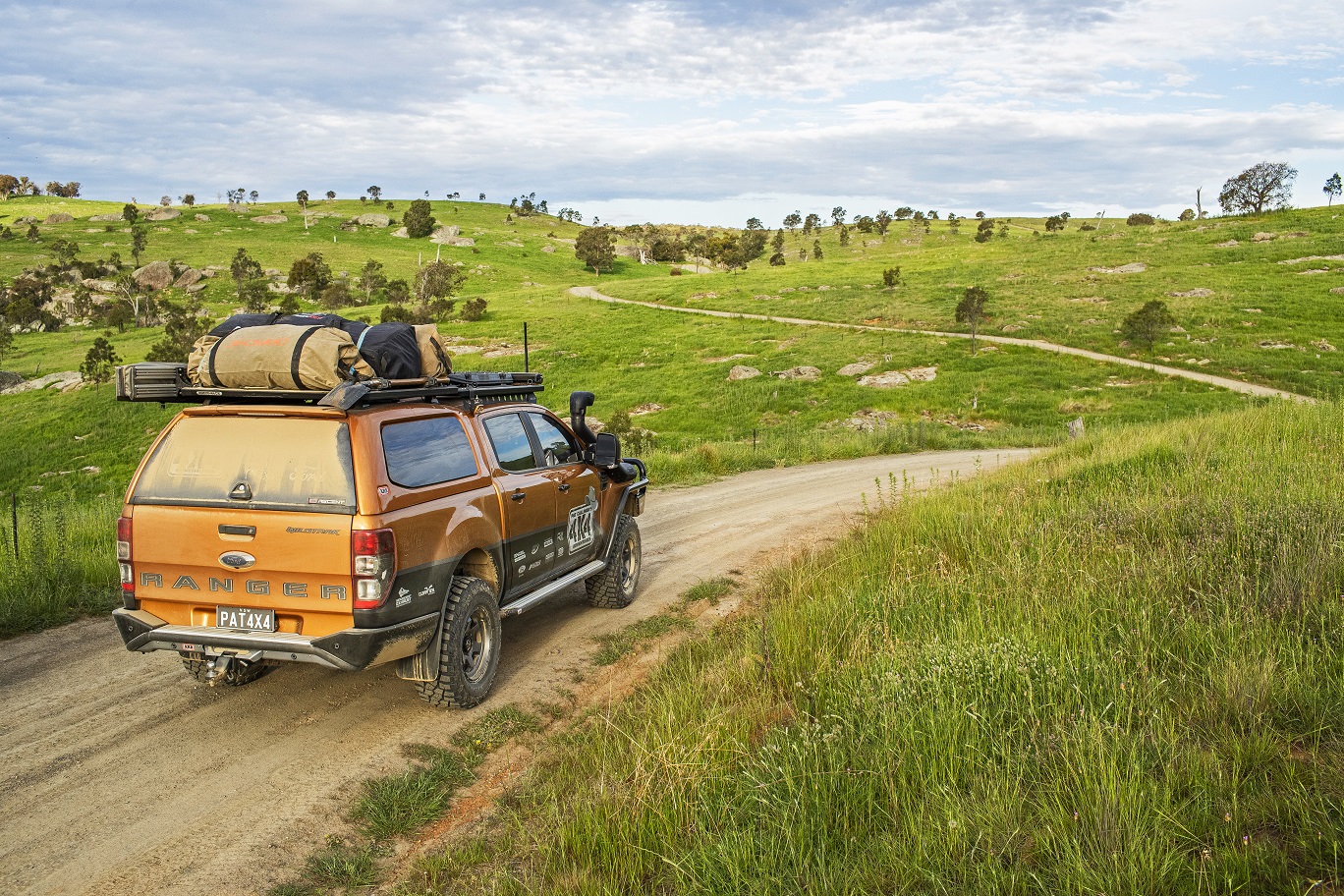 Yet one of the crowning glories of the roof rack is a pair of colour-coded Atom 25W work lamps. They sit mid vehicle and are one of the most practical features of the vehicle. More often than not, I arrive at camp later than expected, and we amble into camp after dark. Pop on the Atom's off both sides though, and your campsite is instantly lit so you can see exactly where to roll out the swag. I've got mine wired off my Revolution Power Australia 100AH lithium batteries in the tray, so I never have to worry about flat batteries. I even left them on overnight accidentally in the Barrington Tops, and they were shining just as bright the next day after eight hours of runtime.  
Also up there on my Rhino rack and sitting atop the ARB canopy, is a product that I'm rather excited about. It's a shovel holder. I know, it doesn't take much for me to get excited… But it is the best design of a shovel holder in the universe. Having used the screw down design for the past few decades (and having shovels fall off on the freeway) this new system is far superior. Not only does it click/ratchet down onto whatever sized handle you have, it doesn't shake loose. All you need to do is press the two buttons and the catch releases. To install your shovel, just pop it on, and click down on the arm. It's simple and awesome. Although this is only a prototype, so don't be surprised if this Aussie-designed masterpiece takes a few months to land in stores.  
Also mounted upstairs on the Rhino rack backbone setup, is an 85-Watt Redarc solar panel, and a pair of ExiTrax Ultimate recovery boards. The recovery boards are pretty cool, as they have the new Exi-link system, which allows you to link two ExiTrax together.   
You might think that I underdid it on the solar panel, but I do carry a Redarc 150-Watt solar blanket on board for those long stays in the one spot. Incidentally, the wiring for the solar panel is well hidden, thanks to Rhino Rack's new platform, which allows the wiring to be fed through the internals leaving no unsightly cable ties or loose cable.  
An ARB Summit rear step tow bar has been installed to protect the tail end of the Ford Ranger. I've watched these rear bars develop over the years, and ARB keeps on refining the product, with smaller panel gaps and better finishes. I've given the rear bar some serious curry in recent times, and it saved a rear quarter panel from serious damage. A nice touch is the location of the trailer and Anderson plugs – they're up and out of the way and aren't subjected to rock damage.  
The ARB colour-coded canopy not only looks great but is a nice watertight fit. They're made in ARBs New Zealand factory, and fit like a glove on the tub. The central locking feature is something I never want to live without, and the flap on the front of the canopy helps keep it positively pressurized to minimize dust ingress. Believe me, it works. I initially forgot to flip it open, and my canopy instantly filled with dust. But after flipping it open very little dust has entered my drawers.  There's also an LED courtesy light at the rear of the canopy. 
To assist with towing and general vision, Clearview Next-Gen mirrors have been installed. I'm a big fan of the more compact streamlined look, and the in-built indicators are seriously bright. But the main features of having a short- and long-range mirror remain, which affords excellent vision. Plus, the Ranger mirrors operate on the same electronic switch as factory, so you can power fold them back to the body.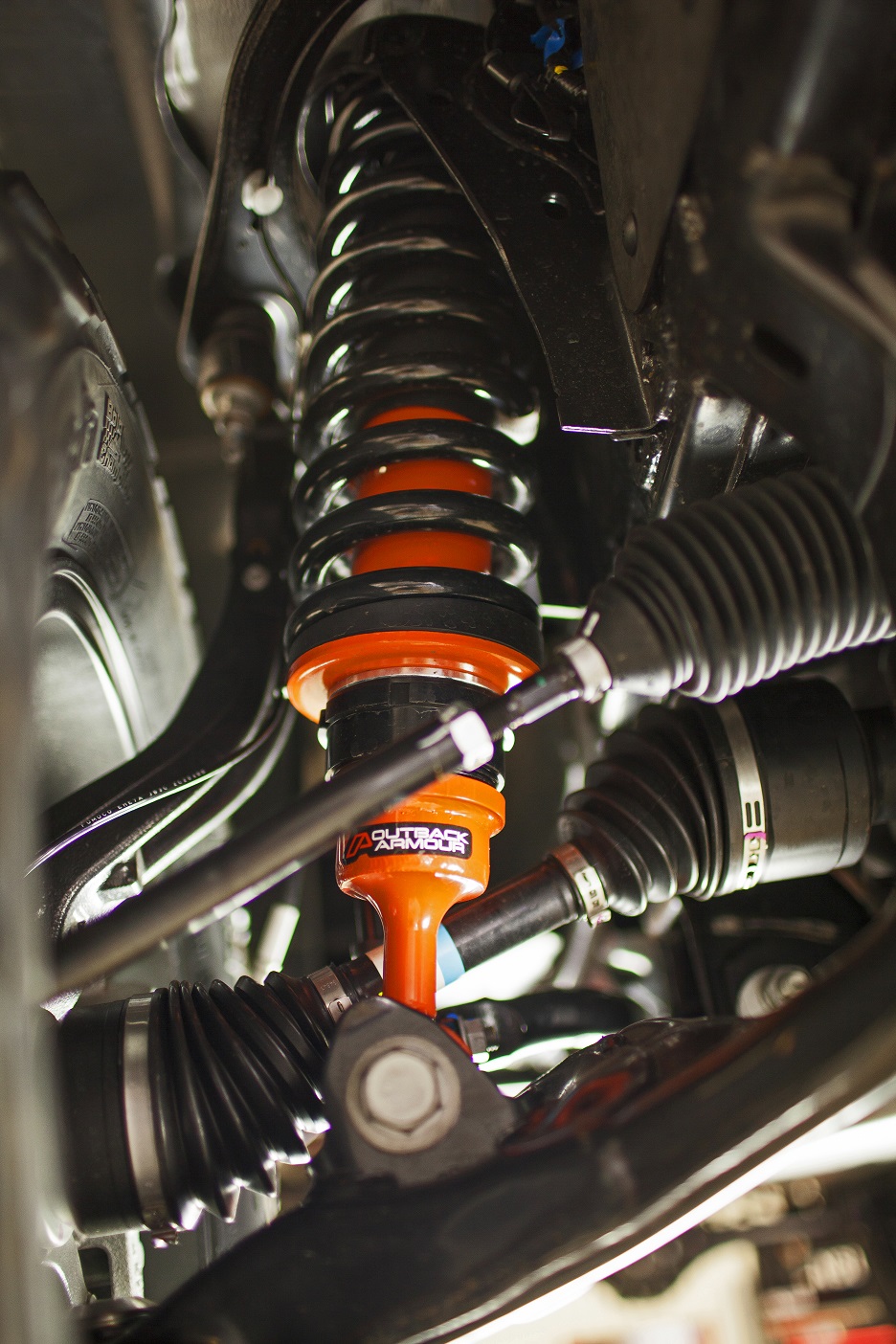 UNDERBODY & SUSPENSION
Outback Armour suspension with around a 50mm lift has jacked the Ranger into the air. It has also allowed me to fit 285/70 R17 BF Goodrich KM3 Mud-Terrain rubber. That's 33s in the old speak. Thankfully, despite their bigger diameter, the spare tyre fits nicely under the rear of the rig. For the Wildtrak specifically, I've put Adjustable Bypass – Expedition HD's up front, that feature a 50mm lift (with height adjustment), as well as 20 different settings for damping control in a coil-over-shock design. In the rear, I've matched up the Performance 60mm twin-tube shocks with appropriate load-carrying leaf-packs. Suffice to say, I'm really happy with it.  
ARB Moorebank also installed the steel bash plate, which protects not only the sump but the transfer case as well. It's a meaty construction, and the front recovery point is integrated into this setup too.  
Also under the Ranger is the Long Ranger fuel tank. It replaces the stock plastic tank and beefs out capacity to 150-litres. It's made of 2mm aluminized steel and importantly houses a drain plug. It's worth noting that plastic aftermarket tanks, while being lighter in weight, don't have a drain plug. Worth knowing if you get a bad batch of diesel and need to drain your tank in a hurry.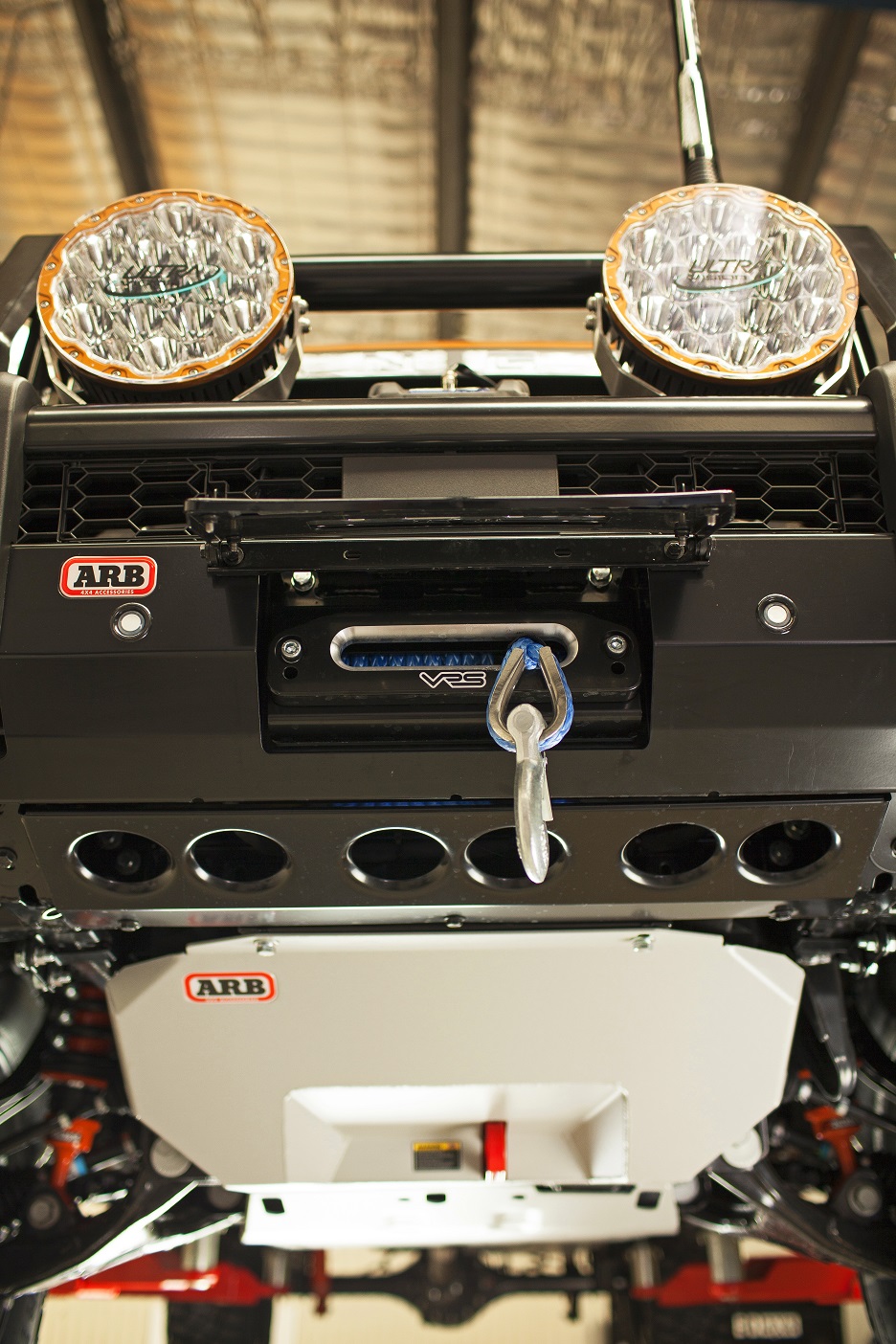 INTERIOR
Undoubtedly some of the biggest transformations are housed in the tub of the Ranger. A Melbourne-made Fourby Fitout drawer system is at the heart of it all, and I'm a big fan of the fit, finish and weight of this unit. I opted to go with a customized system, made up of one long drawer, sitting next to an Engel fridge drawer. The Engel is really made for this system and has a nice gap above it allowing the compressor adequate ventilation. The Engel fridge drawer is awesome, in that it keeps drinks amazingly cold, and hard wired, you never have to worry about cords popping out or losing power.  
The Clearview Easy Slide effortlessly drops the big Engel MT-V 60-litre combi model to a useful height I'm a big fan of the fridge/freezer design, as having a freezer on-board has been brilliant. And what you may not appreciate is the low power draw of the Engel's. While other fridges are chewing up to 8 or even 11 Amps, the Engel always chews under 3 amps. This is due to the ultra-efficient Sawafuji compressor, which boasts just one moving part. Some fridges out there are fancier, but none are better.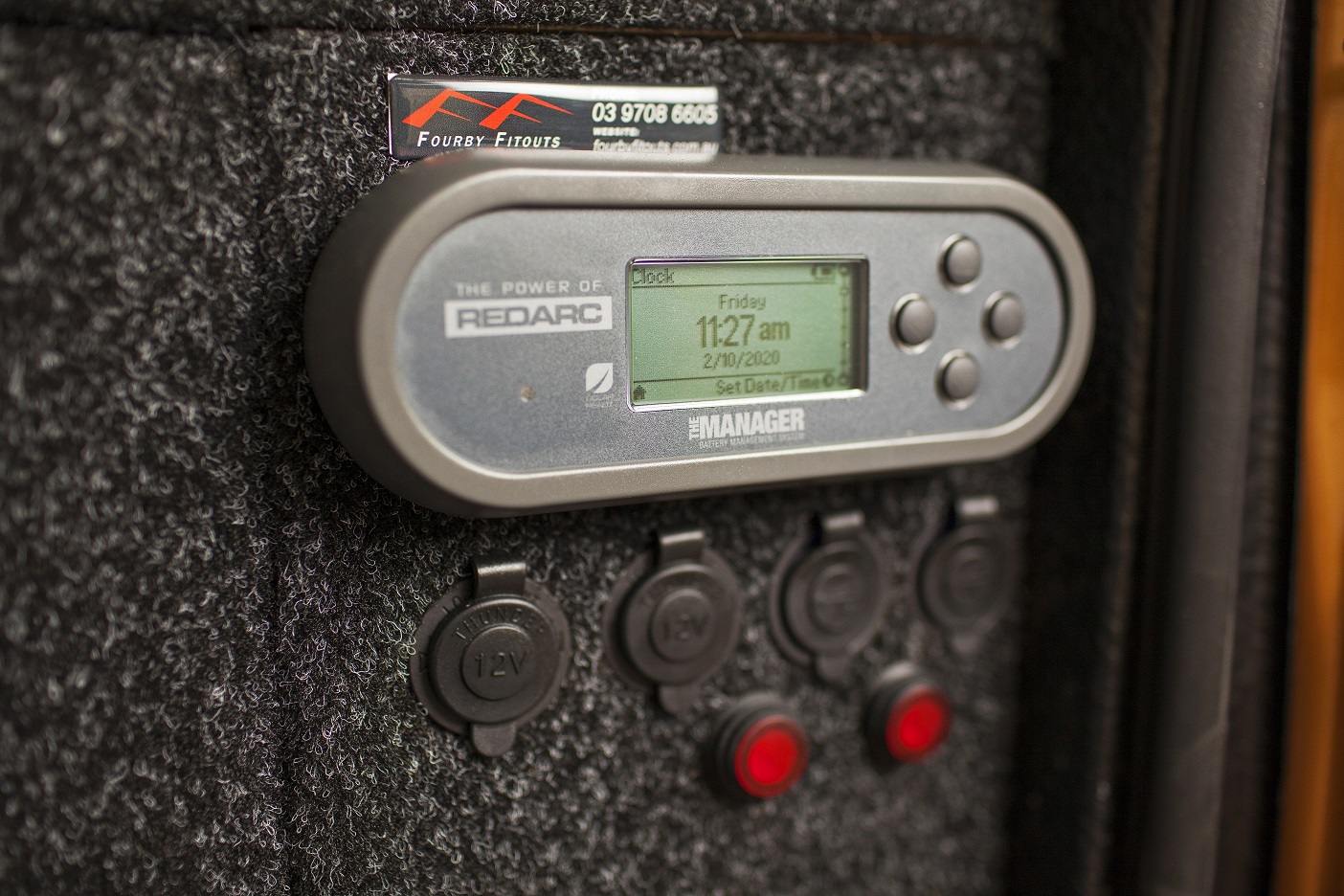 The nooks and crannies around the central drawers have allowed us to mount all manner of items. The compressor sits on the left of the Engel, while up front are a couple of Revolution 100AH lithium batteries. These are no-nonsense batteries that hold their charge incredibly well, and charge up fast. And they don't overstate their power like some cheaper brands.  
Switching that 12-volt grunt into 240-volts is a Redarc 2000 watt pure sine wave inverter. This powers truckloads of gear, and will happily drive sandwich presses and coffee makers. The Redarc Manager 30 controls the whole system and allows rapid charging via alternator or solar power. And best of all, you can track the whole system via an LCD screen at the rear of the drawers. It's brilliant being able to track your power usage and battery life, and particularly handy when you stumble upon a great camp and need to stay for days. That's when you really need to monitor your power.  
For UHF comms, I'm running the Uniden UH9080. The brains of the unit are mounted under the seat, leaving just the handset up on the dash. I've trialled a few other brands over the last few years, but the quality of the speaker in the Uniden is what sets it apart. That, and my other favourite feature, the replay button. If you miss a transmission (easy to do if you've got the tunes turned up), you can just hit the replay button and hear it again.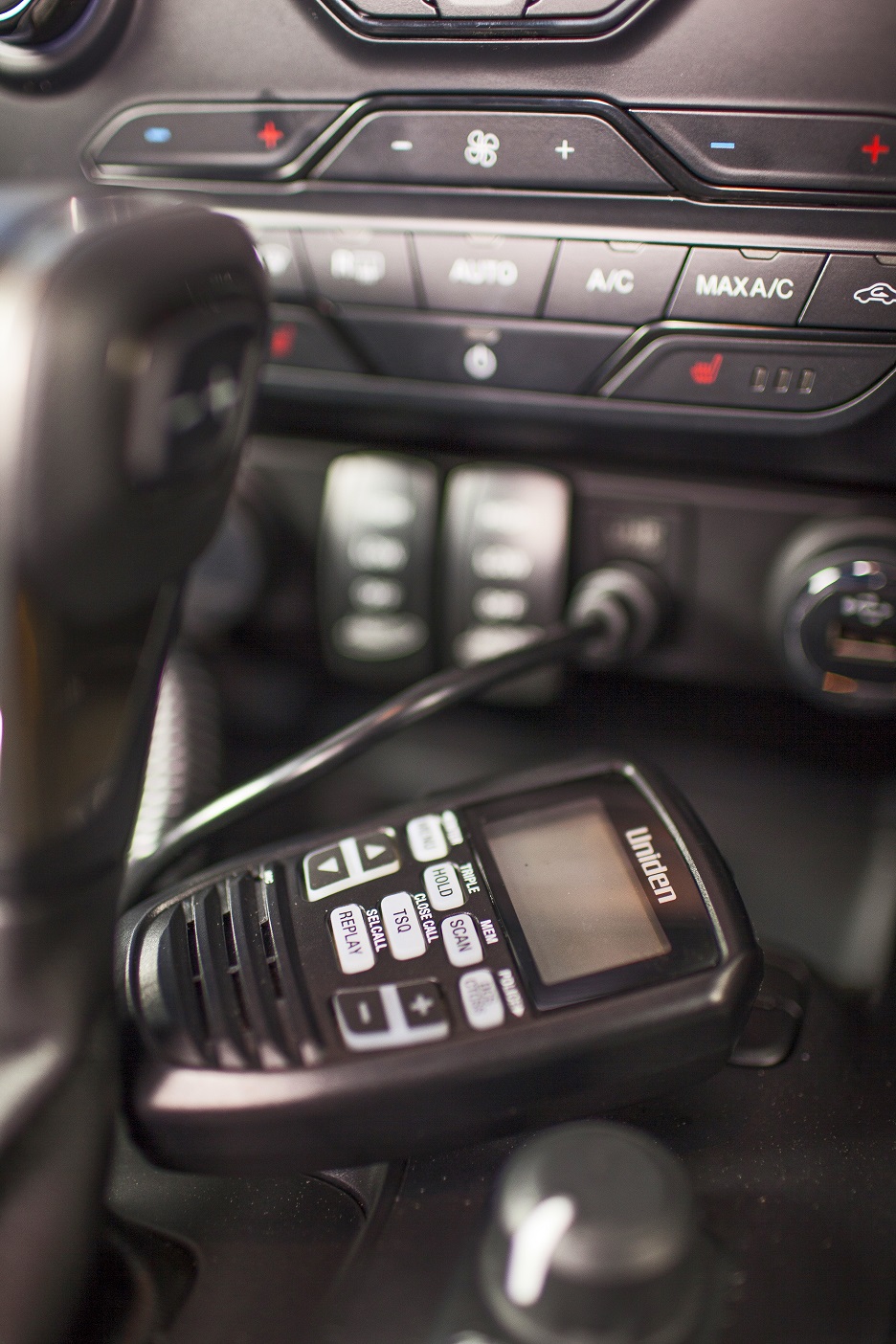 The UH9080 is paired with one of Uniden's ATX970 heavy-duty fibreglass antennas with a stainless–steel spring base. This antenna has a 6.6dBi gain and is suited to all-round use in various terrain types. The antenna is mounted to Uniden's MBU-05BK heavy-duty folding antenna mount bracket, which provides a quick and easy way to fold the antenna down if you run out of height, such as in tight scrub or when mall-crawling underground car parks. 
When you go wheeling in a top-spec vehicle like the Wildtrak, adorned with leather and fanciness, there is an element of guilt in getting them dirty. To that end, I've wrapped the seats in Black Duck seat covers, using their new 4-Elements material. I prefer it over canvas as it's more comfortable to sit on, but it is still waterproof and machine washable. Plus, they look pretty damn awesome, with the personalized orange stitching, which matches the Wildtrak dash.  
The floor carpets are protected with Australian-made Trufit 3D mats. They're a nice deep dish and hold plenty of sand/mud or even water. And while they look very high end, you can hit the filthy mats with a gurney at the end of the trip to get them back to new. I never knew you could do this with carpet. They also have a high-quality rubber version, which we have fitted to our Everest. To stop the mats slipping and sliding around, they're adorned with a backing called 'Maxpider'. It grips the carpet like a squirrel, and the mats never slip anywhere.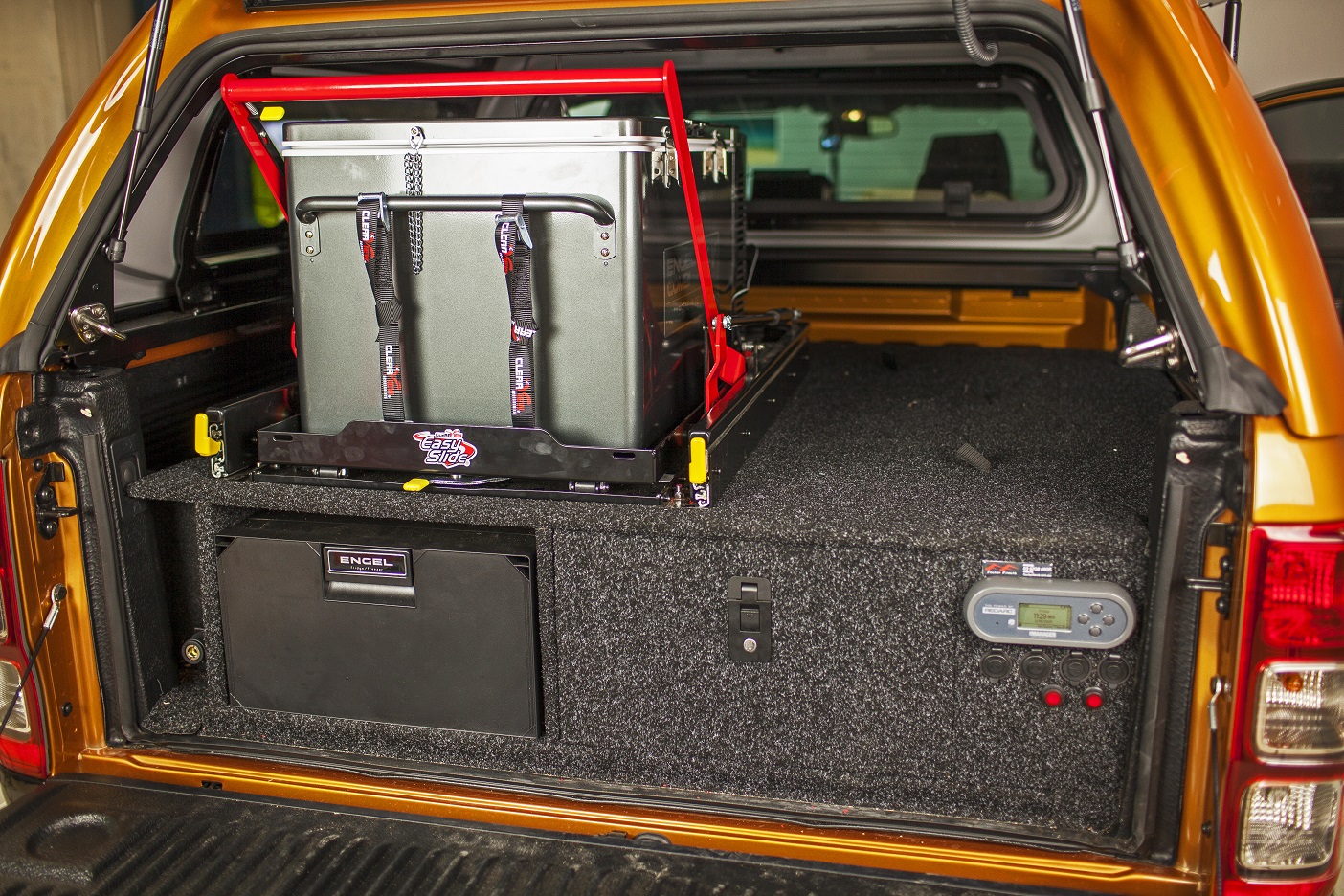 Still on the floor, is a Kap Industries fire extinguisher setup. Melbourne-based Kap has gone to the trouble of creating custom brackets for every make and model of 4WD. You simply whip out the factory seat bolts, line up the bracket, and bolt it back in. At well under $100 complete with a fire extinguisher, it's a superbly smart installation.  
Up on the dash, I've mounted an Ultimate 9 EVC throttle controller. I've been using them for years, first as a customer and now as a sponsor. They're easy to install and give your throttle super-human capabilities. And while they don't actually create more power, they do allow you to access the power you have more quickly, or slowly. If you're after more pedal feel, just dial up the switch to nine. Want a more subtle throttle response for rock crawling? Dial it back. The Ultimate 9 also has an economy mode.  
THE PACKAGE
There's little doubt that I've thrown the kitchen sink at the Wildtrak. Many asked why I didn't go for the Raptor model, and while I love its handling attributes, it doesn't carry a load as well as the leaf spring models. The bi-turbo model has ample grunt despite the added load, runs like a steam train. The ten-speed auto is rather awesome, and makes the most of the engine power. It's a sweet ride indeed, and I'm incredibly happy with the end result. 
Words by Pat Callinan 
Images by Tommy Salmon