Alternative tyre technology for your 4X4 has taken 1 step closer, now being used by American ATV manufacturer Polaris.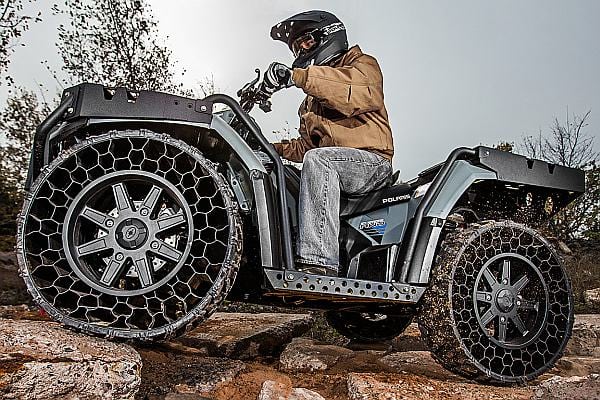 Utilising what is called 'TerrainArmor™' tyre technology that veers away completely from tradition pneumatic rubber tyres, the Polaris boasts a list of advantages over a tradition tyre style. Obviously, there are no flats to worry about. Polaris claims a better centre of gravity with these tyres, which just means that they weight more than traditional tyres, and better cornering performance. Whilst eliminating the possibility of stakes is a huge bonus, no obvious ability to increase the tyre's footprint akin to 'airing down' is one limitation to this new technology. We want to know how they would handle hundreds of kilometres of corrugations bearing the brunt of a loaded 4X4.
This isn't the first iteration of this sort of technology, all with their own concepts and variations. Michelin's 'Tweel' is one example, along Hankook's funky looking 'i-Flex' and Bridgestone's airless design, which is completely recyclable.
Will this new technology be replacing the rubber, wheel and psi combination that we currently use on our 4X4 rigs? Only time will tell …