TC Owen has now redeveloped into a category 1 cyclone over the past few hours, and is expected to breach the coast in the South East of the Gulf of Carpentaria across Mornington Island by Friday, then tear down the Queensland coast from around Cairns to Brisbane over the weekend. The video update below was released by Higgins Storm Chasing at 11:15AM 12/12/2018.
Speaking with Thomas and Jeff at Higgins Storm Chasing we now know that Tropical Cyclone Owen has reformed into a category 1 system, and is continuing to intensify. He is expected to reach cat 2 this afternoon, and reach cat 3 (Severe Tropical Cyclone), or possibly cat 4 by Friday.
Global models continue to agree that the system will track to the east from Mornington Island and Karumba on Friday just after lunch, and reach the coast south of Cairns by mid morning Saturday as a tropical low. It will then travel down the coast in a south-easterly direction at around 50km/h clearing the coast around Brisbane on Monday. Models are predicting it will continue south from around Cairns to Brisbane as a Tropical Low, however it may return to category 1 cyclone status due to its proximity to the coast. At this stage, widespread rainfall totals of 100 to 200mm are likely to accompany the system along the entire East Coast of Queensland. However, any shift in the final track of the system will alter rainfall forecasts. This is a similar track to that of TC Oswald back in 2013, however rainfall totals are expected to be less than those seen in 2013 (over 800mm of rainfall seen in the Bundaberg and Gladstone regions over three days) due to the faster speed at which Owen is moving.
As at the time of writing, the Bureau of Meteorology are yet to offer any warnings or suggested impact of TC Owen to the east coast of Queensland, however there is an expectation that the Queensland Disaster Management (Emergency Management Queensland) team will be activated shortly, and begin to issue updates and warnings as the weather system progresses.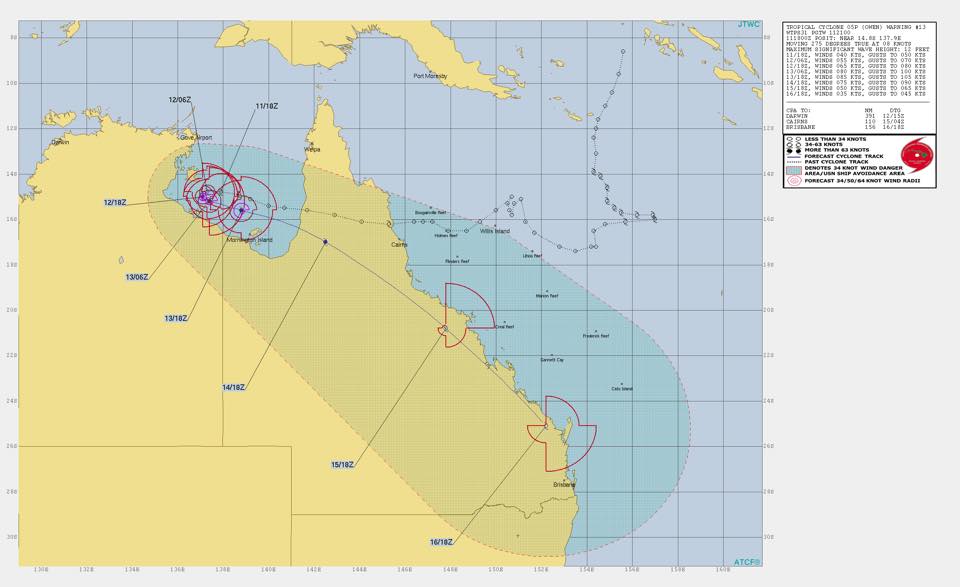 What to do if you're in the path of the cyclone?
For those on the Queensland Coast, we have a few days to prepare for the predicted track and severity of the cyclone. From the Bureau of Meteorology the following advice is offered should a cyclone warning be issued for your area:
If requested by local authorities, collect children from school or childcare centre and go home.
Park vehicles under solid shelter (hand brake on and in gear).
Put wooden or plastic outdoor furniture in your pool or inside with other loose items.
Close shutters or board-up or heavily tape all windows. Draw curtains and lock doors.
Pack an evacuation kit of warm clothes, essential medications, baby formula, nappies, valuables, important papers, photos and mementos in waterproof bags to be taken with your emergency kit. Large/heavy valuables could be protected in a strong cupboard.
Remain indoors (with your pets). Stay tuned to your local radio/TV for further information.
It is also worth noting that with the winds and rainfall, power and communications may be lost, so ensure you have a battery powered radio or generator available.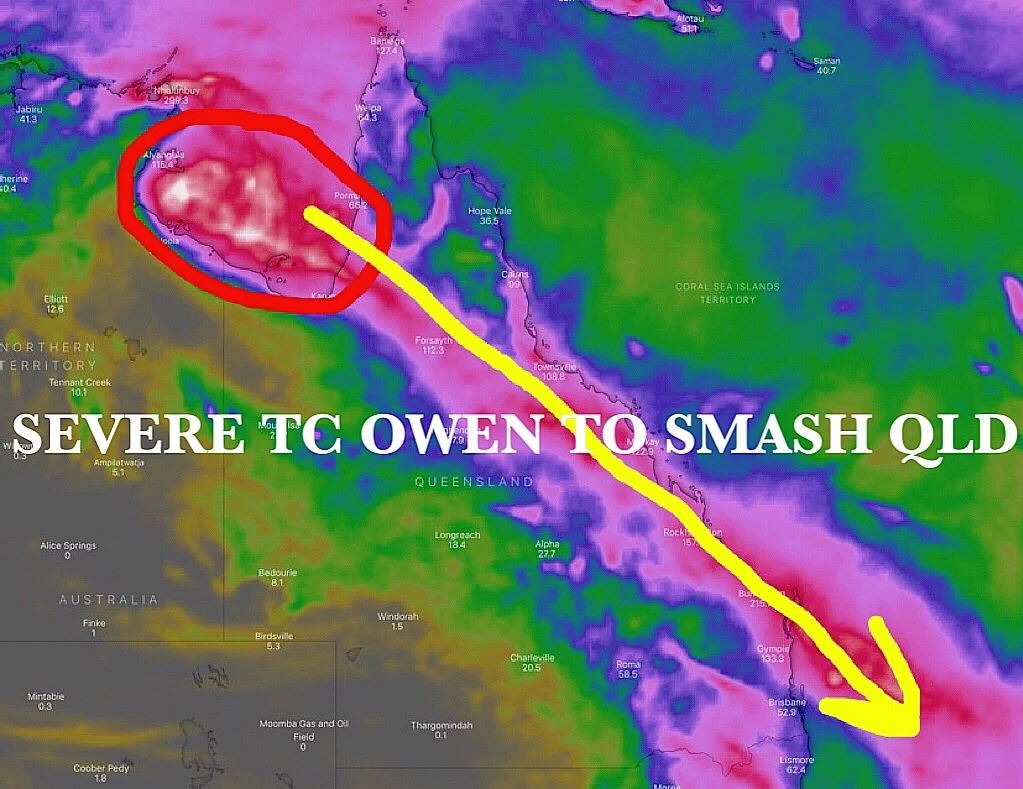 If you're in Queensland over this coming weekend through TC Owen, stay safe, keep an eye on your neighbours and mates, and don't be 'that guy' that drives through flooded roads!