Toyota FT-4X concept – you can cut the disappointment with a knife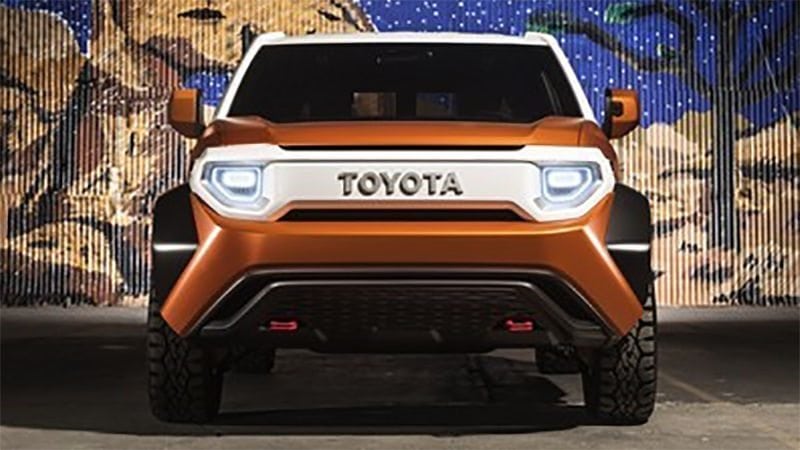 The New york Auto show is currently going on, and there has been quite the buzz created around Toyota's FT-4X concept. Rumours that it was shaping up to be the FJ Cruiser replacement and a potential rival to the new Jeep Wrangler and yet-to-be-built Ford Bronco were flying around automotive circles thick and fast. The anticipation was palpable…
…the reality was a huge disappointment.
Make no mistake, this is no hardcore tourer, nor is it even designed to take on much beyond a well-graded dirt road. It's just another execrable "crossover", but hey, at least it has red tow hooks.
Look, I can't blame Toyota for bringing this concept out. It has all the hallmarks of appealing to Millenials who live in densely populated urban areas and occasionally want to drive to a well-bollarded car park at the start of a bushwalking track or park up on a slightly sandy grassy embankment before hitting the beach. It has plenty of gimmicky tech that would make you feel like you're driving a cross between an Apple store and a North Face outlet (which makes sense seeing North Face actually had a hand in the design).
There is a "smart-phoney" gauge cluster, an armrest that doubles up as a sleeping bag, a stereo that is removable for parties with your similarly self-described "adventurous" mates, windows that can be popped out and swapped for clear, tinted or just left out altogether, a tailgate that can be opened either as barn doors or a hatch, door handles that are actually water bottles (seriously?), rear seats with more foldability than a gymnast, GoPro-integrated rear-view mirrors and (gasp) there's even low range!
Nevertheless, this is much more Rav-4 than FJ Cruiser, and it's certainly no contender against a Wrangler. Still, there is a certain appeal to a fuel-efficient small 4X4 with city traffic manoeuvrability, low-range capability (even if it's modest) and Toyota reliability. So I guess we don't exactly hate the idea. It's just that we were so hopeful for more.