Travelling off-road with kids? Pack these 10 things.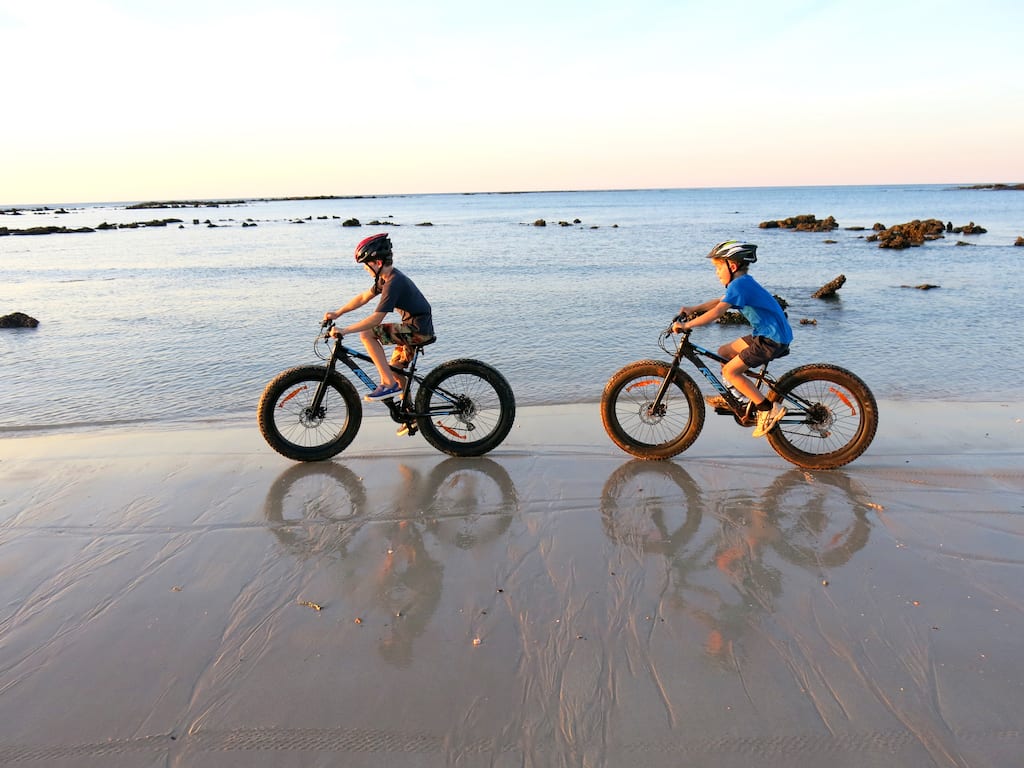 Ditch the electronic gadgets when travelling off-road with kids and pack these adventure items instead.
One of the hardest things about travelling off-road with kids is working out what to pack to keep them entertained, ideally that doesn't involve a screen. Here's our pick of 10 must-have items to keep adventurous kids busy and safe. These bits of gear will help kids explore, learn, take risks and grow in confidence. After all, that's what adventure travel with kids is all about.
1. Aussie Hat
When you're headed for adventure, you have to look the part. A cattleman's hat is fabulous to keep the sun off and it's amazing the rough treatment a good hat can withstand, from being dunked in waterfalls, singed on a campfire or trampled on the floor of the car. Every mark tells a story.
2. Hydration Pack
If you are doing any sort of walking or outdoor activity when travelling off-road with kids, don't leave home without a hydration pack for each traveller. Most packs have a bladder that can carry between 1-3 litres of water, which is ideal to prevent dehydration. Great for kids as they can carry their own water and the valve attached to the bladder means they tend to drink regularly and don't need to be nagged to stop and find drink bottles.
For younger kids, they can have a smaller pack and you can adjust the amount of water they carry easily. Most packs have room for food and a small travel towel so when hiking, your kids can be self-sufficient and you won't have to lug all the gear yourself.
3. Hiking Boots
A pair of hiking boots is essential when traversing rugged terrain, rocks, spinifex and accessing all those awesome spots you can't get to by car. It can be challenging finding smaller sizes for younger kids but they are available, even if you have to search online. It gets easier for older children and some boots come with two innersoles so that when removed, the shoes become a size larger to accommodate growing feet. Complement by taking two good pairs of socks and try to get the kids to wear their boots before embarking on a trip to aid wear-in.
Hiking boots support ankles and also minimise the risk of injuries. Sure, Crocs or sandals might be comfy for the first kilometre, but for big adventures, kids need good boots.
4. Swag and Waterproof Box
When travelling off-road with kids, there are few things more rewarding than listening to them chatting between their respective swags, exclaiming things like, "Did you see that shooting star?". Swags are a great option if you're moving a lot as older kids can set them up on their own and they become like their own little home, especially if you add a light and a battery fan. Provide each of your kids with their own waterproof box to store all their clothes and possessions, which they can sit next to their swag. That way, when they wake up they can get themselves dressed and ready for the day.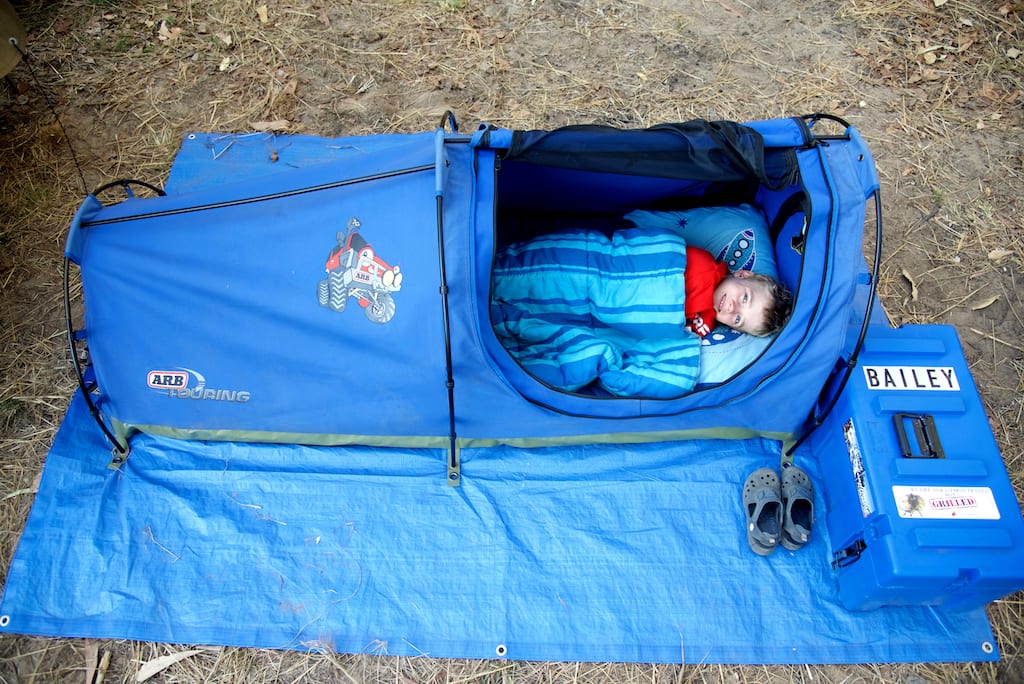 5. Fossil Pick (aka bricklayers hammer)
A literal treasure hunt will provide kids with hours of entertainment. Grab a fossil pick from the hardware store and make sure you get a pair of safety glasses or sunglasses. Get them one each to avoid arguments. There have multiple uses such as cracking open thunder eggs, rocks and crystals, excavating, chopping sticks or searching for fossils, and even banging in the odd tent peg.
6. Off-road Bike
This is a big-ticket item and one that requires a bit of thought. You'll need to consider how to transport them, and of course what bike to spend your money on. It might seem exorbitant but the amount of entertainment provided makes it worth the time, money and effort. You'll be able to ride in and around creeks, up beaches, in the desert and rainforests, over salt lakes and more. Good quality off-road bikes can go absolutely anywhere. Mountain bikes are also a good option but the fatties are virtually unstoppable on rocks, sand and soft stuff that always seem to be around campsites.
7. Multi-tool
A multi-tool is great for older kids as it has a selection of tools for most applications such as pliers, screwdrivers, knives or scissors, and is more useful than a standard pocket knife with just a blade. We recommend an age restriction of nine years, and even then you'll need to ensure they're competent with the knife prior to going bush. That way if they do cut themselves while learning to use it correctly, you can easily clean and dress the cut or get them to a doctor if needed. Encourage kids to be seated when using the knife to avoid accidents.
A sharp knife is dangerous, however if handled responsibly, a multi-tool comes in very handy. It can be used for cutting wire, sawing sticks, chopping their morning tea, sharpening spears or whittling away at wood. Leatherman has designed a tool for younger users called The Leap, which has removable blades that you can add on when you feel your child is ready for it.
8. Head Torch
It goes without saying, when travelling off-road with kids in the bush you need light. Head torches are brilliant as they provide hands-free light, enabling kids to have maximum freedom at night. From night bike rides to spotting wildlife, cooking marshmallows or finding their way to the toilet, a head torch is a must.
It's a good idea to pack a spare head torch or two as they break or inevitably get lost. LED head torches with rechargeable batteries and a 12V charging option are a good idea for longer trips. They're reliable and will save you money in batteries.
9. Swing and Rope
For younger campers, a flat-pack swing with some rope takes up very little space and if there is a tree near camp, it is easy to tie around a branch. During a bit of downtime, kids love playing on a swing because in the bush there is often a long stretch between playgrounds. A swing is a great way to entertain kids at camp, particularly when parents are busy preparing meals.
For older kids, a rope can entertain them just as much as they use it to construct climbing lines, or a range of other applications such as tying tarps for bases.
10. Maps, Books and Binoculars
Reference books are invaluable as kids can read about where they are going or what they might see or do. Identification books on birds, insects, animals or trees are great for increasing knowledge and keeping kids entertained. Although electronic maps are easy, a paper map gives a sense of scale to big journeys. You can draw on a physical map, look at where you have been and where you are going, and it's easier for kids to interpret. When they get older, give them a map and leave them in charge of navigation, which is always a bit of fun if you have enough time to go the wrong way.
A set of binoculars are useful to have both in and out of the car. Birdwatching presents a great opportunity for the kids to keep busy in the car. Twitching also encourages kids to find a quiet, secluded spot near a waterhole or stream in the morning or evening and try to spot some of the local birds.
Thanks to Emma George and her family for the words and images for this story, which was originally published in Pat Callinan's 4×4 Adventures magazine, issue 37.