By Ian Glover

Toyota is about to release a vehicle that will have everyone asking 'What's taken them so long?' On sale from late September, the LC79 double cab – latest iteration of the proven and popular 70 Series Cruiser – will be priced from just under $64,000 and, make no bones about it so to speak, will sell faster than Viagra in a retirement village.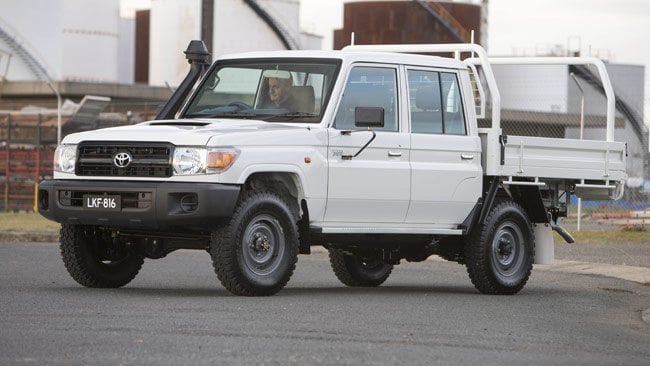 Australia will be the first country in the world to get the new vehicle, Toyota citing demand from the booming mining sector and rural buyers as the LC79 double cab's primary raison d'être. We see far greater and more widespread demand than that, with the 70 Series' enduring rep for toughness and reliability making the new vehicle attractive to tradies and recreational buyers wanting flexibility in their vehicle choice.
There are two variants: base model Workmate and uprated GXL. Both come with 130 litre fuel tanks, five-speed manual transmissions and Toyota's acclaimed 4.5 litre turbo-diesel V8 engine. This powerplant is Euro IV-compliant, delivers 151kW of power, and best of all, has great torque – 430Nm held all the way from 1200 to 3200rpm – the flattest torque curve of all Toyota engines.
Work vehicles aren't barebones that they once were, with the new models having anti-skid brakes, standard snorkel, improved seats, in-dash multi-function clock and audio/CD system with Bluetooth hands-free, audio streaming and voice recognition phone/audio. Workmate comes with 16" steel rims, aluminium side steps, vinyl seat facings and floor coverings, black bumpers and the option of diff locks, while the more recreationally-based GXL has 16" alloy wheels, over guard flares, remote central locking, diff locks, fog lamps, power windows, carpets and cloth seats…pricing starts at $67,990. Even with the extra row of seats, payload is still a full one tonne.
Oh, what a good idea!