Images of the supposed 2018 Jeep JL Wrangler Unlimited have surfaced on the internet according to users of the JLWrangler forums.
As of March 29, the forum's admin had confirmed with a number of sources in Fiat / Chrysler that this is indeed the next-gen Wrangler.
Fiat Chrysler Automobiles, however, are yet to make comment or officially confirm any design aspect of the new Wrangler. All we have to go on are the grainy black and white images, but they look promising. The colour renderings which have come from them, even more so.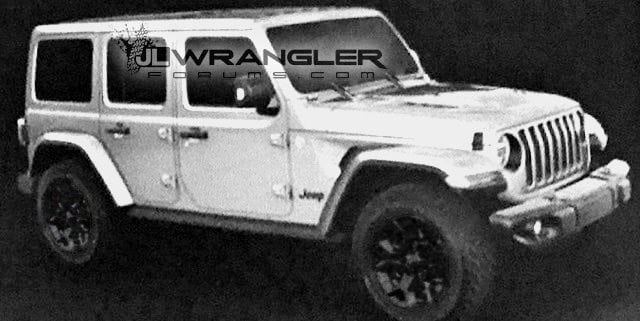 An admin of JLWranglerforums.com has also confirmed the following with an unnamed source within Fiat Chrysler:
Solid frame, fixed roll cage in roughly the same location as the current sports bar.
Fully removable roof and doors.
Turns signal on side mirrors which are attached higher on the doors.
New larger front bumper design which extends out further. (We didn't think this was actually possible?!)
Front guards end higher and contain LED light strips.
Rubicon bonnet looks similar to the current one, with black vents flanking a centre hump.
Bonnet latch positions have moved forward slightly toward the edge of the bonnet.
Vent and boomerang styling detail on front quarter panels, immediately aft of the front fenders
Slight larger boot space (bars connect to body at a more forward position than current)
I guess we'll have to wait to see if these renderings come close to the real thing. If nothing else, chances are they're going to be close!