The Jeep Wrangler as we know it has been around since 2007. Over those ten years, it has had some pretty solid and consistent updates, with new spec levels and engines made available. It has been a solid seller for Jeep over the years, keeping that pure offroad essence alive for the American brand. But, it's definitely due for an update. There is one coming, here is what we know about the new 2018 Jeep Wrangler JL.
It's going to have a few different engine options
Currently, the JK Wrangler has Chrysler's advanced Pentastar 3.6 litre V6, which offers 200kW of power along with some decent fuel economy figures. VM Motori's 2.8 litre diesel engine is also available, shared with the Holden Colorado/Trailblazer giving 147kW of power and 460Nm torque. Rumours are that the Wrangler might end up with the 3.0 litre V6 out of the Grand Cherokee, so could get a bump in performance and refinement.
There is also talk of a more efficient, turbocharged four-pot petrol donk for the upcoming Wrangler as well. This is a new take for the Wrangler, and it will be interesting to see how it's pulled off. These engines are likely to be bolted up to a new set of gearboxes, possibly an 8-speed automatic gearbox and six-speed automatic.
It's going to be a ute.
This is something Jeep should have been doing, since the J10 of the late 1980's. Australians love utes, and by them by the droves. One of the biggest weaknesses of the current Wrangler is the very low payload, which essentially only accounts for passengers and gives you little scope for accessories. This is one reason why the Wrangler is so good off road: supple springs that don't have to worry about big loads is able to articulate and ride well off-road, compared to, say a Defender or LandCruiser that can handle up to 1,000kg (or more) of payload.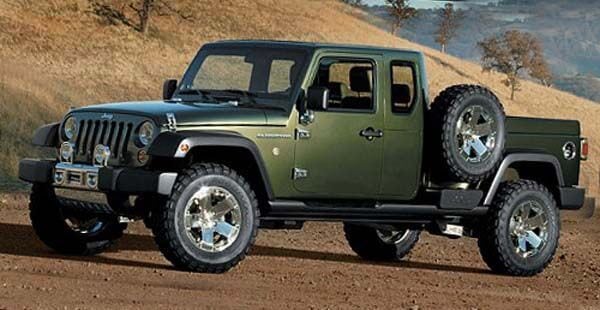 This is something new for Jeep: they haven't offered a utility vehicle with working potential for many years, although it is part of their heritage. And what better place to sell it, in the land of the all-conquering ute? It will be interesting to see what happens with the suspension and wheelbase, in order to compete with
It's going to be a Wrangler
Yeah. Nice one, you drip. Thanks for pointing out the obvious. I know, I know. But I have a point to make here. The Wrangler is one of the world's most historic and iconic vehicles, and Jeep aren't going to mess with or change that, like what Nissan did with the Patrol and Pathfinder. All indications are that visually, it's going to look like a face-lifted JK, which was pretty much a face-lifted TJ, which was essentially a face-lifted YJ. You get the idea.
It's going to have solid axles and a ladder chassis
You beauty. In our opinion, a Wrangler wouldn't really be the same with an independent suspension setup in the front (or rear, for that matter). This is part of what makes the Wrangler such a popular and unique vehicle: They are great for serious off-roading, and easy to modify, and allow for a huge range of aftermarket gear. This is all going to be bolted onto a 'body on frame', as the seppos call it. A traditional ladder chassis, which is also more endearing for off-roading and modification. Jeep is using a ladder chassis for their upcoming Wagoneer and Grand Wagoneer, as well, contrasting with the Grand Cherokee's car-based unibody setup.
It's coming in 2018
Yep, it's coming in 2018. That's about it.