Isaac Bober's 2019 Nissan Navara N-Trek Review with pricing, specs, practicality, performance, on- and off-road ride and handling, safety and verdict.
2019 Nissan Navara N-Trek Specifications
Price $58,950+ORC (as tested) Warranty five-years, unlimited kilometres Safety 5-star NCAP (2015) Engine 2.3-litre four-cylinder twin-turbo diesel Power 140kW at 3750rpm Torque 450Nm at 1500-2500rpm Transmission seven-speed automatic Drive four-wheel drive (part-time) Dimensions 5255mm (L) 1850mm (W) 1855mm (H) 3150mm (WB) Angles 33.2-degrees (approach) 28.2-degrees (departure) 24.7-degrees (ramp over) Ground Clearance 228mm (claimed) Kerb Weight 1993kg Payload 917kg Towing 3500kg maximum braked Towball Download 300kg GVM 2910kg GCM 5910kg Fuel Tank 80L Spare full-size steel underslung Thirst 7.0/100km (claimed combined); 7.9L/100km tested
Nissan has made heavy going of the NP300 Navara with a staggering four-updates in four years, capped off by the recent release of this Navara N-Trek (and now the N-Trek Warrior). Now a permanent variant in the line-up it sits above the ST-X and below the Australian-developed and built N-Trek Warrior.
While the N-Trek Warrrior boasts a raft of changes covering suspension and more, the main difference between the ST-X and the N-trek variant are some stickers, badges, and contrasting bits of trim on both the inside and out. But, in this world of limited-run, high-end, big-money pickups does the Navara N-Trek tick the right boxes? Let's find out.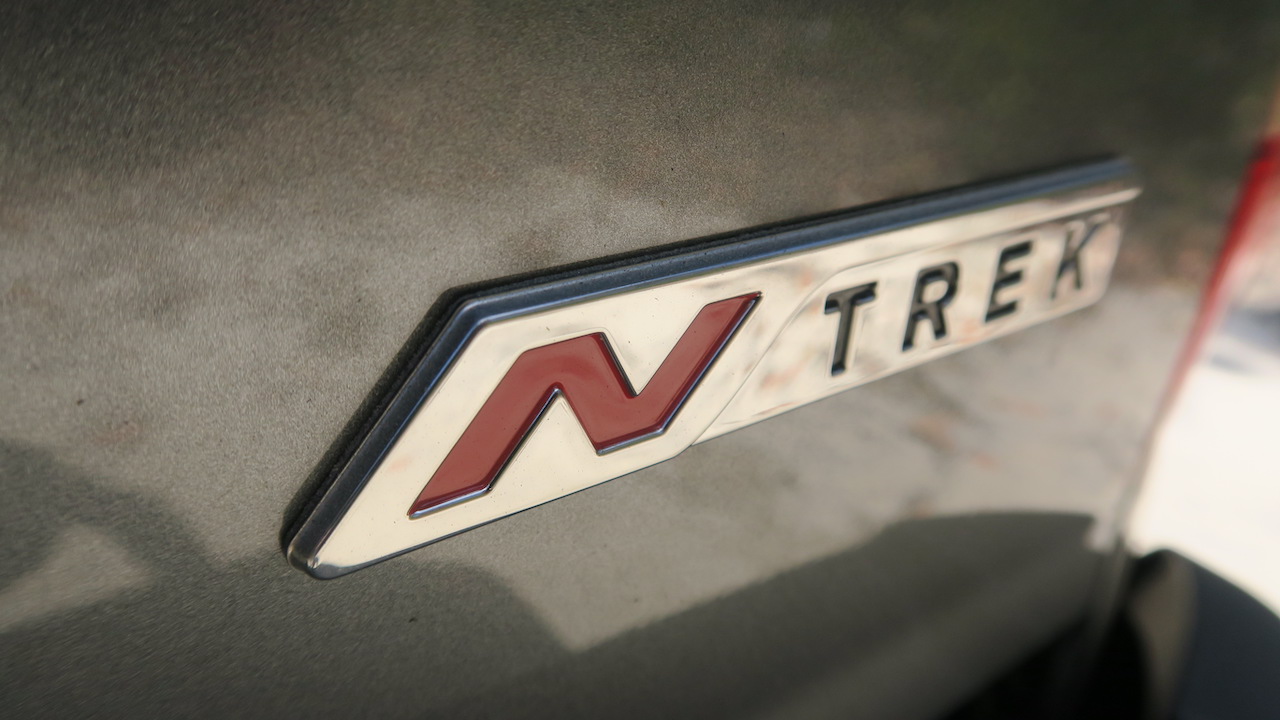 What's it cost and what do you get?
The Navara N-Trek is available with either a six-speed manual ($56,450+ORCs) or seven-speed automatic transmission ($58,950+ORCs) and boasts an improved infotainment system with Apple and Android connectivity. Pricing wise, the ST-X manual lists from $52,750+ORCs or $3700 less than the N-Trek manual while the auto ST-X lists from $55,250+ORCs which is also $3700 less than the N-Trek automatic. And there are three exclusive colours, Cosmic Black, Slate Grey and White Diamond, although only Cosmic Black is a 'free' colour, the others cost $595.
In addition, the N-Trek, from front to back, offers black headlight bezels, black lower front fascia with orange accent line, black front grille, black running boards with orange accent lines, pumped black guards, black alloy sports bar, black roof rails, black door handles, N-Trek badging, and a black rear bumper. On the inside, there are leather-accented seats with orange fabric inserts, orange highlight stitching on the seats, centre console and steering wheel. The front seats are heated, and the driver's seat offers powered adjustment. Beyond these cosmetic tweaks, the N-Trek is mechanically identical to the ST-X.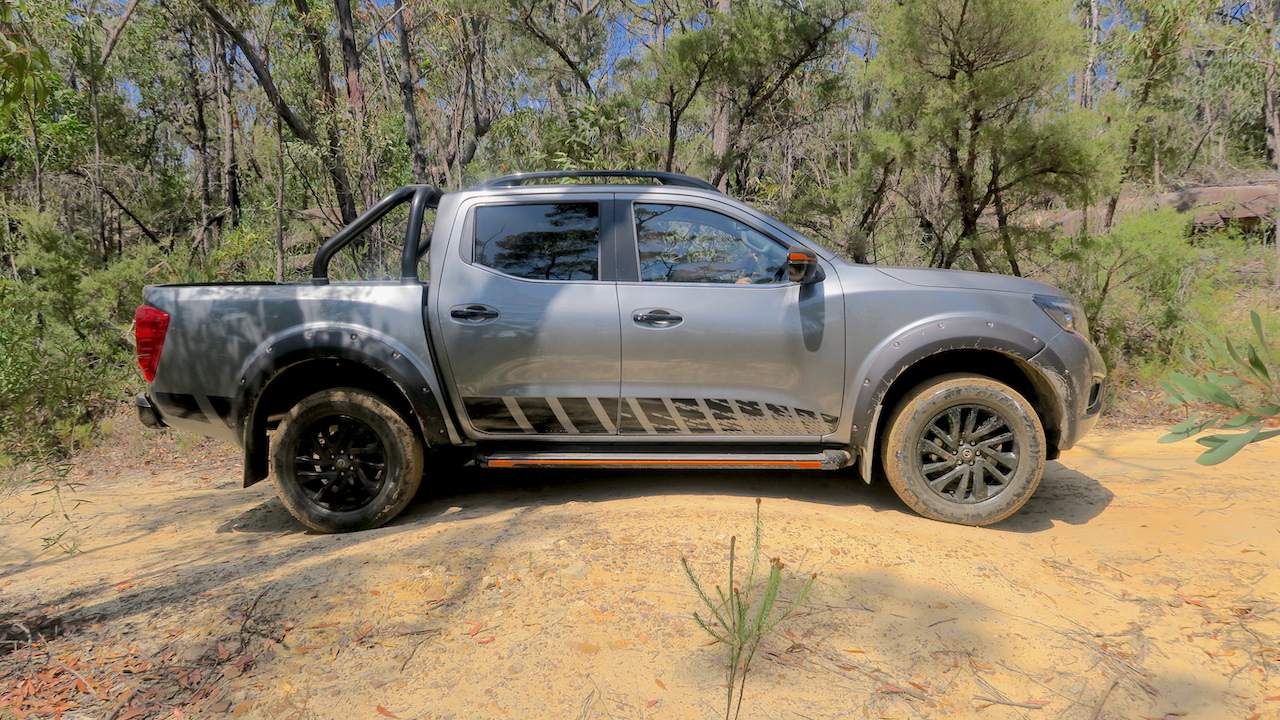 There's no mistaking the N-Trek looks better than the ST-X but is it worth $3700 more? Probably not for a few stickers. Even the tyres are the same which is a shame as it would have been nice to see Nissan throw on a decent set of all-terrain tyres as part of the package. But then, it knew the N-Trek Warrior was coming and wouldn't have wanted to take away from that vehicle. Then again, I've actually seen quite a few Navara N-Treks on the road, so, maybe people are happy to pay a bit more for something that's a little different.
What's under the bonnet?
Shop down the stream and you're looking at a 2.3-litre four-cylinder turbocharged diesel making 120kW and 403Nm of torque. And, where value for money is concerned, you can get a Mitsubishi Triton with more engine (133kW/430Nm) and a more sophisticated four-wheel drive system for less money.
But, step up to the ST-X-based N-Trek and you get a 2.3-litre twin-turbo four-cylinder making 140kW and 450Nm of torque. This is the same engine that's been used in the N-Trek Warrior. It's a competitive engine in terms of grunt and mated to a seven-speed automatic transmission means the Navara actually feels quite energetic to drive. Unless you drive it back-to-back with a Ford Ranger running a bi-turbo engine with 10-speed automatic transmission which is much more refined at around-town speeds and cleaner as it accelerates.
And that's largely down to the smaller turbo working hard early on means you've peak torque arriving at 1500rpm. Rev it out and peak power arrives at 3750rpm which is fine for a diesel and gives you good mid-range cover and the seven-speed automatic does a good job of keeping the engine in its sweet spot(s).
In our week with the N-Trek we didn't get a chance to tow with the N-Trek (mainly because it didn't have a towbar) but while it can theoretically tow up to 3500kg we'd suggest you'll be more comfortable towing around 2000kg. In fact, we'd always recommend towing at around two-thirds of the maximum braked capacity.
Being a sticker pack, fuel consumption for the N-Trek is identical to the ST-X at 7.0L/100km which with the 80L fuel tank should yield a theoretical range of more than 1000km. But don't expect to get anywhere near that once you throw some weight into the thing. In our week of testing we returned a little higher than the claimed amount but that's only to be expected given the lab-based test used to measure fuel consumption; we averaged a respectable 7.9L/100km but we were going anywhere with more than two people and very little gear on board.
What's it like to drive?
Nissan has taken a lot of cracks at getting the NP300 Navara's suspension right. The first time out in 2015 saw a switch to coils at the back but the spring rate was all wrong with the thing sagging horribly with anything heavier than an esky in the tray. And, driven off-road, the thing would constantly slam into its bump stops.
The update back in August marked the fourth revision of the Navara but Nissan had finally got the suspension right with its third revision last year. A taller 'dual-rate' coil was fitted offering a mixture of softness for on-road driving but with enough strength to hold up a load. This is a good combination for a 4×4 pickup.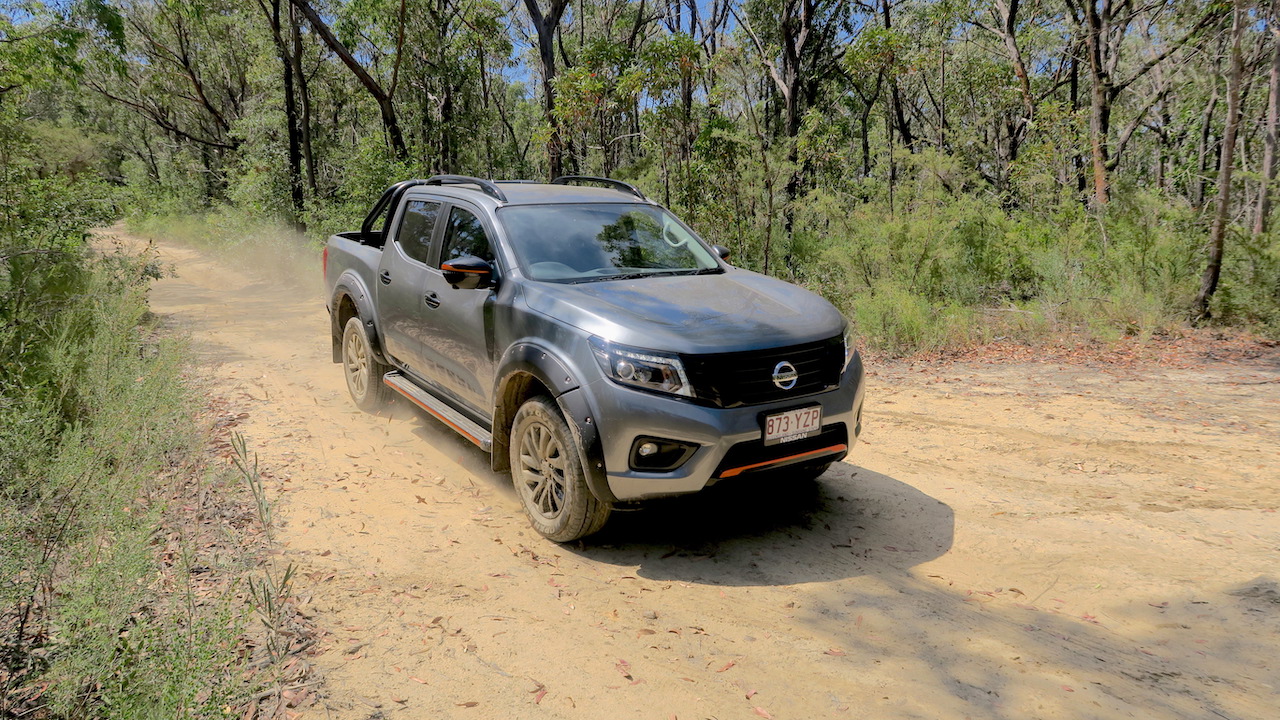 And, on the road the Navara despite the taller springs is more comfortable than ever and actually quite agile and fun to drive along a twisting road. There's good control and composure when unladen; this isn't the sort of pickup that'll try and pitch you off the road when unladen at the sign of a corner.
Some reviews complain of stiffness in the ride and some jitteriness across expansion joints or corrugations when off-road but in our week of driving we didn't find that at all. There's good give in the suspension and good bump control.
The third revision which introduced the improved spring setup also saw a faster steering rack introduced but this works perfectly with the new suspension. Car makers can sometimes introduce a sense of twitchiness when speeding up the rack but that's not the case with the Navara. Sure, there's no steering feel and the steering's pretty light in its action, so it takes a few corners to get the hang of but once you do the thing can be flung around easily enough.
Like the steering the pedals lack feel, and the brake pedal has a lot of slack in it before take-up, the throttle pedal feels a little spongey too. But, again, get the hang of them both and realise the take-up is a little higher than on some vehicles and you'll be creeping along in traffic and not over-pressing the throttle like a champion.
What's it like off the road?
Exactly the same as an ST-X. And that means, it's not amazing and it's not a duffer either. Selecting low-range is an easy twist of the dial and being a part-time system, you can shift on the fly into 4H for low-traction surfaces but you'll need to be parked and in neutral for low-range selection.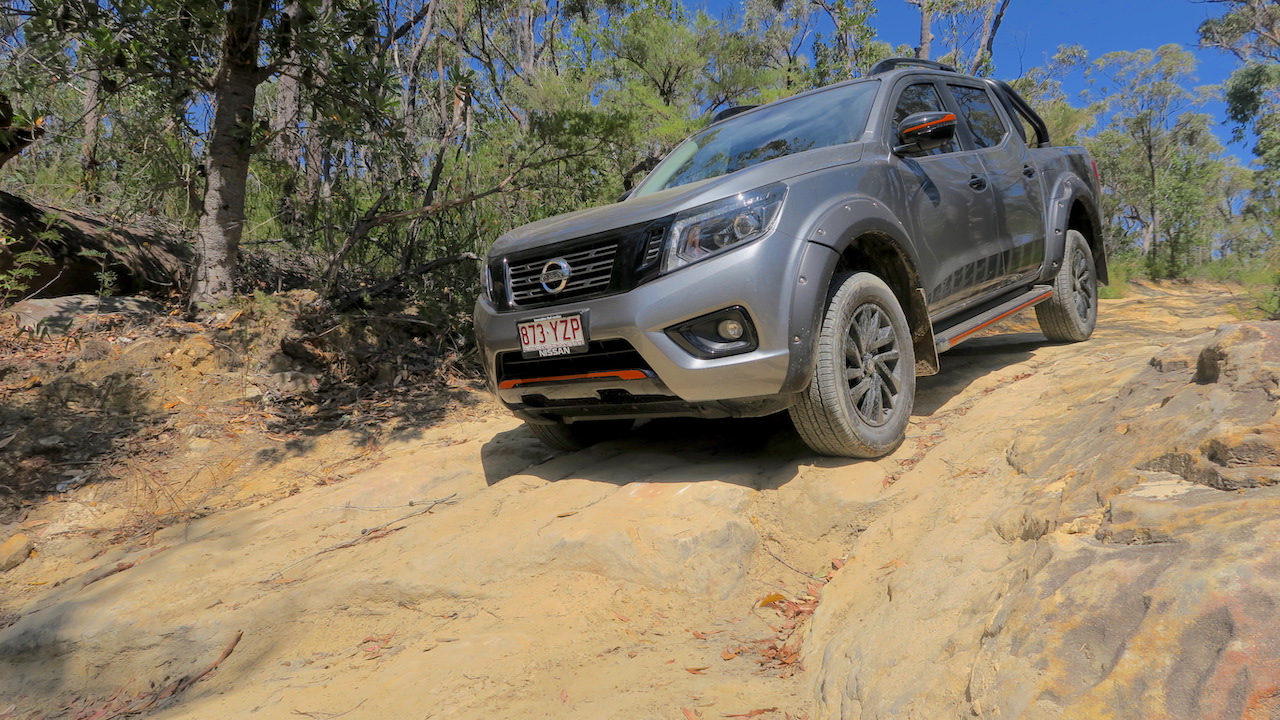 One plus is the standard rear diff lock that, when activated, doesn't kill traction control on the front axle. This gives you good control when wheels start lifting off the ground.
Ground clearance (228mm claimed) is on-par with other pickups and that means it's just about enough for touring work. We put the N-Trek across a little track near the office that features plenty of diff-catching rocks, deep ruts, water and water-logged ruts, and some decent rock steps too.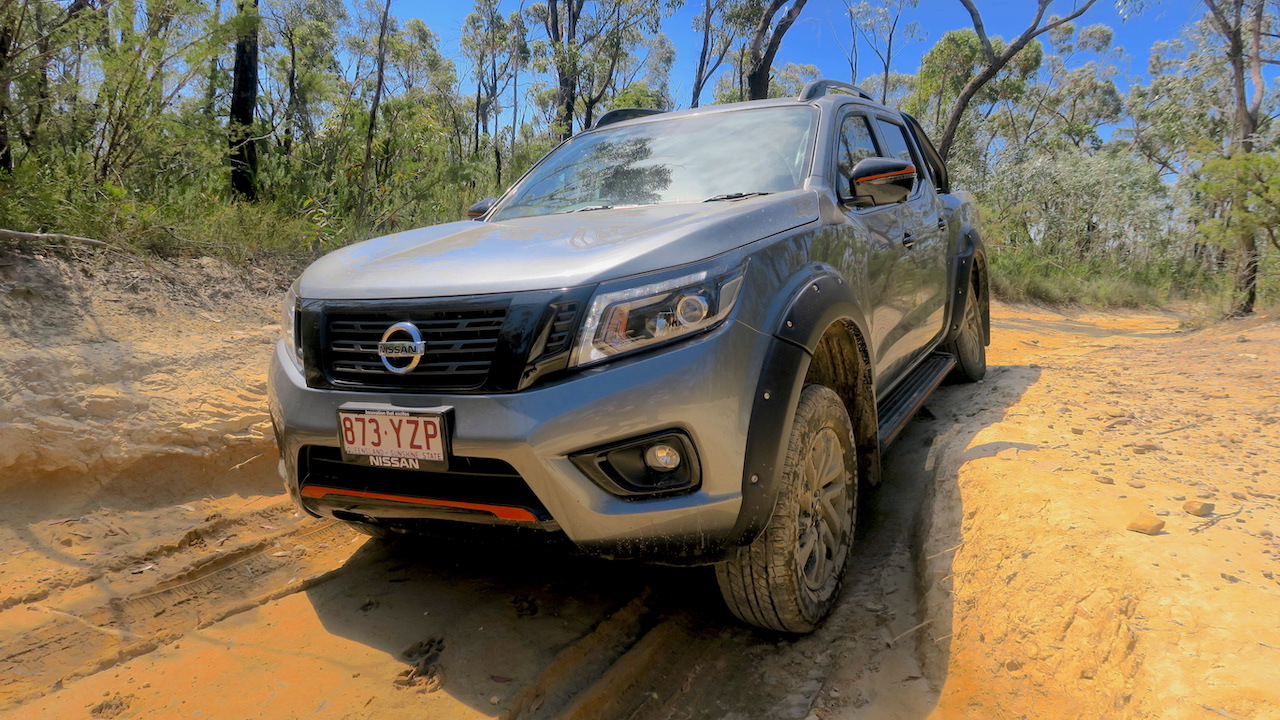 The Navara didn't have any problems across the obstacles we drove and you don't have to be as mindful of the snout as it might look (33.2-degree approach angle), and while the traction control is noisy, it's effective if a little slow to cut in when a wheel leaves the ground or begins to slip. Like other stock pickups, you need to drive the Navara slowly in tricky terrain and carefully pick your lines to avoid catching the nose on the ground or getting caught up in deep ruts. Wheel travel is on-par too with other pickups and while the side steps stick out, we didn't catch them on anything which is not something you can say about the giant side steps on a Ford Ranger.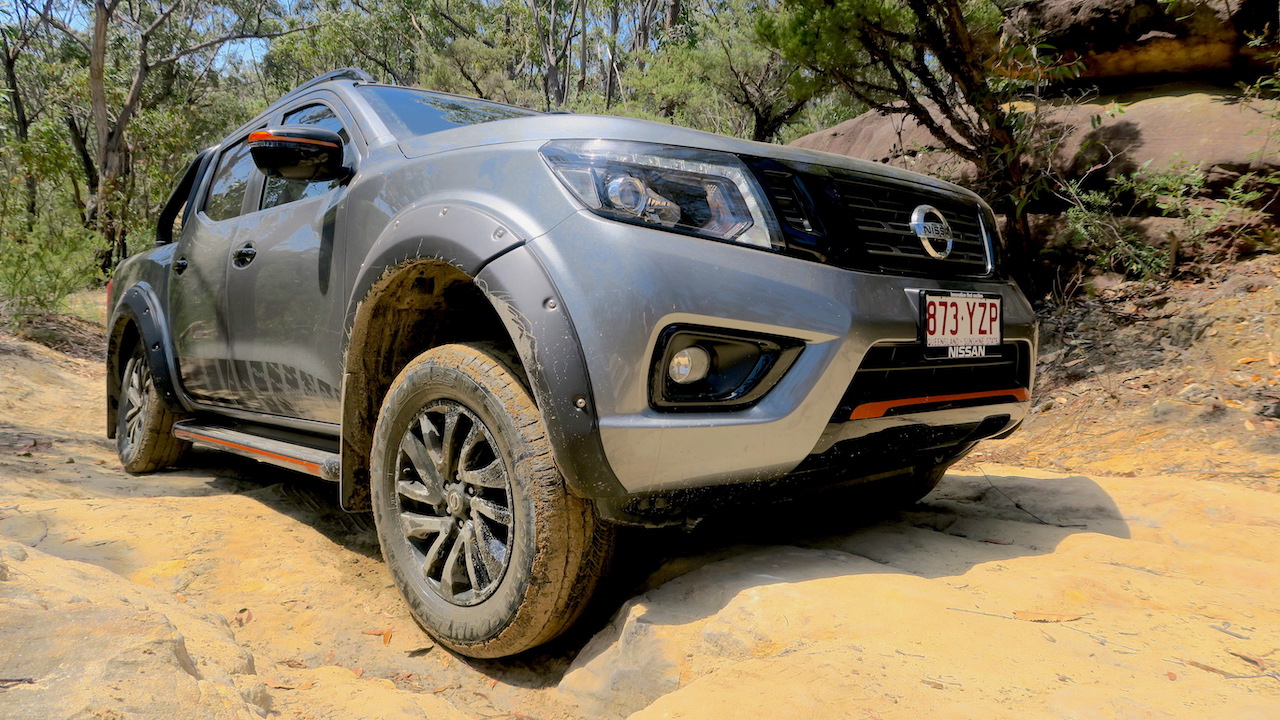 It's main Achilles heel, beyond the lack of clearance, are the road-oriented tyres. We found they filled up quickly with sand and the stuff didn't dislodge easily either. So, switching out the tyres to something a little more aggressive will allow the Navara to go further off-road.
Can you tow with it?
Nissan claims a 917kg payload for the Navara. And it carries the marketing-winning-line of a maximum braked towing capacity of 3500kg. But, as is usual with these things the devil is in the detail. Nissan has been pretty clear with its ratings and payloads and towball downloads, but its numbers aren't as cut and dried as you might expect.
For instance, the maximum towball download isn't 350kg which would be 10% of 3500kg, rather it's 300kg. Sure, other makers have similar discrepancies. But with that 300kg towball download comes a 410kg reduction in payload.
So, if you take the GCM of 5910kg and subtract the weight of a trailer at 3500kg that leaves you with 2410kg (the heaviest the vehicle can weigh when towing 3500kg. Subtract the kerb weight of the vehicle 1993kg and you're left with a difference of 417kg which is all that's left for your payload. Say your towball download isn't 10% and is only 300kg then you need to subtract that 410kg (according to Nissan) and that leaves you with just seven kilograms.
So, realistically, you're better off towing around 2000kg with the Navara because while you'll still have to reduce payload by 280kg with a 200kg towball download, you'll have a lot more real-world payload left to account for things like accessories, passengers and luggage.
What's the interior like?
It's not too bad. Now that Nissan has updated the infotainment system with Apple and Android smartphone connectivity it's a whole lot more user-friendly. Indeed, the native infotainment and sat-nav system is now right up there with the likes of Ford's SYNC3 system.
The new infotainment system has improved the look of the dashboard which looked a little dowdy before the refresh. Of course, being the N-Trek variant, the interior's got leather-accented seats with orange contrast stitching around the place so it feels a little more special than the very-black interior of the ST-X.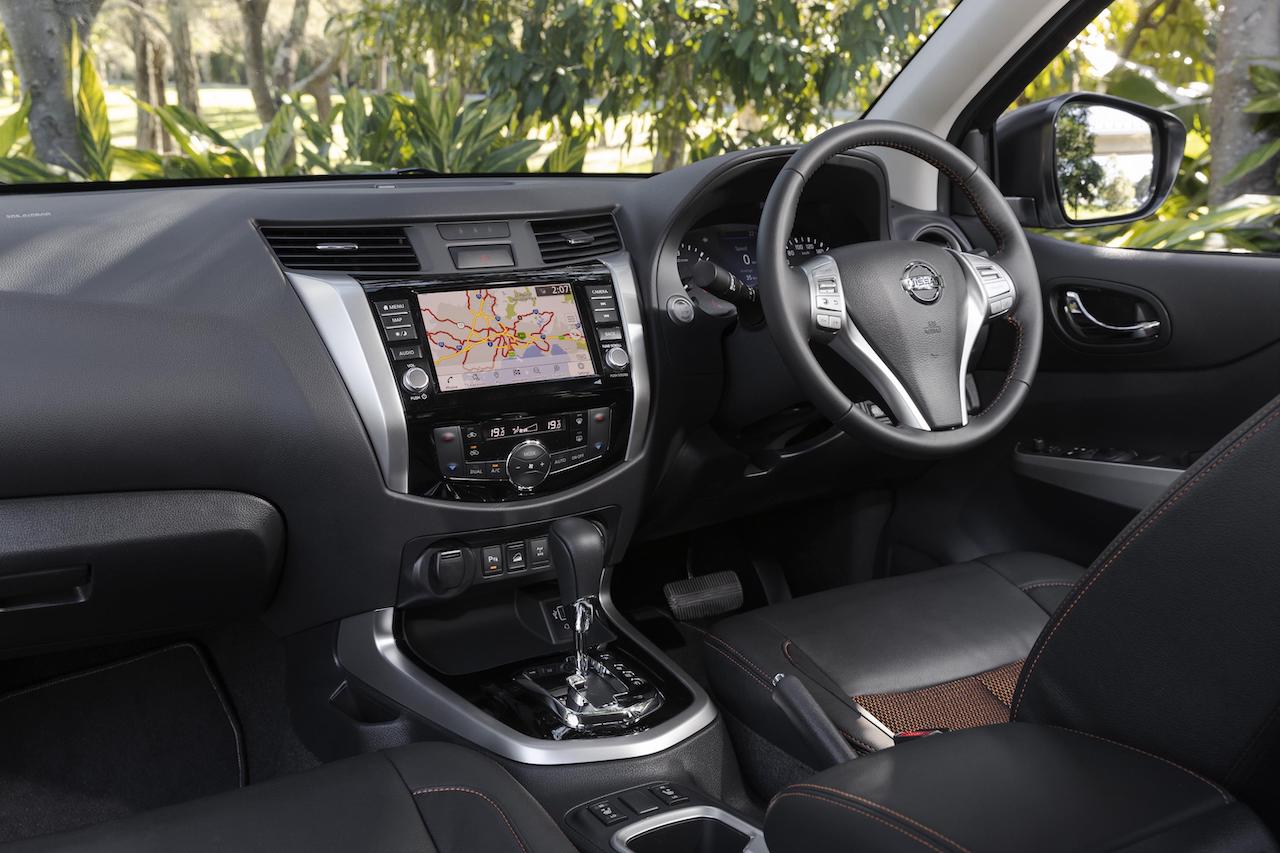 The materials used are all hard-wearing and scratchy, but they don't feel cheap into the bargain and should stand up to family life and off-road touring reasonably well. That said, the carpet seems a little thin, so, a decent set of aftermarket mats wouldn't hurt.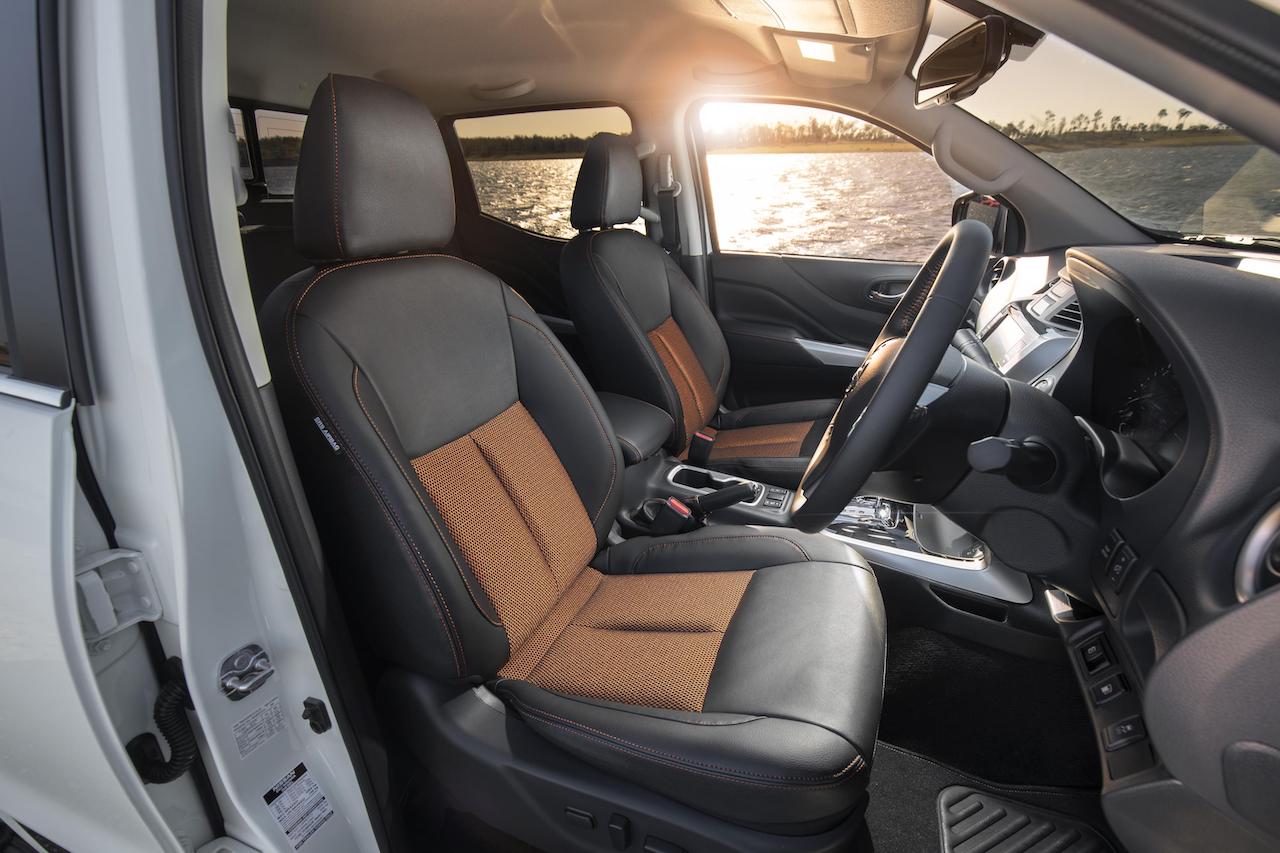 The seats are okay for short distance driving, but they lack decent under-thigh support for those of us with longer legs and, so, you'll need to take regular breaks on long drives to keep from feeling fidgety behind the wheel. The other gripe is that you can't get the driver's seat lower. See, even with the steering wheel raised as high as it will go, for me at least, it felt like the steering wheel was in my lap and that I similarly had to duck my head to see around the rear vision mirror.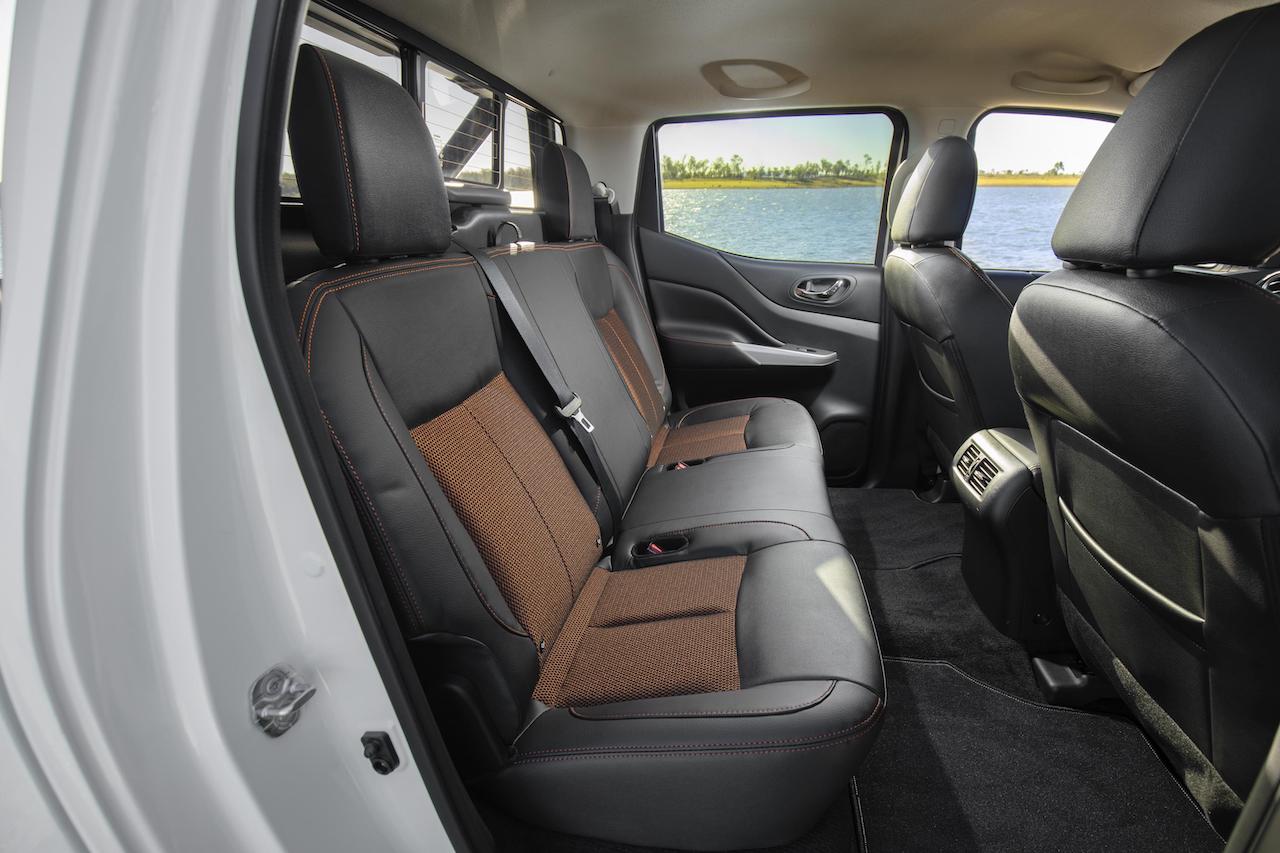 Climb into the back and there are directional rear air vents which is something that not all 4×4 pickups offer. The seats themselves aren't particularly comfortable with a very short set-low-to-the-ground base, and a very upright seat back although they offer decent legroom. The sliding window pane in the back window is handy for some extra ventilation and won't cause buffeting if opened while driving.
How practical is it?
We've discussed towing and the seating setup, so, what about the tray. The tray is lined and gets Nissan's slide rail tie downs. These look good but they're mounted up at the top of the tray when they'd be better off down on the bed of the tray which would allow you to actually tie down objects. There are four tie-down hooks low down on the bed which are of more use than the slide rail system.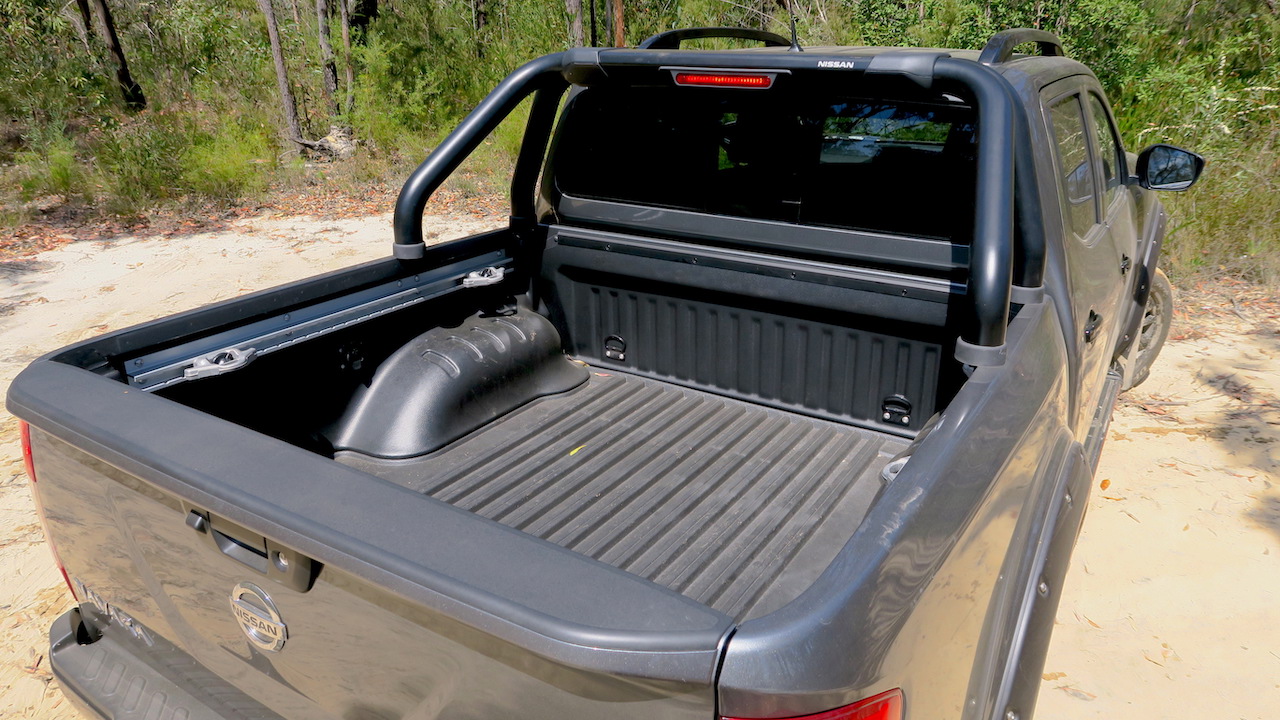 The tray itself isn't huge. It measures 1503mm long which is actually shorter than the tray on a Mitsubishi Triton, but it measures 90mm wider at 1560mm. The width between the wheel arches measures 1130mm and the depth of the tray sides measures 474mm. The tray overhangs the rear axle by 1235mm. Like the ST-X, the N-Trek offers shallow roof rails which you can mount a rack on.
Nissan upgraded its warranty to five-years and unlimited kilometres with 24-hour roadside assist built in. Nissan also offers capped-price servicing on the Navara with prices ranging from $532 (diesel manual) and $526 (diesel automatic) up to $805/$798 depending on the service. Service schedule is 12 months or 20,000km.
What about safety features?
The Navara carries an old five-star ANCAP rating (2015) and it wouldn't achieve that rating today if tested. See, the Navara misses out on active safety systems and makes do with the bare minimum of seven airbags, ABS, traction and stability controls, rear locking differential, rear parking sensors and a 360-degree camera. The camera isn't very high in quality and washes out severely at night.
So, what do we think?
If you want to spend $3700 more for some stickers and bits of black trim, then knock yourself out and buy the Navara N-Trek. The ST-X offers the same experience for less money and the money saved can be put towards better tyres. If you want a factory setup Navara then you'll need to wait for the N-Trek Warrior in December.
On the face of it, though, the Navara N-Trek (ST-X) drives and rides well, is competent off-road but lacks active safety and the back seat is one of the least comfortable, if not the least comfortable, in the segment. And, for those who tow, you'll need to be mindful of the payload restrictions depending on the towball download.