Toyota's latest HiLux, which has historically been one of Australia's best-selling cars, has hardly hit the showroom floor domestically, but has already been catered for with a range of aftermarket gear by Ironman 4X4. Check out these pics of the Toyota Hilux Ironman Bullbar and rear bar.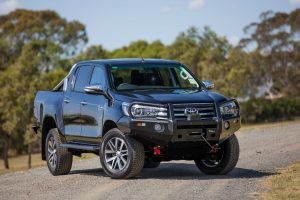 BULLBAR
We aren't sure how Ironman have this stuff in the marketplace so quickly, but the new Bullbar gives new HiLux owner an aftermarket option for some steel frontal protection. It's worth noting here that Toyota have developed some barwork with their own aftermarket accessory range, but will be substantially more expensive than some aftermarket options.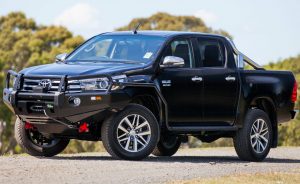 The edges of the Ironman bar are multi-folded and quite angular, giving it a sharp overall look. Approach angle, compared to factory, is increased quite well, giving the HiLux much more off-road ability and toughness. There is a fairly narrow front airdam at the front, and Hi-Lift jack points on the main section. Winch comatibility is available throughout the range of bars; the way the fairlead is inset on these models means you'd have to keep an eye on your fleet angles, to avoid damage to the winch rope.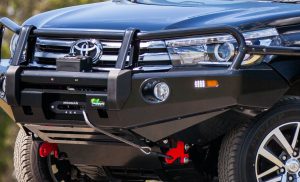 Uprights are short and straight, supporting angled and curved hoops that follow the modern design of the HiLux's front end. The wings wrap around the side of the car a fair bit, giving you some extra protection from the side. If you need more, opt for the modular brush bars and side steps, which can be added at a later date without any issues. There are LED indicators and park lights, and what looks to be a halogen fog light built into the bar.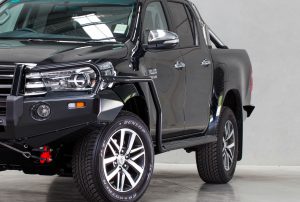 Protection continues down towards the steering components and front driveline, although we aren't sure how sturdy this stuff is at the moment. Front recovery points are a crucial addition that Ironman have catered for, and you can't miss these big red ones on this rig.
REAR BAR
This looks to be a simple and smart design from Ironman, making only a subtle visual difference to the Hilux. It's made of 4mm steel, and also sport jacking points and (of course) an integrated towbar. These bars also wrap around the rear nicely, giving a good degree of protection against collision, animal strikes and off-road driving.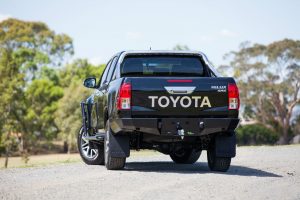 If you don't want to go the full monty, you can also opt for a low-profile tow bar, which works with the factory Toyota rear bumper.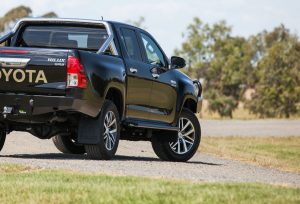 PRICING:
Commercial Bar – $1125
Commercial Deluxe Bar – $1295
Protector Bar – $1485
Side Steps – $595
Side Steps & Rails – $693
Rear Protection Tow Bar – $1175
Tow Bar – $440 + $200 (loom)
Recovery Points – Under $150