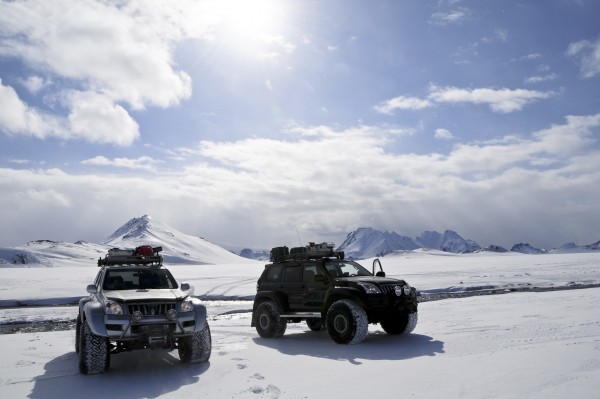 A few years back we featured a travel story from Iceland, undertaken from behind the wheel of one of these two eye-popping Toyota 120 Prados built by Arctic Trucks. These things are kitted out extensively for travel over snow-covered glaciers and volcanic rock that would shred a lesser vehicle in seconds, and they're equipped with every bit of touring gear you could imagine.
What really sets them apart though is the heavily raised suspension, wild flared guards and monster 44in tyres – just the thing for floating over soft snow drifts without sinking in. The long-range fuel tanks mean they can explore the vast expanses of white landscape without running out of fuel and they even have crawler gears in the transfer case to help out with turning those massive tyres and idling up to the rim of a volcano.
Hmmm, wonder how our engineer would feel about signing off on a set of those tyres and flares for a Patrol…? Do you want to see the full travel story? Grab yourself a copy of Pat Callinan's 4X4 Adventures Issue 001. It's a collector's edition, and is extremely limited in numbers.