After multiple remote trips, Grant Hanan and Linda Bloffwitch customised their 79 Series LandCruiser into a comfortable escape machine built to 'go anywhere, do anything'.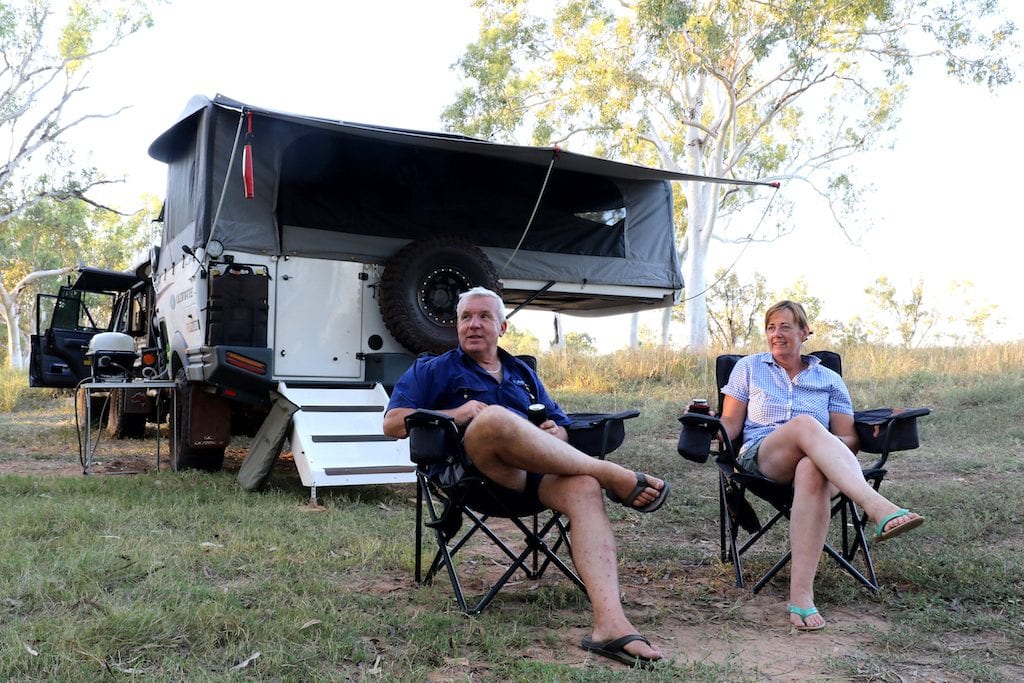 THE OWNERS: GRANT AND LINDA
About six years ago we had a vision to build up a dedicated touring vehicle that would allow us to escape everyday life – you know, the 'go anywhere, do anything' type. Grant has always been a camper in some shape or form, and I started hitting the tracks in my late teens. Together, we've owned a range of four-wheel drives, campers and caravans over the years that have taken us to some sensational destinations. While looking around for a new tourer back then, it was the Toyota 79 Series dual-cab that came out on top for its capability and reliability. After six months of frustrated searching, we thought we'd struck gold when this vehicle came onto the market.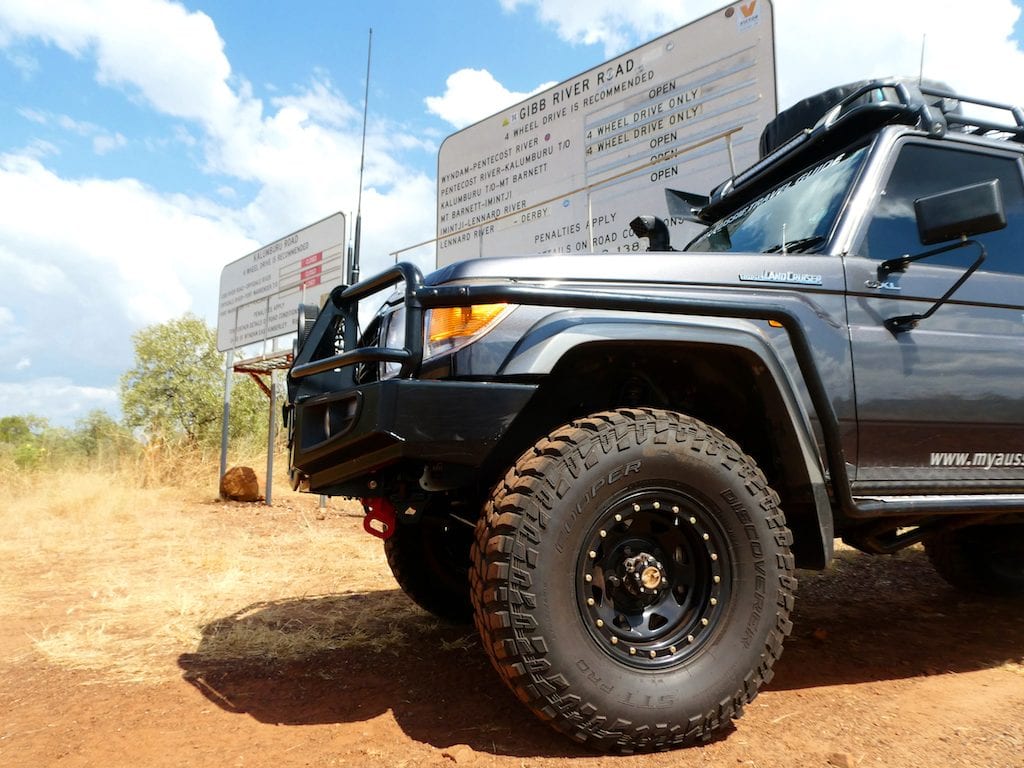 THE VEHICLE
Our 2013 model had already undergone some simple upgrades prior to purchase, but what made it stand out was its unique canopy. The vehicle was initially a concept prototype built by Aussie camper manufacturer, Conqueror Australia, who designed the canopy to fit the lines and width of the LandCruiser. We knew the vehicle still needed work to meet our long-term remote travelling needs, but it was a great base to work with. After a couple of trips to the Kimberley and another to Western Australian deserts, we got to know the vehicle and found what worked for us and what didn't. We came home knowing it wasn't going to be a simple canopy rebuild, but more of a holistic approach to the entire vehicle.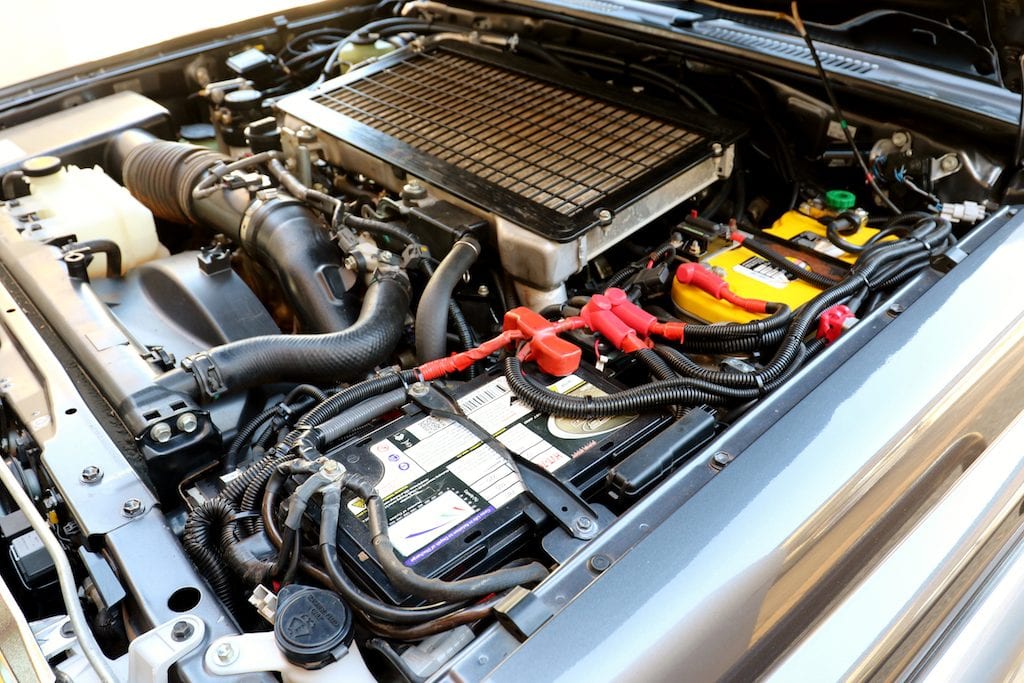 ENGINE & TRANSMISSION
We felt the standard 4.5-litre V8 engine was already seriously good, so applied the KISS approach by making just a few tweaks. A Steinbauer module was added for a bit more torque and power, particularly for towing, and the clutch was upgraded to an Xtreme Outback heavy-duty unit to improve the clamping force. The intake system stays clean these days via a Flashlube Catch Can Pro.
Increasing the fuel range from the standard 130-litre capacity was paramount for remote travel, so an additional 95-litre Long Range tank was added to take the total to 225 litres, while jerry cans take up any slack. The existing Beaudesert dual three-inch stainless steel straight-through exhaust needed to be modified to make way for the additional fuel tank, and an inline pre-filter prevents taking on dodgy fuel while remote touring.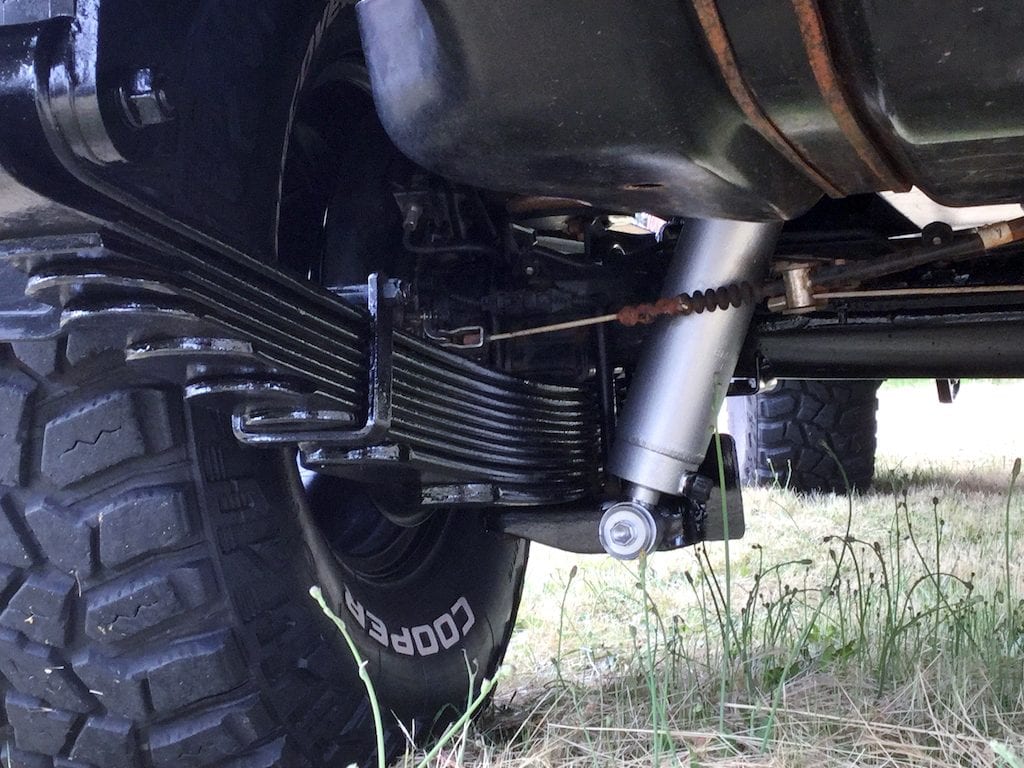 SUSPENSION & TYRES
The suspension is one area that's always being played around with. We're currently riding on a three-inch lift fitted with Tough Dog adjustable shocks and an upgraded spring pack, and some rear airbags assist when fully loaded (which are adjusted as necessary). We're running Cooper STT Pro 315/75R16 tyres on 16-inch Dynamic steel rims, Ultimate Camper and our new custom-built Jacksons Quad Camper so we've got everything interchangeable. They've all been fitted with internal sensors for real-time tyre management monitoring as well. And we'll even throw a spare tyre and tube on the roof rack for trips as required.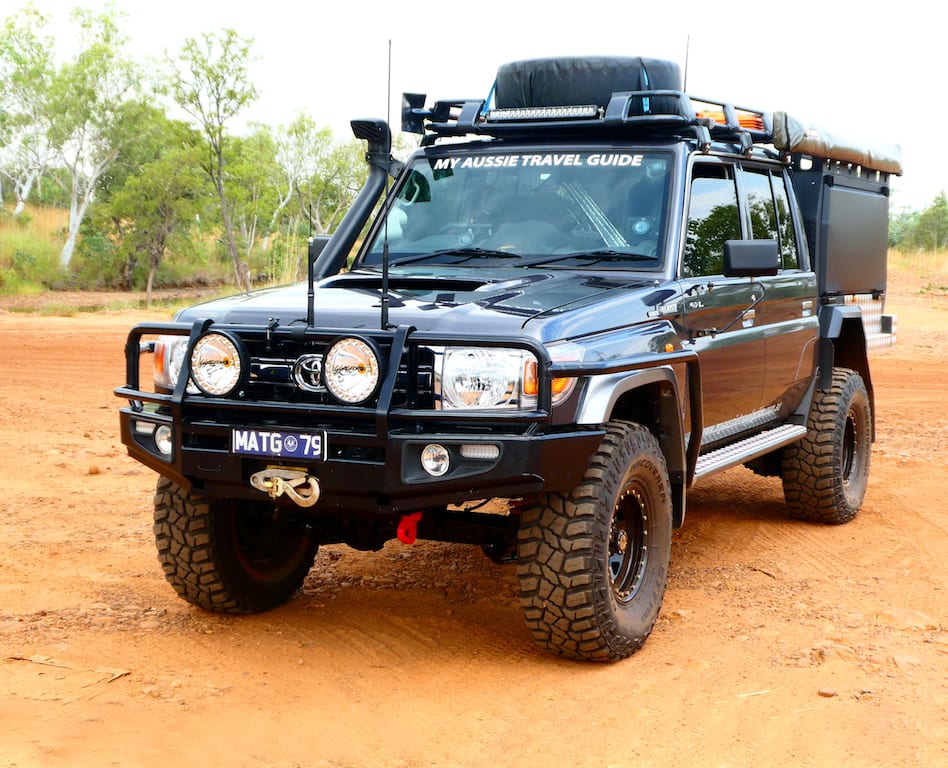 BODY WORK
Standard upgrades include steel side rails and side steps that are integrated into a bull bar that has a TJM 12,000lb winch and two Oricom UHF aerials (3dB and 9dB) to cover all types of terrain. Lighting is provided by Lightforce HTX driving lights and a Lightforce 20-inch LED light bar up the front of the roof rack. The headlights have been upgraded to LED for better night vision driving.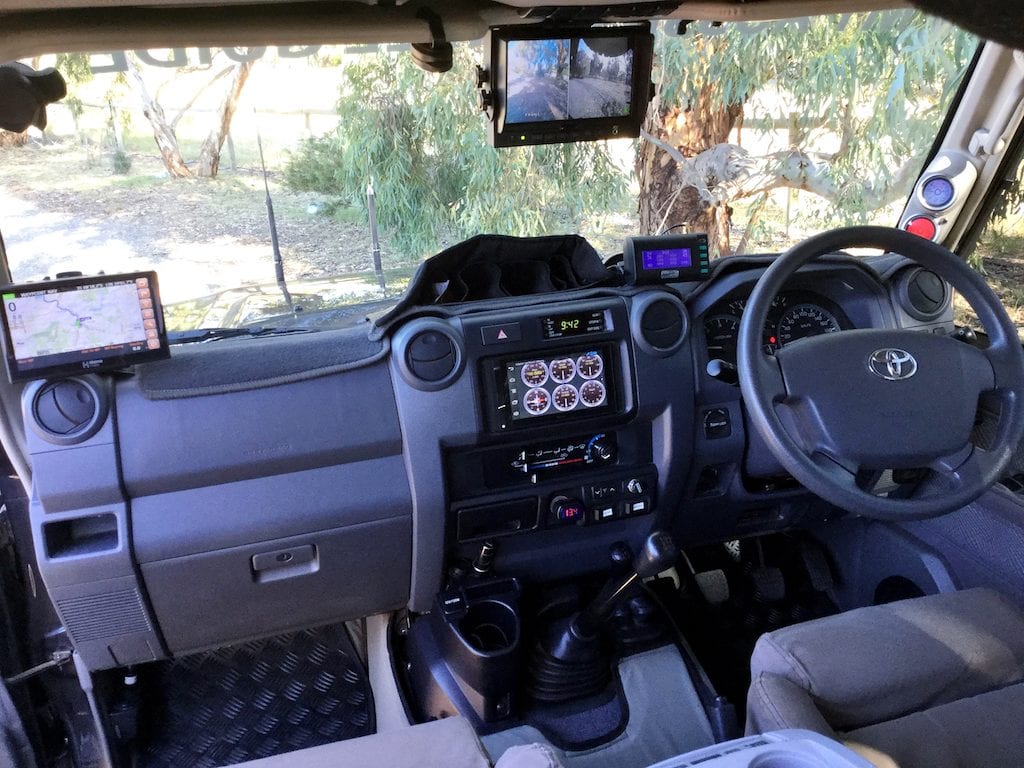 CABIN
This area has been given a lot of attention as we ended up gutting it and starting again. Dynamat sound deadener was initially applied to the body and doors to lower road noise and improve music acoustics. Two new separate wiring circuits were then added to handle all the accessories. A custom overhead console was made to free up some dash clutter, and now holds some master switches. We also added a Fusion stereo headunit, Redarc Manager 30, a monitor for keeping tabs on three external cameras, some lighting, storage pockets, and his and hers Oricom UHFs (DTX4200 and UHF5500). The overhead console has been one of our best mods.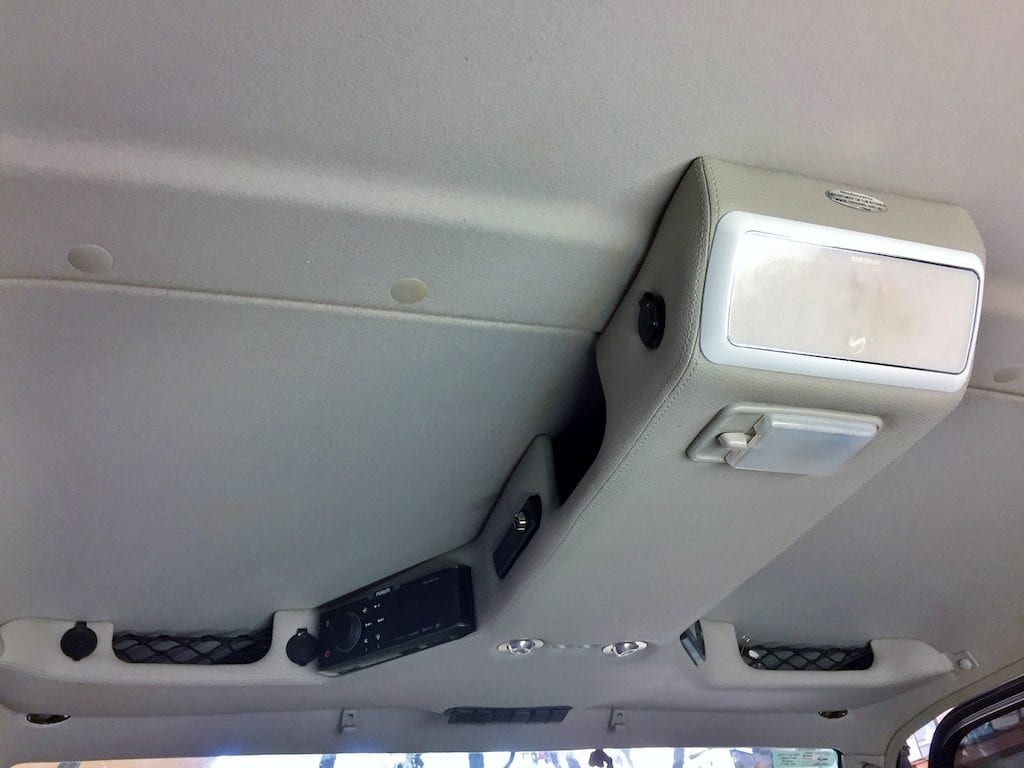 Other communications are covered via SPOT tracker and satellite phone, and the Hema HN7 and an iPad running the Hema app are used for navigation. Mapping software is in the din–mounted Parrot (an android-based touchscreen unit) which also displays the ECU diagnostics, and a Panasonic Toughbook looks after data backups. Redarc pillar pod gauges display EGT, boost and oil pressure along with 12V electric displays, and the SensaTyre TPMS monitor is close by. We love that seat comfort has been significantly improved with Recaros for both driver and passenger; these are covered with Black Duck canvas seat covers.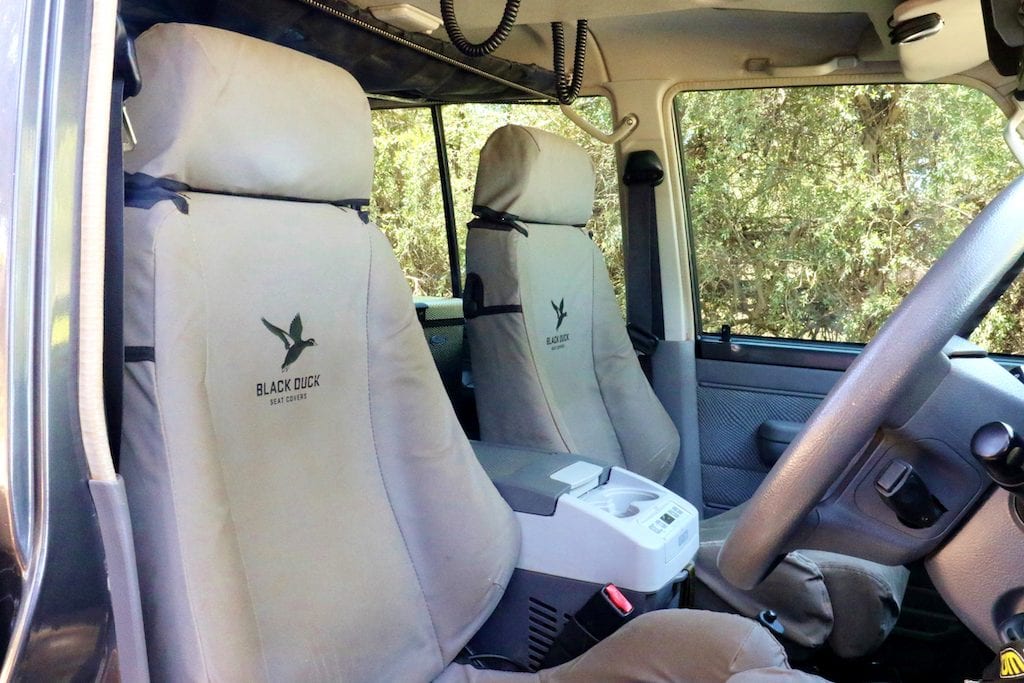 Music from the Fusion located in the overhead console plays through new speaker door pods and a sub-woofer located in the cabin's rear. An ARB twin compressor has been mounted under the driver's seat, which has been plumbed to an external 20-litre air tank mounted under the canopy, and multiple outlets around the vehicle allow quick access to compressed air.
A Waeco console fridge provides easy access for on-the-go cold drinks and snacks, and a power supply and provision for a fridge/freezer has been made in the cabin's rear where a false floor has been added. A Redarc 1000W inverter is located in the cabin for charging photography and video batteries on the go. To make full use of the rear cabin space, as there's a bit of dead space above the fridge/freezer, an overhead mezzanine-style net is used for storing soft stuff such as clothing, towels and hats.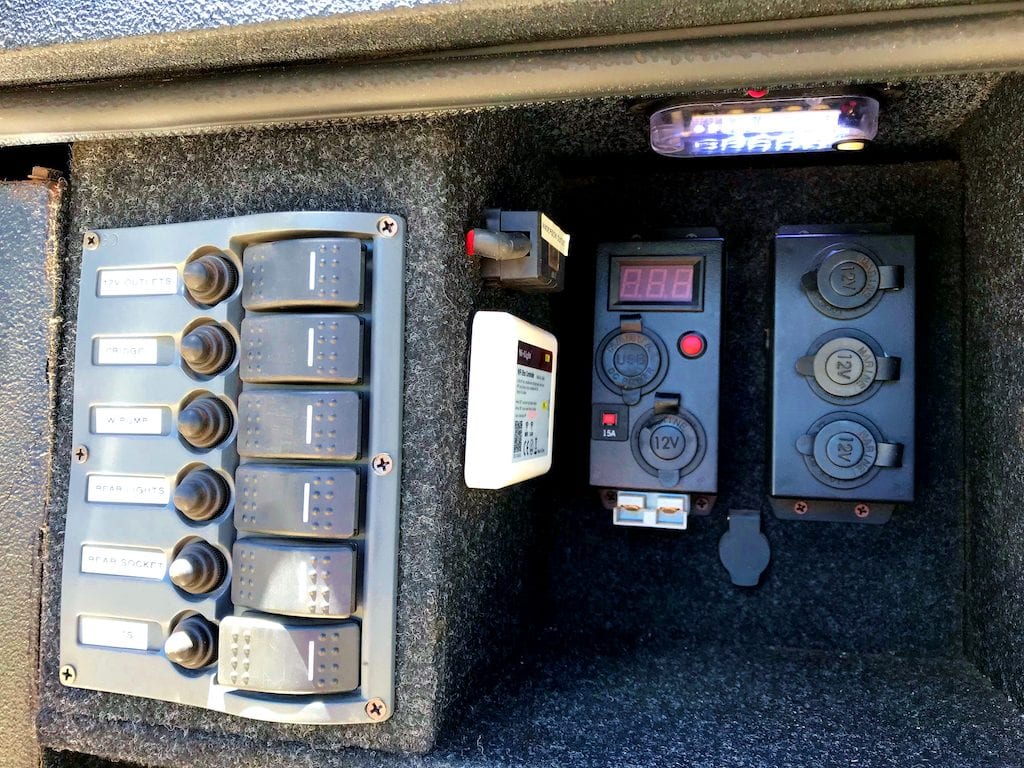 ELECTRICS
An Optima auxiliary battery controlled by a Redarc BCDC40 lives under the bonnet and supplies power for the cabin accessories; it can also double as a spare cranking battery. In the canopy, there are two Revolution 100Ah lithium batteries to keep all the power-hungry accessories topped up and these are managed by the Redarc BMS Manager 30. The whole system has been fused and protected. We've got provision for a fixed roof-mount solar panel, but both camper trailers can also feed solar back into the vehicle to reduce the alternator load. While camped, we use two Redarc solar blankets (150W and190W).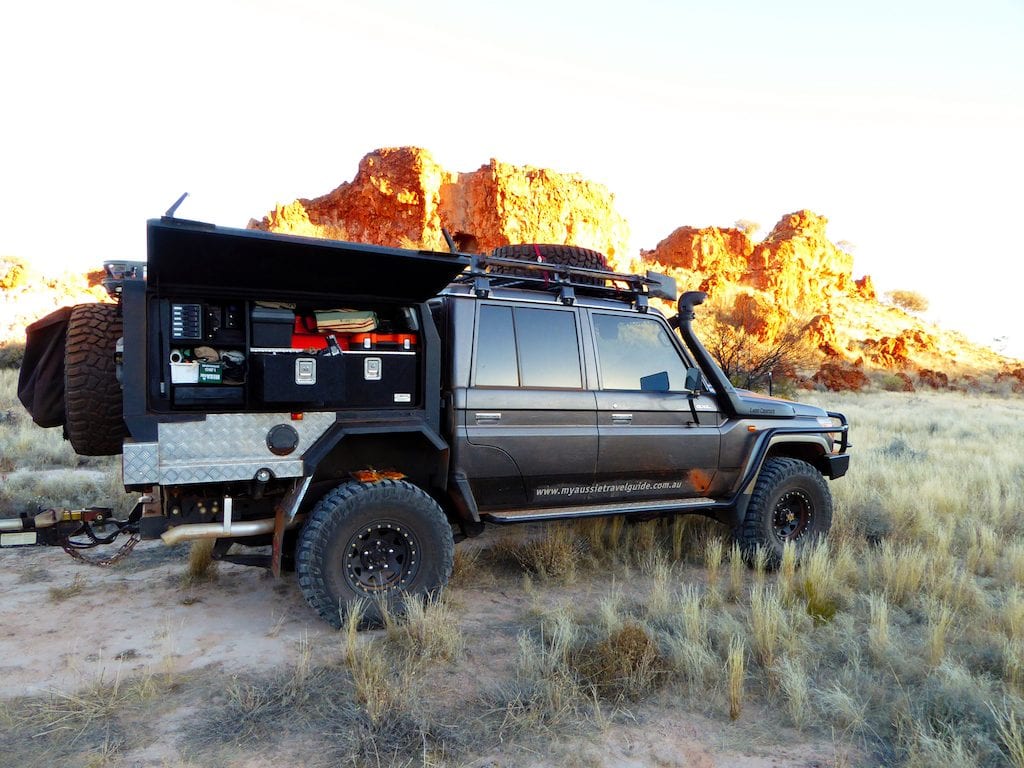 THE CANOPY
We found the canopy storage didn't work for us in its original configuration. The external shape and design remain the same, as does the Raptor coating finish that's strong, durable and can easily be touched up but, unlike the exterior, the internals have undergone a complete revamp as the original design had far too much weight at the rear.
We looked for a storage solution that could be modularised, so we could mix and match the canopy's use. We provided some specs to Drifta for a custom build, and it can now be anything from an empty shell, to maximising every bit of space with a functional kitchen and tools/spare parts storage.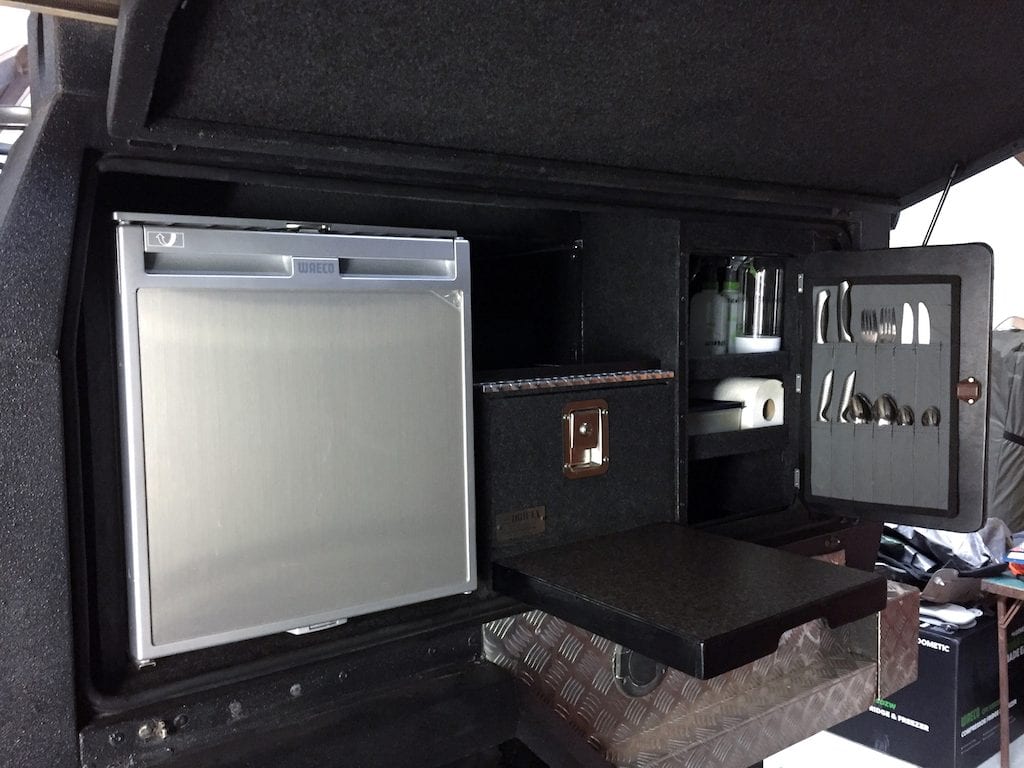 The passenger side incorporates an upright Waeco CR65 fridge, which is far lighter than our old fridge, takes up less space, and doesn't need a fridge slide. Towards the canopy rear, we took a pantry style approach for food and utensil storage. An integrated slide-out table is incorporated on this side which is used as a prep area, but also transforms into a dinner table if needed.
The driver's side is the working side as it has all the 12V master electrics and there's no shortage of 12V outlets with USB, Anderson, Hella, and conventional cig style available throughout the canopy. Tools, spares and miscellaneous items are also kept on this side in drawers. Another integrating slide-out table has been fitted and operates the same as the passenger-side table.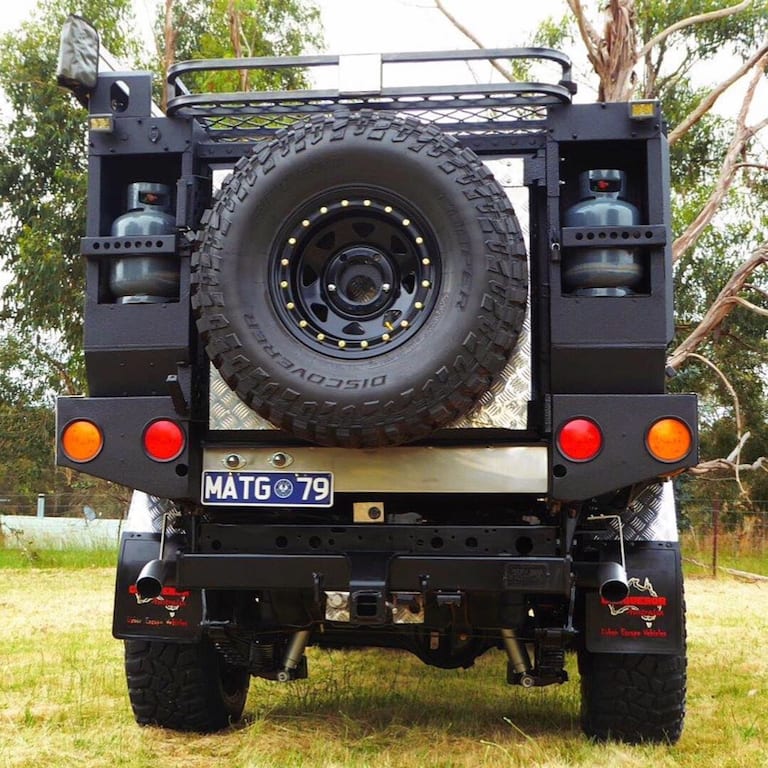 The canopy's rear has two gas bottles that can be interchanged with small jerry can containers, and a couple of Lightforce ROK 10s are used for camp lights and reversing. The canopy has been shaped to sit between the chassis rails rather than on a tray, so there's further storage space inside the rear canopy door using a false floor concept. Underneath the canopy, there's a 65-litre water tank with a tap on the passenger's side, which is connected to a 12V pump. Up top, two aluminium roof racks hold a mix of Maxtrax, jerry cans, space boxes, hi-lift jack, rooftop tent and a Foxwing awning, depending on the trip.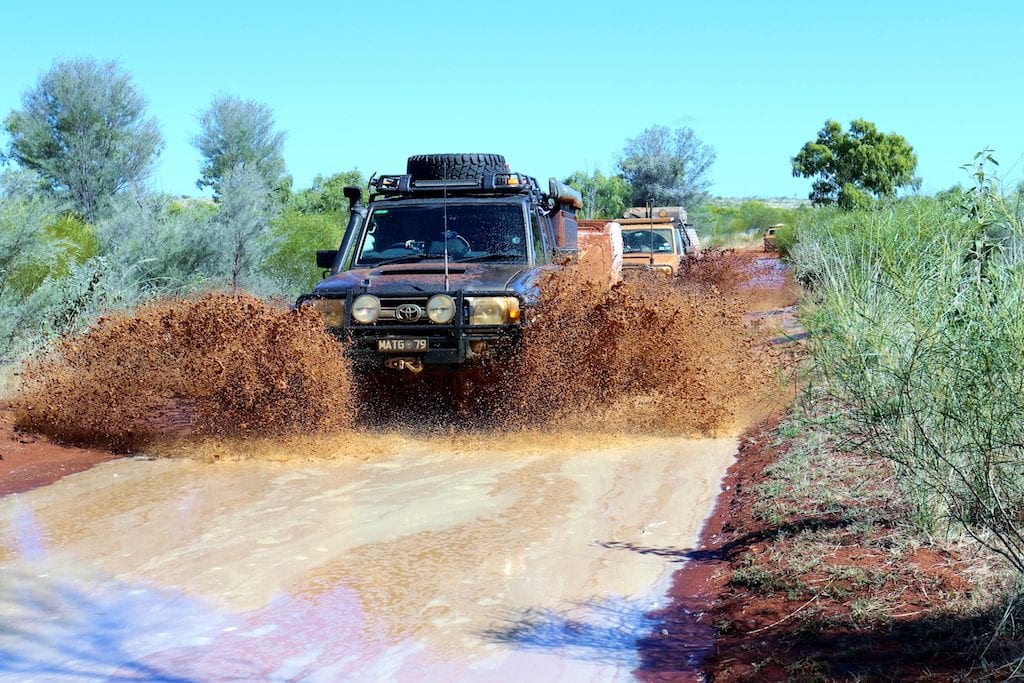 FUTURE PLANS
It's been an extremely reliable and flexible vehicle that works well for our style of touring, whether we've got one of our campers in tow or are simply travelling solo. But just like most four-wheel drives, ours is still a work in progress. Future mods we're looking at include strengthening the drivetrain, improving gearing, investigating suspension systems and improving the woeful Toyota LandCruiser braking. We've loved the changes we've made so far, and the flexibility we have means we can now escape to anywhere in comfort.