Hot off the press is a new bit of kit from the team at Baintech (Bainbridge Technologies); a new 110Ah slimline lithium battery with an inbuilt 20A DC-DC charger.
In a brand new product that Mr4X4 has gotten the exclusive on, Baintech (Bainbridge Technologies) has just released its newest offering, a slimline 110Ah lithium battery with a 20-amp DC-DC charger built-in. When we say slim, we mean proper slim; not 120mm like some of the lead-acid 'slimline' batteries getting around, but just 50mm wide. So you could happily put two of these puppies in the same space that you would be able to put a 'slimline' lead-acid battery. Not to mention that with the lithium architecture, you're already able to use double the rated capacity. More on that below.
The new slimline 110Ah lithium batteries from Baintech feature an internal proprietary (meaning they are Baintech's own, not another manufacturer's) BMS (Battery Management System). The BMS controls the battery, and also provides safety from overcharging and over-discharging, which will quickly kill a lithium battery. From there, the internal cells are enclosed within their own aluminium cases, not plastic like nearly all other brands, and also the entire battery is covered in a tough hammer-tone style powder-coated aluminium enclosure as you can see in the photos.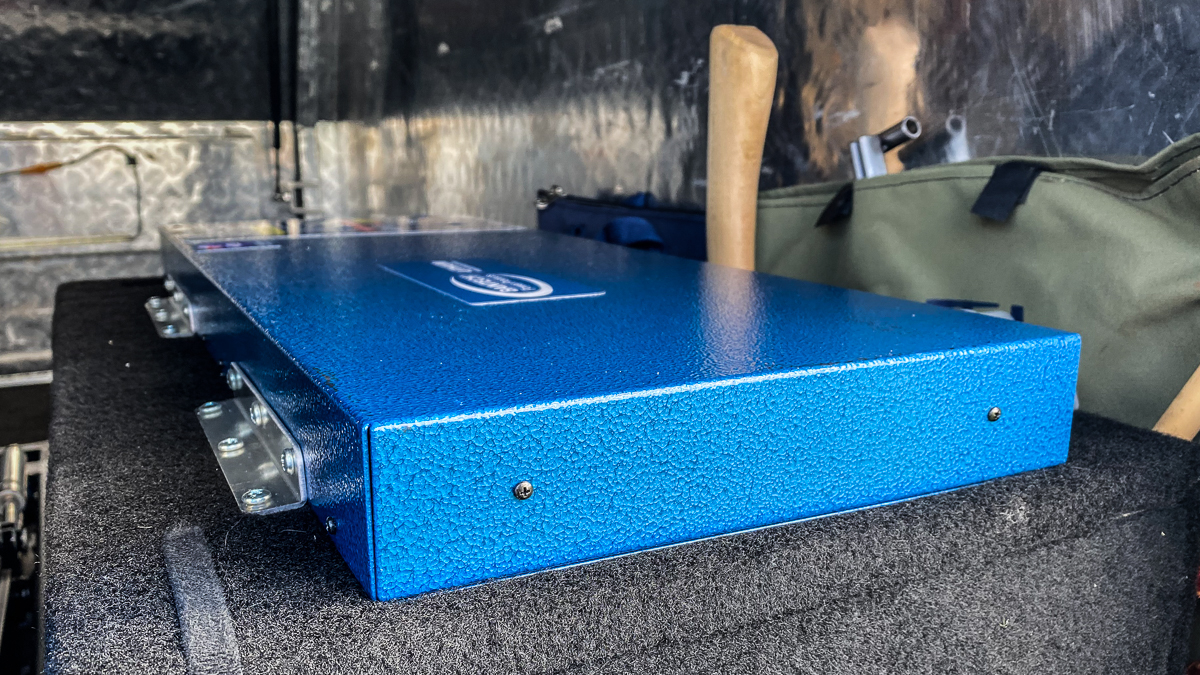 Another interesting feature is you can happily connect these batteries up in parallel, meaning by putting two together, and connecting them up via the Anderson plugs, you increase your capacity by double; up to 220Ah. For those looking to support Australian manufacturing, we're happy to report that the batteries are fully designed and assembled in Australia (up in Brissy), and weigh in at just 11kg a piece.
For the charging side of things, the Baintech lithium slimline battery's included 20-amp DC-DC charger means that you can either wire it directly to the start battery of your vehicle, or you can run it from a cigarette socket. Some newer vehicles are equipped with a 20-amp cigarette socket, and a plug that will carry 20-amps can be had from your local Jaycar electronics store. This little feature alone makes this battery ideal for when your four-wheel drive is both the weekend escape vehicle, but during the week it doubles as the shopping wagon and mum's taxi. Being just 11kg means you can pull it in and out of the back of the four-wheel drive as you need to, without any fuss.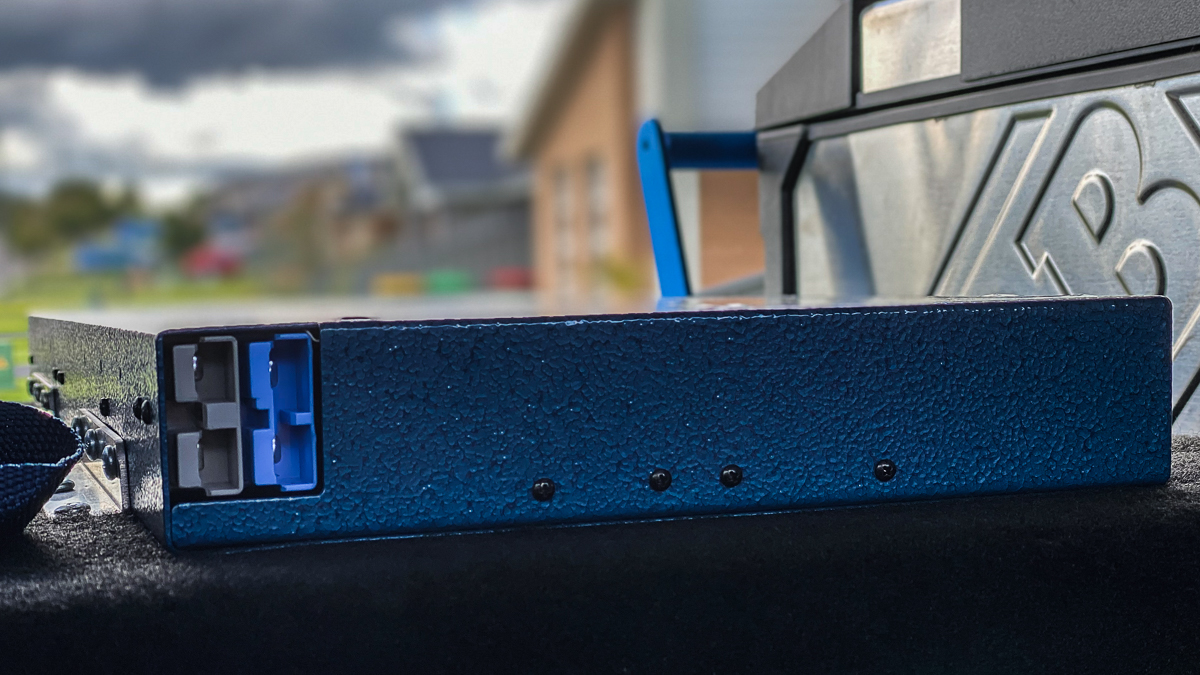 While you're charging, the DC-DC charger has a built-in VSR (voltage sensitive relay) that turns the charger on at a certain voltage, and then turns it off below another voltage. This saves the internal charger from draining your starting battery. In the image below you'll notice the little window in the front of the battery enclosure that has a clear sticker over it. To the bottom is a display LED which will let you see when it's charging, and also to the top of the little window is a tiny trim-pot (or trimmer potentiometer). What the trim-pot will allow you to do is change the voltage at which the DC-DC charger turns on and off, with a 0.5-volt window from on to off. You can turn the trim-pot with a small screwdriver, and the instruction manual gives you all the info you need to set it up to your specific vehicle, which allows it to work with both standard and 'smart' alternators, and allows for a touch of voltage drop over your cable run.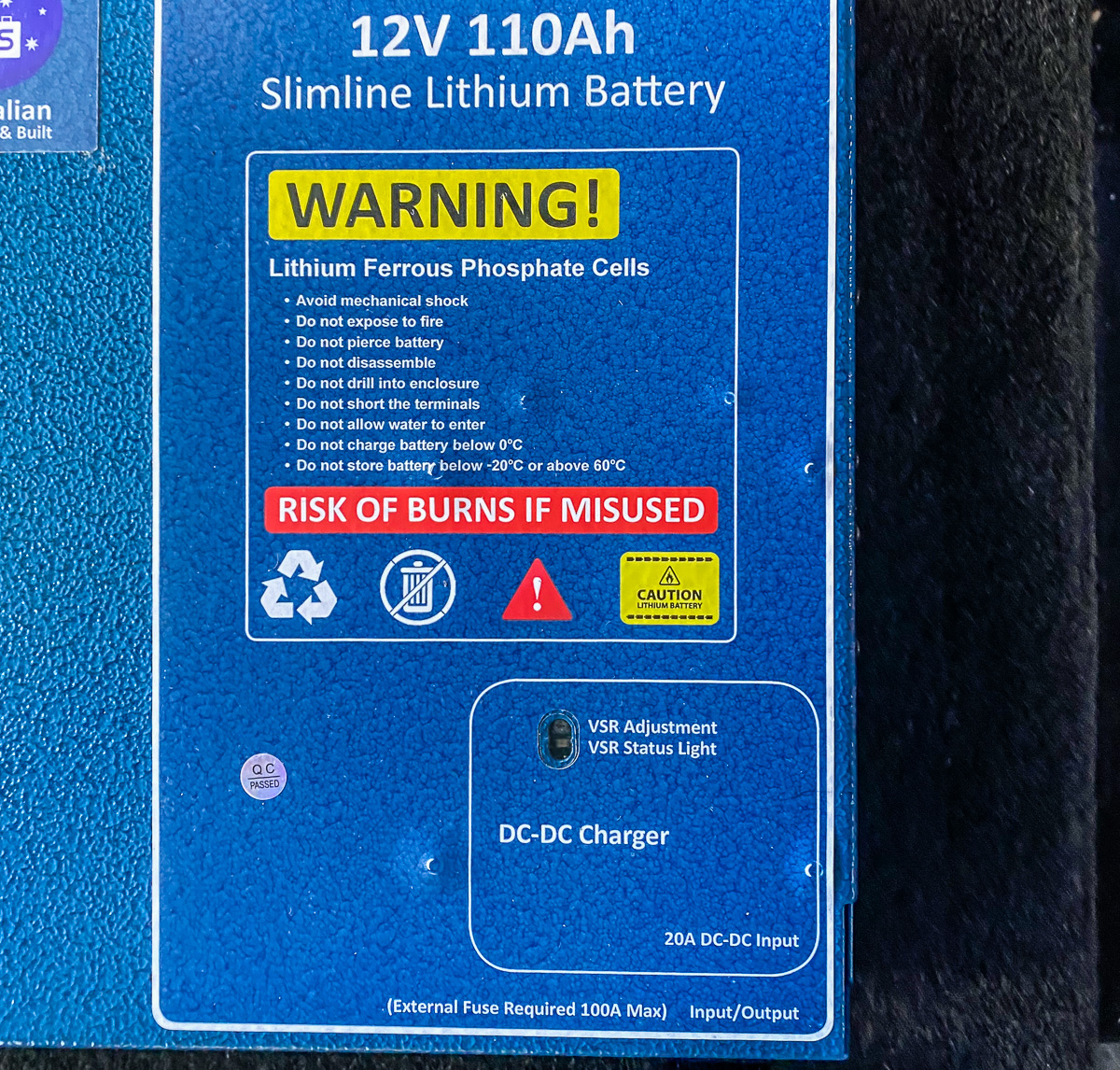 The battery itself is able to put out 100-amps continuously with a 200-amp peak discharge load rating (for starting motors or pumps etc.), and also be charged back up at a whopping 100-amps. It will operate quite happily between 0°C to 45°C and comes with a massive five-year warranty! If you're curious about life-cycles, this is where it gets really interesting. If you discharge the battery to just 20 per cent remaining, it will be good for 2000 cycles; if you're down to 50 per cent, it will happily run 5000 cycles.
To put that in perspective, think of it like this: Say you've got the fridge, lights and accessories running off it overnight, and you use 50Ah that night, you're down to 50 per cent power remaining, and the next day it charges back up to 100 per cent. The battery will still be good after doing this 5000 times. If you happen to run it down to 50 per cent every single night of the year, the battery will still be good after 13.7 years. Yep, really. The math looks like: 5000 cycles divided by 365 days a year.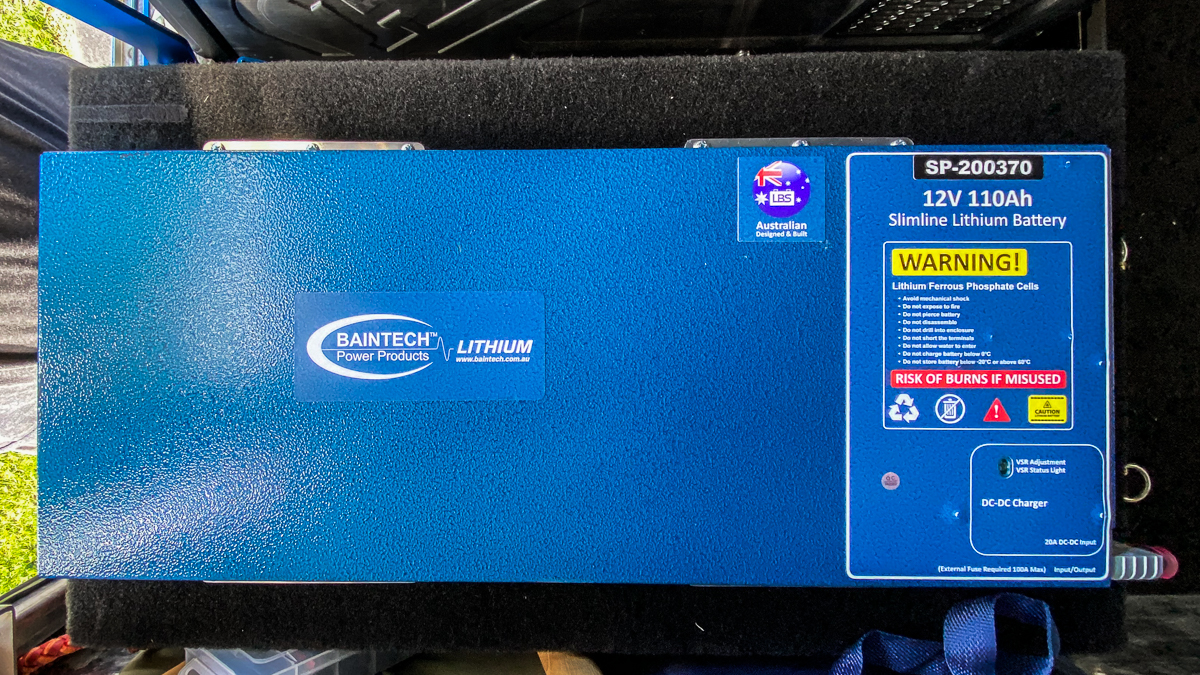 I'm going to test the backside out of the Baintech lithium slimline battery, load it up, and run it hard and see what I can get it to do over the next six-12 months, and I'll make sure I check back in every so often and let you know how it's going. But considering Baintech's reputation, and how long the company has been around, I've don't have any concerns it's going to be anything but incredible.
The tech specs:
Capacity                                               110Ah
Nominal Voltage                                12.8V
Type                                                      LiFePO4
Charge Voltage                                   14.6V max
Charge Current                                  100A max continuous
Discharge Current                             100A continuous
Discharge Current                             200A peak
Operating Temp                                 0-45oC
Weight                                                  11kg
Life at 80% DoD                                 2,000 cycles
Life at 50% DoD                                 5,000 cycles
Size (LxDxH)                                      635mm x 50mm x 260mm