Has Ford rediscovered adventure with Bronco Overland Concept?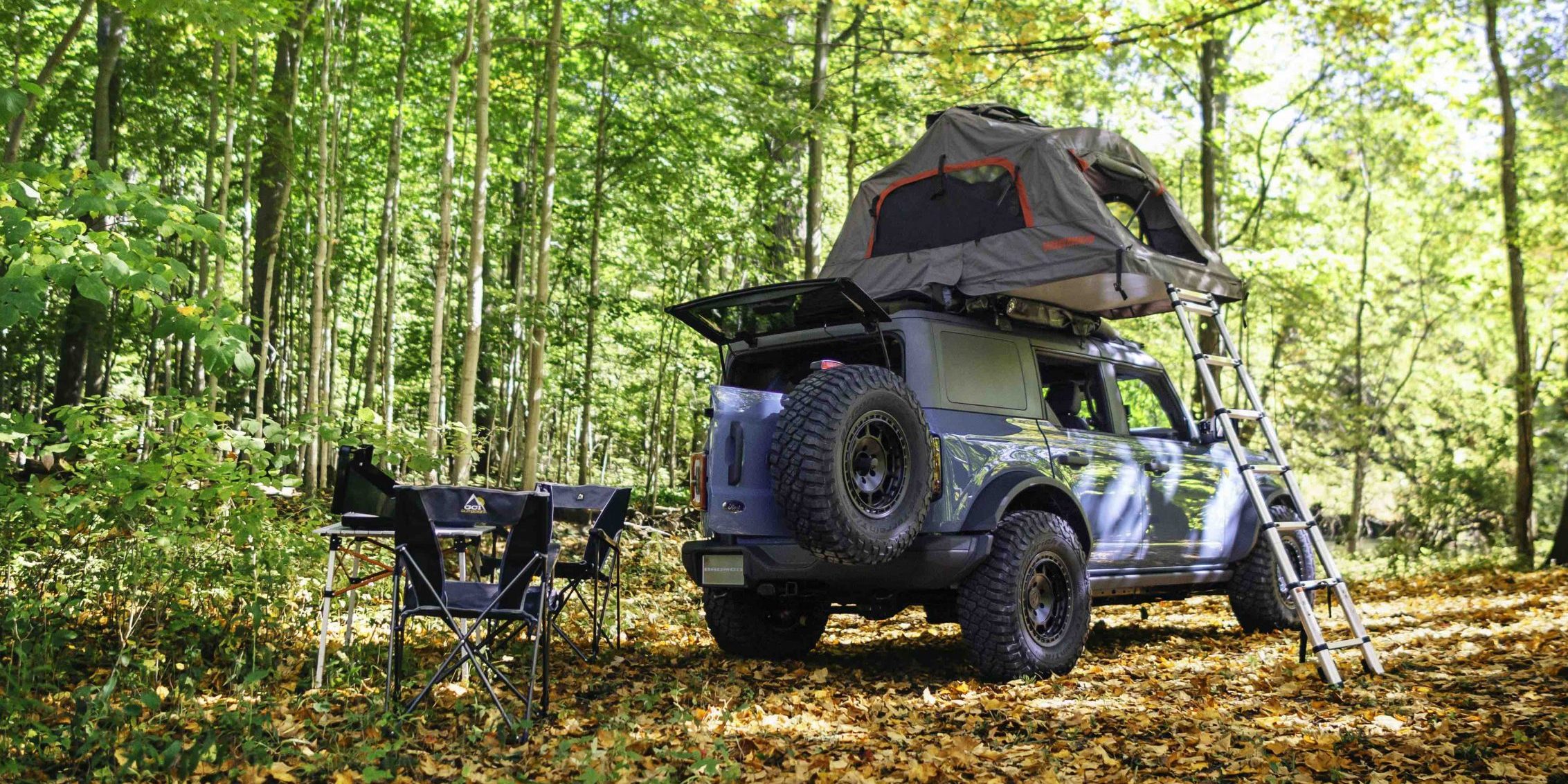 It seems as though Ford has rediscovered overlanding as evidenced by the aptly named Bronco Overland Concept vehicle to kick off this year's Bronco Super Celebration East in Townsend, Tennessee.
The Bronco Super Celebration is claimed to be the largest North American gathering of classic Ford Broncos and, in addition to this Bronco Overland Concept, Ford will have a display featuring various models from the new two- and four-door Bronco line-up. Although it has only been reintroduced this year, the Bronco nameplate dates back to 1966.
Ford says the Bronco Overland Concept showcases how the all-new Bronco can be personalised, and how the iconic 4X4 nameplate been "designed to help redefine the next generation of off-road vehicles".
The Overland Concept is based on a 2021 Bronco four-door Badlands model, and it features an 'Area 51' colour scheme. In addition to being equipped inside and out "to take adventurers farther into the wild", the Overland Concept wears Ford's High-Performance Off-road Stability Suspension (H.O.S.S.) System with Bilstein position-sensitive dampers, 17-inch Fifteen52 Turbomatic heavy-duty wheels in asphalt black, and 35-inch LT315/70R17 BFGoodrich Mud-Terrain KM3 tyres. If that's not enough to get the Bronco Overland out of off-road strife it also features a Warn winch mounted to a Ford Performance modular steel bumper.
Power comes courtesy of Ford's 2.3-litre EcoBoost petrol engine that makes a claimed 202kW of power at 5500rpm and 420Nm of torque at 3500.rpm. Unusually for a North American vehicle, the Bronco Overland's engine is mated to a seven-speed manual gearbox.
For 'overlanding', a Yakima heavy-duty two-person tent is mounted to a factory roof rack attached to the vehicle's standard roof rails, while a RIGID rack-mounted light bar and six additional RIGID POD lights in a 360-configuration provide plenty of lighting all around. A UHF antenna is mounted to the rear bar.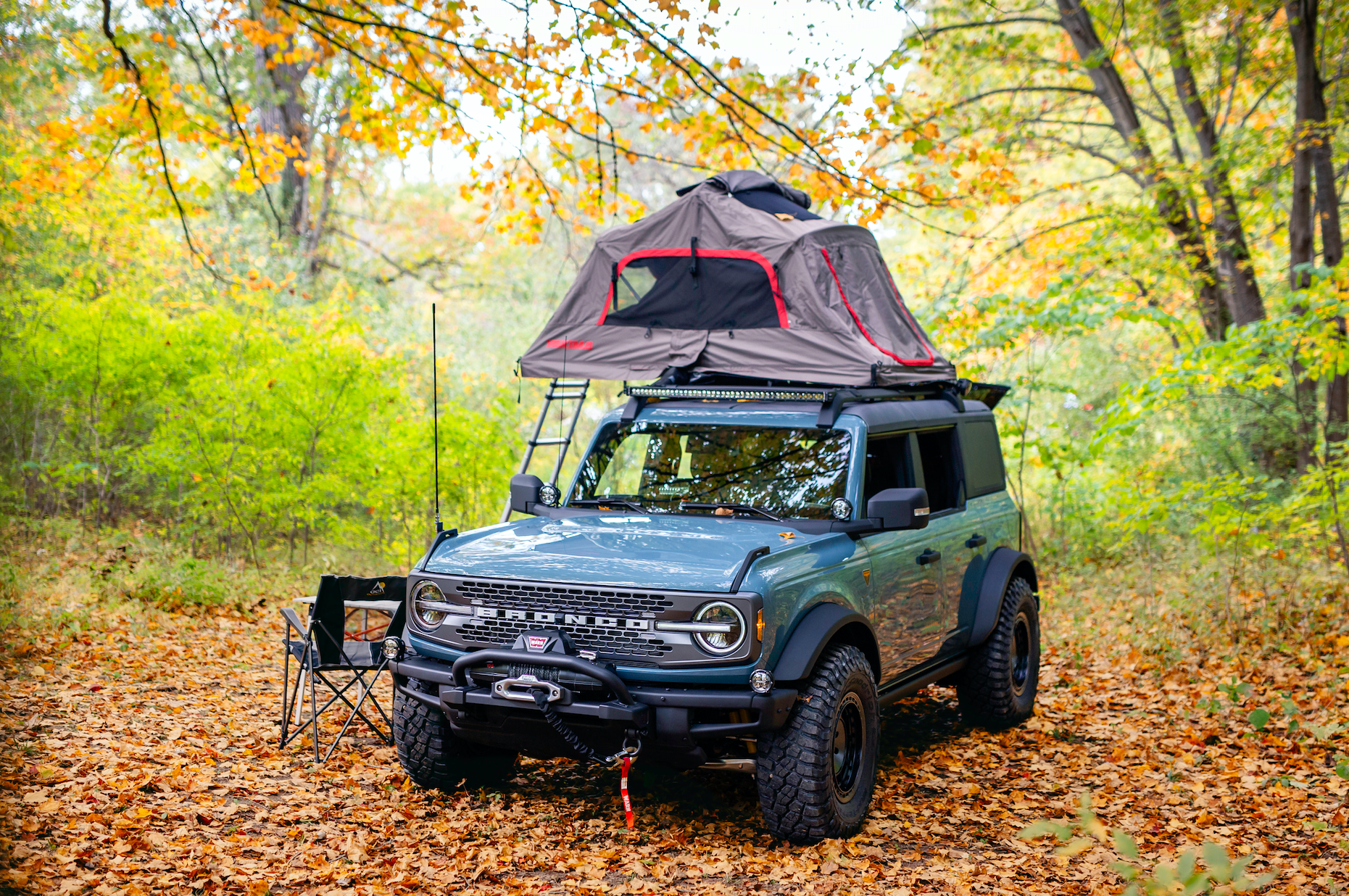 The rear cargo-area set-up incorporates an ARB fridge/freezer mounted to a fridge slide, and a cooking kit with a tailgate-mounted stove. The rear quarter window glass has rigid panels with MOLLE grids (webbing) mounted inside for additional storage.
It's a pity there are no plans to bring the left-hand drive only Ford Bronco to Australia, especially as the vehicle was largely developed here using Ford's Ranger T6 platform as a base. We reckon something like the Overland Concept could make a great outback tourer with the right (read: diesel) driveline.