Pat Callinan's 4X4 Adventures magazine keeps going from strength to strength, now going into issue 006! Between the covers, 198 pages are chock-full of inspiring trips, handy tips and informative reviews. We're even throwing in a great Fraser Island DVD and a MR4X4 air freshener for nix! Talk about a great deal!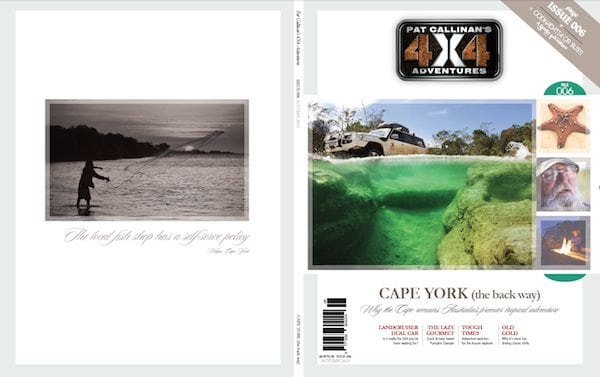 From Cape York to Oodnadatta and a bit of everything in between, issue 006 is our biggest and best yet. We review the new 76-series Dual Cab LandCruiser, CUB Camper's Supavan Stockman and Canon's nifty little EOS-M.
We go bush in our inaugural Classic 4X4 trek through the Barringtons, and check out some great camping setups we stumbled across on our way to the northernmost tip of Australia.
CAPE YORK (THE LONG WAY):
We take the scenic, windy way up to the northernmost point of Australia on an adventure Pat has called his best 'Cape Trip' yet. Once you read the article, you'll be hard-pressed to disagree. Some amazing photography by the talented Tommy Salmon means that the quality of this article is truly second to none. See all the best landmarks on the way, along with some that you haven't heard about before.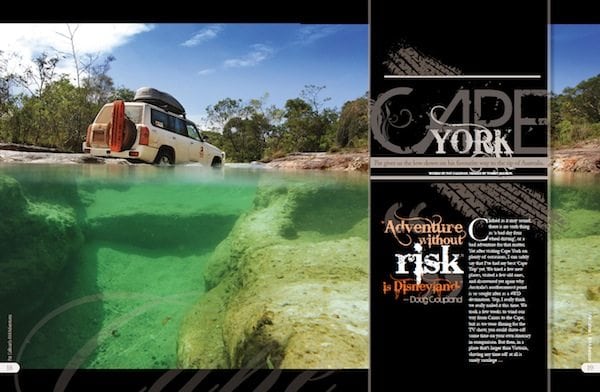 OODNADATTA OR BUST:
"It's the toe in the water that will have you hooked." Join Pat and his family as they travel out past Lake Eyre on the well-known adventure to Oodnadatta. Meet Talc Alf and look at some of the amazing countryside that this journey takes you through.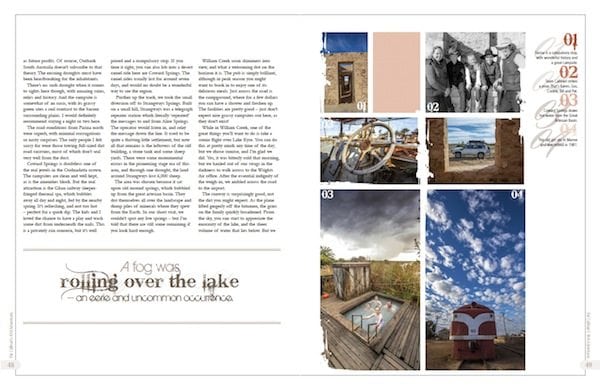 THE RIGHT QUESTIONS
We all pour some pretty serious money into our 4WDs, especially when it comes to funding insurance. But how well covered are we? Insuring our touring rigs have a lot more caveats and fine print that we need to explore to insure that we are, uh, insured. This article runs through what to look for when picking through the minor (but important) details that we need to be aware of when insuring our beloved 4WDs.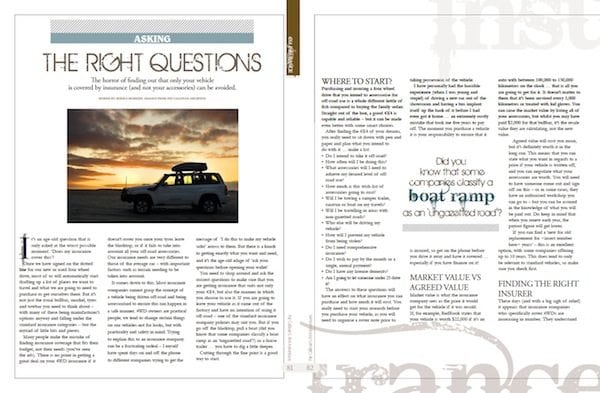 THE WAY WE WERE – CLASSIC 4X4 ADVENTURES
The first of many 'Classic 4X4' adventures! Join Ian as he explores the Barringtons along with three bona-fide 4X4 classics and their owners. Suzuki, Willys and Land Rover are all represented in this unique and inspiring peek into the world of owning a classic steed. Come along for the noisy, bumpy and exhilarating ride!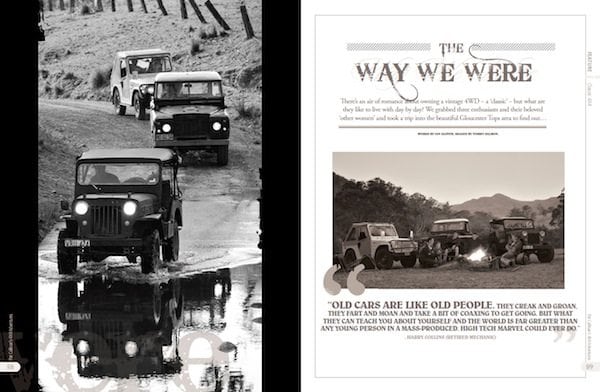 Remember, you can also purchase a subscription online at OUR ONLINE SHOP – take a look at some of our fabulous offers!