PAT:  Steve, when did you come to Alice and what brought you there?
STEVE:  Must be nearly 30 years ago now. Hell, that's a damn long time ago, but as a kid I distinctly remember seeing photographs my father took of Central Australia during WWII.
He was stationed in Alice and Darwin on a transport command. Even though those pics were black and white, they fascinated me for years so I just had to go and see what dad experienced. He had this incredible affinity with the bush and he taught me a lot. I guess that's why I ended up in the Northern Territory.
PAT:  When did you set up Outback Photographics?
STEVE:  It wasn't long after I arrived in the Northern Territory and I was shooting pics practically from the day I arrived. However, I was starting to earn serious coin so thought I'd better make it legal and registered the business in 1986. Later that year I bought an old photographer's business and premises, which already had dark rooms and equipment. I had been working for News Limited part-time until Murdoch's mob ripped me off by publishing a pic of mine on Page 1 of every paper he owned in the country… and didn't pay me for it. From that point on, I never looked back.
PAT:  Mate, what would you regard as some of your career highlights?
STEVE:  Err… when do you wanna write the book?
Too many for here, but shooting one of Australia's most famous images of all time is perhaps my career highlight. Ironically, it was Rupert Murdoch's 'The Australian' which made it famous for me! Ayers Rock in the rain – aka Desert Storm – was a shot I had to wait 20 years to get but it was worth it.
PAT:  You've travelled all over the country doing your job. What are the most memorable trips you've done?
STEVE:  Ha ha! My friends think my whole life is a holiday, but hard-slogging a brand new one-hundred-and-twenty-thousand-dollar HSE Range Rover across the Great Sandy Desert has to take the cake! I might have slept in a swag the whole trip, but sitting down to a three-course dinner of Marinated Magpie Goose and Wattle Seed Ice cream – or something equally gourmet – every night was a bit hard to take. That was on the Calvert Centenary Expedition that our mutual mate Ian Glover organized for Land Rover.
Then again, maybe it was the trip with the Japanese billionaire who made me fly the whole Stuart Highway, fifty feet above the road from Darwin to Adelaide in a Jet Ranger chopper. It didn't get off to a good start with him because one night out of Darwin I booked him into the Elliott Hotel. The next morning he said, 'Mr Steve, tonight I want Five Star hotel, not 1000 Star hotel like this one'. Apparently he could see the night sky through holes in the ceiling of his room!
A couple of days later we landed on the roof of the posh Desert Cave Hotel in Coober Pedy. He asked me to call a cab to take him to his hotel.
PAT:  Tell us about the NT Tourism campaign featuring Steve Strike as the face of the Territory.
STEVE:  Yeah, it's good fun promoting the Northern Territory. However, in an era besieged in political correctness, I was surprised to get the gig. The government knows I say it like it is, so a lot of the real life stuff I said about the NT got the chop. The funny thing was that the government spent squillions of dollars on some other glossy, politically correct ads but got National Geographic to produce my TVC on a shoestring. My ad turned out to be the biggest hit of all on YouTube!
PAT:  Where to from here?
STEVE:  Unfortunately the good old days of exploring Australia are gone, Pat. There are still some great places to go and see, particularly The Kimberley and Arnhem Land, but compared with the freedoms we used to have, political correctness, bureaucrats and left wing losers have ripped the heart and soul out of this amazing country. Our kids will never experience the freedoms we had of going out into the wilderness, soaking up the atmosphere and finding the true spirit of Australia. It's sad.
But one must move on and several years ago I got to have an experience in China, and I was amazed at the similarities with Australia. The eastern and southern geography of China is very fertile and developed just like Australia.
Driving around southern China, you could be in Queensland! The Chinese have planted so many gum trees that if I weren't driving on the wrong side of the road, I'd swear I was in Oz.
To the north and way out west is just the same as Australia was – unexplored, wild and remote, with desert dunes, desert mountains, fewer people and amazing 4×4 country.
Most people have huge media-driven fears about China, but they are totally unfounded. China has far fewer regulations and much more freedom than Australia. To me it is akin to exploring Australia in the 1950's. I just love it… yeah, I just love it and most of all you can shout your mates to a banquet in a flash restaurant and get smashed for about fifty bucks!
PAT: Thanks Steve!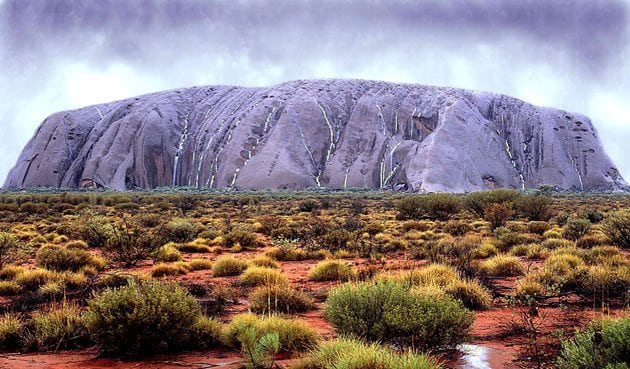 IMAGE: Desert Storm